The O List
120 of the Best Things for the Good Life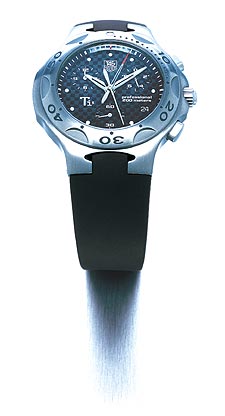 Heading out the door? Read this article on the new Outside+ app available now on iOS devices for members! Download the app.
Who are we to declare what's best? Well, after nearly 25 years of climbing, skiing, sailing, biking, trekking, snowboarding, fishing, and getting lost all over the world, we've learned a thing or two about where to go and what to bring along. Over the next 27 pages, we present the definitive list of what is, quite frankly, the best of everything Outside. Whether you're looking for the preeminent surfboard shaper in the U.S., the toughest sports watch to keep time from Tulsa to Timbuktu, the best eco-lodge on the planet, the one road bike that could put you on par with Lance (okay, maybe that's a stretch), the one pair of socks you should never leave home without, or something more ethereal—like the best advice on how to approach the rest of your life—we cornered our favorite athletes, adventurers, and writers and asked them to give us the lowdown. So turn the page, get your drool cup ready, and prepare to rethink your existence.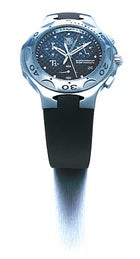 Places

Drake's Estero, Point Reyes National Seashore
Baseball Stadium  Mountain Huts  City Escapes  Eco Lodge  To do nothing  Sport Camps  Urban Park  Outdoor Basketball Court  Bird's Eye View

Far from Home Plate
By Randy Wayne White
Nicaragua, like baseball, is a dependable scaffolding for irony, and there is no better example than Estadio Nacional Dennis Martinez in Managua–aka Mad Monk Stadium to a few pro-Contra types I met back in the eighties–my favorite place to watch America's game. It's a big, rickety bowl that seats 30,000, and the theater in the stands is often better than the nine-act drama below. Nicaraguans are passionate about the sport, sometimes fanatical, so there are usually plenty of armed police on hand to keep control.

Baseball came to Nicaragua in 1891, and teams were later named after the warring nations of the day: the Boers, Russia, Japan. The stadium was built in 1948 by violent dictator Anastasio Somoza García, the man about whom F.D.R. quipped, "He may be a son of a bitch. But at least he's our son of a bitch." Somoza García was assassinated in 1956 by Rigoberto López Pérez, a deranged but pious rebel poet (hence the Mad Monk reference). In Nicaragua, the last shot counts, and in 1979 the Sandinistas renamed the stadium in honor of López Pérez.


For 15 córdoba (about a buck) you can buy a grand- stand ticket, and the food is superb: beans, plantains, yucca, chicken. The quality of play is excellent, although few Nicaraguans have ever made it to the major leagues. Dennis Martinez, a national deity who did make the trip up north to pitch for the Baltimore Orioles and Montreal Expos, was so beloved he was offered the chance to run for the presidency when he retired in 1998. He declined, so instead they changed the name of the stadium one more time.
Back to the top
THE BEST MOUNTAIN HUTS

Refuge des Lacs Merlet
Parc National de la Vanoise, France
The draw: world-class fly-fishing in summer and fall, beautiful backcountry skiing in winter and spring. This 14-bed A-frame chalet sits on the stark white granite of little-known Aiguille du Fruit, a short walk from the ski lifts at Courchevel and just below two alpine lakes that are amply packed with char and brown trout.
$10 per person per night; contact the Parc National de la Vanoise, 011-33-4-79-08-71-49; www.vanoise.com/_anglais/refuges/reflla.htm

The Mountain House
Denali National Park, Alaska
This wooden shelter perched atop a 500-foot granite outcropping in the middle of Denali National Park's Ruth Glacier offers views of the Ruth Amphitheater that are nothing short of incredible. The hut is accessible only by bush plane from March to mid-July. The surrounding terrain is a backcountry skier's and mountaineer's paradise.
$85-$100 per night for up to eight people; contact Alaska Retreat, 907-733-2414

Regina Margherita Hut
Monte Rosa, Italy
A backcountry hostel just south of Zermatt that is 70 feet long, three stories high, accommodates 77 people, and balances on the summit of Signalkuppe—at 14,937 feet, it's the highest hut in the Alps. Bring binoculars to track climbers on the five-day Monte Rosa traverse.
$20 per person per night; contact the Club Alpino Italiano, 011-39-163-910-39; www.cai.it

Tasman Hut
Mount Cook National Park, New Zealand
With the most dramatic setting of any hut south of the equator, this corrugated-steel shelter, encircled by glaciers, looks onto the triangular profile of 12,349-foot Mount Cook from the edge of a 200-foot granite cliff. If bad weather strands you indoors, you can kick back and play cards with a handful of fun-loving Aussies and Kiwis.
$8 per person per night; contact the New Zealand Alpine Club, 011-643-377-7595; www.nzalpine.org.nz/huts

Refugio Frey
Nahuel Huapi National Park, Argentina
Three good reasons to stop at this two-story stone hut on the eastern shore of Laguna Toncek in southern Argentina's lake district: warm bunks (40 of them), hot meals (the cheese fondue is to die for), and proximity to some of the best climbing in Patagonia on the granite spires of 7,888-foot Cerro Catedral.
$6-$8 per person per night; contact Club Andino Bariloche, 011-02944-422266; www.clubandino.com.ar
Back to the top
THE BEST CITY ESCAPES

New York City
Mohonk Preserve
A 6,400-acre park in the Shawangunk Mountains, 90 minutes north of Manhattan, where you'll find 360-foot cliffs offering hundreds of 5.0 to 5.10+ routes, plus 65 miles of
hiking and biking trails.
845-255-0919; www.mohonkpreserve.org

San Francisco
Point Reyes National Seashore
With 140 miles of trails, this 71,000-acre preserve is home to some of the most dramatic coastline on earth and is a magnet for hikers, mountain bikers, and sea kayakers. A 35-mile winding drive north of downtown San Francisco.
415-464-5100; www.nps.gov/pore

Chicago
Kettle Moraine State Forest, Wisconsin
An hour and a half northwest of Chi-town is the Moab of Wisconsin—21,000 acres of hardwood forest and glacial hills, and more than 41 miles of trails. Heaven for hikers and cross-country skiers, too.
262-594-6200

Los Angeles
Channel Islands National Park
Two hours by boat from Santa Barbara or Ventura, California, and you can be in this undeveloped group of five windswept outposts. Sea-kayaking, diving, and hiking terrain abound. 805-658-5730; www.nps.gov/chis

Washington, D.C.
Harpers Ferry National Historical Park
An hour west of D.C. in West Virginia's Harpers Ferry Park, you'll find some of the region's best tubing, rafting, canoeing, and kayaking. Or jump on the Appalachian Trail for a hike.
304-535-6298; www.nps.gov/hafe
Back to the top
THE BEST ECO-LODGE

Set on 250 rainforest acres fringing a wide, white-sand beach, COCONUT BEACH RAINFOREST RESORT in Australia wins the "location, location, location" award. On Cape Tribulation in Far North Queensland, it's smack between two World Heritage Sites–the Great Barrier Reef and Daintree National Park, one of the world's oldest rainforests (dating back 110 million years). Search for tree kangaroos, flying foxes, and kingfishers from the veranda of your treehouselike villa; snorkel and dive among sea cucumbers and reef sharks off the Great Barrier Reef's Mackay Cay, just a 45-minute boat ride east.
Doubles $117­$175 per night; 011-61-70-98-0033;www.coconutbeach.com.au
Back to the top
THE BEST PLACE TO DO ABSOLUTELY NOTHING
By Hampton Sides

Exertion has its merits but there are moments that cry out for concerted indolence–for sitting, sipping, and letting the world wash over us. My wife and I reached that point some years back after tromping all over the great ruins of Monte Albán, Mitla, and Yagul in southern Mexico. For days we had mulled the demise of magnificent civilizations led by people with names like Lord One Earthquake and Lady Ten Monkey, and we were suffering from a condition known as archaeological mindblow. We needed time to reflect, to get ourselves some mole and some mescal and put some perspective on the long swirl of epochs. So we headed to the zócalo.

No place beats the ZÓCALO of Oaxaca for its sheer staying power–that is, its capacity to entice a person to stay in one place, amused and mesmerized and oblivious to time. Virtually every town in Mexico has its central plaza. Yet the zócalo in Oaxaca, I would submit, is the apotheosis of Mexican town squares: It's the most magnificently sittable place I've ever sat my turista ass in.

The scale somehow manages to be at once grand and intimate. It's a perfect quadrangle, greened with old laurels, bounded on all sides by cafés, restaurants, and portales. The stone parapets of the city's Spanish colonial architecture rise above the scene. Automobiles are forbidden–this is strictly a realm of foot traffic–and the sidewalks churn with musicians, dancers, and vendors hawking fresh flowers and giant wormlike balloons.

We spent an entire day there, leaving only once, to inspect the endless piles of chiles and fresh dripping carcasses at the souk-like Juarez market nearby. Mostly, though, we stayed put. The crowds danced and sang and milled about. Café con leches slowly segued to cervezas, buenos días to buenas tardes. We stared for hours at a little man and his menagerie of leashed iguanas. Night fell and still we were there, eating chile relleños and kebabs on the balcony of El Asador Vasco, and stealing glances at Anjelica Huston, sitting one table over. By the end, we felt drowsy and sated and quite well-traveled. The world turns, and in some situations that is movement enough.

Contributing editor Hampton Sides is the author of Ghost Soldiers.
Back to the top
THE BEST SPORTS CAMPS

Kayaking
Otter Bar Lodge, Forks of Salmon, California
Not only do founders Kristy and Peter Sturges of the Otter Bar Lodge, located in the Klamath National Forest in northern California, make sure you leave a confident kayaker, but a massaged, well-fed, pampered one too.
530-462-4772; www.otterbar.com

Mountaineering
Exum Mountain Guides, Moose, Wyoming
For the past 75 years, Exum has offered year-round, intensive mountaineering training in the Grand Tetons by America's top guides.
307-733-2297; www.exumguides.com

Fly-Fishing
Dave and Emily Whitlock Fly-Fishing School, Midway, Arkansas
The Whitlocks' 30 years of combined experience is put to use in the Ozark Mountains, where they'll teach you how to double-haul cast to German browns in no time.
888-962-4576; www.davewhitlock.com

Mountain Biking
Singletrack Ranch, Seattle, Washington
Run by mountain-bike Hall-of-Famer John Stamstad, Singletrack Ranch teaches clean lines and technical maneuvers at five-star riding locations in Arizona, Oregon, and British Columbia.
888-310-1212; www.singletrackranch.com

Snowboarding
High Cascade Snowboard Camp, Government Camp, Oregon (summer) Bend, Oregon (winter)
Using a world-class half-pipe and a year-round snowfield, these guys have been teaching knuckle draggers to carve their way around a mountain for the last 12 years. 800-334-4272; www.highcascade.com
Back to the top
THE BEST URBAN PARK

You won't find manicured gardens or softball fields in Portland, Oregon's FOREST PARK; its 5,000 wild acres of lush cedars, hemlocks, and Doug firs have been gloriously left alone since the park's creation in 1948. Just ten minutes from downtown, the park is home to more than 60 species of mammals and welcomes the occasional visit from migrating bears, elk, and cougars. Best of all, the terrain is laced with 80 miles of spongy trails you can hike or bike without seeing another soul.
Back to the top
BILL WALTON, BASKETBALL ANNOUNCER AND HALL-OF-FAMER, ON THE BEST OUTDOOR BASKETBALL COURT IN THE COUNTRY:

"South Mission Beach Sports Park in San Diego. It's right at the south end of Mission Beach with beautiful volleyball courts and perfect basketball courts. You always find a good game there—it'd be nice if they passed me the ball a bit more, though."
Back to the top
BEST BIRD'S-EYE VIEW

Get a seat on the left-hand side of ROYAL NEPAL AIRLINE'S flight from Bangkok to Kathmandu, and you'll have excellent Himalaya viewing: Everest, Makalu, Annapurna. It's almost like climbing the big guys yourself.
Back to the top

Gadgets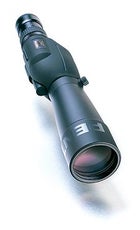 Pentax PF-80ED

APPLE POWERBOOK G4 TITANIUM EDITION
Compass  Spotting Scope  Sports Watch  Secret Agent Watch  Small Tools  Machete  Laptop
COMPASS
Brunton Eclipse 8099
GPS-wielding gearheads might scoff at the choice of a compass in the 21st century, but when you drop your $500 digital navigator on a routine stream crossing or lose battery power on McKinley's West Buttress, the Eclipse 8099's precision bearings and secretly stashed emergency instructions will get you back home safely before the search-and-rescue helicopters take flight.
$80; 800-443-4871; www.brunton.com
Back to the top

Hey, Mr. Giraffe, Lookie Here!
If you're spending time in big-critter country, you need some real optics to catch the action. The PENTAX PF-80ED spotting scope is the new standard for wildlife watching. An objective lens cut from special Extra Low Dispersion glass ensures that there's no distortion at high magnification, and at a wide 80 millimeters it puts out images that are crisp and bright. But it's the PF-80ED's interchangeable eyepieces, made with Pentax's premium ground glass and sold in magnifications from 18- to 72-power (most binoculars magnify at a paltry seven- to ten-power), that will have you counting the fleas on Tantor's tushie. Bonus: Should you dump it in a warthog hole, the scope is waterproof down to one meter.
$1,320; 800-877-0155; www.pentax.com
Back to the top
SPORTS WATCH
Casio G-Shock
Worn by record-setting diver Bret Gilliam, beloved by 90 percent of Hawaii's North Shore lifeguards, and issued as standard equipment to U.S. Navy SEALs, Casio's venerable G-Shock watch combines otherworldly reliability with worldwide tide graphs, multiple alarms, and stopwatches, all in a case that can withstand subzero temps and 200-meter depths. Best yet, it comes at a price that won't break the piggy bank.
Starting at $79; 800-962-2746; www.gshock.com
Back to the top
Best Secret-Agent Watch
The TAG HEUER KIRIUM Ti5 watch should be the fastest watch in the world, what with its no-rust, super-strong, titanium case, lightweight carbon-fiber face, and indestructible band made from the Vulcanized rubber of F1 racecar tires. Yet, the Kirium Ti5 still only goes 60 minutes an hour. But oh what glorious minutes they are.
$2,500; 800-321-4832; www.tagheuer.com
Back to the top
Tools That Rule
Can't fit your toolbox in your backpack? The SOG POWERLOCK has every implement you could need, including a lanyard, a three-sided file, one-handed flip opening, and a compound gear system that enhances the pliers' gripping strength for removing deep-set hooks from brookies or clamping off the nostrils of your snoring tent partner.
$80; 888-764-2378; www.sogknives.com

Backpacking gourmets, take note: the LEATHERMAN FLAIR has a fork for olive appetizers, a blunt knife for spreading caviar, and a four-star, waiter-style corkscrew for your '95 Opus One, along with Leatherman's standard knife, scissors, and pliers.
$70; 800-762-3611; www.leatherman.com

For bigger jobs, you can't beat the SCHRADE CLIPHANGER. The knife is sharper than Einstein, opens with a deft flick, locks tight, and sports a snap-fit leash that keeps it secure on your belt.
$30; 800-272-4723; www.schradeknives.com
Back to the top
Ain't No Jungle Thick Enough
The BEAVER TAIL MACHETE cuts coming and going and won't hang up on the back stroke when you're fighting your way through a thick curtain of vines. The wide blade adds heft, good for a relatively short cutter, and the military-style handle (with lanyard) has a flange that improves grip and whacking power. The Beaver Tail can reduce deadwood to kindling, dig a quick latrine or fire pit, or chop the heads off your fish. Carry it in a sheath or stow it aboard your canoe, and forge deep into the wild. –John Sellers
$23 at Ontario Knife Company; 800-222-5233
Back to the top
Worship Me
Open up the APPLE POWERBOOK G4 TITANIUM EDITION on the boardroom table for your sponsorship pitch, and you'll make a statement of power and influence. The G4 is a mere inch thick, weighs 5.3 pounds, and is sheathed in the same strong, light, and fetish-friendly metal used to build ice axes and turbine blades. With Apple's supercomputer-inspired Velocity Engine processor on board and a huge 15.2-inch screen, you can watch your favorite DVDs on the redeye to Charles de Gaulle.
Starting at $2,599; 800-692-7753; www.apple.com
Back to the top

Electronics

LEICA
Reliable Small Camera  Satellite Phone  Digital Organizer  SLR Camera  Camcorder  MP3 Player  Two-way Radio
One Auspicious Eye
Over decades, LEICA has emerged as the maker of the sturdiest, most reliable small cameras on earth. While, ahem, not exactly cheap, the M6 TTL, shown here, has a bombproof body capable of enduring extremes in temperature and vibration—a masterwork of fussy German engineering. As a range finder camera, the M6 lacks the hinged mirror and spring-loaded iris of an SLR, so the shutter release is both whisper-quiet and extremely fast. Loading the film is tricky, but with exquisite optics and incomparable durability, you'll have a lifetime to practice.
$4,290 as shown with 28mm lens; 800-222-0118; www.leica-camera.com
Back to the top

SATELLITE PHONE
Globalstar Qualcomm GSP1600
With Iridium only recently back up and running after its bankruptcy, we're standing by Globalstar as the best handheld satellite phone for mountain climbers, outback guides, and the otherwise off-the-grid Panamanian islander. If you're within range of a tower, the GSP1600 will hook you into a conventional cell network. If not, pull up the antenna to access one of Globalstar's 48 birds. No polar coverage–yet.
$900; 877-728-7466; www.globalstarusa.com
Back to the top
DIGITAL ORGANIZER
Handspring Visor Edge
The Visor Edge puts the whole world in your hands; it marries elegant, simple software (just tap the screen to access thousands of contacts and appointments) with sultry hardware (think sleek cigarette case). Optional plug-in modules transform the Visor Edge into a GPS receiver, MP3 player, cell phone, or video game.
$399; 888-565-9393; www.handspring.com
Back to the top
SLR CAMERA
Nikon FM3A
This camera from the makers of the FM2, a photojournalism workhorse, is fully manual, very functional, and almost indestructible. The company has left out the sometimes-too-helpful geegaws that have turned many SLR cameras into second-guessing supercomputers–this one's all about metal, glass, and film (maximum shutter speed is 1/4,000 second). Plus the FM3A has a center-weighted metering system and will work even if the batteries bonk out on the upper reaches of the Ubangi River.
$820; 800-645-6687; www.nikonusa.com
Back to the top
CAMCORDER
Sony DCR-PC110
The PC110 is the younger cousin of the camcorder that an intrepid adventure racer relied on to film his entire Eco-Challenge Borneo slogfest for a television news-magazine program. This unit is small and light with image-steadying and night-vision shooting capability, and it records 520 lines of horizontal video resolution on MiniDV tape that can be easily pulled onto your computer for editing and special effects. Unfortunately, you may not be able to alter the outcome of your own race.
$1,800; 888-420-7669; www.sonystyle.com
Back to the top
MP3 PLAYER
Nike TechLab psa[Play 120
Some digital players are built for the subway, some are built for the mud. It's on the latter front that the psa[Play shines. Offload two hours' worth of tunes into this rubberized, water-resistant, lozenge-shaped unit, screw it into its armband housing, and then bliss out with your own custom-mixed sound track as you bomb down your favorite trail or chute. The psa[Play will not take flight and bust on the rocks or vanish in the pow.
$249; 800-344-6453; www.nike.com
Back to the top
TWO-WAY RADIO
Motorola Talkabout T6320
The T6320 has more than 500 possible frequencies and a scramble option to avoid channel chatter. Add to that a vibrating alert to discreetly inform you of an incoming call and a rather trick collection of onboard instruments (barometer, digital compass, and thermometer).
$130; 800-353-2729; www.motorola.com
Back to the top
Clothing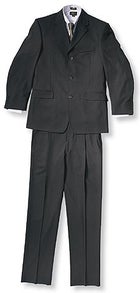 Shirt  Lightweight Shell  Socks  Fleece Jacket  Suit  Pants  Base Layer  Barn Coat  Jeans
The Shirt That Just Won't Die
By Elwood Reid
So there's this shirt I have. Yes, it's soft and warm, an XXXLG, XTRA-Tall cotton chamois from CABELA'S to be exact. And it's camo–old-school camo, not to be confused with that trendy shit that models wear. The shirt's ugly and even though I tell her it matches anything, my wife hates it, says people cross the street when they see me coming. That's a good thing, especially in New York City, where I spent an ill-advised year going broke and pining for trout. New Yorkers saw me stomping past them (six-foot-six, 270 lbs, prominent brow) and pegged me for any number of best-to-be-avoided types: gun-polishing-Charlton-Heston-Is-My-President militia man, Ted Nugent Double Live gonzo deerslayer, Bush/Cheney apologist, or perhaps worse, just horribly dressed and wearing the wrong shoes.
The shirt is stained with nail grease and paint from my carpenter days. Salmon have spawned on it, and when I fell on the fish with vengeance in my heart, I wiped my knife clean on the shirt, where it joined the blood of some frat guy I'd head-butted during my stint as a bouncer at a punk club (he'd mistaken my neck for an ashtray). The front right tail is torn courtesy of a Skilsaw that nearly sunk into my leg. The pockets are torn from shoving supplies in them–beer, Pop-Tarts, jerky–back when I used to get intentionally lost in the woods looking for mushrooms. It's good to venture off the grid every once in a while and feel that solitary panic of not knowing where the hell you are. With the right shirt I recommend it but be warned–woodsy types eyeball you with that same city-slicker suspicion when you step off the trail gunless in camo. I may not know where I'm going or what I'm looking for, but with the right shirt none of that matters.
Available at Cabela's; 800-237-4444; www.cabelas.com
Back to the top
LIGHTWEIGHT SHELL
L.L. Bean Ultralite Parka
The best shell should feel like you're wearing air while providing protection against Mother Nature, like the L.L. Bean Ultralite Parka. Its secret? A fabric that's 15 percent lighter and 15 percent more compactible than standard Gore-Tex. The parka's trim profile cuts weight and doesn't leave excess fabric flapping in the wind like an empty sail.
$249; 800-362-9223; www.llbean.com
Back to the top
SOCKS
SmartWool
There was a time when wool socks were a necessary evil–itchy, scratchy, smelly. Thankfully, SmartWool came along with a line of socks for biking, hiking, skiing, and padding around the house all winter, and our feet have been happy, dry, and stink-free ever since. Pull some on and you'll never look back.
Starting at $13; 800-550-9665; www.smartwool.com
Back to the top
An Ode to Fleece
I'm in love with my PATAGONIA REGULATOR R2 FLEECE JACKET. Black and understated and just the right weight, it's versatile enough to show off at Manhattan's Oyster Bar lunch counter one week, and at a chilly breakfast in the deepest Colorado backcountry the next. Winter or summer, I wear it everywhere. It's great on a sunny powder day at Taos, in a light mist on a hike up Mount Tam, or after a long surf session at the Jersey shore. It makes a lovely camping pillow, and it's the surest defense against overzealous airplane air-conditioning. Take it from someone who gets cold easily: This fine piece of fleece does the trick every time. –Katie Arnold $129; 800-638-6464; www.patagonia.com
Back to the top
Hey, That Suits You
If James Bond needs a new tailor, he should look up Ted Baker. The designer's ENDURANCE SUIT in black, navy, or charcoal–designed in Britain, naturally—is made with tightly wound wool fibers that keep the fabric wrinkle-free even when stuffed under your derriere as padding on a bus ride through Cambodia, or, in Bond's case, after being chased around the world by murderous villains.
$550; 212-354-7310
Back to the top
INDESTRUCTIBLE PANTS
Original Tree Climber's Pants
Ohio tree trimmer Paul Taylor knows a thing or two about pants that will get you up and down a tree without losing your, well, nuts. For his Original Tree Climber's Pants, he uses a tough cotton canvas that doesn't chafe, and these bad boys won't rip under pressure.
$50; 888-578-8733; www.arborwear.com
Back to the top
BASE LAYER
Mountain Hardwear Transition Zip T
Mountain Hardwear's long-sleeved Transition Zip T made from Gore-Tex's Windstopper fabric was designed to replace long underwear, a sweater, and a wind-breaker in one svelte, high-tech package. It's perfect for winter athletes who need warmth and an uninhibited range of motion.
$140; 800-953-8398; www.mountainhardwear.com
Back to the top
BARN COAT
Woolrich Black Powder Coat
A great coat should surround you with warmth and a secure comfort much like the feeling of ol' Mom tucking you into bed under a pile of blankets. Don't have a mother? Try on Woolrich's classic canvas Black Powder coat with its wool lining and corduroy collar to see what you're missing. Woolrich has been making canvas coats for over 90 years. Trust us, they know what they're doing.
$150; 800-995-1299; www.woolrich.com
Back to the top
Jeans Therapy
Take a stroll through any college campus and chances are you'll see more LEVI'S 501'S than khakis or bare flesh combined. The jeans are still the favorites of hippies, skinheads, cowboys, rock stars, jocks, nerds, fashionistas, CEOs, and factory workers. Now that's democracy in action, folks. And like fine wines, 501's age beautifully—democracy remains to be seen.
$38; 800-872-5384; www.levi.com
Back to the top

Camping Gear

Backpackers' Cache by Garcia Machines
Backpacking Accessory  Sleeping Bag  Hiking Boot  Backcountry Stove  Tent  Bear Canister  Mountaineering Boot
TIM CAHILL ON THE BEST BACKPACKING ACCESSORY:
"A pair of telescoping trekking poles, sometimes called yuppie sticks, that I use for long-distance hiking and think are the cat's ass. They help on the uphill and take pressure off the knees on the downhill. The latter is crucial to those of us silly enough to have played high-school football."
Back to the top

SLEEPING BAG
The North Face Polarguard Delta bags
The North Face's next generation of Polar-guard bags are filled with the closest thing there is to down. For clammy climates like the Eastern Seaboard, where down soaks up humidity faster than cotton undies, these synthetic-fill bags are the best you can buy.
Starting at $149; 800-447-2333; www.thenorthface.com
Back to the top
HIKING BOOT
Asolo AFX 520 GTX
A one-piece leather upper, Gore-Tex outer, one of Vibram's toughest soles, and, of course, exceptional Italian styling make the Asolo worthy of multiple 1,000-mile through-hikes.
$195; 877-888-8533; www.asolo.com
Back to the top
STOVE
MSR Dragonfly
Durable, reliable, lightweight, versatile–the Dragonfly consistently cranks out serious BTUs (at high decibels) whether melting snow at altitude or whipping up an Outback Oven pizza while through-hiking the PCT.
$100; 800-877-9677; www.msrcorp.com
Back to the top
TENT
Bibler Ahwahnee 2
Pick your pleasure: Zip open an entire wall for superior ventilation on a warm summer weekend next to an Oregon trout stream, or guy the whole rig down to endure shelter-shredding gales on Rainier. This five-pound, four-season tent has versatility that's hard to find in a port-able shelter. At $140 per pound, it's worth every penny.
$698; 801-278-5533; www.biblertents.com
Back to the top
Keep Your Stinkin' Paws Off My Grub!
They tested the first prototype of BACKPACKERS' CACHE BY GARCIA MACHINES bearproof container in Denali National Park. "The rangers watched more than 200 incidents of bears trying to get into 'em," recalls inventor Richard Garcia, a machine-shop owner who frustrates bruins in his spare time. "A bear would work on one for an hour, only move it a few feet." Shaped like a black-powder keg and slick as hell, the bears can't get their claws to pierce it or their paws to hold it. But humans can open it lickety-split thanks to an ingenious coin-slot opener. Rangers and backcountry survivors swear by it. But for the love of God, don't lose that coin! –Bruce Barcott
$75; 559-732-3785
Back to the top
MOUNTAINEERING BOOT
Koflach Arctis Expe
A plastic boot that flexes like leather, has a stiff enough sole for vertical ice, and houses 28-millimeter-thick insulated liners that can be worn inside your sleeping bag. Need proof of its superiority? The Arctis Expe is the first choice of hundreds of professional guides.
$355; 603-880-6143; www.koflachusa.com
Back to the top

Misc. Gear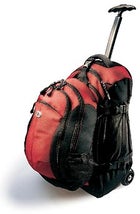 The Swiss Army E-Motion 360-degree 20-inch Trek Pack Plus

Oakley A Frame
Ski Goggles  Gear Bag  Skiing Backpack  Carryon Bag  Foul-weather Boots  Sunglasses
Seeing is Believing
Gracing the first and only optically correct ski goggle, the lens of the OAKLEY A FRAME is formed on an ellipse—like Oakley's wraparound sunglass lenses—to eliminate distortion and maximize your range of peripheral vision. A frame riddled with ventilation holes ensures a fog-free ride, and three insulating layers of foam prevent facial frostbite. We guarantee you'll see better; whether you ski better is up to you.
$120 with Iridium lenses; 800-336-3994; www.oakley.com
Back to the top
GEAR BAG
Ortlieb Big-Zip
This expedition bag is the biggest, toughest waterproof duffel on the market. Secure it to your roof rack with D-rings. It's large enough for your pack, your food, and your mother-in-law.
$150; 800-649-1763; www.ortliebusa.com
Back to the top
SKIING BACKPACK
Backcountry Access Stash bc
This pack is large enough for all out-of-bounds essentials, small enough to stay on when riding the lifts in-bounds, and able to finally solve an infuriating cold-weather conundrum—an insulated sleeve inside the shoulder strap prevents your water-bladder hose from the dreaded dehydrating freeze.
$125; 800-670-8735; www.bcaccess.com
Back to the top
One Sharp Bag
The Swiss Army E-Motion 360-degree 20-inch Trek Pack Plus looks stylish in the first-class overhead baggage compartment to Switzerland, but won't lose its wheels when accidentally checked to Swaziland (chalk it up to Swiss Army's 100-year-old penchant for craftsmanship). This rugged bag sports a spacious 4,050-cubic-inch interior, a handy detachable daypack, a full-swivel handle so you can cruise around corners without it toppling, and easy conversion from suitcase to backpack. At six pounds, eight ounces, it's light enough to shoulder without crippling you or a porter, as the case may be.
$325; 888-658-0717; www.swissarmy.com
Back to the top
FOUL-WEATHER BOOTS
Blundstone #500
Blundstone's weather-sealed, oil-stained leather is Aussie-built to withstand the rigors of the outback, but the Blundstone secret is comfort—sans laces, these sturdy boots slip on and off like your Sunday-morning slippers and keep your feet warm, dry, and hip-looking through city puddles or country snow.
$135; 603-763-4772; www.blundstone.com
Back to the top
SUNGLASSES
Smith Otis
These polarized-lensed shades are the preferred specs of Exum's mountain guides and Oahu's North Shore lifeguards, who spend all day dealing with the cornea-scorching glare of the sun. The Otis's skull-hugging shape keeps salt, grit, sand, fog, and dive-bombing insects out and keeps you focused on the task at hand.
$150; 208-726-4477; www.smithsport.com
Back to the top

Toys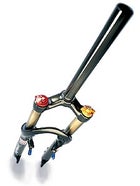 ROCKSHOX 2002 PSYLO SL

WILDERNESS SYSTEMS CAPE HORN 17 PRO KEVLAR
Folding Kayak  Front Shock  Travel Fly Rod and Reel  Saddle  Sea Kayak  Snowboard
Kleppermaniac
By Paul Theroux
The basics of travel: Go alone, be self-sufficient, and if water figures in your travels bring a folding kayak.
The KLEPPER AERIUS SINGLE, the nearest craft there is to an Inuit kayak, is the best. You bring it in two bags (hull in one, wood frame parts in the other) as part of your gear; you assemble it when you arrive at the designated shore. You paddle away.

I have paddled the same Klepper since 1984. It is the simplest to assemble of any folding kayak, durable, stable, and seaworthy. I also sail it, using a drift-sail rig and rudder, and though I have tipped it (sailing too close to the wind, paddling in heavy surf), and made a wet exit, I've always safely climbed back in. I have worn out one hull and bought a new one, but the basic boat is the same. It's about 16 feet long and weighs 50 pounds—easy enough for one person to heave onto a roof rack or to launch. I paid about $1,200 for it in 1984.

I've heard that one test in the British commando curriculum in SAS school is assembling a Klepper in the dark. These boats have been used in many invasions, the stealthy maneuvers we commandos call "covert insertions." I have taken this kayak down the Zambezi, through the lagoons of the Solomon Islands, up and down the Philippines, to Easter Island, and many other places. "What is it?" the watching children say, as I lay out the parts on the beach. As it takes shape, they begin giggling in amazement, "Canoe, canoe!"
Now called the Aerius Basic I; $2,885; 800-500-2404; www.klepper-usa.com
Back to the top
Shock Treatment
The ROCKSHOX 2002 PSYLO SL is always plush, isn't too heavy, and it offers adjustable travel on the fly: Crank the U-Turn down to 80 millimeters for a cross-country feel on tough climbs; open it up to the full 125 millimeters for downhill speeds that would frighten even Missy Giove—maybe.
$450; 800-404-4843; www.rockshox.com
Back to the top
FLY ROD AND REEL COMBO FOR TRAVEL
Orvis Trident TL 865-7, TiborLight Tailwater 5/6
Orvis's five-weight rod breaks down into seven 16-inch pieces and uses superior graphite. It's comfortable throwing tiny dries and parakeet-size streamers. Match the rod with the large arbor, disc drag, and precision handcrafting of Tibor's Tibor-Light Tailwater 5/6 designed by reel guru Ted Juracsik, and you'll turn fierce lunkers into Zen-garden goldfish.
Orvis Trident: $595; 800-815-5900; www.orvis.com; TiborLight: $295; 561-272-0770; www.tiborreel.com
Back to the top
Back in the Saddle Again
By Jane Smiley
The only item in my possession that I am attached to is my DEVOUCOUX DRESSAGE SADDLE, which I bought on impulse a year ago. I didn't buy it because it was made in Biarritz, France, but I am not unseduced by the image of that glamorous and sunny spot (most saddles are made somewhere rainy and serious). I bought it because when I rode my not-very-well-behaved four-year-old mare in the model that the saleswoman (Emelie, s'il vous plaît) brought with her when she came for the fitting, the mare commenced to bucking, as she often did in those days. Rather than unseating me, all she did was come up under me and roll me around a bit, and then we trotted on.

Most saddles have two layers; the Devoucoux's single layer makes you feel as though you are sitting almost inside the horse's back. The leather is rich and fragrant, the trim is subtle, the stitching is perfect, and the fit, just like the fit of a couturier gown, is not only proper, it is flattering. A horse in a Devoucoux looks fabulous!
$3,200; Devoucoux's West Coast rep Olivier Meyer-Fouques: 818-262-2552; o.meyer-fouques@devoucoux.com
Back to the top
The Best Sea Kayak
The WILDERNESS SYSTEMS CAPE HORN 17 PRO KEVLAR is a long-haul paddler's dream: light (including rudder, it's just 51 pounds), stable, fast, durable, trick-looking. Those with limited open-water experience will delight in the boat's multi-chine hull, which adds stability when the chop whips up. Touring vets will love the comfortable cockpit (it has a three-way adjustable seat for back and thigh support) and Kevlar construction, which lends the boat a spry, responsive feel. And its wider-beam width provides enough cargo space to bring along the comforts of home. But the Cape Horn's most praiseworthy characteristic is its versatility; it'll inspire confidence during ocean-channel crossings and restore peace of mind as you glide effortlessly across glassy inland lakes. Oh, and it looks damn sexy riding on top of your car while you're driving in between.
$3,100; 336-434-7470; www.wildernesssystems.com
Back to the top
Chairman of the Boards
Burton tends to hype its technology with buzzwords aimed at 15-year-olds: The core isn't lightweight, it's "Dragonfly,"the construction isn't just a laminate, it's a "Dual Warp Lite Triax." Truth is, with stainless-steel edges, a carbon I-Beam in the core, and one of the hardest, fastest bases you can find on a board, the BMC is a freeride machine without equal.
$560; 800-881-3138; www.burton.com
Back to the top

Food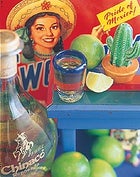 CHINACO'S REPOSADO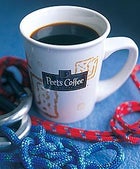 PEET'S MAJOR DICKASON BLEND
Bug  Tequila  Post-workout Smoothie Recipe  Backcountry Cheese  Coffee  Energy Bar
EDWARD O. WILSON, HONORARY CURATOR OF ENTOMOLOGY, HARVARD UNIVERSITY, ON THE BEST-TASTING BUG:
"No question: the larvae of large cerambycid—wood-boring—beetles, roasted over a campfire."
Back to the top

Liquid Gold
Like good bourbon, CHINACO'S REPOSADO tequila isn't meant to be slammed in a shot or diluted with sweet-and-sour mix. No, señor, it's meant to be sipped straight, or on the rocks, so the 100-percent- agave elixir can light a pleasant fire behind your teeth and then flow invisibly down your throat, leaving behind the smoky results of its six-month oak-barrel aging process. Chinaco's other great asset reveals itself the next morning, when you wake up with no hangover. Reason enough to lay out $45 for a bottle.
Available at fine liquor stores
Back to the top
POST-WORKOUT SMOOTHIE RECIPE
Created through painstaking trial and error by our Bodywork editor: Blend 1 banana, 1/2 cup blueberries, 1 scoop low-fat raspberry sherbet, 8­10 oz. low-fat strawberry yogurt, 1/2 cup skim milk, a handful of ice cubes, 1/4 cup wheat germ, 2 tbsp. vanilla-flavored whey protein.
Back to the top
BACKCOUNTRY CHEESE
Italian Reggiano Parmesan
When it comes to schlepping dairy products into the wilderness, leave the squishy brie and sweaty cheddar at home. Parmesan is an adventurer's best friend. Buy a block of the tough stuff and slice off slabs for a tasty cheese sandwich on the summit of Shasta, or use your pre-grated stash to liven up a one-pot linguini surprise. We defy you to find an Italian mountaineering team that climbs without it.
Available at specialty grocers
Back to the top
The Supreme Bean
Perfect java begins with roasters who know how to cook a coffee bean. At Peet's Coffee & Tea, a Californian institution since 1966, roasting is sacrosanct. Brew a little of PEET'S MAJOR DICKASON BLEND; no coffee tastes better, or will get your butt up a mountain faster. Perhaps that's why the late climber Alex Lowe never left for a Himalayan expedition without several pounds among his supplies.
$12/lb; 800-999-2132; www.peets.com
Back to the top
ENERGY BAR
Clif Bar Cookies and Cream
If we've learned anything about nutrition in the field, it's that real food rules. Using all-natural ingredients, Clif has created an effective wheat- and dairy-free energy bar (39 grams of carbohydrates, 10 grams of protein) that tastes like a Baskin-Robbins ice-cream cone.
$1.69; 800-884-5254; www.clifbar.com
Back to the top

Vehicles

The Aerodyne 47 sailing off Newport, Rhode Island

Motorcycle  Floatplane  Sailboat (to go around the world)
Get Ready to Rumble
By Patrick Symmes
You could probably do it on a moped, but why suffer? If you want to ride across something really big—Africa, say, or Siberia, or in my case South America—then you need to buy a good pair of gloves, some replacement visors for your helmet, and the king of dual-sport bikes, BMW's F 650 GS Dakar. The Bavarian wonder machine is good on Patagonia pavement, better on Bolivian mud, and proven from Baja to Bamako. Parts are hard to get in most places, but it doesn't break down much. You could shoot it and it would start and run the next morning. But don't just go on my advice: This is one of the bikes recommended by the Footprint South American Handbook 2001, the Bible of Latin America's long-distance crowd—and by my Greenwich Village neighbors who rode one to Labrador last summer. The GS is reliable because it is simple. Make that your credo, too. Get the lightest version you can find, and don't overload it with crap. Then go. Wherever you end up, you'll never look back.
$8,600; 800-345-4269; www.bmwusacycles.com
Back to the top

The Best Way to Fly
Some floatplanes go faster, others carry heavier loads, but none has the whole package like the DE HAVILLAND BEAVER. "It's the '55 Chevy of planes," says Tom Langdon, who flies a 1952 model into logging camps and fishing villages on the remote British Columbia coast for Pacific Eagle Air Service. "Rugged, reliable, and takes off real short in rough water." The Beaver isn't so much a machine as a prop-driven visa, granting access to the harsh and tantalizing territory that begins where the washboard road ends. It'll get you there and, more important, bring you back. When it comes to survival, De Havilland's workhorse has no rival. Of the 1,600 built between 1947 and 1967, more than 900 are still in the air. A flyable model will run you $350,000, and Beavers are in such demand that Seattle-based Kenmore Air, the country's premier floatplane specialist, salvages worn-out fuselages from as far away as India. Custom jobs, like the one actor Harrison Ford just ponied up for, can cost an extra $400,000. For that you get state-of-the-art avionics, Garmin 530 video-display GPS, autopilot, and some sweet leather seats. Oh, and hydraulic landing gear, if you're feeling amphibious. "Every few years, someone comes along with a new design they claim will fly as good as a Beaver," says Kenmore Air maintenance director Rob Richey. "And it never does."—Bruce Barcott
Kenmore Air: 425-486-1257; www.kenmoreair.com
Back to the top
The Best Boat to Sail Around the World
A plucky Australian named Serge Testa once managed to get around the globe in a 12-footer, but if you prefer to go first class, the AERODYNE 47, a new passage-maker from innovative designer Rodger Martin, aspires to be the perfect ride. The 47-foot sloop thoroughly modernizes the art of cruising—it's strong enough to battle Cape Horn and light enough to reel off 250 miles on a good day. Oh, and it's easily handled by just two people. The secret is smart engineering (like a self-tacking jib) and maximum use of ultralight, ultrastrong composites such as Kevlar (the material of choice for bulletproof vests). And the performance pedigree does not come at the expense of serious cruising comfort. Any number of boats (like the venerable Valiant 40, which made its first circumnavigation in the 1970s) will take you around the world, but few will get you across the oceans as fast as the Aerodyne 47 while the off-watch does laundry, eats microwave popcorn, and freaks out to Dead Calm on the DVD. —Tim Zimmermann
$430,000; 508-943-8776; www.aerodyneyachts.com
Back to the top

Experts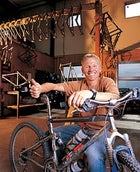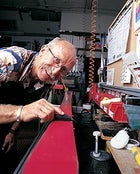 Jim Deines
Ski Tuner  Surfboard Shaper  Mountain Bike Builder  Fly-fishing Store  Life Advice
THE BEST SKI TUNER
Jim Deines, PRECISION SKI, FRISCO AND KEYSTONE, COLORADO
Precision Ski co-owner Deines and his 25-person crew have been putting out top-flight tunes since the early eighties, combining time-tested hand skills with machine techniques on the highest-quality Montana stone grinders. Their expertise is sought nationwide: In addition to regular grinds for the U.S. Ski Team, Precision once tamed former Iditarod champ Jeff King's dogsled runners. They'll take care of your beveling no matter what kind of board you ride.
$45 for a full-service tune-up; 970-668-3095
Back to the top
THE BEST SURFBOARD SHAPER
Rusty Preisendorfer, RUSTY SURFBOARDS, SAN DIEGO, CA
Now known the world over by the letter R., Preisendorfer built his first surfboard factory in 1969 out of a high-school friend's converted chicken coop. His reputation grew steadily throughout the 1970s at other outfits, like San Diego­based Gordon and Smith, but Preisendorfer really hit it big in 1984 when Aussie surfing legend Mark Occhilupo dominated the world pro tour on a Rusty tri-fin thruster. Two years later, more than half of the world's top 16 surfers were riding Rusty's shapes. Today, his company makes custom boards for grommets and pros—including those for C.J. Hobgood, the number one­ranked surfer in the world at press time—and Rusty himself still comes into the shop on most weekends to shape boards for a few lucky friends.
Starting at $430; 858-578-0414; www.rusty.com
Back to the top
THE BEST MOUNTAIN-BIKE BUILDER
MOOTS, STEAMBOAT SPRINGS, COLORADO
Established in 1981 by mountain-biking pioneer and Hall-of-Famer Kent Eriksen (above), Moots is a small customizing outfit that pushes the envelope of design. The shop's 12 employees hand-build a modest 650 bikes per year. In 1986, they helped initiate full suspension with the YBB (Why Be Beat), the first all-suspension bike to win a NORBA cross-country championship, and in 1991, they made the revolutionary switch from steel to lightweight titanium. A Moots-built bike won't come cheap, but acquiring the latest design, the Smoothie, will leave you with the strongest, lightest, most durable cross-country mountain-bike frame on the planet.
$5,175 for a Smoothie; 970-879-1676; www.moots.com
Back to the top
FLY-FISHING STORE
Jack Dennis's Pro Tackle Shop
A stupendous combination of five 20-year-veteran employees, some 700 fly patterns (many tied locally), and Jackson, Wyoming's most experienced stable of guides easily qualifies Jack Dennis's Pro Tackle Shop as the best in the country. Need more proof? Among a slew of other notables, regular customers in the shop have included four of the last six presidents (Ford, Carter, Bush Sr., and Clinton).
800-570-3270; www.jackdennis.com
Back to the top
The Best Advice
"Do not burn yourself out. Be as I am—a reluctant enthusiast…a part time crusader, a half-hearted fanatic. Save the other half of yourselves and your lives for pleasure and adventure. It is not enough to fight for the land; it is even more important to enjoy it. While you can. While it is still there. So get out there and hunt and fish and mess around with your friends, ramble out yonder and explore the forests, encounter the grizz, climb the mountains, bag the peaks. Run the rivers, breathe deep of that yet sweet and lucid air, sit quietly for a while and contemplate the precious stillness, that lovely, mysterious and awesome space. Enjoy yourselves, keep your brain in your head and your head firmly attached to the body, the body active and alive, and I promise you this much: I promise you this one sweet victory over our enemies, over those deskbound people with their hearts in a safe deposit box and their eyes hypnotized by desk calculators. I promise you this: You will outlive the bastards."
— Edward Abbey (1927-1989), author of The Monkey Wrench Gang and Desert Solitaire, at a 1987 Earth First! rally at the Grand Canyon. Abbey was an Outside correspondent from 1980 until his death.
Back to the top

Health & Entertainment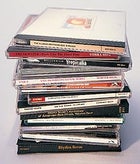 Adventure Book  Sound Tracks  Abdominal Workout  Fitness Test
PETER MATTHIESSEN ON THE BEST ADVENTURE BOOK OF ALL TIME:
"The Worst Journey in the World [by Apsley Cherry-Garrard] has always been my favorite—beautifully written, immensely moving, without a trace of melodrama or self-vaunting."
Back to the top

SOUND TRACKS
For the open road:
The Charm of the Highway Strip
The Magnetic Fields (Merge)
Double Nickels on the Dime
Minutemen (SST)
More a Legend Than a Band
The Flatlanders (Rounder)
To get lost by:
I Am the Cosmos
Chris Bell (Ryko)
Astral Weeks
Van Morrison (WEA/Warner Bros.)
Moon Safari
Air (Source/Astralwerks)
To shake your rump to:
Felix Hernandez Presents Rhythm Revue
Various Artists (TVT)
Ray of Light
Madonna (Maverick/Warner Bros.)
You've Come a Long Way, Baby
Fatboy Slim (Skint/Astralwerks)
To sip a cool drink by:
Millennium Tropicalia
Various Artists (Mercury/Universal)
Getz/Gilberto
Stan Getz and Joao Gilberto (Verve)
Feels Like the Third Time
Freakwater (Thrill Jockey)
For sing-alongs:
De La Soul Is Dead
De La Soul (Tommy Boy)
Tenacious D
Tenacious D (Epic)
Paul's Boutique
Beastie Boys (EMD/Capitol)
For coming home:
American Water
Silver Jews (Drag City)
Eat a Peach
The Allman Brothers Band (UNI/Mercury)
Harry Smith's Anthology: Volume 4, American Folk
Various Artists (Revenant)
Back to the top
WORKOUT FOR MAGAZINE-WORTHY ABS
"Forget about the hyped-up infomercials and diet plans," says Eric Harr, 29, elite triathlete and author of
The Portable Personal Trainer
. "If you're after a washboard stomach, try focused crunches." Lie on your back, knees bent, feet flat. Use your abs to lift your upper torso six inches off the floor, and hold for ten seconds. Focus on using all of your ab muscles together. Rest for 15 to 20 seconds and repeat. Do one set of ten three times a week. "Add this crunch routine to three 40-minute sessions of aerobic activity a week," advises Harr. "It's all you need."
Back to the top
The Ultimate Fitness Test
The oldest in the United States, the Boston Marathon still offers the running world's most coveted title. Making its way through Beantown's colonial neighborhoods since 1896, with fans lining the course five deep and then some, this race becomes legendary at mile 20, where the gradual but unrelenting Heartbreak Hill punishes its 15,000 runners. Just competing is grounds for a swelled head: Qualifying time for men between 18 and 34 for next year's race is a scorching three hours and ten minutes. Better start training.
www.bostonmarathon.org
Back to the top
Eclectica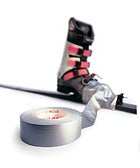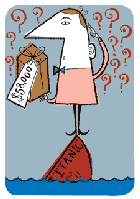 Thing  Hard-to-find Map  Way To Go (4,3,2,1 resurrection now)  Answer to Everything (duct tape)  Airlines
My Favorite Thing
By Jack Handey
It's not that much to look at. The nubs are completely worn off in some spots; the wooden prongs are swollen and warped, and the springs are so loose they can barely pull the magnets apart. And yet, I wouldn't trade it for anything. Every time I slip it out of its flannel tote bag, oil it up, and fasten down the straps, I feel like a king.
Like many of the best things, it's old. And rare—only a few thousand were ever made. Most of them, of course, went down with the Titanic. A few were mistakenly turned into bird feeders. And the rest have been avidly sought by museums, collectors, and "sportsmen."

I found mine many years ago in a run-down little shop in Asbestos, Colorado. The white-haired proprietor was bent over a table repairing it, and even with the rubber tubing, French grommets, and other parts scattered all over, I knew I had to have it. The old man sensed the light in my eyes and told me to come back in a week. I came back in two weeks, because, I don't know, I was busy or something, and paid the then princely sum of $58,000, plus my watch.

Since then, the shop has been bulldozed down, the old man has died (from a bulldozer), and Asbestos, Colorado, has changed its name to Aspen. But I still have my prize.

People ask me if it still works. That's like asking a Canadian if he likes puppets. It works like a dream, and not the kind where you wake up screaming.

Nowadays you can buy a modern, mass-produced version. And I admit, they're stronger, lighter, and much, much easier to turn off. But there's something about the originals that makes you want to hang on to them, at least until somebody makes you an offer of no less than $45,000.
Jack Handey is a former Saturday Night Live writer. His latest book is The Lost Deep Thoughts (Hyperion).
Back to the top
HARD-TO-FIND-MAP
MapLink
Need a map of the trail system in Torres del Paine National Park? MapLink's got it. A topo map of the Okavango Delta? No sweat. With more than 100,000 titles, including domestic, international, and the complete USGS topographic series, this map importer, distributor, and wholesaler is the place to turn for tough-to-track-down maps and atlases. Fast, friendly service, too.
800-962-1394; www.maplink.com
Back to the top
. . . 4, 3, 2, 1 Resurrection Now!
By Mary Roach
The adventurous spirit does not go gently into a spunbronze memorial urn; he longs to be scattered on the winds, the farther and higher the better. The desire to find the best way to go seems to predate both the airplane and the crematory furnace. According to City of the Silent, a Web site dedicated to mortuary culture and cemetery history, inventor James O'Kelley devised a small rocket in 1901 called the Navohi that, powered by the gases of the decomposing corpse, shot the remains into the sky where they "would disintegrate into the atmosphere."

Modern-day altitude records are held by The Eternal Ascent Society of Crystal River, Florida, which, for $595, will fill an oversize balloon with helium and your cremated remains, and let it go, whereupon it will rise five miles, freeze, expand, and shatter, dispatching you "into the jet stream, into heavens all over the world." If they can steer clear of international airports, there is nothing to keep your loved ones from buying their own oversize helium balloons and doing it themselves—provided they request an extra-fine grinding of your earthly leftovers, lest, as one cremation professional put it, "a toe joint comes down on somebody's picnic."
More earthbound types will want to check into Canuck's Sportsmen's Memorials Inc. of Des Moines, Iowa, which will seal your remains into the sporting equipment of your choice: basketball, ice ax, duck decoy, shotgun shells, etc. One woman had her husband sealed into his tackle box and dropped into the water at his favorite fishing spot. Company founder Jay W. Knudsen Sr., refused only one request, that of the widow of a disc jockey. He wouldn't say what she wanted the remains put into, but it's safe to say it wasn't a duck decoy.
Mary Roach wrote about Antarctica in August 2001. She is at work on a book about cadavers.
Back to the top
The Sticky Fixer Upper
It was Siberia in the summer. Black clouds of mosquitoes darkened the sky. We were pushing our bicycles through a hot stretch of a 700-mile-wide swamp. The bugs became so bad we were forced to don our rainjackets and rainpants. Still, the fierce little devils found their way in. There was only one solution: DUCT TAPE. We taped our jackets to our wrists and our pants to our ankles and carried on—for a month.

Another time, on the Tibetan plateau during a windstorm that lasted a week. Sand was blowing straight through the tent zipper. Grit in our sleeping bags, in our food, in every orifice. The solution: duct tape. Taped right over the tent zippers.

Or deep in the Rockies in the dead of winter when a ski binding broke: Taped the boot directly to the ski. I would no sooner go into the wilderness without duct tape than I would without a knife or a lighter.—Mark Jenkins
Back to the top
THE BEST AIRLINES
Singapore Airlines
Enjoy the free-flowing champagne, travel socks, and pre-meal hot face towels. Satellite phones and inflight e-mail capability (new this fall) keep you in touch with the earthbound.
800-742-3333; www.singaporeair.com

Thai Airways International
Asian elegance at 37,000 feet: fresh orchids for the ladies, spicy Thai food, and smiling flight attendants who change outfits several times over the Pacific and urge their passengers to drink plenty of water.
800-426-5204; www.thaiairways.com

Virgin Atlantic Airways
The hippest lounges in the stratosphere, TVs on the back of every comfy seat, plus goody bags packed with lip balm, aromatherapy potions, and a rubber duckie (for washtime in the loo). Fab accents, too.
800-862-8621; www.virgin-atlantic.com

Swiss Air
Every meal served is made with organically grown ingredients (even the coffee's PC)—and hey, they're the punctual Swiss!
800-221-8125; www.swissair.com

Ethiopian Airlines
Head and shoulders above any other airline in Africa—brand-new planes, very reasonable fares, excellent maintenance, and an almost spotless safety record.
800-445-2733; www.fly ethiopian.com
Back to the top