Organ Pipe Cactus Reopens After 11 Years
Drug cartels no longer barrier to enjoying "most dangerous national park"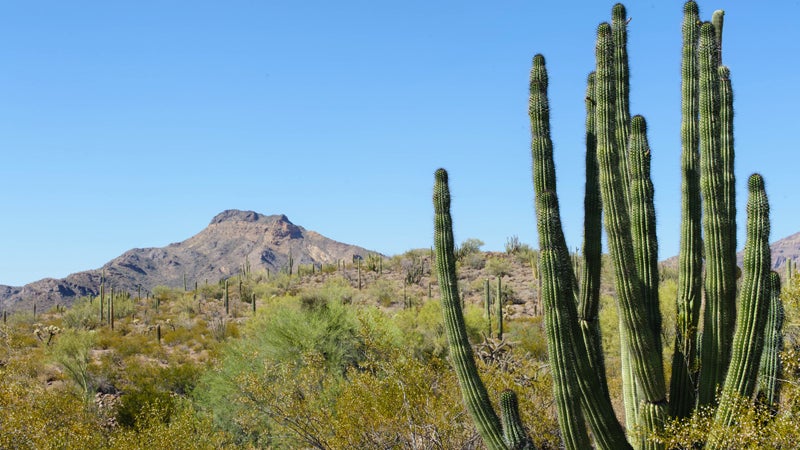 Koert Wilmink(Photo)
Heading out the door? Read this article on the new Outside+ app available now on iOS devices for members! Download the app.
Arizona's Organ Pipe Cactus National Monument reopened all of its land to the public on September 15 following an 11-year period in which most of the area was closed due to the operations of violent drug-smuggling cartels.
After ranger Kris Eggle was shot and killed while chasing a cartel hit squad in 2002, rangers roped off nearly 70 percent of the 517-square-mile monument, 30 miles of which trace the Mexican border. According to High Country News (HCN), the monument's managers feel that border security implemented since the closure has made the entire park sufficiently safe for visitors.
"No more armed guards," said Sue Walter, the monument's chief of interpretation, in an interview with HCN. "[The border] has surveillance towers, vehicle barriers, pedestrian fences. We're educating visitors, and they can make their own decisions about whether they feel comfortable [going into the backcountry]."
Organ Pipe's cartel trouble began in the 1990s, with urban security raids pushing human and drug trafficking to rural areas. Rangers were increasingly drawn into high-speed chases through the monument, 95 percent of which is designated wilderness, in pursuit of drug busts. According to the National Parks Conservation Association, border patrol estimated that at least 700,000 pounds of drugs entered the United States through Organ Pipe in 2000.
Officials began tightening border security after September 11, 2001. In 2005, Organ Pipe rangers seized 17,000 pounds of marijuana; in 2013, they seized at least 100,000 pounds. 
While border security has enhanced visitor safety, HCN notes that it has greatly damaged Organ Pipe's ecosystems. Improved surveillance has left thousands of miles of vehicle tracks across the monument, breaking up fragile soil crusts and creating localized dust bowl conditions. Additionally, border barriers erected by the Department of Homeland Security did not have to comply with environmental laws.
Lead Photo: Koert Wilmink