8 Groups Fighting to Improve the Outdoors for All
Give your dollars and time to one of these organizations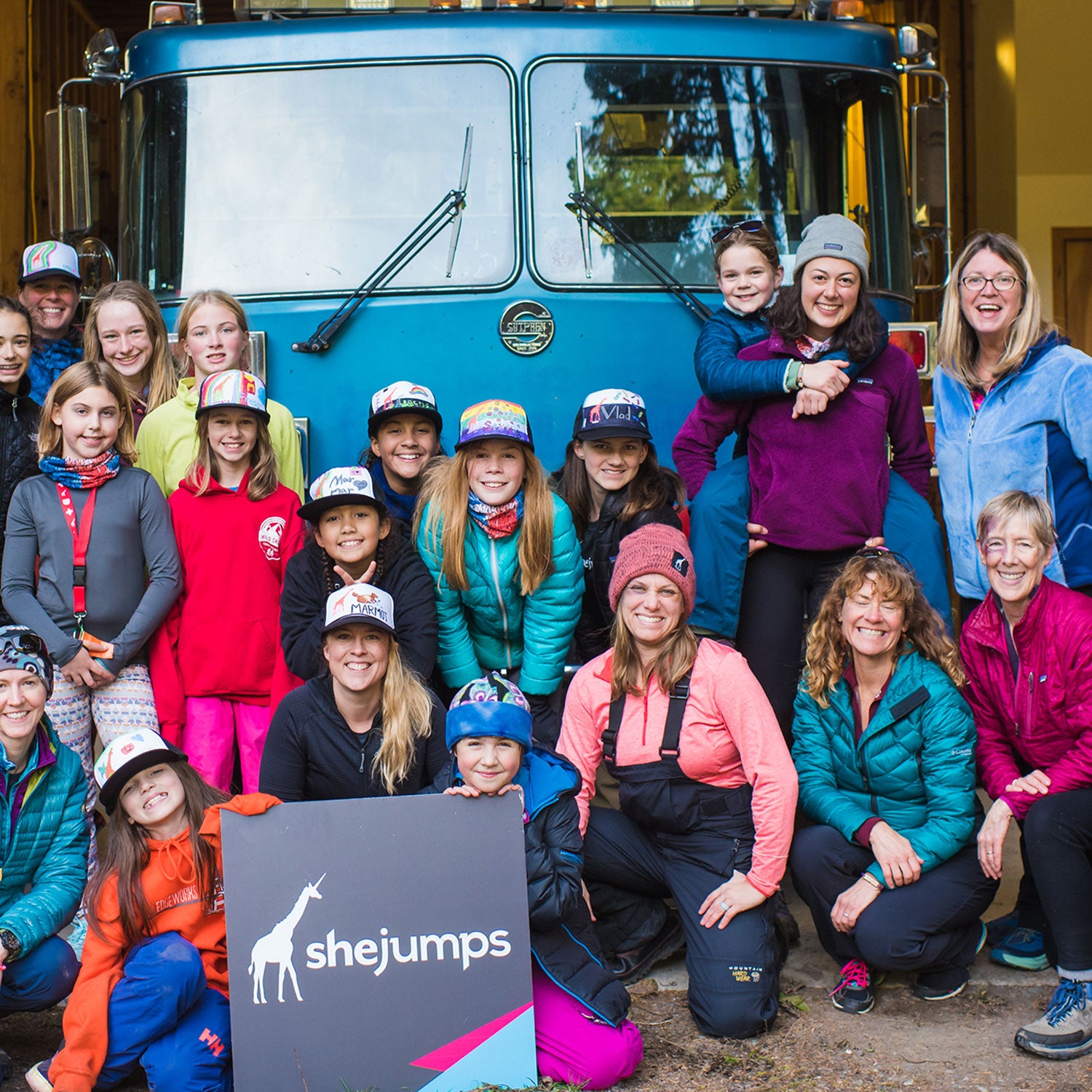 Christy Pelland/SheJumps
Heading out the door? Read this article on the new Outside+ app available now on iOS devices for members! Download the app.
Philanthropic giving has surged in the past two years. Even though experts predicted a sharp decline during the pandemic, Americans blew those expectations out of the water by giving $484.85 billion in 2021, a 4 percent increase from the year before, according to the latest data from the National Philanthropic Trust. And here's something else: about 77 million people, or 30 percent of the adult population, volunteer their time and talents to non-profit organizations each year.
There are thousands of outdoor nonprofits vying for those dollars and energy. To compile our short list of favorites, we gathered recommendations from colleagues, readers, and previous stories. Then we zeroed in on organizations with nationwide (or global) reach that are doing at least one of the following: fighting for social and environmental justice, increasing outdoor participation among diverse community groups, and protecting the natural world. Finally, we checked watchdog sites like Charity Navigator and GuideStar, which score nonprofits based on operational transparency and balanced finances, to make sure our picks had at least average or above-average scores in their categories.
Don't wait until Giving Tuesday or the next natural disaster to support a cause that's making our world a better place. Nonprofit organizations accept donations year round and are always in need of volunteers. Next time you're motivated to take action, consider giving back to one of these eight outdoor-focused entities.
The American Alpine Club 
Established in 1902, the American Alpine Club is officially the oldest organization in climbing—and arguably the most progressive. In recent years the AAC has made statements vowing to help diversify the notoriously elitist sport, and it's not just lip service.
In April 2021, it announced the Climb United Initiative to elevate historically marginalized voices through grants for underrepresented filmmakers, an affiliate support network for affinity groups like Cruxing in Color and the Queer Climbing Collective, and a Route Name Task Force to avoid oppressive and discriminating route naming. So far, the initiative has renamed over 600 routes, hosted nine meetups with more than 100 attendees, and provided a $16,000 grant to one filmmaker and $40,000 in grants to 32 recipients. The club is also behind the Climbing Grief Fund, connecting members to mental health professionals and other resources to cope with psychological fallout after accidents and deaths.
Financing comes through gifts and grants, corporate sponsorship, dues from more than 24,000 members, income from the AAC's network of mountain lodges, and publication of the American Alpine Journal and Accidents in North American Mountaineering.
Protect Our Winters
Whenever your favorite snowsports athletes gather on Capitol Hill, it's probably through Protect Our Winters' organized lobbying days. Snowboarder Jeremy Jones launched the organization  in 2007 to mobilize the snowsports community—pro athletes, resorts, and enthusiasts alike—to advocate for government action on climate change. It has grown significantly beyond being a winter-focused org by adding influential athletes to its POW Climb and POW Trail alliances. This year, it will launch POW Bike. Its campaigns include Stoke the Vote, an athlete-backed push to vote in every election, and Protect the Arctic Refuge to keep oil and gas off public lands.
In its 2021 annual report, executive director Mario Molina wrote that some of the organization's wins included advocating for the climate policies in the bipartisan infrastructure bill and rallying corporate partners to get greenhouse gas reduction standards passed into law in Colorado. With a budget of more than $3.5 million, $2.5 million goes into lobbying trips to Capitol Hill, giving advocacy and adventure grants, and training alliance ambassadors.
Earth Guardians
Based in Boulder, Colorado, Earth Guardians is raising the world's next generation of environmental and climate justice leaders. Since 1992, the nonprofit has trained 22,000 youth activists in 70 countries to use their stories and art to influence change through legal action, civic engagement, and frontline projects. The global organization gained notoriety when in 2015, Xiuhtezcatl Roske-Martinez and 21 other youth members filed a lawsuit against the U.S. Federal government, arguing that the government is ignoring their right to life, liberty, and property by ignoring climate change. (It was dismissed in 2020).
Their guiding principles are to guardian the earth, communicate in a nonviolent way, share knowledge and resources, and unify youth activists. According to annual reports accessible on the website, the majority of funding goes to programs and grants for members and environmental justice projects. Past projects have included a tree planting initiative in Brazil and a waste sorting program in Cameroon.
The Conservation Alliance 
Established in 1989, The Conservation Alliance funds and advocates for the protection of America's wild places by teaming up with outdoor communities and more than 270 businesses—like adidas Terrex, Cascade Designs, and Dometic—to leverage the government for conservation-forward legislation, such as influencing President Biden to cancel federal mining leases near the Boundary Waters Canoe Area Wilderness. So far, the nonprofit has helped save more than 73 million acres of wildlands and 3,580 miles of rivers, stop or remove 37 dams, designate five marine reserves, and establish 21 climbing areas.
Acknowledging that the conservation space tends to exclude marginalized voices, the alliance has a task force dedicated to justice, equity, diversity, and inclusion. This year, the organization plans to disburse more than $2.2 million through grants to smaller groups like Aboriginal Outfitters and the Hispanic Access Foundation. It shares conservation news, videos, and tools for taking action on its website, where it also publishes easy-to-find annual reports on finances and goals.
The Venture Out Project
The Venture Out Project founder Perry Cohen is creating safe spaces in nature for the queer and transgender community to connect with each other, develop skills, and build confidence.
A team of volunteers leads wilderness trips of all kinds across the country, centered around some of the coolest concepts—from a queer photography course with trans climber and activist Nikki Smith to a sober rafting trip in the Southwest. These trips give participants the opportunity to challenge themselves, whether it's by accomplishing physical goals or exploring more of their own identity. The Venture Out Project also offers trans inclusion workshops, private group training, and ally resources to equip educators, adventure professionals, and summer camps with language and tools to be more welcoming and affirming.
In 2021, the organization purchased a 40-acre property in Southern Vermont to serve as a basecamp for wilderness adventures and a destination for workshops—like woodworking and photography instruction—and day events. The site is also available for private retreats and rentals.
Trust for Public Land 
The Trust for Public Land was built on the belief that everyone deserves access to nature within a ten-minute walk from home as a matter of health, equity, and justice. With more than 30 offices nationwide, the organization helps raise funds, conduct research, acquire and protect land, and design and renovate open spaces.
Through the Equitable Communities Fund, the trust is giving grants to 62 communities in need. In Safford, Arizona, $25,000 will go toward constructing a five-mile non-motorized trail along the Gila River for hikers, cyclists, and horse riders. In Newark, New Jersey, $100,000 will fund a park in a neighborhood that has struggled with poverty and crime.
Additional initiatives include the trust's Park Score Index, which surveys and ranks 100 of the most populous cities based on how they're using parks and open spaces to confront the climate crisis. In 2022, they scored Washington, D.C. as the top city because 98 percent of residents in both high- and low-income neighborhoods live within walking distance from a park.
SheJumps
Based in Salt Lake City, Utah, SheJumps aims to increases the participation of women and girls (cisgender, transgender, and nonbinary) in outdoor activities that foster confidence, leadership, and connection. Girls as young as six years old can participate in what the organization calls Wild Skills youth events—with instruction in first aid, navigation, and outdoor survival. Adult programming includes fly-fishing, ski mountaineering, and mountain biking—amounting to 36,000 opportunities since its founding in 2007.
Many outdoor sports are intimidating for beginners, but SheJumps tries to create a fun, inclusive, non-threatening, and non-judgmental environment for participants to learn. One of the organization's goals is to center equity and diversity as it attracts volunteers and members.
SheJumps also offers a Snowpack Scholarship (avalanche safety) and a Wilderness First Aid Scholarship for women who identify as Black, Indigenous, or other people of color.
Outdoor Afro*
Founded by Rue Mapp in 2009, Outdoor Afro brings people together to celebrate Black joy in nature. It also creates visibility and solidarity for Black people who regularly get outside and frequent public lands, while facilitating brand new outdoor experiences for others. The organization has a network of 60,000 participants and 100 trained volunteer leaders, and gatherings are hosted across the country in 60 cities from Seattle to Chicago. Every year, a new cohort of volunteers is brought onboard to learn and sculpt the curriculum. Networks are organized by regions: Midwest, Northeast, South, and West. Opportunities for swimming, glamping, hiking, and more are posted through Meetup pages for each city.
Outdoor Afro's Making Waves program returned this year with a goal of getting 1,000 new swimmers into pools in 2022 via swim lesson scholarships. The long-term goal is helping 100,000 Black children and their caregivers learn to swim over the next ten years.
Corporate financial sponsors include The North Face, Clif Bar, and Keen.
*Unlike the other groups on our list, Outdoor Afro is a not-for-profit organization rather than a nonprofit.
Lead Photo: Christy Pelland/SheJumps
Trending on Outside Online