Purebred Dogs: Then and Now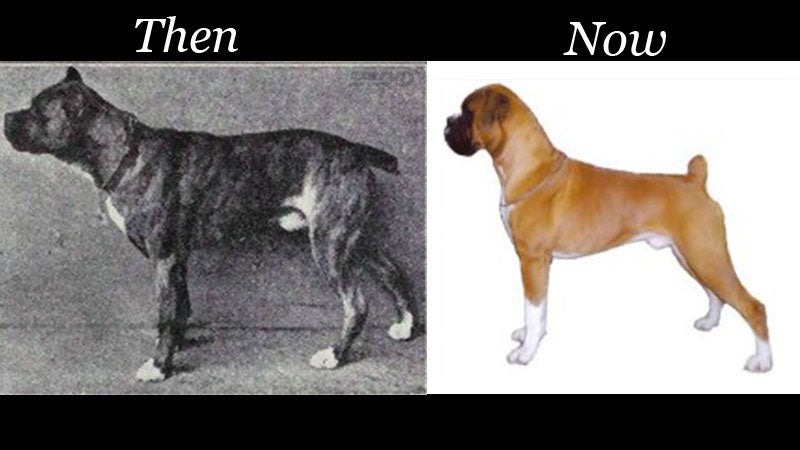 Courtesy of Sploid(Photo)
Heading out the door? Read this article on the new Outside+ app available now on iOS devices for members! Download the app.
You might never look at pure breeds the same way again. Science of Dogs has collected a number of photos from the 1915 book, Breeds of All Nations, and compared the breeds to their modern-day descendants. The results are surprising, and in many cases, saddening, as a century of breeding for aesthetic qualities alone has instilled many of these breeds with endemic health problems and shorter lifespans.
The good folks over at Sploid have graciously spliced a number of the photos into startling before/after gifs, a few of which you can see here (text via Science of Dogs).
Take the modern boxer for example…
A shorter face means a host of problems. The modern Boxer not only has a shorter face but the muzzle is slightly upturned. The boxer – like all bracecyphalic dogs – has difficulty controlling its temperature in hot weather, the inability to shed heat places limits on physical performance. It also has one of the highest cancer rates.
…the Dachshund…
The Dachshund used to have functional legs and necks that made sense for their size. Backs and necks have gotten longer, chest jutted forward and legs have shrunk to such proportions that there is barely any clearance between the chest and floor. The dachschund has the highest risk of any breed for intervertebral disc disease which can result in paralysis; they are also prone to achondroplastic related pathologies, PRA and problems with their legs.
…or the English bulldog.
They suffer from almost every possible disease. A 2004 survey by the Kennel Club found that they die at the median age of 6.25 years (n=180). There really is no such thing as a healthy bulldog. The bulldog's monstrous proportions makes them virtually incapable of mating or birthing without medical intervention.
Check out more breed comparisons at Science of Dogs or more gifs over at Sploid.
Lead Photo: Courtesy of Sploid
Trending on Outside Online