Push the Envelope Please
It's Oscar time in Hollywood, and at Outside, too. But we're skipping the Academy darlings to salute the little guys: six flicks that wowed us with their small-scale spectacle, and one—on global warming—of epic magnitude.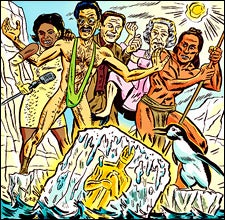 Heading out the door? Read this article on the new Outside+ app available now on iOS devices for members! Download the app.
Best on Belay: First Ascent

Coming Soon
Open Water director Chris Kentis is ready for a bigger boat—and Warner Bros. is giving it to him. The company has nabbed Kentis to direct Indianapolis, based on Doug Stanton's 2001 book In Harm's Way, the true story of the survivors of a World War II vessel that sank in (you guessed it) shark-infested waters in the Philippine Sea. Meanwhile, We Are Marshall's Anthony Mackie is lacing up his track shoes to headline Milkshake Films' Jesse, about African-American Jesse Owens, who took four gold medals in the 1936 Berlin Olympics. And let's hope David Duchovny has taken a few funny pills since his 2004 lemon House of D. The X Files hero is co-writing Yoga …
Best Movies

With virgin climbs from Thailand to the high-rises of Hollywood, the latest from Return2Sender director Peter Mortimer includes rock porn and a storyline. The film follows Switzerland's Didier Berthod on his quest to send a long-standing project, British Columbia's Cobra Crack, considered one of the hardest crack climbsin the world. In the end, will rock beat man, leaving us to taste the failure? $30; senderfilms.com

Best Buddy Flick: Old Joy


When Kurt (Will Oldham) and Mark (Daniel London), former high school pals who haven't seen each other in years, spend a weekend camping in Oregon's Cascade Range, their connection grows as thick as the old-growth forest around them. A critics' favorite since it premiered at Sundance in 2006, this one's part Seinfeld (funny, but nothing really happens), part A River Runs Through It (thanks to stellar cinematography and fraternal bonding). Coming soon on DVD; kino.com/oldjoy

Best Movie About Figs: The Queen of Trees


British filmmakers Mark Deeble and Victoria Stone spent two years camped in the Kenyan outback, using custom-made cameras to film life in and around a giant sycamore fig tree. Sounds sleepy, but it's not, thanks to close-ups of the nearly microscopic fig wasps, which live, mate, and die inside the grape-size fruit, and on which the tree—and nearly the entire ecosystem—depends. $20; shopthirteen.org

Best Supporting Agronomist: The Real Dirt on Farmer John


Documentary filmmaker Taggart Siegel explores the life of John Peterson, a flamboyant farmer who saves his Illinois fields from financial ruin by going organic—and then convincing nearby Chicagoans to invest and enjoy the harvest. It's a quirky tale of man vs. the locals (who at first think Peterson's a crackpot) and the beauty of community-supported agriculture, with a happy, pesticide-free ending. For DVD release information, visit angelicorganics.com

Best Reason to Free Your Heels: PW06


With a $15,000 budget—roughly what a slicker ski-porn outfit would spend for one morning's helicopter rental—Utah-based Powderwhore shot a telemark movie that stands out for its simplicity: human-powered ascents and frighteningly steep descents on couloirs in Alaska and Colorado. These skiers prove there's more to dropping a knee than killer quads. $22; powderwhore.com

Best Motivation to Buy a Hybrid: An Inconvenient Truth


Al Gore's global-warming doc grossed more than $23 million—proof that millions of Americans are willing to sit through a slide show to learn, for better or worse, about the state of the planet. That alone gives us hope for the future. $20; climatecrisis.net