Queen of the Mountain
In her new autobiography, Lynn Hill looks back on three decades of big climbs, big falls, and bigger egos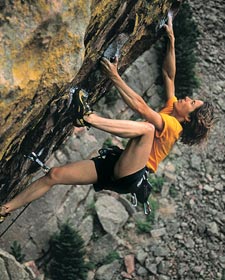 Heading out the door? Read this article on the new Outside+ app available now on iOS devices for members! Download the app.
LYNN HILL, the worlds's most accomplished female rock climber, first roped up at age 14, honed her chops at European sport climbing competitions in the eighties, and in 1993 nailed her place in history with the first free-climb of The Nose, a 2,900-foot monster route on Yosemite's El Capitan. (Free-climbers use ropes and gear only to arrest a fall, and not to aid their ascent.) Outside caught up with Hill, now 41, to talk about her forthcoming autobiography,
Climbing Free: My Life in the Vertical World
(Norton, $25, available in April).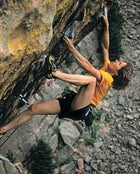 Hill scaling Your Mother, a 5.12d in El Dorado Canyon, Colorado, May 2001

Q: Your book opens with the story of a 72-foot screamer on a cliff in France in 1989 that could have killed you. Where did you go wrong?

A: I got distracted and forgot to finish tying my knot. A tree broke my fall, so when I landed I only dislocated an elbow. Lying in that hospital bed, I realized again that climbing defined me. It was in my blood and I couldn't imagine life without it.
Q: You went on to free-climb one of El Cap's hardest routes. Eight years after your epic ascent, no climber has even attempted to repeat the feat. Why?

A: It's very, very difficult. It requires a wide variety of climbing experience—wide cracks, thin cracks, face climbing, everything. There are men who could do it, but they'd have to put their ego on the line because a woman has already done it.


Q: You haven't made any significant climbs since your Yosemite triumph, opting instead for travel, less-challenging ascents, and public speaking engagements. Why?

A: The Nose capped off my professional career. Ever since, people have been asking me, "What's next?" They need to understand that I'm not into the "I'm number one, I win and you lose" mind-set. Life isn't just about pushing yourself to always go harder, faster, bigger, and better. If you're constantly on the edge, at some point you're going to die or get hurt.


Q: How do you respond, then, when people say you're coasting?

A: Anyone who says that needs to rethink the meaning of life. If challenging myself as a climber and enjoying life is coasting, then so be it—I'm coasting.