R2R Permits Required at Grand Canyon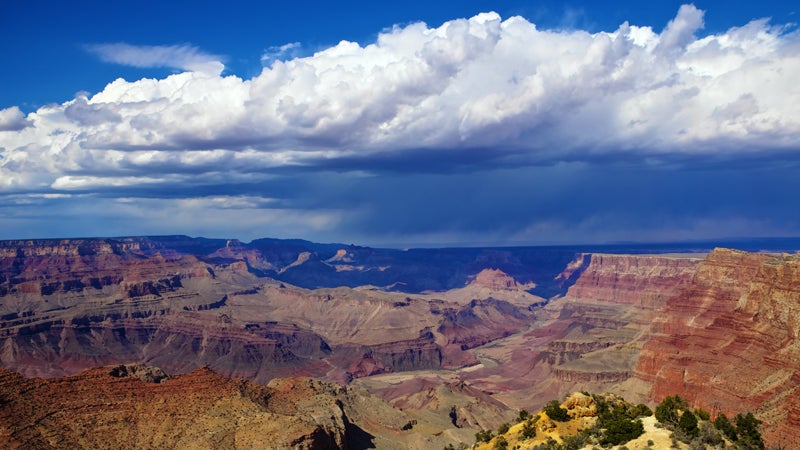 Heading out the door? Read this article on the new Outside+ app available now on iOS devices for members! Download the app.
The National Park Service announced yesterday that noncommercial groups organizing rim-to-rim and extended day hikes and runs through Grand Canyon National Park's inner canyon will require interim special use permits as of September 15, until it releases a revised Backcountry Management Plan to deal with park congestion and visitor behavior.
Running the 21 miles separating the canyon's North and South Rims, and even running the distance twice, has become increasingly popular during the past few years. Rangers estimate that up to 800 people gape at the park's storied red rock during peak spring and fall weekends, with 400 to 600 of those being rim-to-rim runners and hikers hauling up and down 4,000-foot drops and climbs.
This increased appreciation for America's wild places has resulted in some problems for the park—increased litter, abandoned gear on trails, overburdened search-and-rescue teams, overwhelmed infrastructure, crowded restrooms, and unprepared or injured runners, to name a few. Enter the interim guidelines.
"With rim-to-rim and extended day hiking and running increasing in popularity, we needed to find an interim solution that would give us the tool to educate hikers and runners on best practices until we have a longer-term solution in place," park superintendent Dave Uberuaga said in a statement. These practices include Leave No Trace principles and trail safety guidelines.
Interim permits will remain in play until the park completes the update to its 1988 Backcountry Management Plan. A draft of the plan is expected this fall, after the park completes an environmental impact statement. Those interested in contributing to or monitoring the BMP should visit the park's website.
Thinking of running rim-to-rim or rim-to-rim-to-rim, like our correspondent Katie Arnold did, as part of an organized group? Here's what you need to know:
What qualifies as a noncommercial, organized group? "Any group, regardless of size, which has advertised to the general public, required individuals to sign up prior to participation, or that has an organizer who has been compensated for their services, including subsidized participation, will be required to obtain a Special Use Permit."
How do groups get permits? Groups should apply for permits, which cost $175 each, through the Grand Canyon National Park's website. Groups are allowed one permit per day, and there is no limit to the number of groups that can get permits each day.
How many people can be in a group? The park is limiting groups to 30 people. Of note: In a group of seven, at least one member should be a Wilderness First Responder or have certification in emergency response, CPR, or first aid. Groups exceeding seven people need two certified members.
Can commercial groups get permits? No. The park isn't considering extending the opportunity to commercial groups after the interim period either.
What's it like to run rim-to-rim? Arnold waxed poetic for us about her experience:
"The wonder of the Inner Gorge made me want to cry. The rock was so old; it was indifferent to joy and pain, success, or failure. I could be anything in this canyon, and it wouldn't matter. We were tiny and new, specks on the landscape. This was true freedom. This is why I'd come. This is why I run."
Those interested in running the canyon are encouraged to review Arnold's full report, as well as her tips for planning the best route.
Lead Photo: Felix Morgner