The Real Problem on Everest
Nepalese government is using new trash laws as a distraction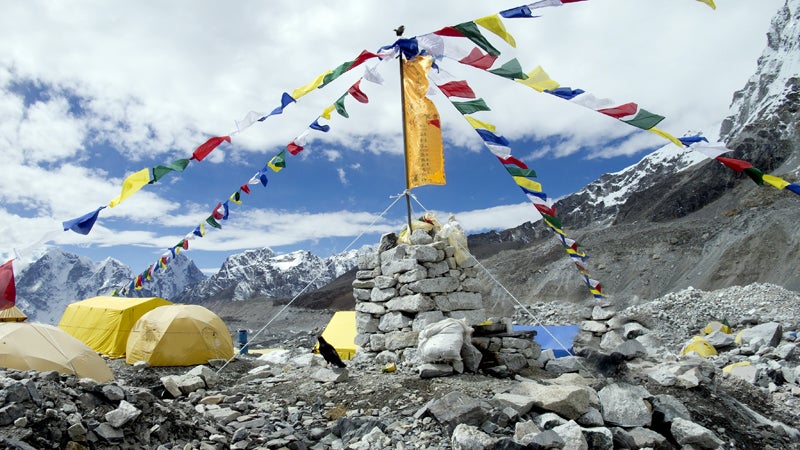 MBPROJEKT_Maciej_Bledowski/Think(Photo)
Heading out the door? Read this article on the new Outside+ app available now on iOS devices for members! Download the app.
Nepalese officials announced Thursday that new laws will require climbers to bring down just under 18 pounds of waste, along with their own personal garbage, from Mount Everest during ascents. But contrary to what reports are saying, the real issue isn't garbage on the mountain—it's ongoing Sherpa labor laws. 
"Everest does not have a trash problem," Outside senior editor and Everest correspondent Grayson Schaffer says. "These new laws are a diversion tactic to distract from labor issues." Schaffer has reported extensively on the welfare of Sherpas on Everest—and those issues have especially come to the fore after 16 Sherpas died in an avalanche on April 18.
"The government wants to make it appear that they have control over a problem," Schaffer says. "But this one does not exist."
Though Everest does not have a garbage problem, there is a growing problem with sanitation. Climbers often defecate into crevasses above Base Camp. But the glacier—and the waste entombed within it—is slowly making its way back toward Base Camp, says Schaffer. And climbers all drink that meltwater. 
After massive non-government cleanups that took place in the 1990s, such as the Sagarmatha Environmental Expedition, climbers know they ought to carry their waste down the mountain with them. "We removed quite a bit of trash—I think 5,000 pounds, during one trip—but that was our focus," says Rob Hess, the equipment leader of the SEE in 1994. "I would like to think that the laws from the Nepalese government are for the betterment of the mountain. But there is a bit of inequity."
Lead Photo: MBPROJEKT_Maciej_Bledowski/Think