Rebel in Ray-Bans
A new bio of Miki Dora, the original maverick surfer, gets his story right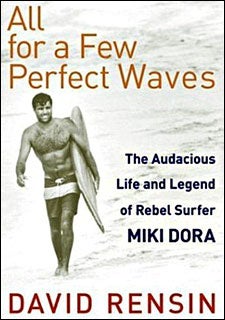 Heading out the door? Read this article on the new Outside+ app available now on iOS devices for members! Download the app.
EVEN NOW, SIX YEARS after his death, at 67, from pancreatic cancer, you can head to the beach in Malibu and find DA CAT LIVES spray-painted on a wall. Da Cat is surfer Miki Dora, a.k.a. Mickey Chapin, a.k.a. the Black Knight. The enigmatic wave man who invented renegade surf culture as we know it had so many aliases that it's always been hard to get his story straight. Yet Los Angeles– based journalist David Rensin comes as close as anyone has so far in his new oral-history-based biography, All for a Few Perfect Waves: The Audacious Life and Legend of Rebel Surfer Miki Dora (HarperEntertainment, $26).
All For a Few Perfect Waves by David Rensin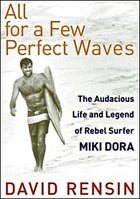 Get a copy of Rensin's biography from
Amazon
.
In the 1950s and '60s, when Malibu was the center of the surf universe, Dora was its master. He was part of the scene that inspired the Gidget movies—and, despite his anticommercial bent, worked on them as a stunt double—but Dora's hatred of the resultant crowds inspired Surfer editor Sam George to label him "the guy who invented localism." Called Da Cat for both his feline grace on the waves and his sneaky ways off them, Dora was a true outlaw. Refusing to take a job—to him, "nothing in life was more valuable than total personal freedom," Rensin writes—Dora lived off scams, cons, and the largesse of beautiful women. He forged passports and faked credit cards; in 1981, after a global FBI chase, he spent nearly a year in prison.
Since Dora spent much of his life lying about his legacy, Rensin set out to unearth the truth by interviewing just about anyone who knew him: 300 relatives, ex-girlfriends, slighted bank executives, and, of course, surf notables, from big-wave pioneer Greg "Da Bull" Noll to Riding Giants director Stacy Peralta. The result is a treasure trove of anecdotes, pieced together to create a portrait of the man whose life was every bit as intriguing as his myth.