Rory Bosio Dominates, Again
Finishes more than an hour ahead of next woman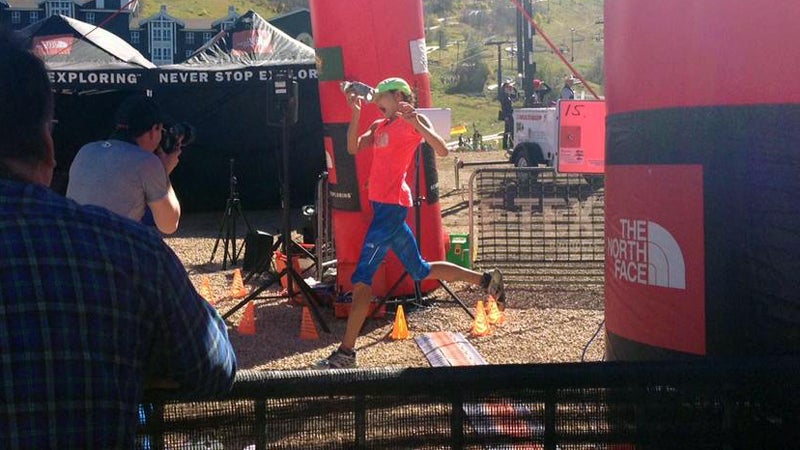 Heading out the door? Read this article on the new Outside+ app available now on iOS devices for members! Download the app.
Ultramarathoners Rory Bosio and Chase Parnell were the fastest woman and man at this weekend's North Face Endurance Challenge 50-mile trail race in Park City, Utah (#ECSUT). The new race through Park City Mountain Resort reaches the highest altitudes of the six events in the series: Runners start at 7,000 feet and reach nearly 10,000 feet, climbing a total of 13,552 feet over the course.
Parnell ran along ski runs, mountain bike trails, and dirt roads in the Wasatch Range to win his first 50-miler with a time of 7:36:44, ahead of second-place Nathan Peters by 8:20. The win was Parnell's "first ultramarathon win of any distance," he told Outside. "Finally got the monkey off my back!"
Chase Parnell is your @GORETEXna #ECSUT 50M winner in 7:36. Congratulations on the strong run. pic.twitter.com/WImlg9L115

— Endurance Challenge (@thenorthfaceECS) October 4, 2014
According to Parnell, his pre-race prep didn't get off to a good start. He'd camped in a parking lot near the start line, but ended up only getting three hours of sleep. "I was woken up at 3 am by some cops shining their flashlights into the privacy of my Prius. Apparently there is a man in a Prius in the Park City area responsible for a string of car robberies… Sorry guys, wasn't me," Parnell says. "When I told them I was running a 50-mile race in about two hours, they were quickly on their way with more than one apology."
Despite his sleep deprivation, Parnell says he enjoyed the race, especially becuase if took him out of his comfort zone. "Having done most of my running in Oregon and Montana, this was something totally new for me. Bombing through sunlit shimmering yellow leaves and expanses of snow-white bark all around me is a visual image I will never forget," he says. "And I'm not gonna lie, I was honored to watch [Bosio] in action."
Bosio won the women's field, finishing with a time of 8:34:13, more than an hour ahead of the second-fastest female competitor. The Utah race was Bosio's first 50-miler since May, when she was the first-place woman at the North Face Endurance Challenge in Bear Mountain, New York.
All six events in the North Face Endurance Challenge include seven race distances, from a one-kilometer kids' race to the 50-miler. The next and final event in this year's series will take place December 6 and 7 in California's Golden Gate National Recreation Area, north of San Francisco.
Lead Photo: @thenorthfaceECS/Twitter