Six-Pack Abes
Is it good for presidents to be fit? Yes. Except when it's bad.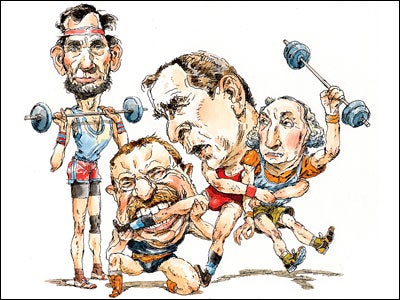 Heading out the door? Read this article on the new Outside+ app available now on iOS devices for members! Download the app.
IT WOULD BE A STRETCH to say that Americans choose presidents based on physical fitness, but voters often smile upon candidates who exude vigor.
Take Abraham Lincoln, whose political opponents called him "the Original Gorilla" for reasons every historian knows: The dude was huge, thanks to the climbing pegboard he installed in the White House so he could stay ripped during the Civil War. Did the exercise help him do a better job? Unfortunately, that's impossible to know. So little has been written about Lincoln's life and ideas that you can't say how his "policies" related to his obsession with carrying 21-inch guns.
In the 20th century, we're on firmer ground, and there's no better example of how fitness can sway voters and influence ideas than Teddy Roosevelt. With his broad chest, mastodon-crunching teeth, and self-styled adventures as a Rough Rider, he was the very emblem of early-1900s masculinity. On the political front, his wilderness travels inspired him to preserve huge swaths of public land.
In modern times, fitness is used mainly to sell an image and to keep the presidential brain properly aerated. Kennedy played touch football, Reagan chopped wood, and the first President Bush shot "speed golf." Now that the 2008 campaign is in high gear, you can expect to see more of the same. John Edwards is an avid runner who's climbed Kilimanjaro. Barack Obama played high school basketball. Mitt Romney is a serious jogger. And John McCain has traversed the Grand Canyon from rim to rim.
Of course, some presidents couldn't care less about fitness—Taft's greatest athletic feat was getting himself out of the bathtub—and the use of outdoor cred for image purposes can backfire. John Kerry's famously fatal mistake in 2004 was windsurfing off Nantucket. The Bush campaign used footage of his slow, back-and-forth tacking for an ad about policy flip-flops, but that's not what killed him. It was the windsurfing itself (so 1988!), plus the knobby knees he displayed while doing it.
Exercise wasn't much help to Jimmy Carter, either. He was a dedicated runner, but all those fartleks didn't mellow his tendency to micromanage, and running contributed to his downfall, thanks to a historic bonk at the Catoctin Mountain 10K, in September 1979. Wearing a yellow headband that made him look like a Godspell clown, he went jelly-legs at the top of a long hill, collapsing into the arms of a Secret Service agent. "The President was taken back to a bedroom at Camp David," Time reported, "stripped, covered with cold towels, and injected with nearly a quart of salt water through a vein in his left arm." What a difference a shot of Gu could have made! As it was, the Reagan Ascendancy started that day.
Bill Clinton? He jogged, too, but he seems to have done it only as a down payment on future sins at Popeyes. As for the current President Bush, he's not just fit but superfit, and he routinely hammers his Secret Service detail on bike rides. In Dead Certain, a recent book on George W., Robert Draper writes about a ride the president took on a 100-degree day in Crawford, Texas—roaring along happily, burning off "1,000 calories, 1,200, sometimes 1,500… " Another time, Bush took a group of reporters out for a ride and then proclaimed, "I think the people want the president to make good, crisp decisions and to stay healthy."
That they do, Mr. President, and you've got the "healthy" part nailed.
For the 2008 candidates, this data is probably confusing, so let me boil it down. First: If you don't got it, don't flaunt it. Thus far, we haven't heard much fitness bragging from Rudy Giuliani, Fred Thompson, or Hillary Clinton—and that's as it should be. Rudy is a city guy whose main form of exercise is waving at the hot-dog vendors in Yankee Stadium. Fred is the country-gentleman type: Looks good behind the wheel of an F-150; would not look good sausaged into bike shorts over the bars of a Bianchi. Hillary has made vague noises about playing tennis in the distant past, but she shouldn't try to fake it. Nor should she throw out any first pitches.
Finally, some tips for you guys who are fit. That's swell, but remember this: If 100 cameras are going off when you strut your stuff, 99 will capture images you'd rather not see on the Internet. So be careful. John Edwards: You'd look great diving into surf at the beach—but not while wearing a banana hammock. Barack Obama: By all means, play pickup hoops at the Y to show people you're a regular Joe, but don't wear your Kareem goggles that day and don't flail your arms too wildly if nobody passes you the rock.
All of you, try to keep things in perspective. A fit president is great. A great president would be better. And a great president stays fit enough to feel refreshed but keeps fitness in its proper place. The job is unimaginably stressful, and sometimes the right call will be to get ready for a workout, stretch, and then say, "Screw this. I'm having a drink."