Young Skiers Are Shaking Up the Freeride World Tour
American Addison Rafford and Swede Max Palm claimed the tour's opening round in Spain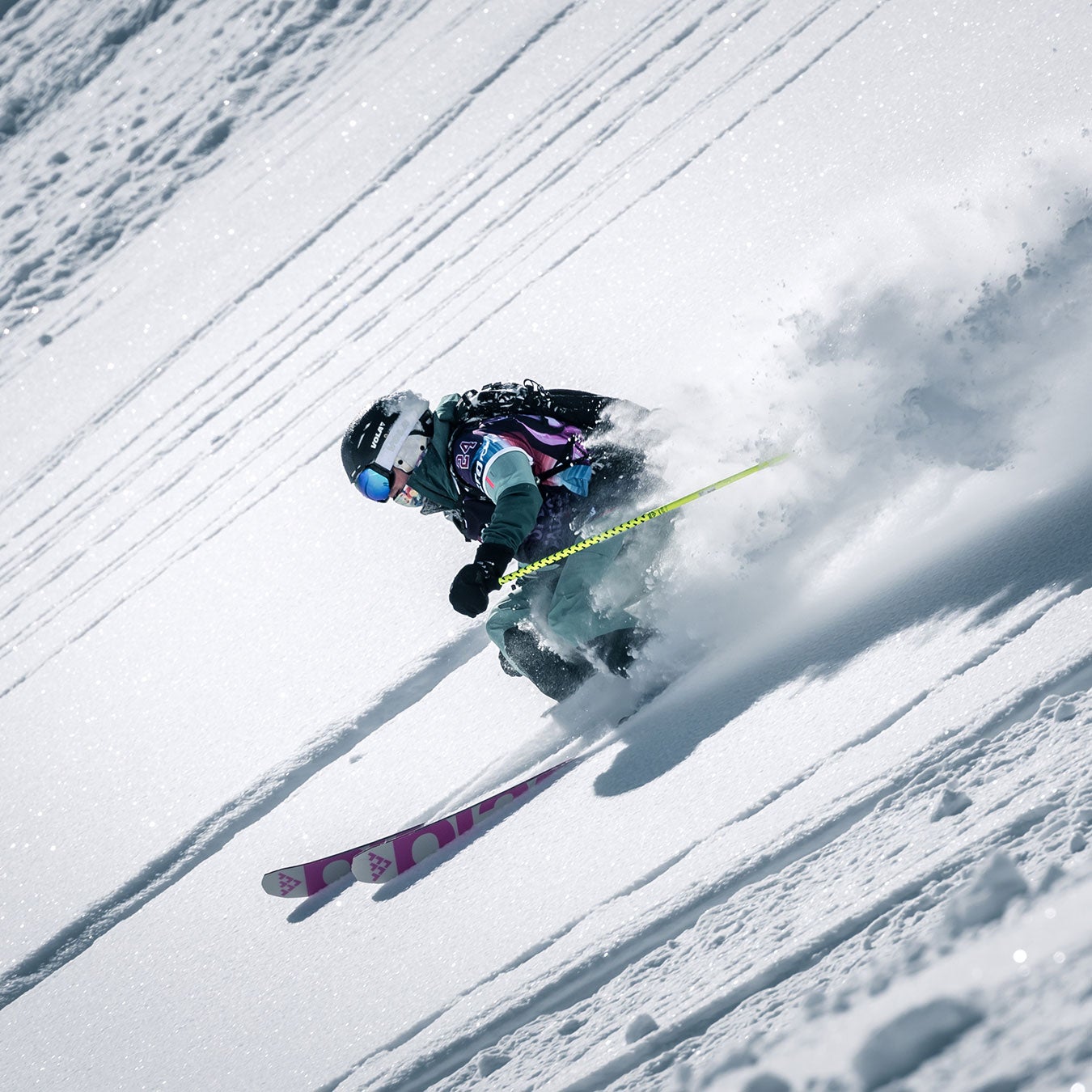 Maria Knoll/Freeride World Tour
Heading out the door? Read this article on the new Outside+ app available now on iOS devices for members! Download the app.
Earlier this season, SKI guessed that rookies would continue pushing the envelope on the Freeride World Tour in 2023, citing an explosion of young talent emerging from the qualifier series. This prediction panned out during the first stop of the Freeride World Tour at Baqueira-Beret, with 21-year-old American rookie Addison Rafford securing first place in the women's category after a spotless run.
Before the event started in the morning, competitors were thrown a curveball when an avalanche ripped down the center of the Baciver, the competition face. The already nervy atmosphere, replete with pre-comp jitters, turned darker, and many wondered if the event organizers should postpone the competition. "All the riders got pretty scared and wanted to cancel the comp," said Max Palm, winner of this year's and last season's Baqueira-Beret competition in the men's category.
However, Rafford, who's come-up required skiing notoriously questionable conditions in the Freeride World tour qualifier competitions, was too excited to ski an enormous big mountain face to worry about the avalanche.
"I was just so stoked to finally be able to ski something with no traverse tracks in the landings," she said. Plus, she knew that "it wasn't gonna slide when I was skiing it because they [the event organizers] were ski cutting it, and they were definitely following all the right safety precautions. They aren't gonna send us on a face that still had stuff that needed to slide."
Rafford kept it simple during her run, lining up a few quick drops on the skier's right side of the venue before charging into one final cliff, which she stomped. The judges scored her at 72.67, allowing her to eke out a narrow lead over Molly Armanino, another American rider. 
Watch: Addison Rafford's winning run at FWT Baqueira-Beret 2023
"It felt super good, like so great, but not what I was expecting at all," said Rafford of her winning run.
While the American skier's already carved out a niche as an athlete, nabbing sponsorships from big names like Smith, Sturtevants, and Black Crows, the Baqueira-Beret FWT stop was her first time on the world stage. Unlike many younger riders on the Tour, Rafford took to freeride later in life. She grew up skiing in Sun Valley, eventually joining the local mogul team. She competed in moguls until 11th grade when her coaches were let go. With her favorite coaches gone, and older friends graduating from the team, Rafford decided it was time for something new.
Briefly adrift, she eventually joined her mountain's freeride team and started entering big mountain competitions. After graduating high school, she battled through one frustrating season of crashing on the Qualifier circuit before racking up enough points to earn a ticket to the big leagues. 
As the 2023 Tour unfolds, Rafford hopes to push herself further, taking on challenging new lines and throwing tricks. "Now I'm confident with line selection," she said, "I know next time I go out to compete, I can feel a little bit more confident in my line choice and then hopefully pick definitely some bigger features and add some more things into it."
On the men's side, Sweden's Palm, who needs no introduction, proved that his win at Baqueira-Beret last year wasn't a fluke. While his skiing was more reserved this past weekend (no double backflips this time), the judges appreciated his precision and fluidity, handing him the day's highest score. Palm found it reassuring "to be able to win with a run that I don't have to be at my limit."
Watch: Max Palm's winning run at FWT Baqueira-Beret 2023
The 20-year-old skier has reported in multiple interviews that he rarely gets nervous before competing. However, he did note that his run at Baqueira-Beret had one close call, which gave him a scare. Early in his run, he nearly crashed into a rock wall when he overcooked his first 360.
"That was the only part I was scared of," said Palm. "I went a little bit bigger than I was expecting, so I almost jumped straight into the rock. But I managed to like land with my ski and bounce back. When you see it on the GoPro, it's insane. Like I came so close."
Both Palm and Rafford represent a generational shift taking place on the Tour. The old guard—the Aymar Navarros, Kristofer Turdells, and Reine Barkereds—are suddenly struggling to meet the explosive talents of the younger riders who spin and flip their way down the mountain. These freestyle-oriented athletes haven't foregone the discipline of pure freeride, which emphasizes fluidity and technical line selection. Instead, they marry freestyle and freeride in an awe-inspiring reinvigoration of the sport.
See the full results of the 2023 FWT Baqueira Beret comp here
"It's weird because I didn't even think of myself as a part of it [the next generation of freeriders] until literally like the past 24 hours," said Rafford. "The past like three or four years, there's been so many new young guns coming up. And even if you like, look down the qualifying circuit and the junior circuit like the young kids … the level of skiing is insane."
This shift is bittersweet. While we viewers were treated to an unprecedented spectacle this past weekend, we also had to say farewell to Navarro, who announced his departure from the Tour after years of throwing down gnarly big mountain lines. The hometown Baqueira-Beret crowd roared when Navarro skied into the finish corral, and after he removed his goggles, he brushed tears from his eyes.
"Never in my wildest dreams this kid from a small town called Les (Val d'Aran) would have imagined me competing in my house in front of 5000+ people screaming my name," wrote Navarro in an Instagram post after the competition. "Thank you thank you and thank you for all these years and for all the love you gave me yesterday at the Baciver."
Lead Photo: Maria Knoll/Freeride World Tour
Trending on Outside Online