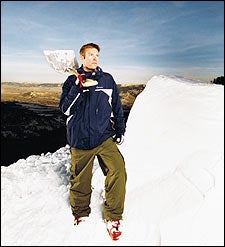 Heading out the door? Read this article on the new Outside+ app available now on iOS devices for members! Download the app.
FOR JON "J.K." KLACZKIEWICZ, a 25-year-old producer for the extreme-skiing filmmaker Teton Gravity Research, the most menial part of his job is also the most critical: constructing the snow ramps, or "kickers," necessary to get his new-school skiers across Evel Knievel-scale gaps on the mountain. "There's definitely an art to it," he says. "First, the slope of the takeoff zone should match the landing zone. The farther and higher the kicker propels you, the bigger and steeper you want the landing zone. If it's a 50-foot-long aerial, you want at least a 30-foot zone."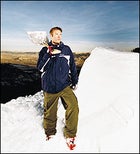 Go ahead and jump: Jon Klaczkiewicz and his kicker, built for Teton Gravity Research outside Jackson, Wyoming

Ready to fly? Keep these things in mind: 1) Start by building a framework of at least three pairs of skis planted tips-up in the snow, side by side, to shovel snow against. (A word to the shovelers: Keep your lower back straight and knees bent, and use your abs for each shovel plunge.) One person should keep his skis on to continuously pack the ramp down. "If you don't pack it hard enough, someone speeding into the jump will plow right through it, or have the jump give way as they go off," J.K. warns. 2) Pack down and build up the approach to your jump—an area called the transition. You want to avoid a steep descent followed by a sharp, balance-bustin' ascent, so aim for a gentle arc. 3) Finally, you'll need to recruit an intrepid jackass to test the damn thing. "In general, speed is your friend here," says Klaczkiewicz. Don't be afraid to start your approach from way up the mountain. And leave plenty of room past the landing zone for wiping out. It's inevitable.