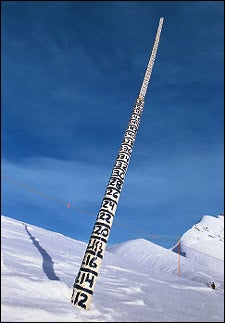 Heading out the door? Read this article on the new Outside+ app available now on iOS devices for members! Download the app.
Milky skies marked our February arrival in Alaska as we bounced along the tarmac in Anchorage. Soon we were winding south on the Seward Highway toward Girdwood and our palatial base camp, the Alyeska Prince Hotel, while Celeste, our driver, pointed out the paths of hulking avalanches that pummel the roadway on numerous occasions. "Last year, during one of our more intense storm cycles, a snowplow driver got blasted out into the Turnagain Arm," she said. "Needless to say, the jig was up for him."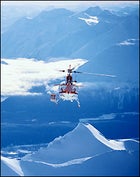 Heavenly heli view over Girdwood

Placer-Skookum powder day

212 inches of ganglionic rush: dropping in on Glacier Creek

The pause that replenishes

Alyeska's tram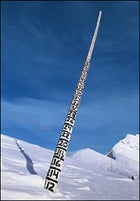 The proof

Like so many aspects of life in Alaska, wildness and unpredictability are the norm. Meteorologically speaking, January had been a typically unusual month in the Chugach: It had dumped 29 of 31 days for a record-breaking 274-inch total—just under 23 feet. By any measure, an astonishing blanket of freshies.
Though an avid and reasonably accomplished skier and boarder, I had never considered myself worthy of this Alaskan bounty. "AK," as it's referred to by those in the know, redefines big, gnarly, and unforgiving. Alaska is to skiing and snowboarding what the North Shore of Oahu is to surfing—a proving ground. A place to put it all together because, if you don't, you might be in for the big sleep—or so I'd heard. But this is not another saga of testosterone-fueled chest pounding. Rather, this is a tale intended to debunk Alaska's "expert only" myth and expose the plenitude of moderate 5,000-foot descents awaiting in a sea of Rubenesque terrain.

That's why when planning our sojourn we sought a situation that provided an ace up one sleeve, a king up the other, and a queen behind the ear. Enter Chugach Powder Guides. The Girdwood-based heli-ski business set up its operation to accommodate the whimsical nature of, well, nature. When the stars line up and the morning dawns blue, you're in for a day of heli—unless the weather decides to change. Understanding its guests' aching need for vertical, CPG has backed up its helicopter with a snowcat that accesses lower-elevation tree runs. And if all hell breaks loose—the chopper is grounded and the cat can't operate—there's a third option waiting off the back of the five-star hotel. There you'll find a 60-person tram that, in less than four minutes, will zip you 2,000 feet up the steeply gladed, bowled, and couloired north face to the shoulder of 1,000-acre Mount Alyeska, home of Alaska's largest lift-served ski and snowboard resort. So in essence we had signed on for a triple play.

As we rolled into the small town of Girdwood, our henna-haired driver pointed out one of the key local eateries ("Good luck trying to eat a whole pepper steak at the Double Musky," she said, rubbing her stomach) before depositing us at the Alyeska Prince.

Later in the wee hours, snuggled under my high-threadcount sheets, I rolled over to ring the CPG Status Line. Each morning this fateful call for the predawn weather and forecast would tell me whether we were flying or grounded. As luck had it, we flew not only that first morning, but helied four of our first five days in Alaska. Call it a harmonic convergence: We'd somehow slipped into a favorable weather window.
OH, THE SMELL OF JET B FUEL in the morning. As Jay, our heli-pilot, pumped his plexi-bubble with specialized petrol, we paced around outside the hangar in our clunky boots and Gore-Tex garb. Before long Jay began shuttling us, four by four, into Winner Creek, one of the wild and woolly drainages leading upward into the Western Chugach Mountains. In addition to my four-person Montana crew there were parties from Munich, Denver, and Singapore.

I was a bit surprised when we landed on a large, rather flat snowy saddle, well below the peaks that surrounded us. But this, I was to learn, is how it's done. Far from attempting the harrowing limelit steeps of a Teton Gravity Research film, we were starting out easy.
Virgil, a CPG senior guide who had given the safety briefing back at the hotel, was down the slope, digging a pit to assess the stability of the snowpack. Speaking through the spiral-wired radio mike hanging from his pack, he reported to the other guides, "There's a wind layer at about 20 centimeters; it's sort of an upside-down cake today. Let's feel it out and work our way up slowly."

As the morning progressed so too did we, landing higher and higher up into the alpine, slowly ramping up the pitch on our inclinometers. As the guides got more comfortable with the snowpack, conditions, and the competence of the individual parties, the stakes were raised accordingly.

We were like Lilliputians in a landscape on steroids. Atop one steep pyramid perch, my synapses began firing in a ganglionic rush, making my hair stand erect on the back of my neck. As the realization of where I was and what I was preparing to do sunk in, my psyching led to exultation. Jackets zipped and snug, packs cinched, we eyed our respective lines and dropped in one by one as velveteen powder pushed back with a smoothness and predictability I'd never felt before. All at once I was sliding fast enough to make golden snow fly over my shoulders, and yet, in a way, in slow motion, my pulse like a metronome.

Despite flat light up high and the alders we had to negotiate slaloming down to our landing-zone pickups, almost everyone appeared up to the challenge. There was one fellow, however, Mervin from Singapore, who was in over his head. His desire to "shred Alaska" outstripped his ability to do any such thing. Winded and whipped at the bottom of each descent, he nervously laughed to shroud the reality, reminding us that you needn't be an expert to enjoy a heli-ski trip to Alaska, but you absolutely don't want to be the Mervin in your group either.

Sitting atop our packs like stools on the snow, waiting for our next pickup, we wolfed down an assortment of fruits and candies. The folks at CPG choreographed logistics so that some pickups were nearly instantaneous while others provided enough time to catch your breath, eat lunch, and marvel at the surroundings. Jay radioed down that the winds up high were increasing and the visibility was deteriorating; it was his suggestion to pack it in. When a pilot as skilled as Jay—a man not given to overstatement—raises a concern, no one questions his judgment.

Back at the Prince, despite having been grounded for the afternoon, we decided to catch a tram and make a few runs at Alyeska Resort. My experiences of loading onto trams in the Lower 48 usually involved hordes of people squeezing into a snug metal tin, skis and snowboards shoved intimately close to my nose. We were amused to load on—just myself, my three friends, the tram conductor, and a ski patroller on telly boards—and head up the steep cables leading into the foggy heavens, luxuriating in abundant elbow room. Having the option to stack a few thousand more feet onto our day was a decided CPG-Alyeska bonus.

Despite all preliminary angst, Alaska was more accessible—and skiable—than I'd ever imagined. There was the morning we came into a landing zone up toward the Placer-Skookum drainage. The landing skids on our A-Star sank so deep in the poststorm pow that the chopper came to rest on its fuselage, and we wallowed crotch-deep, giggling like fiends as we hastily unloaded our skis and boards. Or the amber morning when we landed on the summit of Big Chief and made turns down a wavelike ridge. Farther down the Glacier Creek draw, we swooped through a surreal forest of gargoyles—erratic blue glacier ice on a moderately pitched slope. And our last day, when we landed and dropped the perfect fall line on Lips, banking in and out of each others' smoky plumes.

Yes, AK will challenge all your Lower 48 notions about scale. Yes, it's humbling and apt at times to make your tail swing up between your legs. And yet if you've paid a respectable sum of snow-sliding dues, if you've truly earned the title of "advanced intermediate," if you can make turns in variable, sometimes less than perfect snow, and if you're comfortable on most sub-40 degree slopes, you just may be ready to venture to the Pebble Beach of powder.
CHUGACH POWDER GUIDES' operating season is one of the longest in Alaska, starting February 1 and running through mid-April. Though they guarantee 80,000 to 100,000 vertical feet in-season on their seven-day all-inclusive package, early birds (people who book trips for the first two weeks of the season) receive a $400 discount and unlimited vertical, should the weather cooperate (which it did for us). Choose from two weekly packages: Five days on snow starts at $3,150 per person (costs are based on double occupancy); seven days on snow starts at $4,350 per person. Package prices include lodging at the Alyeska Prince Hotel, transfers to and from the Anchorage International Airport, helicopter, guides, the use of an avalanche transceiver, lunch on heli-ski days, and unlimited lift access at Alyeska Ski Resort.

In addition to its all-inclusive packages, CPG offers a unique backup plan for its guests should the bird fail to fly. An additional $250 (the fee covers everything except lunch) guarantees you a seat in the snowcat on flat-light or stormy days. CPG's exclusive-use permit gives the cats and helicopters access to 750 square miles of sublimely tilted slopes. The area has an annual snowfall of 740 inches, nonexistent lift lines, and everything from long cruiser runs to couloirs like the North Face. And yet with a summit elevation just below 4,000 feet, even sea-level skiers needn't worry about acclimatization. Tucked into the trees at the far end of the Girdwood Valley and adjacent to the ski resort, the Alyeska Prince Hotel offers ski-in, ski-out convenience, a host of restaurant options including the award-winning tableside chop-chop at Katsura Teppanyaki, and numerous amenities. Our personal favorites were the fitness center (indoor pool, exercise room, sauna, 16-person whirlpool tub, and massage) and the Kiosk espresso bar on the way to the tram. For more details, contact Chugach Powder Guides (907-783-4354; www.chugachpowderguides.com) and the Alyeska Prince Hotel (800-880-3880; www.alyeskaresort.com).