Alpine Championships: U.S. Skier Sarah Schleper Returns—for Mexico
The 35-year-old U.S. skier returned to the world cup this week with a mariachi-inspired spandex suit and a vengeance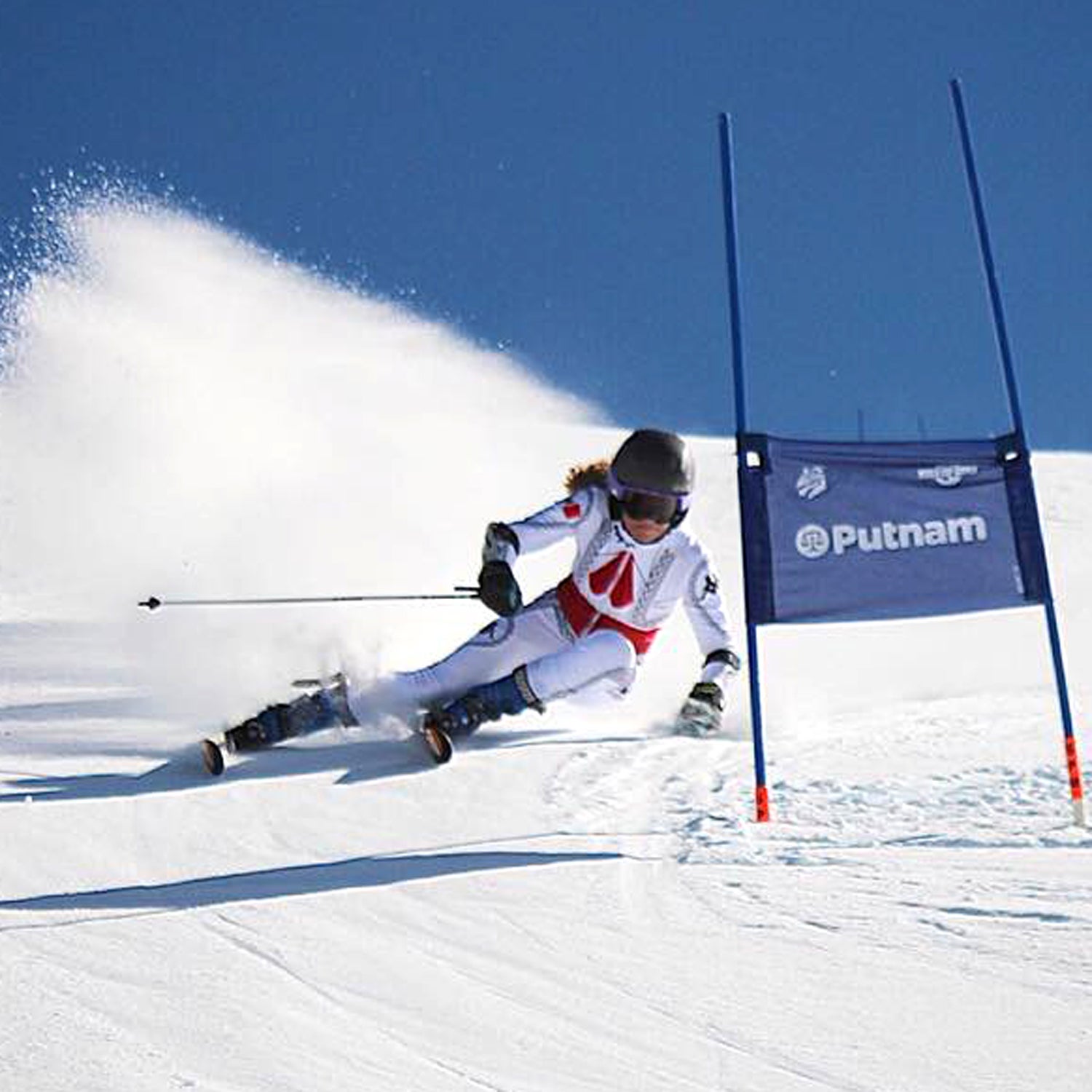 Heading out the door? Read this article on the new Outside+ app available now on iOS devices for members! Download the app.
Four-time U.S. Olympian Sarah Schleper stood in the starting gate of the giant slalom race at the Alpine World Championships in Beaver Creek on Thursday, ready to spring. Unlike the other Americans competing at the event, Schleper wore a race suit styled after a mariachi uniform, down to the faux bolero jacket and crimson cummerbund. She let out her signature pre-race roar and launched out of the gate. 
It's the seventh time the 35-year-old skier has competed in the championships, and her first time representing Mexico. It's an unusual turn for an American-born skier. Schleper retired from the elite U.S. Ski Team in 2011, largely due to her desire to spend time with her family and flagging attention from her coach, she says. The U.S. team's travel and training schedule is pretty much non-stop, and Schleper wanted to ski in a way that wouldn't monopolize her life. Even before her final world cup run for the U.S. team, in Austria in 2011, Schleper had started the process of becoming a Mexican citizen, with the intent to join the country's ski team. Initially, she had hoped to compete in last year's Sochi Olympics, but her paperwork didn't come through in time. This week's races marked her debut for Mexico.
"I felt like I had completed my career with the U.S. Ski Team. Mikaela [Shiffrin] was coming up really strong, and as an older athlete, you know, it's hard to get beat a lot," Schleper says. "And it was a struggle. I didn't want to struggle my last years." As skiers on the U.S. Ski Team age, the team's resources often shift towards bolstering the younger talent, like Shiffrin.
Mexico's is a team, by contrast, that is much more low-key. In fact, Schleper is one-half of the roster, and she arranges her own coaching, logistics, public relations and sponsorships. It affords her more time with her family, including her 7-year-old son, Lasse, and her 22-month-old, Resi, a little girl with a head of curls just like her mother's. (The family splits time between Vail and Los Cabos.) Since joining Mexico, Schleper has become the unlikely face of the country's ski program and she uses her image and expertise to develop the Mexican team. It has helped her rediscover the joy of racing again—no matter the results.
As expected for a mid-30s racer who has been out of the game for three seasons, Schleper probably won't make the podium. The giant slalom was her first race at the world's most elite level since her U.S. retirement. On her first run, she flew off the Screech Owl jump in the wrong direction—a mistake shared by many other athletes—and nearly skied off the course. She finished the run 8.36 seconds off the fastest time, in 57th place—just barely enough to make the second run, which takes only the top 60 racers. "I've been skiing better than my time shows, so I'm a little disappointed," she said at the bottom. "But I'm racing as a mom of two, and many people couldn't do it. So I'm just happy to be here." Her second run was much better, but still not like the old days; it alone would have landed her in 42nd place.
It didn't seem to matter. After coming through the finish line and kicking off her skis, in a characteristic mix of cheer and whimsy, Schleper did a little dance for her fans. "I'm happy," she said in the moments after finishing. "Even though I'm not a medal contender, and I was way off in my first run, it was still so emotional to be here. And to see my Mexican fan club in the finish." (With the slalom on Saturday, Schleper's specialty, she still has another shot left to prove her speed.)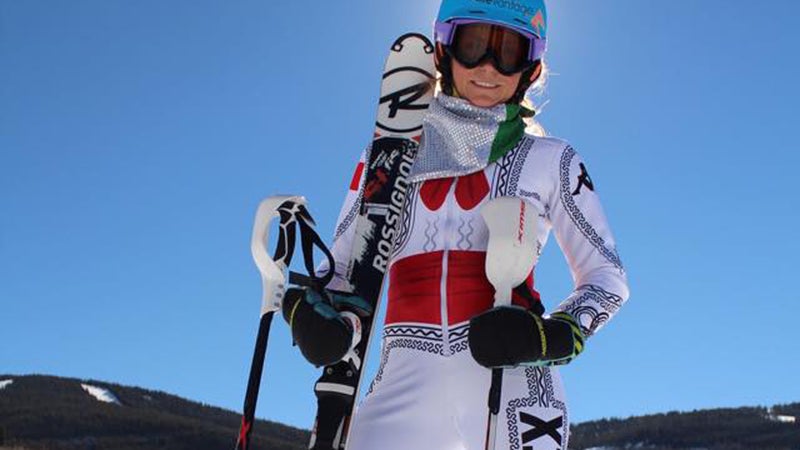 The idea to join up with Mexico came from an unlikely place: Hubertus von Hohenlohe, a 56-year-old Austrian prince born in Mexico City. (His family was dethroned.) Hohenlohe founded the Mexican Ski Federation in 1981 and competed in the 1984 Winter Olympics in Sarajevo under the Mexican flag. He lives in Lichtenstein most of the year but spends a few weeks every year in Mexico. He is a friend of Schleper's husband, Federico Gaxiola de la Lama, and represents the other half of Mexico's ski team. He started recruiting Schleper in 2007, around the time she married de la Lama, telling her the team would give her a chance to keep a foot in competitive skiing and be more fun than the rigor of the U.S. team. Plus, "it keeps you young," Hohenlohe says. The mariachi suits were his idea. They're an easy way to draw attention to the country's presence at international ski events, which typically don't prominently feature Mexican skiers.
"We are basically always seen as a small nation," he says. "The whole time in the meetings, they say 'Small nations, don't do this! Small nations, don't do that!' And I want to get up and say, 'Hey, Mexico is double Switzerland, double Austria, double Italy, double France—I mean, what the hell are you talking about, small nations? We might be small in skiing, but we are not small nations, you know?"
At the races on February 8, a passerby recognized Hohenlohe (or at least his racing suit) and asked if he was going to be at the qualifications for the men's giant slalom race. "I don't think I'll qualify, because it's too difficult," he replied, just as cheerfully as if he were telling her he thought he'd clinch gold. "But I'll be there!"
That results-be-damned love of the sport is why Schleper returned. It's a passion she wants to spread among young people, particularly in Mexico, where the sport is not particularly popular. Currently, skiing in Mexico is lumped in with other winter sports, from ice skating to bobsled, under the country's winter sports organization. The ski team itself doesn't receive any government funding, she said. Instead, she received about $5,000 from the International Ski Federation to go train in Europe over the summer; she's also received "$5,000 to $7,000" from donors over the past year. "If you want to do it right, it's $100,000," she says. "The guy who tunes my skis, he's kind of doing it for free. Anytime I get skiing or sponsorship money, I split it in half with him."
On the afternoon of February 8, Schleper intermittently paused her training to coach a couple of young Mexican girls, aged 11 and 14, who are moving to Vail. The city could become a training hub for the Mexico team, Schleper says. There's a significant Mexican population in the area and the resort's resources make it a tempting location. Plus, Schleper lives there. When one of the girls lost her poles out of the starting gate, Schleper went to console her. "You should see, World Cup skiers do the same thing—lose their poles out of the start," Schleper told the young girl. She takes a softer tone with her pupils than you might imagine a former member of the U.S. Ski Team would. After all, Schleper returned to the sport despite having no illusions of being number-one.
When she was on the U.S. team, Schleper says, it was hard to feel the same sense of racing for the pure love of it. "I was more about results. I wanted to be on top and winning," she says. "You can't be on these World Championship or Olympic teams unless you're getting certain results; your spot gets taken that quick. So you have to constantly be fighting for a position." While there are many aspects of the U.S. Ski Team she wants to bring to a Mexican team—the professionalism, the fund-raising ability, the commitment to training—she also, she said, wants to focus on the fun of the sport.
"I think maybe this will put a lot of ripples in the water, and some momentum building for St. Moritz," the next World Championships, Schleper said. And from there, she said, to the next Olympics.
If all goes well, expect more roars from Schleper in 2018. And, just maybe, more Mexican racers.
Lead Photo: Big Watab Productions