Atomic MX: 15 alpine touring skis, Fritschi Diamir Freeride bindings, and Garmont Adrenalin ski boots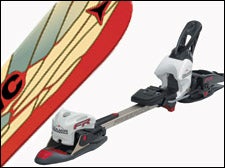 Heading out the door? Read this article on the new Outside+ app available now on iOS devices for members! Download the app.
THE EXPERIMENT: Turn a snowboarder (me) into a skier and be skiing well enough just two weeks after starting to be able to participate in the 24 Hours of Sunlight, a first-of-its-kind race in which competitors skin up the 1,550-foot face of Colorado's Sunlight Mountain Resort, ski back down, then do it again, for 24 hours (I was on a five-person relay team).
Atomic MX

Atomic MX: 15 alpine touring skis, Fritschi Diamir Freeride bindings, and Garmont Adrenalin ski boots
SOME BACKGROUND: I had skied a few times in the '70s and '80s but never well, and not for 17 years. Since the mid-'90s, I had snowboarded—a lot—and had no desire to ski ever again. But then I started working at Outside, which is located just 16 miles from the nearest ski resort. Our building is full of skiers, and I would get dropped on prework dawn patrols as they skinned away while I trudged through the powder in snowshoes, my board strapped awkwardly to my pack.
THE TOOLS: Atomic MX: 15 alpine-touring skis, 172cm ($484; www.atomicski.com); Fritschi Diamir Freeride bindings ($425; www.fritschi.ch), Garmont Adrenalin boots ($670; www.garmont.com).
CONCLUSIONS: I now have two ways to play when the snow falls. If I'm riding the lifts on a powder day, I'll most likely still be on my snowboard; I'm just too stubbornly wedded to the weightless sensation of carving turns on a big, fat, floaty platform. But with 80mm waists, the Atomic MX:15 skis do get on top of the powder and, when paired with the DIN-12 Freeride bindings, can deliver for a full day in the backcountry or on the lifts. The Atomics (my first experience with sidecut skis) surprised me with their grip in the turns. For AT skiing, probably as good a beginner setup as one could hope for.
As for the second half of the experiment—that is, going up—I will never hike with a snowboard again. In addition to being more fluid and aesthetically pleasing than snowshoeing or boot packing, skinning is faster. This is especially true while doing laps at an event like the 24 Hours of Sunlight, where attaching and removing skins was much quicker than switching between snowshoes and snowboard and strapping the unused apparatus to a backpack.
The Atomic skis remain light enough for easy climbing while being both wide enough for the skins to bite and solid enough to cut through the crud on the descents. The perfect bindings for bringing out the full range of these skis were the Fritschi Freerides. Easy-flip heel locks hold boots solidly in place for descents and, when unlocked, offer four heel levels. I love how easy it is to use my poles for switching between heel positions on terrain with varying pitches. Given that I have no intention of becoming a dedicated alpine skier, these are probably the only ski bindings I'll ever need—light and versatile enough for a full day in the backcountry, agile enough for a full day on the lifts.
The most surprising find was the Garmont Adrenalin boot. Because I was relearning how to ski and hoping to do so both in the backcountry and in-bounds, I wanted a boot that would be stiff and responsive enough to initiate alpine turns, despite my lack of skill, and also hold up should the I progress enough to push into more challenging terrain. I was warned that AT boots, because they are generally lighter and less supportive, would steepen my learning curve, since they would be harder to turn. But with four buckles and a tough midcalf "power strap," the Adrenalin felt as stiff as most alpine boots I tried on.
Coming from snowboarding, with its soft, lace-up boots and articulated ankles, I expected these boots to hurt. They didn't. A heat-moldable lining took care of hot spots that I suffer even in snowboard boots, and a well-executed hinged cuff made for pain-free walking and skinning, even for hours at a time. And with the flip of a switch, the cuffs locked into place for downhill performance. So alpine-ready are the Adrenalins that they come with interchangeable soles, making them compatible with both hinged AT bindings and standard alpine bindings.
NOTE: I fell often and spectacularly at the 24 Hours of Sunlight, and my team finished last in its division (but not by much). I'll be much faster next year (same gear, better skier).