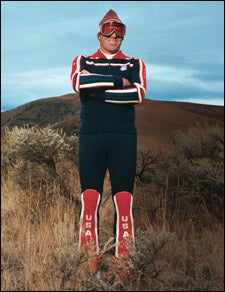 Heading out the door? Read this article on the new Outside+ app available now on iOS devices for members! Download the app.
If Phil Mahre's name rings a bell, you're probably old enough to have bought a Devo album for the music rather than the irony. It's been 22 years since the Yakima, Washington, native retired after dominating alpine skiing with three straight overall World Cup titles from 1981 to 1983 and a slalom gold at the 1984 Olympics. But now, with his three children grown and his 49-year-old knees surprisingly responsive, Mahre is back at it, bashing gates against competitors a third his age as he makes an improbable run atqualifying for the U.S. nationals. GORDY MEGROZ caught up with him to find out how. And why.
Phil Mahre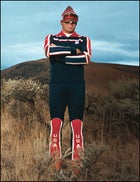 OLD-SCHOOL: Mahre busts out his 1984 Olympic uniform at his Washington home.
OUTSIDE: How seriously are you approaching this?
MAHRE: I've always said that if I do it, I'll do it to the best of my ability and not just go through the motions. I'm committed.
How's the body holding up?
I had shoulder surgery in June that kind of put my summer out of whack. But I'm going to physical therapy and working out on my own. And I coach a local high school team, so I run with the kids every night after practice. I'm probably stronger today than I've been in twenty-something years.
That's longer than most of your current competitorshave been alive.
After one race in Mount Hood in May, this kid who knew my son told his parents, "Alex's dad is a pretty good skier." He had no clue what I'd done.
Are you getting inside their heads in the start house?
Oh, no. All I would have to do is wish them good luck. That's enough to play with them.
Because of their fragile minds?
Exactly.
Anyone who's not so delicate?
The one guy who put me over the hump on this was Ted Ligety. Here's a kid who wasn't on the radar, never really won when he was younger. But he believed in himself, and now he's a World Cup winner and an Olympic gold medalist. It used to be that you were in your prime at 18 to 22 or 20 to 24; now it's 28 to 32.
Or 49 to 50.
Yeah, there you go.