Behind the Curve
In July, the International Ski Federation decided to require longer, straighter skis for skier safety. Did they make the right decision?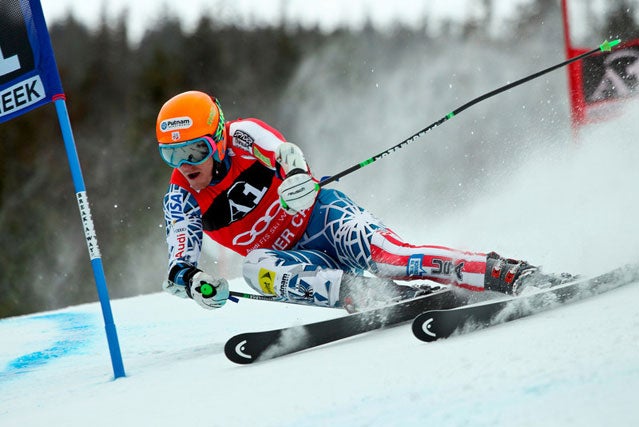 Heading out the door? Read this article on the new Outside+ app available now on iOS devices for members! Download the app.
Ted Ligety doesn't think so. The three-time World Cup giant-slalom champ and Olympic gold medalist sounded off in mid-August after trying the longer, straighter skis mandated by the International Ski Federation (FIS). "I finally had the chance to try a prototype of the 40m GS skis," Ligety wrote on his blog while in New Zealand. "And quite frankly, they suck."
Steven Nyman

Steven Nyman, Audi Birds of Prey in Beaver Creek
The clamor started on July 18 when the FIS announced new alpine equipment rules. Beginning with the 2012–13 season, skiers in downhill, super-G, and giant-slalom events will be required to use longer skis with a longer turning radius. Generally speaking, the smaller a ski's radius, the easier and tighter it will turn without losing speed due to skidding. As a result, over the years courses have been configured that allow skiers to cut clean, beautiful turns without sacrificing speed. Of the three disciplines, giant slalom skis like those Ligety uses got the greatest overhaul: a jump from the current 27-meter minimum radius to a whopping 40.
"It would be like going from a sports car to driving a semi truck," Ligety told Outside. "It's just such a huge difference."
The last time ski manufacturers made skis with a 40-meter radius en masse was the 1980s. So why is the FIS making this change now? After launching an Injury Surveillance System in 2006 officials became concerned with injury rates. From 2006 through 2010, FIS found that each season nearly a third of World Cup racers suffered an injury, and close to 20 percent missed more than four weeks of competition as a result, with knee injuries being the most prevalent. They said consistent detailed statistics on the causes of skier injuries prior to that were limited and poorly documented.
Skiers themselves point to lower injury rates and say the equipment is not to blame. Ligety claims that in the past two years there have been only three injuries among the top 30 World Cup GS skiers—two knee injuries and one ankle, caused by a hooked gate, and poor course conditions, respectively.
Yet for all the talk of injury rates and statistics, the decision to update the regulations wasn't based on hard numbers. It was based on interviews. In 2010, FIS collaborated with the University of Salzburg, which in turn interviewed 63 World Cup experts, such as coaches, athletes, officials, and organizers. Together they decided that equipment changes were the best way to minimize risk. FIS, the university, and several ski manufacturers, such as Fischer, Rossignol, and Marker Voelkl, further used the qualitative information from those interviews to define radius and length specifications for a quiver of prototype skis. Active and former World Cup racers like Peter Struger and Marco Büchel tested those prototypes, and the university measured the skis' slip percentage, aggressiveness, and turn force. Of the three GS prototype skis tested, the FIS selected the one with the safest measurements: more slip, less aggressive, less turn force.
By this summer, the FIS had gathered enough information to make a change. The reaction was not exactly what they expected.
"FIS rumbles about trying to capture a bigger audience," U.S. Ski Team member Steven Nyman wrote on his blog. "This move clearly won't attract more people to the sport. The difference in power, athleticism, speed is drastic."
Ski manufacturers also decried the change. In July, the Ski Racing Supplier Association wrote a three-page letter to FIS saying that while a larger radius was OK, the change to a 40-meter GS ski would set the sport back 20 years and kill the appeal to youth—no more dreaming about carving tight, beautiful turns.
The backlash was strong enough for the FIS to concede—a bit. On August 24, it amended the men's minimum GS ski radius from 40 meters to 35.
Some argue that the concession isn't enough. Skiing is still going to have to adapt immediately to a 20-year change in technique and equipment. Longer, straighter skis favor bigger, stronger skiers who can muscle through turns rather than finesse a well-carved arc. Ligety says smaller skiers like Marcel Hirsher will be squeezed out by larger men like Aksel Lund Svindal. There's also the financial burden for younger skiers on club and development teams, which will need to buy a new quiver of skis because the practice of hand-me-downs will be obsolete.
FIS has acknowledged these concerns but continues to make safety the priority. FIS Chief Race Director Atle Skaardal said ski manufacturers and skiers were "more concerned about attractiveness, how the feeling is to ski on it, the fun factor—however you like to call it. They were asking to focus a little bit less on only safety."
Whether these changes will reduce injuries remains to be seen, but Ligety has his doubts.
He thinks coaches will be inclined to compensate for the new skis' inability to turn quickly by setting straighter courses. Skiers will take straighter lines toward the gates and further increase their speed—instead of arcing a path to loop around them—and then step and slide at the turns. Combine that movement in the turns with the increased ski length and, Ligety believes, hooking tips on gates and crashing remains just as risky. "It doesn't resolve the problem where most knee injuries are occurring," Ligety said. "An injury happens once you fall, and a ski is a lever attached to your foot."