The Best Little Backcountry Hut in Canada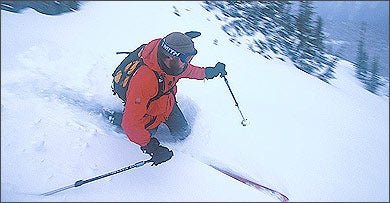 Heading out the door? Read this article on the new Outside+ app available now on iOS devices for members! Download the app.
The call came on Tuesday. A friend had to bail from a trip to the Bill Putnam Hut, a helicopter-accessed ski cabin of near-mythic fame in eastern British Columbia. The catch? I had to leave on Friday.
DETAILS
Reserve the
BILL PUTNAM (FAIRY MEADOW) HUT
and helicopter transportation through the Alpine Club of Canada (
www.alpineclubofcanada.ca
) for 0 per person per week. You must rent the whole 20-person cabin and stay seven days. Guide and cooking services are extra (0 for the cook,
,730 for the guide); the lottery for high season (January to April) takes place in January for the following year.

I couldn't resist. Like every other powder-addled junkie who has recently discovered the intoxicating allure of the backcountry—and there are more and more of us every year—I found a week of skiing irresistible. I scrambled, making premium-priced, last-minute travel arrangements and buying new bindings and climbing skins for my recently acquired superfat telemark boards.

Fairy Meadow, as the hut is nicknamed, is renowned for eliciting exactly this sort of financially reckless behavior. It's probably the most sought-after backcountry ski cabin in all of Canada, sitting smack-dab in one of the brawniest subranges of the Selkirks—the 12,000-foot-plus Adamants—and just a 20-minute flight from a helipad on Highway 1 about 20 miles west of Golden. More like a wilderness palace than a hut, the two-story cabin sleeps 20 comfortably in one large upstairs bunkroom and two smaller bedrooms. There are propane lights, two woodstoves, a wood-burning sauna—and plenty of chopped wood. The 20 of us splurged and flew in a full-time cook, the ultimate luxury, along with about 2,650 pounds of food, drink, and gear.

Right out the front door sit hundreds of square miles of crevassed glaciers, wide-open bowls, and cheek-puckering couloirs; there is virtually no intermediate skiing. Experts, many of whom choose to hire a guide for their stay at Fairy Meadow, sometimes wait years to win a reservation in the annual lottery.

Despite having overcome the odds, our unguided crew of ski patrollers and bums was curbing its enthusiasm when I arrived. Though the area had just gotten pummeled with some three feet of fresh powder, the snowpack was the most dangerous it had been in years. A few weeks earlier, several avalanches had rocked the Selkirks, claiming 14 lives. Snow conditions were supposedly improving in time for our visit, but we had packed four bottles of tequila, two bottles of Scotch, seven boxes of wine, and 12 cases of beer, just in case.

Forty-five minutes into the first morning, we heard our first whoomph, the unmistakable sound of a weak snow layer collapsing. It caused a "sympathetic" avalanche—a disturbance on one slope (created by our group skinning up) triggering a slide on an adjacent slope—proving that the snowpack was about as stable as Hunter S. Thompson on an ether binge. Before the day was done, we'd set off two more.

As the week progressed, a high-pressure system settled in and the snowpack stabilized. Our outings fell into two categories: all-day tours, in which we'd ascend glaciers, summit the Gothic-looking Pioneer and Sentinel peaks that loom over the hut, and descend 5,000 feet; and lazy afternoons putting on yo-yo clinics on the lower flanks—we'd skin up an hour and float through knee-deep, dust-light powder for 1,500 feet, then repeat. Late in the week we scrambled up the rocky ridges and dropped into every steep couloir we found, leaving only intertwined sine curves behind.

The place lived up to the hype. Sure, I'd had epic powder days before—but never seven in a row and never in such massive and humbling terrain. When we finally did the math, we determined that over the course of the week the group (skiers with a lone snowboarder) had tracked at least 700,000 vertical feet—more than one Everest each, top to bottom.

After our excursions, we nursed our battered feet, feasted on meals prepared by our cook, Barb, sat in the sauna, and waited for the inevitable second wind. When it came, we dressed up in disco goods (wigs, beads, shimmering shirts) that we'd hauled in, slurped tequila-marinated gummy worms, and danced in our down booties and polypro to the barely audible music from a minidisc player.

Every night I limped up the stairs, tripping over piles of damp gear and sprawled-out bodies. It was almost inhumanly smelly and loud. And every night I was dead asleep in seconds.