Burying the Truth
A recent spate of avalanche deaths near ski resorts sparked a flurry of media reports, many declaring that so-called sidecountry skiing is becoming an increasingly dangerous pursuit. It's just not that simple.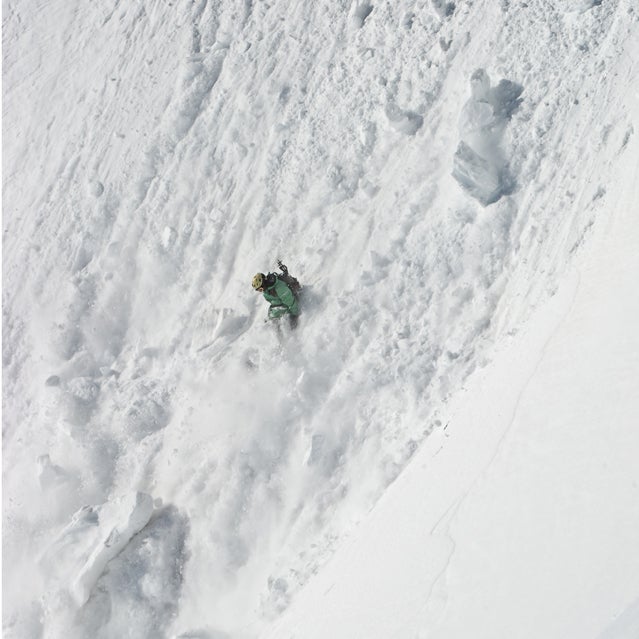 Heading out the door? Read this article on the new Outside+ app available now on iOS devices for members! Download the app.
ON THE AFTERNOON of February 23, a 24-year-old snowboarder named Timothy Robert Baker was killed in an avalanche in Dutch Draw, a lift-accessed drainage just outside The Canyons Resort, in Park City, Utah. Baker's death was the latest in a grim week for Western skiers seeking fresh sidecountry powder—it was the sixth fatality in 10 days, including two skiers who died in Colorado in separate incidents, and three who perished in a massive slide on Stevens Pass, northeast of Seattle, Washington on February 19.
The rash of accidents pushed the season total of skiers, snowboarders, and snowmobilers killed in slides to 22, according to the Colorado Avalanche Information Center, a number that is now likely to exceed the national average of 28.8, (January and February are statistically the deadliest months). Not surprisingly, the incidents prompted a melee of media attention, including prominent coverage from the New York Times, CNN, NPR, and NBC. One would be forgiven for coming away with the impression that the danger, and the number of skiers and snowboarders courting it, are on the rise, and that, as the Times put it, "increasingly those who put themselves in harm's way seem not to be careless novices but rather experts pushing the limits of safety."
Much of the coverage has focused on two significant trends: the growing popularity of the sidecountry— lift-accessed terrain beyond resort boundaries—which isn't new; and the use of airbag backpacks as avalanche prophylaxis, which is, at least in North America (the devices have been in use for several years in Europe). The packs, which inflate like car airbags, work on the "Brazil nut principle:" as debris flows down hill, the largest particles sift to the top. Elyse Saugstad, the fourth skier who was also caught in the Stevens Pass slide, has credited an airbag with saving her life; none of the three skiers killed, one of whom was buried just a few feet from Saugstad, were wearing airbag packs. Sales of airbag packs spiked as much as 300 percent in February, according to online retailer snowbigdeal.com.
As for the popularity of the sidecountry, it is indeed on the rise, and by most accounts appears to be accelerating. Given our growing appetite for fresh snow, resorts get tracked up faster than ever—and those in search of the next powder fix are all the more apt to leave the resort to find it. Outside has been reporting on this, and the associated problems, for at least a decade, including a nearly identical accident in Dutch Draw back in 2005. While it is partially true that seasoned experts often get into trouble (several studies of avalanche accident history suggest that risk exposure rises with experience level) that only tells part of the story—and it's a story that continues to evolve and develop.
"I'd say about two-thirds of all the accidents are either people who know absolutely nothing about avalanches—they've bumbled into it, as it were—or people who know just a very little bit about them," Bruce Tremper, director of the Utah Avalanche Center, and author of Staying Alive in Avalanche Terrain, told me. "The other third is the hardcore crowd."
The numbers so far this season may be skewed above average due to particularly hazardous snow conditions around the West. It's also worth noting that the number of actual fatalities by avalanche, whether in the sidecountry or bona fide backcountry, remains pretty low, both as a percentage of those visiting resorts (about 10 million skiers and snowboarders hit the slopes each year), and compared to other outdoor activities. According to recent figures from the National Safety Council, about 900 people die annually while riding a bicycle, 129 are killed by tornadoes, and 25 by lightning. What's more, roughly 40 people die while skiing or riding in-bounds at resorts—and, unless the victim is a celebrity, those deaths hardly ever qualify as news.
Since there are no hard numbers reflecting just how many riders are venturing into the sidecountry these days, it's impossible to reliably quantify an accident rate. But pretty much everyone I've talked to—skiers and boarders, patrollers, avalanche professionals—all concur that the last couple of seasons have witnessed a dramatic increase in traffic beyond the ropes. If true, then it stands to reason that, considering this season's poor conditions and what is only a modest spike in the number of fatalities, sidecountry safety on the whole may actually be improving. And that encouraging phenomenon may itself be due to some very recent game-changing developments across the entire industry.
TEN YEARS AGO, the snowsports community was still neatly delineated: You had resort riders, and you had backcountry riders. But since then, nearly everyone, including gear makers, resorts, and the media, have been racing to meet in the middle. In 2009, I wrote about how Black Diamond, best known for climbing hardware and serious ski-touring and telemark equipment, was betting its future on innovative backcountry products that resembled traditional downhill gear. Meanwhile, established alpine ski companies have been moving in the opposite direction, towards lighter-weight, more versatile equipment that allows you to travel more comfortably and efficiently beyond the ropes. In the same way that open boundaries blurred the distinction between backcountry and frontcountry, off-piste and on, this new hybrid equipment blurs where you are supposed to ski and how.
Walk into any specialty wintersports retailer now and you'll find walls full of fat, rockered skis, touring bindings, and hybrid boots. Marker, who in 2007 began selling the Duke, the industry's first truly alpine binding with a walk mode, now offers four different such models. Next season, Atomic, Tyrolia, and Salomon all will be debuting similar heavy-duty crossover bindings. Nordica has an expanding quiver of skis marketed specifically for the sidecountry. And last winter, K2—which has been marketing its "Adventure" line of skis directly at the beyond-the-ropes crowd for years—added backcountry shovels and probes to their inventory. Just few years ago, a high-performance boot with a walk mode was virtually unheard of; next season you'll have half a dozen models to choose from, and some will feature grippy Vibram soles. The same thing is happening with soft goods, too. Dozens of manufacturers are now marketing everything from shells to packs to gloves as ideal for sidecountry use.
On the safety side, airbag backpacks have introduced a whole new category of product, and it's a hot one. Earlier this winter, at the annual gear orgies—the Outdoor Retailer (OR) and Snowsports Industry of America (SIA) trade shows—airbag backpacks were all the talk. As Ryan Stuart writes in Blowing Up, his look at the history and efficacy of the new avy packs, next year "ten companies, including North Face, Arc'teryx, and Black Diamond, plan to bring air bags to market." In other words, while last week's sudden spotlight on airbag-equipped backpacks might have been surprising to casual skiers, the attention they're receiving didn't catch the industry flat-footed. The packs join a list of mandatory (shovel, probe, beacon) and highly encouraged equipment, like Black Diamond's Avalung (the popular snorkel-like device that can help you breathe under the snow) for anyone interested in venturing into avy-prone territory.
Add to all the gear a fast-changing media landscape that's further piquing our appetite for big lines and untracked snow. Outdoor filmmakers and their equipment have become so good that the season's fall glut of powder homages are more irresistible than ever (even if some of the dialogue remains lobotomized). And you don't have to rely on TGR, Matchstick, or Brain Farm for inspiration anymore, either. Fast advancing consumer technology like helmet cams, smartphones, and editing and file-sharing software has made it easy and nearly instantaneous to produce your own mini-movies. Got a GoPro and Powerbook? You can be the hero of your own ski film, with rabid online communities eager to share it.
WHILE THE EVER-BURGEONING sidecountry trend has breathed fresh life into the industry, and prompted many riders to learn more about snow safety, it's also left the typically small, modestly funded avalanche organizations scrambling to keep pace. "I use the word overwhelmed a lot, because that's how I feel," says Tremper. "We don't have a snow science problem. We have a marketing problem." Efforts from places like the Utah Avalanche Center range from revised signage at side country gates (you may have noticed how big the "YOU MAY DIE!" lettering has become at your ski hill's access point) to an increased emphasis in avalanche courses about the psychology at work on a powder day.           
Take the Stevens Pass accident, for example. All three skiers who were killed were experienced backcountry users with proper equipment and training. They were following accepted protocols—skiing one at a time, while others stayed in presumed safe zones. In fact, they were doing everything right, except for one critical thing: Failing to heed what one observer described as the "big blinking red light." That is, several obvious avalanche hazards indicating that the line they chose had a good probability of sliding. Indicators included a large amount of recent snow (two feet in the previous 24 hours); an exposed 35-degree slope; and posted avalanche warnings from the Washington Avalanche Center that rated the day's danger as  "High."
Sadly, the Stevens Pass incident isn't atypical. In response, many avalanche educators have shifted their course emphasis in recent years from snow science and slide mechanics to decision-making, focusing on what is sometimes called "heuristics"—subconscious factors that influence our decisions. One particularly illuminating 2004 study, produced by Ian McCammon, a NOLS instructor and former aerospace engineer in Salt Lake City, pointed out a few common heuristics that elevate risk exposure and lead to accidents. These include things like "familiarity," when a group or individual has been to a particular area before; "social facilitation," where a group that's confident in its abilities will take higher risks as a group than as individuals; and the "expert halo," in which final decisions may fall on a group "leader" for reasons other than their avalanche expertise (e.g. age or charisma).
"Almost all of our focus now is on decision-making, because it's the one factor you can control," says Brandon Dodge, snow safety director at Brighton, Utah, which has some of the highest sidecountry traffic in the state. "We're not trying to teach you how to find stable snow. I've been doing this for 17 years, and when you're looking at a slope, it's either, 'This is obviously unstable,' or 'I don't know.'"
IT'S HARD TO IMAGINE that the siren song of untouched powder, and the vision of ourselves flying through it, somehow overrides our instinct of self-preservation. But the reality may be more subtle and insidious: we somehow convince ourselves that it's safe, that it's not as risky as the objective warning signs indicate.
"Skiing powder arouses the same part of our brain as drugs or sex," says Tremper, "and this may be a good example, Have you always made good decisions when you're sexually aroused? After avalanche accidents, people tend to say, what were they thinking. Well, thinking had nothing to do with it. You're using an entirely different part of your brain."
No doubt, powder is a powerful, nearly inexplicable, aphrodisiac. But it's not one that's worth your life. I can relate. I was once half-buried in a slide just a few hundred yards from my local resort in Santa Fe, New Mexico—all because I wasn't paying attention, lulled into that false sense of security because I could practically see my home down in the valley from where I stood. I still ski untracked runs in uncontrolled terrain, but I was scared good and straight after that, and I've thought hard before giving in to the temptation of beckoning slopes ever since.
Trending on Outside Online