Can you give me a run-down of the top women's all-mountain skis?
I'd like to get my 17-year-old daughter (5'3") a pair of downhill skis. She's an excellent skier, more graceful than aggressive. Can you recommend something? Also, is there a website where I could find her a good used pair for less money? Jane Larchmont, New York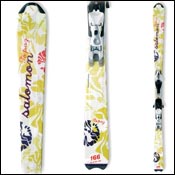 Heading out the door? Read this article on the new Outside+ app available now on iOS devices for members! Download the app.
I know the type. I imagine myself to be schussing gracefully down the slope, carving lovely quick turns, and some young woman zips by and around me as if I were a rather ungraceful hippo being shown up by a gazelle.
Salomon Jewel Topaz Skis
Jewel Topaz Skis
Anyway, I'm sort of thinking an all-mountain ski: one that can do well on groomed steeps and black diamond runs and won't feel too awkward in powder or crud. They're the most popular ski category out there, for good reason. At the high end you have a ski such as Völkl's Attiva Tierra ($800; volkl.com), a ski designed specifically for the sharp-skiing woman. They have a generous sidecut for aggressive turning and enough width in the tips and tails for float in softer snow. A wood core that is lighter and softer than those found in Völkl's other skis offers a lively ride for a light woman who favors grace over power. Nice skis. Motion iPT bindings are included.
The next step down would be something like the Salomon Jewel Topaz ($679; salomonsports.com). Like the Völkl's, these are a women-specific, all-mountain ski for the advanced to expert skier, with a responsive sidecut and reasonably wide dimensions for and aft. They're actually a little lighter than the Völkl skis, which may be a good thing. Integrated Z10 bindings have lightweight materials and really help transmit the skier's directions from boot to ski.
K2's T:Nine Sweet Luv Skis ($490; k2skis.com) are more at the recreational end. They're still good-skiing boards, but not as responsive as the Völkl or Salomon models. They favor the hardpack a bit, too, although they can handle powder. You mentioned the word "graceful," and that makes me think these skis still might be a good choice. They're not going to require quite the muscle of the others and will be comfortable skis in a wide range of conditions.
For your daughter's height, 153cm skis should be about right.
To find skis at the best possible prices, decide on a model and a length and start looking. Ski shops should be starting sales in another month or so, and that's a good time to buy skis. Check eBay; perhaps someone has a pair that's the wrong size for them. And Craigslist, same thing. At the end of the season, it's also possible to buy demo skis from ski shops. So keep that in mind as well. Skis are tough, and a few cosmetic nicks and scratches won't have any impact on performance.
The 2008 Winter Outside Buyer's Guide is now online. From snow sports to trail-running to camping, get reviews of more than 300 new gear must-haves.