Can you recommend a pair of snowboarding boots?
I have flat feet. I find most Burton snowboarding boots are too narrow, so my feet get tired and sore very quickly. Do you have any recommendations for a good pair of boots for my flat feet? Chao New York City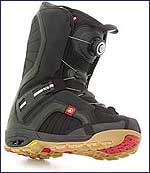 Heading out the door? Read this article on the new Outside+ app available now on iOS devices for members! Download the app.
That's a tough one to answer with a simple, "What you need is boot X." You've probably been dealing with the issue of flat feet—a condition in which the foot's natural arch is much diminished or even non-existent—all your life. Normally, it doesn't cause much grief. But in certain activities you'll experience foot pain. And, the foot will tend to roll inward, or pronate, and that may be what's causing your sense of fatigue, as your foot muscles try to keep the foot aligned.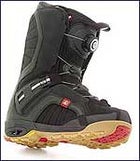 K2 Tracker Boa


It's true that many people with flat feet find more comfort in a wider shoe, one that doesn't pinch in the arch area. So Plan A would be to find a wider boot. You'll really need to visit a good snowboard shop and talk to a boot fitter to get the best fit (and I'm surprised someone even sold you the Burtons, given your condition). And even at that, things will be a little tricky, as you want the boots to feel a little tight when you buy them, as the inner lining will compress after use, easing the fit.
Anyway, here are some good candidates: The Airwalk Freeride ($160) may work well for you because it has heat-moldable insoles, so you can custom-fit the boot to your foot. K2's Tracker Boa boot ($229; www.k2snowboards.com) uses cables and a knob system, rather than laces, to tighten the boots, a setup that gives you good control over the fit. And, Van's BFB boots ($189; www.vanssnow.com) have insoles that, like those on the Airwalks, can be heat-molded to fit your feet.
With all that, once you have the boots in hand you still may want to see a foot specialist to see if a custom orthotic would make you more comfortable on your powder days.
Good luck!