The Battle Against Crowded Ski Hills
Who can we blame for all those lift lines and traffic jams?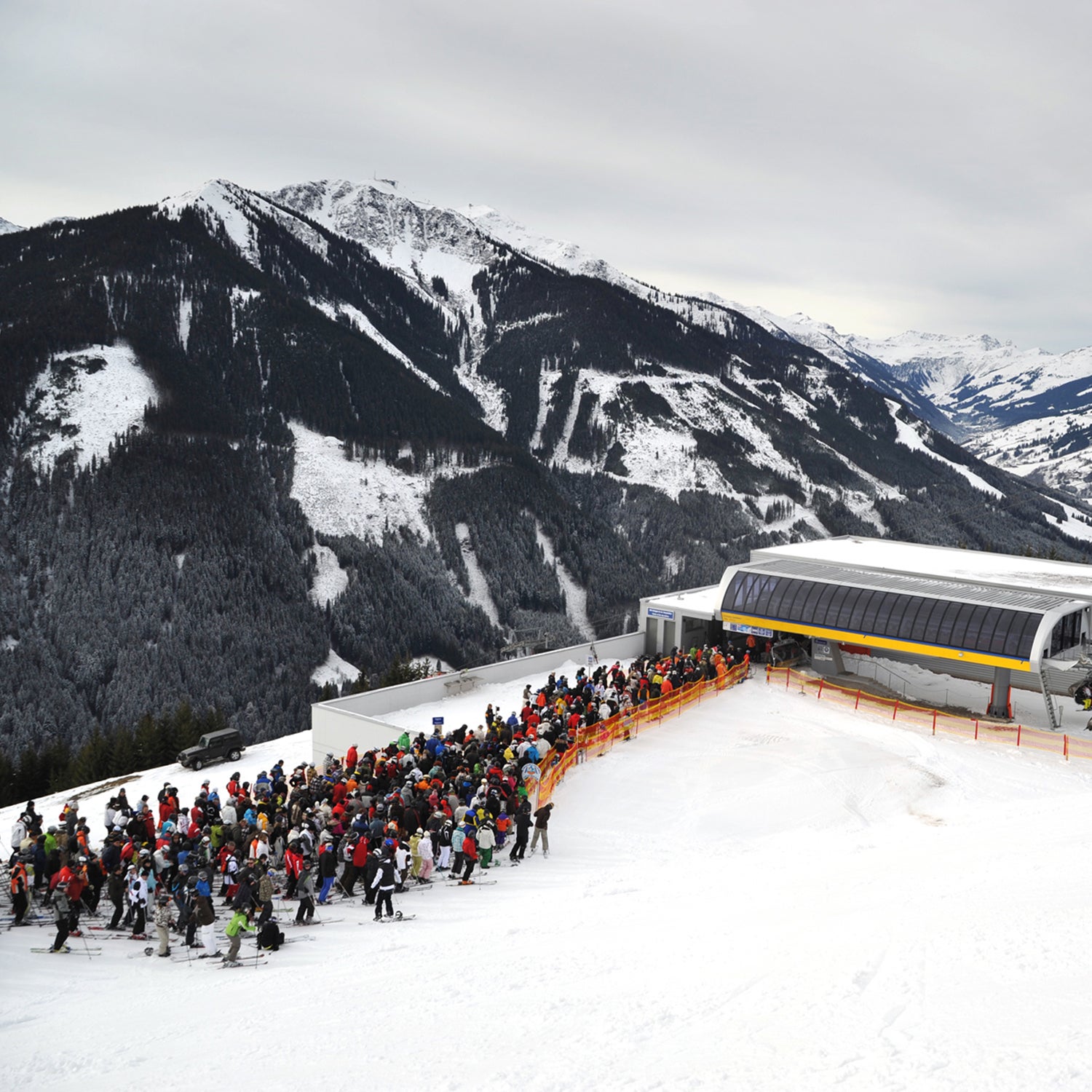 wakila/iStock(Photo)
Heading out the door? Read this article on the new Outside+ app available now on iOS devices for members! Download the app.
On a recent morning, a line of cars stretched from the Crystal Mountain Resort parking lots, down the Mount Rainier foothills, and all the way to the town of Auburn, 57 miles away. Welcome to a weekend powder day at Washington's biggest ski area.
For two consecutive January weekends, the resort posted "lots full" on their site and message boards as early as 7:48 a.m. (first chair is at 9 a.m.), turning those away who didn't see the notice after they'd waited in line for six hours. "By the third day, we went, 'Oh, you've got to be kidding me,'" says Crystal Mountain president and COO Frank DeBerry.
On January 13, the ski resort announced that they would no longer sell walk-up lift tickets on weekends. "You're going to know before you get in the car whether or not you can get on the mountain," DeBerry says. Purchased by Alterra Mountain Company in 2018, the resort will remain unlimited to Alterra's Ikon Pass holders. Limited single-day advance tickets will be available (Crystal Mountain declined to share an exact number). The first weekend under the new policy sold out online in under 24 hours. 
As a whole, the ski industry is moving away from walk-up ticket sales, says Natalie Ooi, program director of the ski area management program at Colorado State University. "No one goes to the airport to buy a plane ticket for that same day. The ski industry has, over the last decade, been trying to train guests to do the same," she says. "It makes good business sense"—advance purchases are a hedge against bad weather. Still, Ooi expects many ski areas won't outright quit the walk-up business like Crystal, instead letting their parked-out lots send the same message: we're full.
Ski hills across the country are getting more crowded—and something's got to give. The day-of lift ticket purchase is going the way of wire wickets and day-lodge crockpots; Crystal is just the first to make it official. While different resorts are tackling different challenges, over the years a few have attempted to address the problem head-on: Utah's Deer Valley has been limiting ticket sales for decades. Vermont's homey Magic Mountain began capping daily visitors at 1,500 in 2016. And in September, Utah's Solitude instituted a $20 parking fee, mitigated for carpools. (When Denver-area Eldora tried the same thing in 2018, customer backlash killed the policy in the cradle.)
According to the National Ski Areas Association, ski and snowboard visits are up 18 percent since 1978, to almost 60 million last winter. And skiers are more concentrated than ever: the Rocky Mountain region saw a 54 percent jump in visits, while the Midwest is down by a third in that same time period. (Of course, ski seasons fluctuate. Last winter was the fourth busiest since 1978, though the one before that doesn't even break the top half.)
Why so many more bodies on the slopes? Seattle's population has grown more than 22 percent since 2010; Denver almost as much. And just a handful of newcomers can make a dent in Crystal Mountain's 3,000 parking spots. Ski area expansion can't keep up. Crystal acquired 1,000 more lift-serviced acres in 2007, and Summit at Snoqualmie—just an hour outside Seattle—purchased an extra 77 acres in 2016, but there hasn't been a brand-new ski mountain in the region since the sixties. The story is the same in the Front Range. Eldora and Copper Mountain have grown in the last few years, according to Chris Linsmayer at Colorado Ski. But it's slow going and not always adapted for a wave of new skiers. Arapahoe Basin added nearly 500 acres in 2017, but more than a quarter of it is advanced hike-in terrain. 
Mountain towns aren't faring any better. Consider Aspen in 1993, the year of cult classic Aspen Extreme and spandex bottoms, when it was already the ultimate ski town. The population has gotten 36 percent bigger since then. Name nearly any idyllic mountain burg, and it's grown since 2010, from Jackson (8.3 percent bigger) to Steamboat Springs (9.4 percent) to Bend (27.3 percent). Plus, throw in an Instagram hashtag or two, and there's more drawing skiers to the mountain than driving them away.
Ski-area adjacent infrastructure has been slow to keep up. Colorado's mountain-bound I-70 corridor is notoriously choked on winter weekends, so much that the Colorado Department of Transportation opened the Mountain Express Lane on the freeway in 2015. What's normally an interstate shoulder opens as a toll lane 100 days or so a year for a 13-mile stretch east of Denver, and its success has prompted the current construction of a similar extra lane in the eastbound direction. Still, Denver's Westword newspaper reported that the extra lane only shortened ski commutes by an average of five minutes.
If highway updates aren't going to solve traffic jams, resorts and municipalities are turning to mass transit. CDOT launched a Snowstang coach to three different mountains, and Solitude (owned by Alterra) pays for Ikon Pass users to ride the Utah Transit Authority's ski bus up its own Big Cottonwood Canyon road (which sees 79 separate public bus departures per day) and the nearby ski hills. During Crystal's January crush, the resort's brand-new bus service was caught in the tangle, confirming that even shuttles aren't exempt from traffic.
When it comes to crowds, it's hard not to blame the elephant in the lift line: the era of Big Pass. Though Vail's Epic Pass has been around for 12 years, it's recently grown to cover 43 North American resorts, and in just two years, the Ikon has blossomed to include days at 33 resorts. Prices quickly made single-resort passes a bad choice for consumers; while a Steamboat season cost $1,149 in 2017, Alterra's (which owns Steamboat) Ikon starts at the same price with a boatload of extras. (In 2018, Outside contributor Marc Peruzzi argued that consolidation was making skiing more affordable.)
Most ski areas aren't quick to point fingers: "I'm not going to say Ikon isn't part of it," says Crystal Mountain's DeBerry, but he also blames population growth and lessons, which increase the amount of beginner skiers on the hill. Neither company releases many details about pass sales, though Vail reports that it saw a 22 percent increase across its global Epic versions to more than 1.2 million passes.
And so many resorts have begun to rein in the masses. Deer Valley only allows Ikon holders seven days per season on the mountain despite being owned by Alterra. Colorado's Arapahoe Basin quit the Epic in 2019, with COO Alan Henceroth announcing, "The ski area is feeling a pinch on parking and facility space." Seven months later, A-Basin joined the Ikon, albeit with limited days.
Crystal Mountain's first no-walkups test was a trial by fire: a holiday weekend while the powder was still dumping. Some 40 miles down the highway, the resort's car counter (a person named Beth) dutifully logged approaching vehicles and sounded the alert at 7:09 a.m. that enough cars had passed that a park-out was imminent. And yet, says DeBerry, "traffic that arrived at the mountain was the perfect fit for the number of spots. We fit everybody who drove through." The new system worked. Crystal may be the first to go all-in on advance sales, but it likely won't be the last.
Lead Photo: wakila/iStock
Trending on Outside Online