The Daily Rally
Jess Kimura Chooses to Be Scared
To get through the pain of losing her partner, the professional snowboarder embraces what frightens her most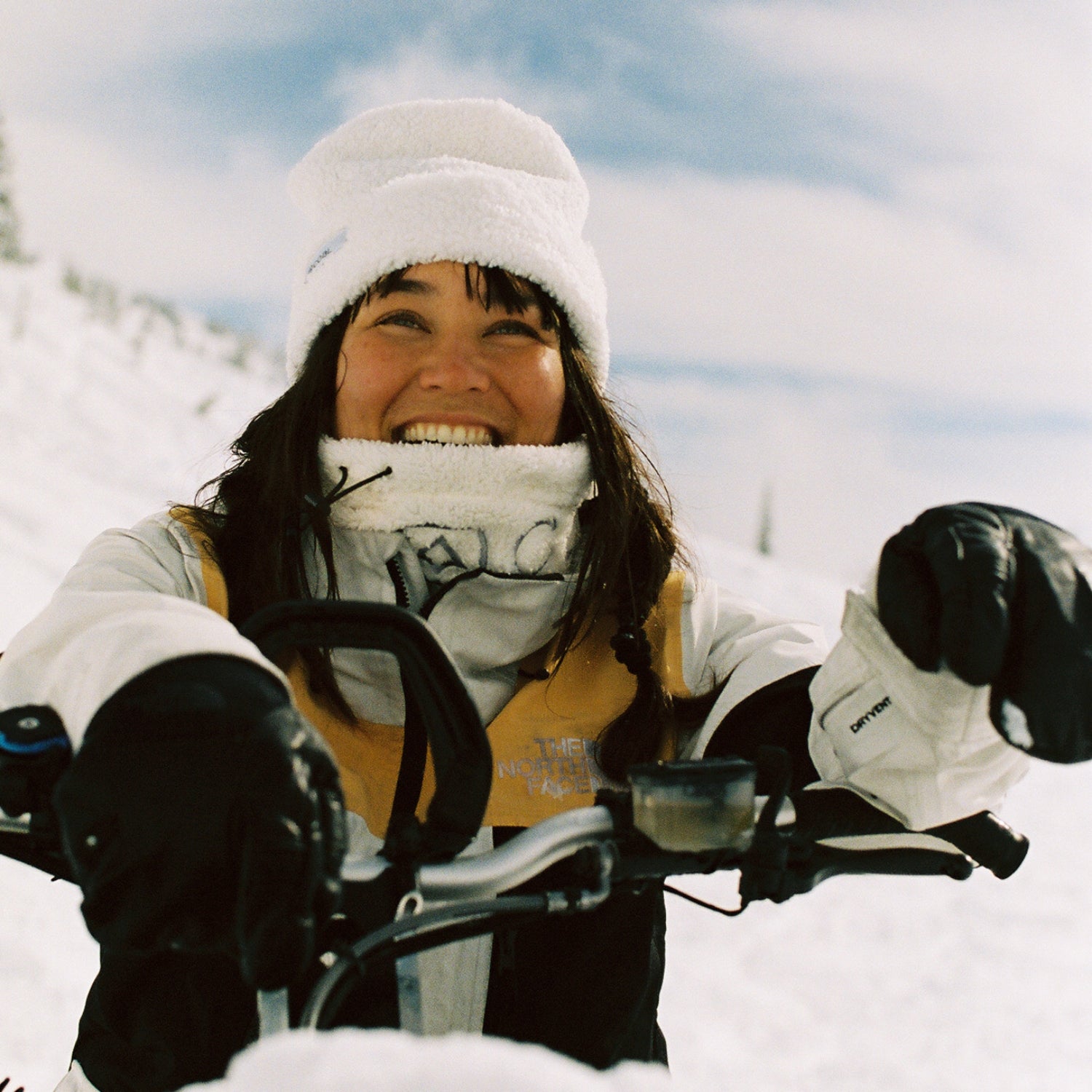 Heading out the door? Read this article on the new Outside+ app available now on iOS devices for members! Download the app.
Jess Kimura shared her story with producer Paddy O'Connell for an episode of The Daily Rally podcast. It was edited for length and clarity.
That winter after Mark died, I just dragged myself through the season. It was so much suffering, and I just didn't feel like there was anything left to look forward to.
When I was surfing that day with the instructor, I was like, this is where it's at. It was so foreign to me, but I also, at the same time, just didn't care. I just felt alive again for the first time in a long time. And I was so excited.
My name is Jess Kimura, but I'm also known as Danger Pony, Danger P., and Dumpster Spice. I live in Squamish, British Columbia, in Canada. Right now I'm in Chile, in Valle Nevado.
I am a pro snowboarder. That's my occupation, technically, but also a filmmaker. I guess I'm a biker. I'm a surfer. I just like doing stuff outside. I think that I'm just a really passionate person with a lot of heart and a lot of fire. And I just want to have an effect on people in the same way that other people had an effect on me and helped me out and really changed my life.
I met Mark in Revel Stoke, B.C., I think in 2012. He was just some crazy Kootenay cowboy, mountain guy, snowmobiler: super crazy. And we just did everything in the mountains together.
He taught me about riding in the back country and helped me learn how to ride my snowmobile. And we were just always fishing or camping or going on some weird adventure. It was just really meant to be. And we really fell in love like instantly. It was crazy.
He passed away in a dirt bike accident, and that kind of blew my life apart.
I spent that whole next year of 2014, just being completely broken and lost. And honestly, looking back, I kind of feel like the past eight years I've been completely broken and lost, you know? On and off, of course, but that first year was just crazy.
I was at a point where I gave no fucks anymore about anything. And I didn't care about myself or my own life or safety either. So I think, I grew up snowboarding and I would've loved to do surfing, but it was never even an option in my mind because of how scared I was of the water.
Diving into the Fear
In live in Squamish, and there are lots of rivers and lakes around. Every time I would be freaking out too much [about Mark], I'd go to the river or the lake and just jump in because I couldn't stand being in my skin. Like I just wanted to rip my skin off and get out of my body.
But being in the water, there was this compression. I think the fears that I had around water dissipated, and I just loved the feeling of being squished in by the water.
I was doing really badly mentally, and I was just feeling really lost. Mark's mom was still living down in Mexico. So in April 2015, I went down to Baja. She suggested: Why don't you try surfing? Why don't you take a lesson?
And so I did, and the dude pushed me into some waves. And I stood up and was like, holy shit.
Time slowed down and explosions of light came out. It was like the sky cracked open for a second.
And then I just got washing machined [by the waves] on the inside. But I was just like, get back out, get back out, get back out behind the wave so you can get another one. That was the first time I felt like I wanted to be alive since Mark died.
It gave me like a little crack of light in what was such a dark time. And I was like, I want that feeling.
For those who have taken a surf lesson and then tried to surf themselves afterwards, it's not the same. You don't catch any waves. You don't know where to be. You get yourself into terrible situations. Everything just goes horribly wrong.
Sometimes I'd be out there by myself in pretty big waves, and I was still scared to death. And every time my leash touched my foot, I'd scream and get onto my hands and knees on my board. People always thought I was in trouble, but I was like, no, I'm fine! They thought that I needed rescue because I was just so outta my element and so trying to do something in the wrong place.
Facing my fear, facing something that was so completely overwhelming, helped me to process the initial grief. Like the really, really, really dark stuff where you feel like you're drowning.
When you're out there fighting for your life, you don't have time to think about your problems in life. And when I was out in the water and trying not to drown, I wasn't thinking about what I had lost and how shitty I felt. It was so much easier to be in the water fighting for my life than it was to be on shore thinking about it.
Initially, I think I was using surfing as a distraction. And it turned out to be this huge metaphor. I'm in this washing machine of hell, basically: being so overwhelmed and trying not to drown. No matter how much I hate it, no matter how scared I am, it keeps coming. And then you get a little taste of light and you remember that it's not all scary. And there are things worth living for, and things in life that are still beautiful and joyful.
Sometimes, when you're out there, you look over and you see other people in the water that are just ripping and they're at this peak moment of their existence and the sun is shining behind them. And you're like, this exists too. Besides all the fear and the pain and the suffering and that overwhelming grief, this other thing exists too. And you get a glimpse of it, and it gives you something to shoot for. Because you're looking over being like, I want that. And I know that all of this comes with that, but in order to get to that, I need to keep existing in this.
Just keep going, keep existing. It will pass. And then it will return. But just keep going.
Jess Kimura is an award-winning professional snowboarder and filmmaker. Her story was documented in the film Learning to Drown. If you want to see her shred, watch the Uninvited trilogy and follow her on Instagram @jess.kimura.
You can follow The Daily Rally on Spotify, Apple Podcasts, Stitcher, or wherever you like to listen, and nominate someone to be featured on the show here.
Lead Photo: Tyler Ravelle