Remembering Davo Karničar, an Underappreciated Legend
The reclusive Slovenian made two first descents of 8,000-meter peaks, including the only full descent of Everest. He died in a forestry accident earlier this week.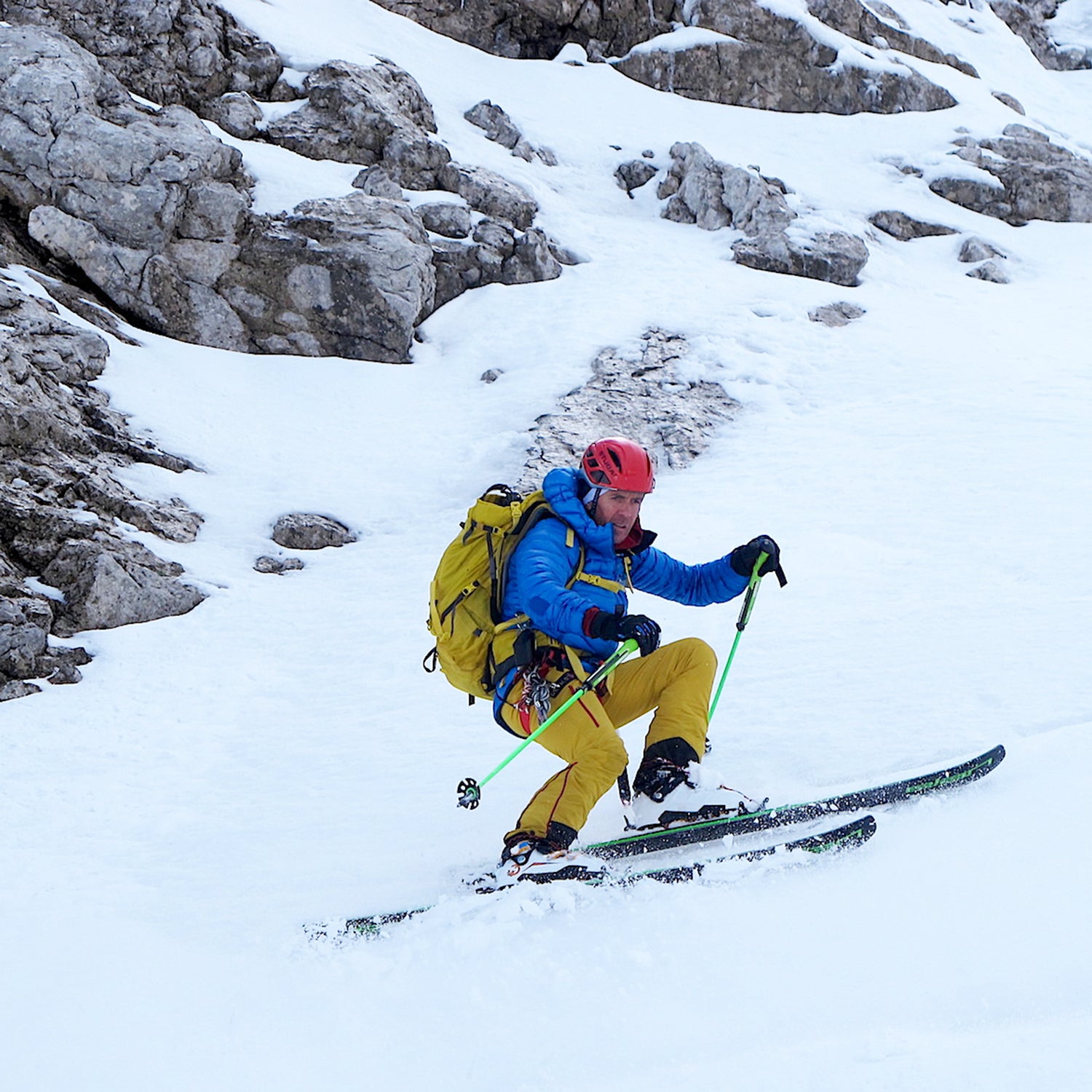 Devon O'Neil(Photo)
Heading out the door? Read this article on the new Outside+ app available now on iOS devices for members! Download the app.
In early May 2017, I walked out of the small airport in Ljubljana, Slovenia, carrying two giant duffels and a ski bag. An orange Land Rover pulled up to the curb. Out climbed Davorin "Davo"  Karničar, the only man to ski Mount Everest from top to bottom. We'd never met, but Karničar shook my hand and smiled like we were old friends. His biceps and chest bulged out of his T-shirt. 
A few minutes later, we began the short drive to Jezersko, the 600-person farming village where Karničar had lived all his life—and where he died Monday, September 16, in a tree-felling accident at age 56. (Jeff Mechura, president of Elan USA, Karničar's longtime ski sponsor, confirmed his cause of death on Tuesday.) We snaked along the Kokra River, clear and pure, talking as we went. His English wasn't great—"expedition English," he called it—but his cheerful spirit made up for it. 
An unlikely turn of events had brought us together: one month earlier, having heard Karničar was preparing to attempt the first full ski descent of 28,251-foot K2, I emailed him requesting an interview. He wrote back a few hours later with what he called "a proposition." Instead of doing the interview by phone, he could fly to Colorado, where I live at 10,200 feet, and we could ski together. He'd get some high-altitude training, and I'd get my interview. "What do you think about this?" he asked. 
I was elated, of course. He bought a ticket for the first of May. I was to pick him up at the Denver airport at midnight. A few hours before I left, I received an email from his wife, Petra. Davo had been stopped in Istanbul due to President Trump's recently enacted travel ban and sent back to Slovenia—denied entry to the U.S. because he'd skied in Iran a few years before. Aside from the disappointment and wondering what would happen to the story, there was also a bigger problem. In advance of his visit, Karničar had ordered eight expedition tents and eight sleeping bags and had them shipped to my house, since they weren't available in Europe. The only way to get them to Slovenia in time for his imminent departure to Pakistan was for me to deliver them in person. I could see his stress ease when he picked me up in Ljubljana and saw that the gear had made it, too. 
Karničar was old school. He never sought nor cared about the attention he garnered from skiing the world's biggest mountains. But you could argue there was not a more accomplished ski mountaineer on earth, even if few people outside Slovenia—a nation smaller than New Jersey—knew who he was. He made first descents on two of the 14 8,000-meter peaks—Annapurna, in 1995, with his brother Drejc; and Everest, in October 2000, alone—and skied parts of five other 8,000ers, as well as treacherous lines in the Andes and Alps. His first attempt on K2, which ended when his skis blew away in a storm high on the mountain, took place in 1993. He was also the first to make uninterrupted ski descents of the Seven Summits, completing his quest in November 2006. 
Everest marked his pinnacle but also took its toll. During his first attempt, from the north side in 1996—which he aborted at 8,300 meters when the deadly storm chronicled in Into Thin Air blew in—Karničar lost two fingers to frostbite. In 2000, he slid 25 vertical feet down the snow-covered Hillary Step before narrowly arresting his speed. His 12,000-foot, oxygen-free descent was livestreamed by a Slovenian telecommunications company, turning him into a celebrity back home. But when I asked how many people watched, he scoffed: "I don't care about this. Before and after the expedition, I was concentrating only on my work."
He could come across as standoffish, but it masked his tender simplicity. When Karničar finished the Seven Summits, a month after Jackson Hole-based ski mountaineer Kit DesLauriers finished her own pursuit of the same goal, some Slovenians urged him to contest DesLauriers' claim of being first, since she took two days to ski Everest and did not make a full ski descent. "People tell me, 'Davo, you must make an explanation, you must tell her this is not true,'" he said. "I don't need that. I'm happy!"
And he was. A father of seven (including three grown kids from his first marriage) and grandfather of two, Karničar was rooted by his family. "Children are the greatest gift," he told me. He had four under the age of 16 when I visited. Eva, 10, was riding her bike one-handed in the driveway. Izidor, 15, had just come home from skiing Mt. Elbrus, the highest peak in Europe, with Davo. Ten-month-old Martin, the youngest, climbed into the dishwasher as we spoke. Davo, standing in the same kitchen where he was born, couldn't help but beam at his son's curiosity.
A framed photograph hung on his wall: Karničar, a proud Catholic, meeting the Pope with the Elan skis he used on Everest (he held the same ski sponsor for 44 years). A stuffed marten and stuffed fox rested on the floor, below various pelts and a dozen mounted skulls from game he'd either killed or found in avalanche debris. When I brought up K2 and how Karničar's looming attempt was affecting their family, Izidor chimed in. "I'm not scared, because I trust him," the boy said in English, one of three languages he's fluent in, along with Russian and Slovenian. Karničar got up and hugged his son, who was already taller than his five-foot-eight dad. 
The next morning, Karničar drove me and a photographer up a stunning alpine valley to his favorite trailhead. We hiked up a steep, exposed trail to the Češka Koča, or Czech Hut, which his father managed for 40 years. We talked about his brother, Luka, who died in a training accident with the Slovenian mountain rescue team, of which Davo was also a member; and about his best friend and longtime expedition partner, Franc Oderlap, who was killed by icefall on Manaslu, the world's eighth tallest mountain, as Karničar watched in 2009.
He was hardened by those and other tragedies, but the hut calmed him. Before he became a mountaineer, he spent eight years competing for Yugoslavia's national alpine ski team, training on the slopes above the hut. (He later worked as a serviceman for Norway's World Cup racers in the early '90s). As we switched from sneakers to ski boots, Martin's voice chirped from Karničar's phone—"Dada, dada"—whenever someone called. We started skinning into a dense fog. Karničar's trademark yodel echoed off the cirque above us.
After an hour, the fog lifted to reveal massive rock walls caked in snow and ice. Karničar continued alone up a ramp and onto one of the walls, stopping on a hanging snowfield and transitioning from crampons to skis. I met him halfway down his descent, and we skied to the hut on perfect spring snow. 
Back at the trailhead, we shook hands and hugged in honor of a memorable day in the mountains. "Sometimes," Karničar said with a twinkle in his eye, "when I'm really happy, I drink one beer." So we drove back down the valley, past the chalet that he and Petra bought a few years earlier, where he hoped to open a ski-mountaineering school and lodge. We stopped at a restaurant on a lake and sat by the window, looking up at verdant pastures and towering peaks—his version of heaven.
 
Lead Photo: Devon O'Neil
Trending on Outside Online