The Deep, White Secret
Think Whistler is the only thing that British Columbia has to offer? Think again.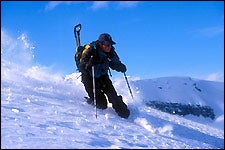 Heading out the door? Read this article on the new Outside+ app available now on iOS devices for members! Download the app.
By the time you get to the top of Whistler Peak, you've already missed it. Literally and completely. The best of the West, Canada's or anyone else's: millions of acres—OK, hectares—of sunny, high, and dry mountain ranges covered with fluff that's begging for the caress of powder skis.
Skiing in British Columbia


Selkirks, Purcells, Monashees, Cariboos: It's easy to overlook these lesser-known interior ranges, into which helicopter jockeys fly extreme-ski heroes every year for endless reels of deep-steeps powder footage. Especially when you fly by this crooked spine of central British Columbia in the window seat of a 737, about a half-hour out of Vancouver, the trailhead for the well-worn path to Whistler-Blackcomb.
Sure, North America's most mega of megaresorts is still numero uno on everybody's "best" list—until they actually ski there enough to learn the truth: All too often, Whistler's base elevation of only 2,214 feet, coupled with a popularity that just won't peak, leaves tens of thousands of frustrated thrill seekers quite literally in a numbing fog.


Now don't get your Capilene drawers all in a bunch, Whistler faithful. We have not come to bury your vaunted burg, which clearly has enough microbrew providers and macro-lift essentials to make everybody happy at least some of the time. But Whistler's rapid ascension to superpower status has obscured the world's view of a handful of truly worthy neighbors to the east: Big White and Silver Star in the sunny Okanagan Valley, and Sun Peaks (formerly Tod Mountain) in the dry hills above Kamloops. They're places we learned about by following the caravan of Vancouver-based SUVs—more than a few of them driven by Whistler lifties and ski instructors. An exercise in escapism? Absolutely. Whistler, they say, is the place to make money. Central British Columbia is the place to ski.


This is doubly true today, with the revolutionary discovery that you don't need a helicopter to plant your poles in BC's interior. Recent upgrades at these off-the-path spots have taken the rough edge off venturing into this mountainous maze. And the all-time disparity between U.S. and north-of-the-border dollars renders all Canadian ski resorts—with lift tickets averaging about U.S. $30—a bargain buy.


And a potential addiction. Every one of BC's anti-Whistlers offers Utah-dry snow, oft-bright skies, and an earlier, more dependable season. Better yet, they're just far enough out of Land Cruiser range to ward off the day-skiing swarms that inundate Whistler on weekends and holidays.
Big White: Kelowna, British Columbia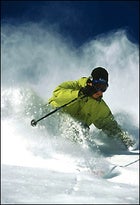 Big White (800-663-2772) comes as close to a fully self-contained resort as any in central BC, making it the destination of choice for intermediates and families. Vancouverites have taken notice, especially in the eight years since the new Coquihalla Connector freeway made it a quick 250 miles to Kelowna. Express quads sprouted as fast as west-siders (and migratory northwestern Yanks) could fill them, and Big White grew into a contender.


Too much so, grouse some locals, who say Big White—which gets about one-fourth of Whistler-Blackcomb's throngs—is already too crowded, at least by Inner BC standards. Indeed, the resort's two mushrooming base areas (the lower-mountain Westridge area was built entirely from scratch two years ago, doubling the skiable acreage) seem so constantly under construction that Big White threatens to become Whistler East.
But the weather proves that this ain't Whistler. Big White sprouts dramatically from a high-desert plain (think northern Idaho), and the bald-headed mountain is consistently hit by the big stuff: 294 inches of it in an average year. Unlike its West Coast cousins, however, clearing almost always follows dumping here, exposing a grand palette of 100 maintained runs spread over 2,300 acres that face mostly south, into the winter sun. The upper elevation, 7,500 feet, is the highest lift-served area in the region, which means snow lingers longer. Many runs are lightly treed, and post-storm forays through the snow-ghost-studded Enchanted Forest are the stuff of BC skiing legend.


The upper-mountain terrain, reached by eight rarely jammed lifts, tends to be open and exposed, with a handful of extremely large boulder fields. The black runs are truly unnerving to most, though experts may wish for a little more variety after a day of ripping the Easter Chutes or the double-diamond Grizzly Playground Bowl. Intermediates, however, never seem to get enough of Big White. The best cruising runs—Cougar Alley and the other tree-cut trails off the Black Forest Express—are nicely sculpted with great sight lines and plenty of roaming space. The ski and snowboard school is big and notable, and boarders thrive here, both in the three halfpipes (one lighted) and on the mountain itself.


Accommodations are definitively not backwoods. Six thousand beds are found in 22 hotels, ranging from the utilitarian Whitefoot Lodge ($81; 800-663-2772) to the only slightly upper-crusted White Crystal Inn ($102; 250-765-4611). The newest digs are in the cleverly designed, 100-room Coast Resort ($89; 250-491-0221), added last season. Nightlife is loose, fun, and just raucous enough. Don't leave without partaking of the Gunbarrel Coffee (flaming Grand Marnier poured down the barrel of a shotgun at Snowshoe Sam's). Next day, you'll swear you saw Ogopogo, the legendary monster of nearby Okanagan Lake.
Silver Star Mountain Resort: Vernon, British Columbia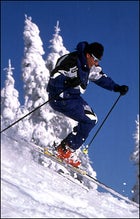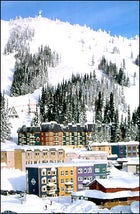 Inner BC skiers often reach their outer limits at Silver Star (information, 250-542-0224; reservations, 800-663-4431), a smaller, more intimate neighbor of Big White. Compared to the bring-the-kiddies trappings found two hours up the road, Silver Star has an alpine-flavored Euro feel, due partially to the "Victorian Gaslight Village" themery in the nonetheless cozy base area, and more than a little to the area's status as British Columbia's nordic skiing capital. The Canadian national skinny-ski team trains on the mountain's 22 impeccably coiffed miles of trails and on 30-plus miles in surrounding Sovereign Lake Provincial Park. In other words, there's plenty to do if you burn out on lift-served splendor. But you probably won't.


Silver Star doesn't get quite the consistent winter dumpage of Big White, which sits a thousand feet higher, but what falls here is put to better use, thanks to a wonderful mix of terrain that beats you up on the mountain's backside and then ushers you ever so gently back to your condo on the sweetly groomed runs down the front. The front in question, Vance Creek, is a south-facing slope with a mix of beginner and intermediate runs, small enough to get the lay of the land in an hour or two yet large enough to stave off boredom for days. But it's the backside, north-facing Putnam Creek, that put Silver Star on BC skiers' must-plunge maps. Putnam's 2,500-foot vertical starts with some uh-oh chutes—a surprising number of which get regular grooming from winch-cat machines—and ends with a series of oh-shit glades. Throw in a couple of Volkswagen-swallowing bump fields and Putnam will run most skiers' fuel tanks down past empty in a day or less. It's some of the most challenging on-piste terrain in BC.


Snow holds longer atop the northside runs, but it's champagne-dry and plenty deep everywhere on the mountain. And the views are right up there with those from the top of Whistler Peak. The mountain's facilities (eight lifts, 85 trails, and two halfpipes) feel small, but runs are generous, lines short or nonexistent, and the degree of thighus fryus at the end of the day feels big-mountain indeed.


In the compact base village, tucked into the center of the mountain, lodging choices range from the plush Delta Silver Star Club Resort ($70; 800-610-0805) to the group-friendly Pinnacles Suite Hotel's slopeside condos ($145; 800-551-7466). Like Big White, Silver Star typically opens early (mid-November) and closes late (mid- to late April). Good thing, because business—while never quite qualifying as gangbusters here—is strong, thanks mainly to an unusually large number of repeat customers. Silver Star regulars say the place is as convenient, relaxing, and friendly as any resort they've encountered. It's a particular hit with families, who rave about the ski school's dual adult/child programs, which tend to ensure that neither generation tells unverifiable big-air tales come dinnertime.
Sun Peaks Resort: Kamloops, British Columbia

It may not be Whistler, but it just might become Blackcomb. And then some. For what once was a steep little stump-mined hill known as Tod Mountain is becoming, through a three-decade transformation, a five-mountain, lift-laced behemoth that aesthetically resembles (and will eventually outsize) Whistler's glacial better half.


No coincidence. In 1992 Tod Mountain—which in its first 30 years had gone through more overzealous, undercapitalized owners than your average Miami cigarette boat—was acquired by Japanese resort builder Nippon Cable, which also owns a good chunk of Blackcomb. Money flowed like spring runoff and the area grew into Sun Peaks (800-807-3257), self-dubbed "the West's next great mountain resort." Design-award-winning lodges sprang from the mud. An entire mountain, the second in Sun Peaks' master plan, was added to the terrain map. Express lifts dropped from the sky.
Some locals view this investment invasion as a contagious virus incubated by the evil geniuses of Whistler, but for the rest of us it's a rare opportunity: Show up at Sun Peaks in the next half-dozen years and you'll think you've time-warped back to Aspen or Vail in those innocent early days, when they were still frequented by folks who prefer endorphins to stock options.


The best of both worlds? Could be, at least for the time being. Aside from its out-of-the-box newness, Sun Peaks has a bevy of other lures: close proximity by highway to both western BC and western Washington; a foreign-investment-fueled international flavor, with skiers from Germany, Japan, and beyond; and a primo brand-name endorsement from Nancy Greene, 1968 Canadian gold medalist, who pulled up 20 years of Whistler roots to move to Sun Peaks, where she and her husband, former racer and ski coach Al Raine, now run a ski-in-ski-out lodge.


Extensive resculpting (OK, bulldozing) of the formerly gnarly, stump- and bump-infested Tod has added a mix of intermediate and easy runs—long cruisers, ultrawide rookie trails, and a sweet set of super-steep racetracks on Sunburst Ridge—but not at the expense of the sewing-machine-knee-inducing steeps that made the old peak infamous. Saved from the big shave were Tod's thousand-vertical-foot tree-ski paradise, the Gils; four downright frightening double-diamond chutes known as the Headwalls; and other tough nuts like the double-diamond Challenger, one of the most vertical lift-served plunges this side of Jackson Hole.


The snow? Well, it's not overwhelming in amount, but it's typically marvelous in feel and consistency. For proof, note that Mike Wiegele's legendary heli-ski operation at Blue River is but a half-hour's flight to the north. Many of the same weather patterns that fuel Wiegele's hero-snow business do their deed on Sun Peaks' 6,800-foot summit first. Fog can be a problem at this resort, which lies west of Big White and Silver Star, but with primarily southern exposure, there are plenty of blazing powder days.


Lodging options grow monthly, with new hotels and condo units popping up as if sprayed from water cannons. For now, the bunks of choice among the 3,000 already available are at Greene's Cahilty Lodge ($70; 800-244-8424), which boasts 193 hotel- and condo-style units and the added advantage of a hostess with more than her share of insider intelligence.
And It's Even Good in the Margins: Skiing Down BC's Still Less Well Beaten Paths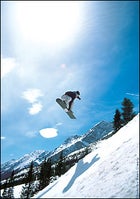 Powder tends to collect in the fringes. As do BC skiers. The same stuff that blankets the destination resorts of Big White, Silver Star, and Sun Peaks is also floated upon and inhaled daily at a handful of local day-tripper ski haunts—not to mention visited in deus ex machina style via the world's biggest heli-ski air force. Pick, choose, and drop in.


Red Mountain (800-663-0105) is barebones, backwoods skiing at its butt-busting best. Red, as it's known in the northland, doesn't qualify as a well-kept secret anymore, but its home base, the frontier mining town of Rossland, is still Starbucks-free. Clinging beneath two peaks that trap caches of Rockies-like powder, Red delivers dozens of terror-inducing black-diamond chutes and a grand assortment of lift-served powder glades. Even without the exchange rate, Red's mostly utilitarian lodgings would be dirt cheap. Try the Uplander Hotel ($54; 800-667-8741) or the closer-to-the-mountain Ram's Head Inn ($77; 250-362-9577), where a big wooden hot tub allows for plenty of aprˆs-ski northern exposure.
Veteran BC skiers rate 400-acre Whitewater (800-666-9420), just outside Nelson, one of Canada's best powder mountains. And the numbers—388 annual inches—back it up. Most locals skip the tired old lifts and head straight out of bounds, skiing trackless backcountry glades down to the cars they parked on the highway below. Lodging is all down the hill in Nelson, an absolute Christmas ornament of a mountain town that served as the small-town setting for Steve Martin's Roxanne. Try the centrally located Best Western Baker Street Inn ($50; 250-352-3525) or call the above number for a list of turn-of-the-century B&Bs.


Tucked under the Rockies' left shoulder, Fernie Alpine Resort (800-258-7669) is a longtime provincial wallflower, but new owner Charles Locke, who also owns Lake Louise Ski Area, is speculating that Fernie's best attributes—including a hefty 350-inch average annual snowfall—will turn a few heads. Two lifts scheduled to open in December will open three new bowls and nearly double the skiable acreage to 1,900, with a respectable 2,800-foot vertical drop. Crash at the comfy slopeside Griz Inn ($48; 800-661-9170) or find even less expensive lodging five minutes away in Fernie. Be forewarned, however, that the only apris-ski action to be found is at the mountain.


For pure, chopper-powered steeps, Mike Wiegele Helicopter Skiing (250-673-8381), based near the town of Blue River, is still the place. Wiegele's 22,000-square-foot spruce-log lodge is where all good skiers should go when—or hopefully well before—they die, with gourmet grub, professional ski waxers and shoulder rubbers, and as much vertical as you can do in a day without heading for the great beyond. Wiegele's crews fly to otherwise-untouchable spots in the Cariboos and Monashees, side-by-side ranges that share about 360 inches of annual snowfall. Five- to seven-day packages cost from $2,550 to $3,830 per person, but look at it this way: Every serious skier owes it to himself once in a lifetime. The exchange rate—and your knees—won't ever be better.