Friday Interview: Eric Hjorleifson
The big mountain specialist with a knack for hucking huge air and developing his own touring bindings and boots discusses saving his feet, designing gear, and how to get after it in the backcountry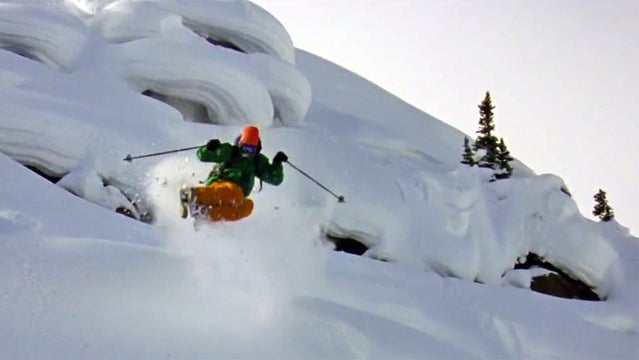 Heading out the door? Read this article on the new Outside+ app available now on iOS devices for members! Download the app.
Whistler, British Columbia-based skier Eric Hjorleifson, a.k.a. Hoji, is a big mountain specialist with a knack for hucking huge air of off natural features in the backcountry and stomping pillow lines with unmatched power and fluidity—all in a pair of Dynafit boots and bindings. His hard-charging style bridges the gap between ski touring and aggressive alpine skiing, and proves that performance doesn't need to be compromised by touring gear. You can still go big in the backcountry and rail turns on the resort in a pair of touring bindings and boots if you follow the gospel of Hoji.
What separates Hoji, 29, from many of his peers is the depth of his involvement in product development for the brands he works with. Sponsored by 4FRNT and Dynafit (among others), he's equal parts pro-athlete and product engineer. In 2011, Dynafit signed him as an athlete and as a "boot and binding" consultant—and it's not just some branding/PR plug. With a tricked-out workshop in his basement, which his girlfriend calls his "playpen," he spends hours a day, thousands of hours a season, perfecting his set up to meet his performance demands. The result is this year's Dynafit Vulcan boot, which hit the shelves last week (and has already won numerous awards), and a binding to be launched in January that's poised to revolutionize ski touring. When he's not tinkering with his gear, you might find him shooting for Matchstick, Sweetgrass, or Sherpas Cinema—he scored major segments in all three's most recent ski flicks.
We dragged Hjorleifson up from his workshop lair to talk about saving his feet, designing gear, and how to get after it in the backcountry.
How did you get into skiing?
I was born in Canmore, Alberta. My dad was a bit of ski bum. He was a ski instructor and both of my parents got my brother and I out on skis before we were two. My parents are really responsible for inspiring me to pursue skiing and starting that passion young.
My original home mountain was Lake Louise. I ski raced from 10 until about 15, 16. That's about when the first terrain parks started showing up for snowboarders. We were building jumps off the side runs. I started learning some tricks—doing little 360s, frontflips, backflips. Then I was in Panorama for a downhill race camp and we went into a ski shop and they had that Salomon 1080 promotional video with the new Canadian Air Force playing and I just sat in that shop and made the guy play it like a hundred times that week I was there. Then I got into the jumping side of it, the Newschool side of skiing.
How old were you when you started going into the backcountry?
About 16, 17. I started going out around Sunshine, Lake Louise with my buddies who were older than me. Andrew Sheppard from the RAP films was always a big influence and mentor of mine. He has excellent mountain sense—skiing lines and being aware—and he instilled those values in my skiing.
How would you characterize your skiing? Right now it seems like there's all these terms being tossed around: freeride, big mountain, free-ride ski touring, etc.
I came up with a term that I've been using: the complete skier. I don't want to sacrifice my downhill performance and I don't want to be limited to just skiing the resort, so I'm an opportunist—I want to take the lifts as much as I can and ski powder. I like to be able to shred the resort comfortably and at a high level, but I also like to just go do whatever I want and go out of bounds, into the mountains. I love skiing the backcountry. I want the freedom to go anywhere.
Gear is evolving, and more and more people are getting into the backcountry these past couple of years. Is that a good thing or bad thing?
Backcountry is the big buzzword. It's the only growing segment, etc. Everyone wants to go and have their own adventures and that's pretty cool. There's so much out there, it's sort of choose your own adventure, and more people should be able to appreciate that. There's a lot of people willing to spend a lot of money on gear; but the industry needs to shift again and focus on getting people responsible for themselves. Learning what you need to know and being prepared is just as important as being able to actually get out there. People are taking advantage of this backcountry trend but I think there needs to be a little more focus on the responsibility that goes along with it.
What would your advice be to someone that wants to start getting into the backcountry?
Take the time to do an Avy 1 course and try to meet people that have a bit more experience than you. Talk to the patrollers who are the snow safety guys. Do a little bit of research—we're an online, international community now, so there's a lot of information accessible. In the ski world, most people are pretty approachable. It's about communicating, paying attention, and asking the right questions.
Can you talk about the balance between mechanized and human-propelled skiing—the benefits and disadvantages of both?
Helis are an amazing tool. For my line of work, filming, they're pretty essential a lot of the time. I'm not against helicopters, though I don't like burning a ton of Jet A fuel. There's always room for them. It's the same with snowmobiling. You can't really draw a line of what's right and what's wrong. It's about making sure there are lots of places that are parks where you can only ski tour and you're not going to get burned by sledders or helis. It's about carving out the mountains and making room for everyone.
What appeals to you about ski touring and the backcountry?
What I really like about skiing the backcountry is learning about the mountains and the snow. There's so much you can learn. You can never learn it all and that kind of experience is really much more in depth and gratifying as a lifetime skier.
It touches too on the history of skiing and what skis were originally made for. Why are we skiing? A lot of it really comes from travel in snow and mountains and that's appealing to me. It's cool what you can do, where you can go, and what you can accomplish under your own power. And it's a great sense of adventure. You can go a lot of amazing places for not a lot of money. Once you have your setup, you can have it for life.
Can you talk about the design process—how did you become so involved in the development of products?
No technical training. It all started with the ski design side of things working with my ski sponsor 4FRNT. They're a pretty small brand, an upstart brand 10 years ago. That gave me the opportunity to start working on ski design. It was an introduction to trying to think of why things work, why some things work better than others, what I really like, and how to improve upon that.
The ski design really came a long way and eventually the EHP skis changed the way I ski and the way the skis I was designing were shaped. I really opened up my mind to the potential of improving things. That was the start and boots were a natural progression. Ultimately with the whole design thing, I wanted to make things work for what I do.
What's more important to your skiing—tinkering with your boots or your skis?
That's the chicken and the egg question. It started with ski design but what really stimulated the boot side of things was that I wanted to have a much better tool for backcountry skiing. The big revolution of these radical designs in crazy skis has already taken place for the most part. Now we have these amazing powder skis that are really lightweight and we're trying to ski tour on them a lot more. Boots were a natural next step.
I've been ski touring accessing lines and kickers since I was 16, but we were really limited by our ski boots for walkability and also by bindings. After filming for 10 years and being crammed into little hard race plug boots, with foam injected liners, my feet were really starting to die. So it was trying to find that solution of a touring boot that was also a ski boot.
So what did you want in the binding?
Same thing I'm looking for in the boot. The Dynafit binding is an amazing binding and they work quite well for my style of skiing in soft snow, making good decisions, but they weren't ever designed for what I'm putting them through. We're trying to update it to something that's more of a ski-friendly, downhill-oriented product that also walks as well as the what the Dynafit bindings are based on.
How often are you in your workshop?
Every day. I'm down there until at least 11 p.m. every night. I ski all day, come home, cut apart what isn't working and play around with that. It's gotten to the point where it's not good. It's a bit of an obsession. I love it.
What's in your workshop?
So many things. I've got every tool imaginable to make things happen down there. I finally got a workbench. A grinder. A dremel—the Canadian kind. I've gone through three dremels. They're important for cutting and grinding and 3-D problem solving. It's kind of like sculpting.
How did you get into skiing pillow lines?
That was a big part of the ski touring evolution for me. Suddenly terrain that we weren't really looking at became realistic. We started going to lodges and finding all these pillow zones and you could only access them usually through ski touring. Ski touring and pillow lines actually go really well together. They're super technical and you need to study them if you really want to rail your line. Ski touring is perfect—suddenly you have an hour of walking up to get to them. You walk wherever you want, so you can really look at your line from many possible angles. The hut trips with Matchstick at Golden were a huge turning point for the pillow lines. That was probably in about 2007.
What are some tips for skiing a pillow line?
Dissect it. Really figure out where you can make a turn, how much distance you need, how fast you're going to be going, where you're going to land. It's all about understanding your own style and ability and applying that to what you see and picking something realistic. Start simple and small. A lot of it is memorization and understanding terrain.
What do you have going on this winter?
I'm going into Golden Alpine Holidays starting the week of December 3 for three freeride camp sessions. I'm coaching, working alongside a guide, and getting people out there and off to a good season. Then I'll be filming with the Sweetgrass guys after the holidays back at Golden. The main binding guy from Dynafit is coming so we're going to ski every day to test. We're going to film and document the whole process of testing these new bindings. I'm really excited. I think this is going to be one of the coolest and most exciting seasons because I'll have the Vulcans and the new binding. And I'm filming with the Sherpas in February.
What are your goals for your career?
I've been really fortunate—I've met a lot of my goals. Growing up, I really wanted to make it in the ski films and ski for a living and that's come along really nicely for me. I'm definitely super motivated on this whole product side of it. I enjoy it. I go down there and work until my heart's content. It's very rewarding. I hope to remain involved in the ski industry through that and just keep skiing for a living.