Friday Interview: Kim Havell
The preeminent female ski mountaineer of our time discusses recovering from the tragedies of last winter, breaking into the backcountry, and schussing on an erupting volcano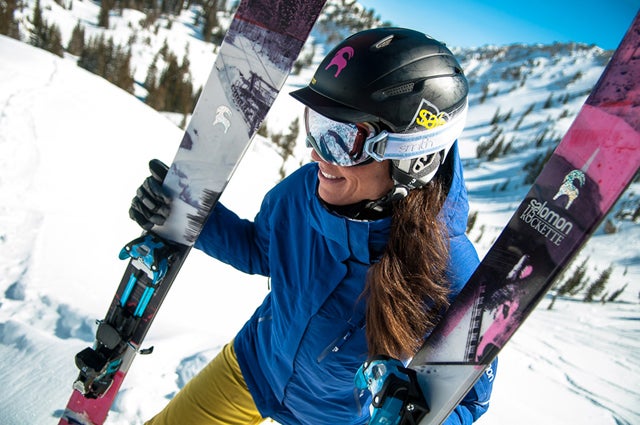 Heading out the door? Read this article on the new Outside+ app available now on iOS devices for members! Download the app.
I first heard Kim Havell's name back in 2007. I was skiing with some locals in Telluride, Colorado, where she lived at the time. As we rode up chair nine, I asked my ski partners, "Who is the best lady skier on the mountain?" They responded in unison: "Havell."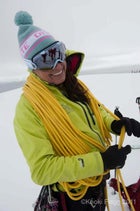 Kim Havell.
About that time, Havell was beginning to make a splash in the ski world. She was notching first female descents up and down Telluride's infamous sidecountry zone Bear Creek, picking lines off Little Wasatch Ridge (the Grandfather Couloir, the Y Couloir, and Heaven Elevens). In doing so, she became one of only five people, and the only female, to ski all of the direct couloirs off Little Wasatch Ridge. Those feats in Southwest Colorado were stepping stones to a mountaineering career that's seen her ski on all seven continents, with first descents on four, including Antarctica, where she moonlights as a guide for Doug Stoup's Ice Axe expeditions.
She's skied from the summit of Denali and laced turns down Aconcagua in Argentina, Tibet's Shishapangma, and Pakistan's Gasherbrum II, from the highest point for any female skier, after being turned around close to the summit due to dangerous avalanche conditions. With dozens of ski accomplishments spanning the globe under her belt, Havell has emerged as one of the preeminent female ski mountaineers of our time.
Unlike many of her peers, Havell didn't grow up skiing in some snowcapped Mecca like Jackson Hole or Sun Valley. No ski patrol mom or ski coach dad. Instead, she was born in Iran and grew up in Hong Kong until she was 12, when she moved with her family to New York City. She ski raced in high school and as a student at Brown University. After college, she headed west to Telluride, where she coached ski racing, became an ambassador and ski model for the resort, and joined the San Miguel Search and Rescue. In the San Juans, her passion for the mountains flourished.
Six years ago, Salomon added Havell to their roster. Since then, she has appeared in films by Sweetgrass, Powderwhores, and Salomon Freeski TV. Shot last February in Sicily, her latest Salomon Freeski TV episode, "Etna," debuts in 2013. After 16 years in Telluride and a brief stint in Salt Lake City, Havell moved to Jackson Hole, Wyomong, in August to continue chasing her ski mountaineering dreams.
Here, she discusses recovering from the tragedies of winter 2011-12, breaking into the backcountry, and schussing on an erupting volcano.
What do you have on tap for this winter?
I have a few film projects, but I can't go into specifics because we're still trying to get funding. One is a women-oriented thing, but meant for all audiences. The other is a backcountry-type endeavor.
I'm going to be over in Europe this spring for some Salomon stuff, so I might try to ski some lines I've been eyeing over there. I have some Himalayan hopes. Last year we had to cancel our expedition to Baffin Island because we lost two of our team members. (Editor's note: The two expedition members were Steve Romeo and Chris Onufer, who died in an avalanche in Grand Teton National park on March 7, 2012.) We may try to resurrect that or do a trip somewhere else in May or June. And a trip to Antarctica in November 2013 as a guide for Ice Axe Expeditions. That's the big picture stuff I'm trying to put together.
What was your take away from all of the tragedies in the ski community last winter?
Last winter was really overwhelming. I'm still working through it all. I lost five dear friends. I was so close to a couple of the incidences. It goes deep.
I don't think it has changed my perception of risk. If anything, you study events and patterns and decisions that were made and the human factor. What we do is dangerous. There is a lot of calculation that goes into it, but there's going to be times when, you know, if you miss some small wind event, or if you're not really careful about certain decisions and you take on a little more risk on a certain day, things happen. It's just a really harsh reminder of what can occur out there.
So, more than anything for me, it's about humility. As time goes by, I'm becoming more and more humble about the mountains.
Did it make you reassess your outlook on skiing, life, risk?
I'd imagine I'll have more humility entering circumstances now and be even more on point and on my A game. Being conservative plays into that. And trying to pay attention, as always, to interpreting the snow, the person you're with, and making the right choices for the right day.
What do you look for in backcountry partners?
Again, I think humility in the mountains. I think my best partners are the ones who are out there for the right reasons. People who are willing to turn around. People who are willing to communicate. People who are humble about going out. People who are doing it purely for their passion for doing it and there's nothing else woven into a certain decision. You learn that very quickly about people. People who are fun. People who want to come back at the end of the day.
How do you determine if an expedition, outing, mission was successful?
For me, it's knowing that I gave it my best, at the most basic level. I've learned the hard way because there was a time when I was very attached—and at times I still am—to the outcome. You want to get to the top. You want to succeed. You want to complete the objective. Especially if you go for, say, two months to the Himalaya, it can be hard to walk away 1,000 feet below the summit. But I've had to do that now a couple of times and it's painful, but at the same time, some of those decisions, I've felt really good about, because there really was no other choice. You can either push it and have a small chance of doing something extraordinarily daring, exciting, and awesome. Or you go back with your life.
Can you talk about breaking into the backcountry? How does a novice break in?
To break into the bigger stuff, you do have to earn your keep. You have to earn respect. People have to be comfortable going with you. I even see myself now—I see a whole new crop of younger girls here in Jackson that I'm meeting and I have some hesitations about—I mean, I want to help them as much as I can, but I'm still a little nervous about taking them out into the backcountry. It's a dangerous pursuit and it's hard to be someone who's going to help you pursue danger and take on a role model role in something that is not an exact science. Skiing is not an exact science and if you're off with certain decisions, people go down.
You start getting people out in the backcountry and I mean how much of a teacher role do you take? From beginning to end? It's like that doctor thing—if you're going to respond to an emergency situation, you can't leave the patient, that's called abandonment. It's sort of like that. But I believe in getting as many people out there as possible. It's the most beautiful experience in the world, everyone should do it, but by the same token, it's something that's risky.
You mentioned that backcountry skiing is shifting. What do you think is prompting the shift?
I think there is a lot more information and it's more accessible, which makes it easier for everybody to get out there—male, female, whomever.
Where did you shoot your Salomon Freeski TV episode that's coming out this winter?
Last February in Sicily, Italy, on Mt. Etna, the volcano. It started erupting while we were there. It used to not erupt a lot—something like every six months—but now it's going off every two months or one month. It's rumbling, that thing.
To ski on a Mediterranean island on a volcano and have the ocean right below you was amazing. The expanse of the volcano is massive. You can tour all over the place. There's tons of potential, you just need a good weather window. The mountain lends itself to people who want to ski tour and explore, and then go down afterwards and have an espresso and hang out in beautiful seaside towns. It's a really cool contrast.
What are some of the highlights of your career?
It's so hard to pick one thing. I'd say a lot of the skiing we got done off the Wasatch Ridge (Telluride) was very rewarding to me. It was home turf and it was a lot of fun. It was in my backyard and they were really exciting couloirs. And beautiful climbs, and I really enjoyed getting to be a part of that movement after the original pioneers went through Bear Creek. It was really cool to get back in there with people and re-find it. That was about five years ago.
Skiing the Grand Teton and being able to lead all those pitches. That whole experience for me was a big turning point. I think the Himalayan adventures have been really exciting. The Karakoram.
The discovery thing—going to Norway, going to Bolivia, going to Antarctica—all of those trips had elements of true exploration. So it's hard for me to fit things into a box and pick favorites. Some things told me that I was ready for the next adventure. I would say to myself, OK, you can handle this, so what's next? Every expedition led with a turning point or a stepping stone to the next. So to name one thing is hard.
Best ski day ever?
My best ski day is pretty much one-upped every time I go out on a new mission. It will always probably be my last great experience. So, my last great skiing experience was on the Grand Teton in June with some of the greatest mountain athletes I know: Jimmy Chin, Renan Ozturk, Chris Davenport, Andrew McLean, Chris Figenshau, Brian Warren.
Most of us had skied it before and so it was a seamless outing and tremendously fun. It was one of those perfect days that feeds the beast. Besides that, I'd say skiing first descents in Antarctica in good conditions down to the ocean is one of the most mind-blowing visual and sensory experiences I have had. Big days in the San Juans are pretty extraordinary, too. But, again, every expedition and ski trip has its own special and meaningful place in my life journey.
Who are your mentors? Who inspires you?
I never had any mentors. There were folks along the way that showed me a thing or two, gave me tips, provided an opportunity, etc., but I never received consistent guidance from a Jedi Master. I had partners who were more experienced and I absorbed as much as I could in the field. It was a slow process of self-education to get out there and do the things I dreamed about. I spent a lot of time developing mountain sense and skills, finding the right partners, lining up appropriate objectives, and learning about risk versus reward.
There are people that provide inspiration. Glen Poulson in the Sierra. Andreas Fransson in Chamonix. Greg Collins in the Tetons. Doug Byerly in the San Juans. And, many more. Those gone … Alex Lowe, Andy Sawyer. Most of them are off the media radar. I find anyone with passion, talent or commitment, and lots of heart inspiring.
You lost five friends alone last winter. Given the risks, setbacks, defeat, why do you continue to do what you do?
Skiing is my greatest passion. Adventure, challenge, skiing, climbing, and exploration fulfill me. It makes me feel alive. There is something innate that wants to see what is possible and that has just always been there and I think always will be.
Skiing is one of the greatest forms of self-expression and interaction with the mountains. I'm always learning, which I love. You share blissful moments with friends. I've learned to accept defeat and grow from it. Success in the mountains has helped define me as a person and as a woman. Human potential is extraordinary and should not go untested. The gains are immeasurable; the losses are a part of life. For me, life is not worth living unless you do it with soul. I want to give it everything I've got.
Lead Photo: tommychandler/backcountry.com