Friday Interview: Nat Partridge
One of the most revered guides in the United States demystifies the life of a guide, explains what it takes to become one, and shares other insights gleaned from a life spent in the mountains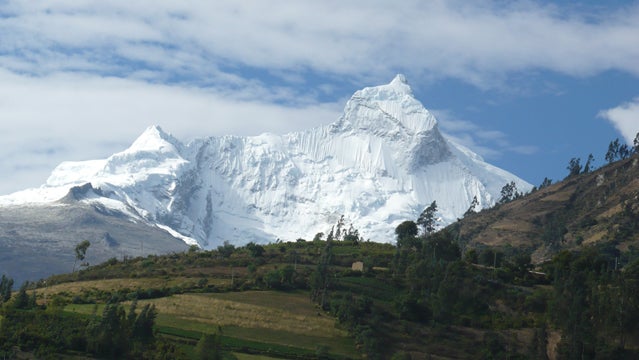 Heading out the door? Read this article on the new Outside+ app available now on iOS devices for members! Download the app.
At some point in every outdoorsman's life, you fantasize about being a guide—a life of starry nights, limitless powder, rainbow trout, and crag. An existence free from the cubicle, where toiling among rock, snow, and mountains make up the rungs of the corporate ladder. But for the layman, the leap from recreational outdoorsman to professional seems so great, that it remains just that—a dream.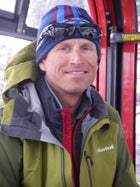 Nat Partridge.
Not for Nat Patridge, who has been guiding since 1993. Originally, from New Hampshire, Patridge was turned on to the mountains at the age of 16, when a family friend took him rock climbing for the first time. Since then, he's parlayed his passion for the outdoors into a career. He first worked summers at NOLS and then as a ski guide for Jackson Hole Mountain Resort. In 1998, he began working for Exum Mountain Guides, one of the oldest and most prestigious guiding outfits in North America, where he works year-round as the corporate president, splitting time between Exum's Jackson Hole office, guiding clients up the Grand Teton (and beyond) in the summer and into the Tetons' infamous backcountry during the winter. In 2008, he co-guided the first winter ski descent down the Grand. At the moment, he's featured in a documentary called The Space Between, a film about a ski accident in Chamonix, France, that nearly killed him.
Here, Patridge, now one of the most revered guides in the United States, demystifies the life of a guide, explains what it takes to become one, and shares other insights gleaned from a life spent in the mountains.
How did you get into the outdoors?
When I was 16, I had a friend's father bring me rock climbing and that was life changing. It was a sport that captivated me immediately. It was what I wanted to do whenever there wasn't snow on the ground. It's what I've focused on since then—rock climbing in the dry months and skiing in the winter.
How has guiding changed or evolved in recent years?
In the last 15 to 20 years, there's been a trend toward guides making a living and a career solely from guiding. They're guiding year-round, around the world, doing a variety of different things. It's not just a summer job anymore.
What did you attribute that to?
People can now make a living and have a great lifestyle. People have some free time that they can use to hire a guide to travel and ski or climb. And, American guiding has become a very recognized profession. The A.M.G.A. has helped tremendously to legitimize the whole career. Now, there's that whole certified guide track that people can pursue and be internationally recognized.

What's the role of a guide? Is it solely to get you home alive or is it something else?
Largely, I think guides are educators, educators of mountain travel, of the landscape, and your natural surroundings. An educator of how to behave in the mountains as a traveler through the mountains. And someone who manages risk. All of those other things play more of a part than the risk manager, because you're not always at risk. So all that time you're not at risk, the guide is bringing value to your experience, allowing you to perceive things that you wouldn't perceive on your own—the geology, the weather and how that plays into your day, route finding, navigation. A guide is a facilitator of that kind of travel through the mountains.
Whether you're a guide or recreational skier, how do you find a mentor?
It's a challenge. It has to happen organically. It has to happen between people of differing experience levels simply because they are drawn to each other. To force it in any way just doesn't work.
What are some tips for people who want to get into ski mountaineering?
You need to ski on the resort a lot because that's where you can really perfect your turn. Then get a backcountry set up that's light and learn how to ski that at the resort really well. And then bring it out of bounds, bring it into the true backcountry but gain a lot of knowledge along the way about avalanche forecasting. Take a bunch of avalanche classes.
If you want to be a ski mountaineer, you need a tremendous skill set—you need to be a descent rock climber, a decent ice climber, a decent meteorologist, an avalanche forecaster … and that's an incredible amount of knowledge to gain. So it's a lifetime sport and people should treat it as such. People should be patient and take their time.
What do you think about this idea that guiding is cheating or shortcutting and that a guided ski descent is cheating?
When you hire a guide, you're maximizing your chances, ensuring you're going on the proper day, with risk management in mind, maximizing your opportunity to have a really good time. I also think it's important to represent yourself accurately—so if you were to tell people you did a certain thing, you should tell them you did it with a guide, just to give it context, so you're not claiming something more than what it is.
What do you think about this idea of "style"—the style in which you ski something, climb something—that seems to have a certain caché in mountain sports?
I think the word style, when it relates to alpine climbing or skiing, often is another word for risk. I don't think there's any glory in dying in the mountains doing any recreation. For me, it's unacceptable to die. So if the snow is abnormally hard and firm, I have no problem, on a personal trip, rappelling or skiing on belay. The whole objective is to have fun and come home. It's not good style to leave the earth.
Can you talk about your accident in Chamonix in 2001?
It was on the Glacier Rond. I got sloughed up on the glacier itself. I was washed down into the Exit couloir. I avalanched and fell the distance, which happened to be 2,400 vertical feet. I broke my leg, got a fat embolism coma. I spent five and a half days in a coma. Most of the people who get that kind of coma die. I was extremely lucky to survive the fall, and then to survive the coma was perhaps even luckier.
A few days later, a friend of yours died skiing in Chamonix.
Yes, the partner I'd gone to Chamonix with, Hans Saari, died three days after my fall in another ski accident. I woke up from a coma and he was dead.
You're featured in a film, The Space Between, that's currently being shown on TV. What's the film about?
It's about a year in the life of a mountain guide and a lot of it is the philosophy of guiding and risk and making a life out of the mountains. Then we went back to Chamonix last spring and skied the run that nearly killed me.
Where did the name come from?
I was talking about my favorite part of the skiing turn and I was talking about the space between the turns, the flow, the feeling of weightlessness you get.
In light of your accident, and people you've lost along the way, how do you make peace with risk, losing loved ones, friends, and possibly your own life?
It's a very real fact of this profession. It is. Hans Saari and Doug Coombs, and all these other people who have died—they're not going to be the last people I know who die. I had two friends die last winter in an avalanche, Steve Romeo and Chris Onufer. It's a fact of life in the mountains.
The way I've been able to come to some kind of peace is to really think about what risk I'm taking and be really honest with myself about how much risk I want to assume. I have a three-and-a-half-year-old son and my wife is pregnant, due in a month, but I still think it's worth going to the mountains. Without the risk, the experience is different also. You could be doing any other sport. But those sports aren't as captivating. They don't offer you as much personal growth and reflection and meaning to your life. Take away the risk, and you take away the actual substance that enriches your life.
Spending your life in the mountains, what are some of the bigger lessons you've learned?
When you distill it down to a few words that mean something, you distill it down to the things that are at the core of a good human existence: being prepared, trust with your partner, the friendships that develop, and the discipline it takes to achieve a certain goal brings richness to your life. You produce a life for yourself that is very stimulating. It brings structure to your life and a lot of great human interaction and wonderful movement through the mountains that just inherently feels good.
What have been some of your favorite ski descents?
After you've skied so many runs in so many different environments, you still have a few that rise to the top and are extraordinary. For me, it has to do with the conditions that you skied them in and the partners that you skied them with and how great it felt when you skied them.
Favorite mountains?
I think the Peruvian Andes are just spectacular. There are some local ranges that I really love—the Wind River Range and the Tetons themselves. To be so intimate with a mountain range is really unique and special.
Can you talk about skiing and working with Doug Coombs?
I worked with Doug at his company, Valdez Heli-Ski Guides and at Exum. He was a friend and a mentor. He was maybe the most psyched person I've ever known to ski. He was always excited. He brought the best out in everybody. The best turns I've ever made in my life were with Doug and I think that was an overwhelming observation that anyone who ever skied with him said. He was an enabler of highest performance. He was a real believer in people and you believed also, and because of that you did things you never thought possible. And he was so much fun to be around because he was just so happy and psyched. He's totally irreplaceable.
What makes a good guide?
To be a good guide, you've got to like people. You have to be someone who enjoys being with people, because without guests, you've got nobody. For people to want to be with you is inherent to the whole profession. And then you've got to be highly skilled and trained and fastidious and a very good athlete.
What are some of the misconceptions about being a mountain guide?
It's hard to put it together financially. In order to do that, you have to live in the right environment or be willing to travel. At this point, it's wise to get A.M.G.A. certified—but that's a significant time and money investment. You have to be willing to work hard, really hard.
On average, how long does it take to become a guide?
Ten years.
What advice would you give to someone who wants to become a guide?
Seek out as much education as possible and the A.M.G.A., the guide education source. Make sure you are getting into this career for the right reasons. A guide is a teacher of so many things, so guides should be prepared to teach and to be patient and to enjoy being with people. Some climbers do not make good guides, so make sure you see guiding as a separate entity and not just a way to just climb or ski more. It is a career with its own focus of providing an experience for a guest.