Girth Matters
The wider the waistband the sweeter the ride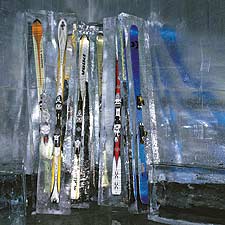 Heading out the door? Read this article on the new Outside+ app available now on iOS devices for members! Download the app.
REMEMBER THOSE images from the late nineties of skiers leaning into lay-down turns without poles? Forget them. And while you're at it, forget everything you've ever heard about the radical shaped skis, or parabolics, those coiffed posers employed to execute their boorish "pure carving" parlor tricks. In the six years since freakish hourglass boards with 24-millimeter sidecuts emerged on the market, the novelty of carving slow turns on beginner runs has (hallelujah!) worn off and ski manufacturers have shifted to relatively mild 14- to 18-millimeter sidecuts. (The sidecut is the curvature of the ski from tip to tail.) The reason is simple: While skis with 14- millimeter sidecuts make slightly longer turns and skis with 18-millimeter sidecuts make slightly shorter turns, everything within that range is perfectly adept at the all-important all-mountain turn.


Since most of the skis your favorite shop will seduce you with this season fall within this 14- to 18-millimeter class, sidecut is no longer the most crucial element in selection. To tell how a ski performs on varying terrain and snow conditions, you need to pay attention to girth—that is, how broad the ski is under your foot. Skinny-waisted skis bite reassuringly into hard snow and require less muscle to tilt on edge. Obese skis float in cow-choking powder or knee-torquing crud, where you want as much load-bearing surface as possible to pop to the top of the snow. Merely chubby skis are a compromise between the two.
So how fat should you go? That depends on your favorite terrain. Skis designed for high-speed cruising on boilerplate run 65 to 68 millimeters at the waist. Experts who whip turns in Eastern trees or Western chutes prefer 69- to 72-millimeter waists. And while 73 to 79 is classic "mid-fat" territory—powder skis for strong skiers—80 and up is pig city, ideal for riding bottomless powder and unskiable muck on big, wide-open mountains. In each of these categories, we tested two of the finest skis available. Your task: Match 'em up with the right mountain, and then let 'em rip.—Seth Masia


High-Speed Cruising
65 mm: Völkl's new Carver Motion ($895 with Marker binding, lengths 156­184 cm) is built for fast skiing on screaming groomers like Sun Valley's Warm Springs or the front side of Vail. With tip-waist-tail widths of 107, 65, and 95 mm respectively, the Carver unleashes lightning-fast edge changes. At 18 mm of sidecut depth, it has the most pronounced shape of all the skis we tested—perfect for linking fast turns to convince ski patrol that, indeed, you are in control. Its construction, like that of the great giant-slalom skis of the past, is heavy on metal: a lightweight core of dense foam reinforced with hardwood stringers sandwiched between sheets of titanium and aluminum alloy. All that metal eats chatter like a full-size Benz on a bad road, making the Carver sweetly stable at pants-wetting speeds.


THE BINDING:Völkl only sells the Carver with Marker's Motion 1200 Titanium binding, which slides onto special rails molded into the top of the ski—a clean system that eliminates the need for drilling and lets the ski flex more naturally.


68 mm: Put a hard-charging veteran aboard a 68-mm ski—the same waist as classics like the Dynamic VR-17 and Rossi Strato—and something clicks in the brain: Yes, this feels natural. So it is with Fischer's Big Stix Freeride 68 ($535, lengths 153­193 cm). Sporting a 105-68-90-mm profile and 15-mm sidecut, it should feel familiar if you've skied on anything built since 1998. In the 68, Fischer has combined a comfortable turn radius and a round, no-surprises flex pattern to produce an incredibly versatile ski. Predictable on almost any ski-resort surface, the 68 is built around a lively wood core wrapped in a weave of carbon fiber. Prone to skiing over rocks? The Fischer's steel edges are case-hardened, giving them a 50- percent boost in durability.


THE BINDING:With 32 mm of lift for better leverage, the Fischer F11 Powerconcept binding ($225) is great for hardpack conditions.


Chutes and Glades
70 mm: Although it's sold as a Western resort ski, look closely and you'll see the K2 Axis X Pro ($785, lengths 167­195 cm) is part modern chubby, part old-school giant-slalom stormer: two sheets of titanium/aluminum alloy, a laminated spruce core, K2's lightweight "MOD" foam on top to smooth the ride, and a slick race-style graphite base for ultimate glide when the snow is wet and sloppy. We loved this K2 in the tight wooded chutes of Taos and Jackson Hole—it's narrow enough to slink through the surface rocks and fat enough to float over the rest. No slacker on the groomers, the Axis Pro's 16-mm sidecut depth is identical to most World Cup GS skis, but with dimensions of 107-70-97, it's a race ski that floats.


THE BINDING:To smooth out the ride, we went with Marker's lightweight Titanium 1300 Piston Control binding ($395). The shock-absorbing pistons soak up vibration when you feel the need for speed.


70 mm: Shorten Hermann Maier's race skis a tad, blow the width out about ten millimeters, and you've got the Atomic Beta Ride 11.20 ($869, lengths 160­190 cm), perhaps the perfect ski for New England, where powder days are separated by icy weeks. With a sidecut depth of 18 mm (dimensions 108-70-99), the 11.20 is surprisingly quick for a ski of this girth—a fact you'll appreciate as you're making short-swing turns through the hardwoods at Jay Peak. The 11.20 contains a lot of titanium in the form of tubes in the foam core. Again, metal quiets the ride when the trails are covered in those bite-size chunks of ice known as death cookies. Feel like running a few gates? Carbon-fiber sheets across the top of the ski give the 11.20 amazing torsional punch, which translates to better edge hold.


THE BINDING:The 11.20 is designed to work with the Atomic Xentrix 614 binding ($299), which can be easily shifted fore and aft on the ski depending on snow conditions—back for powder, forward for bumps.




Alpine Skiing (Cont.)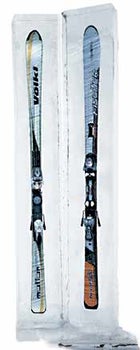 Dry powder and tracked crud
Dry Powder and Tracked Crud

73 mm: Like all Volants, the T3 Power ($799, lengths 165­190 cm) is made of stainless steel with some titanium thrown in to save weight. Steel, though heavy, is great for bashing through difficult snow, and the T3 (dimensions 106-73-96) comes into its own in the nasty stuff. It can make anyone a hero in that chopped-up crud common in Western bowls in March, but it works equally well all winter long in gloppy Washington State powder. A fast graphite base keeps you gliding in sticky spring conditions, while the 14-mm sidecut—fairly conservative by today's standards—is ideal for arcing big sweeping turns in corn. New this year: Volant has incorporated a "vapor-deposition process" that increases the steel's surface hardness by 40 percent for added ding resistance. The tip is also lower and lighter, to reduce flutter when you're moving fast on hard snow en route to the powder.

THE BINDING: Mounted with a Salomon S912ti Pe2 binding with a built-in lifter ($345), the almost-too-damp Volant gets a needed shot of precision.

74 mm:Rossignol's Bandit XX ($719, lengths 160­191cm) has been around for five winters, but this year the designers widened the tip and tail by about four millimeters in an effort to give the ski more float and enhanced alacrity diving into turns. It worked—the sidecut depth of 15.5 mm (dimensions 110-74-100) is right in the heart of the modern comfort zone.

Most powder skis have soft-flexing tails for a forgiving feel at the end of the turn. Rossignol instead uses a tapered sheet of aluminum to soften the tail torsionally—letting it twist slightly, releasing the edge from the snow. Rossignol figures the XX is ideal for skiers who spend half their vacations on groomed snow and half off-piste, and it was our weapon of choice on a day spent searching for powder stashes at Snowbird.

THE BINDING: Rossignol mates the XX with its high-performance Axial 120 T-Plate binding ($310), which withstands hard, ungraceful skiing without prereleasing.

Big Air and Bottomless Powder
80 mm: Strong skiers once scoffed at skis as fat as the Dynastar Intuitiv Big ($700, lengths 178­194 cm). No more. Whether you're dicing your way through a BC pine forest on a pair of 178's or screeching down a 55-degree face above Valdez on a pair of 194's, the Bigs let you ski faster with less fatigue—which, lest we forget, is the point. Sure they're bulky, but despite their size and robust wood/acrylic/titanium GS construction, they're easy to ski because they float so well. On a storm day at Alyeska, the Bigs were without equal when moving from windswept hardpack to hip-deep cement. The shorter lengths feature a 112-80-102-mm profile, giving the ski a smart 13.5 mm sidecut depth (a tad outside the 14-18 mm range, it's true, but straighter skis hold better on serious steeps because more of the edge makes contact). Not fat enough? The 194—factory rider Jeremy Nobis calls it the Rhino Chaser—gets an 85-mm waist.
THE BINDING: The Look P12 Spacer binding ($260) is one of our favorites for steep terrain where walking out of your binding can result in a long tumble over the rocks.

90 mm: Some of Salomon's more twisted athletes wanted to turn the backcountry into a new-school venue—hucking front flips off cornices, getting inverted over cliffs, landing 50-footers switch—but their park-andpipe skis were too narrow for deep powder and their big-mountain skis were too clumsy for aerial acrobatics. No problem: Salomon devised the Pocket Rocket ($775, lengths 165­185 cm), a twin-tip powder ski with the binding mounted a little forward for predictable tracking going backward (or "switch," but you knew that). Because the twin tips stole away some running surface, Salomon beefed up the center of the ski (dimensions 122-90-115 mm, sidecut depth 14 mm) making it even wider than their famed AK Rocket. Sure it works for the grommets, you say, but will it do the job for the rest of us? Yes. We've never been on a ski this wide that still managed to hold an edge on hardpack and didn't squirrel around at high speed. It's the only ski to date that can handle groomers, parks, and big mountains.

THE BINDING: Mount up the lightweight Salomon S912ti (titanium) binding ($290)—fat skis tend to be a little heavy in the air.

WHERE TO FIND IT:
Atomic Ski, 800-258-5020, www.atomic ski.com;Fischer Skis, 800-844-7810, www.fischerskis.com; K2 Skis, 800-972-4063, www.k2skis.com; Rossignol, 802-863-2511,www.rossignol.com; Salomon North America, 800-225-6850. www.salomonsports.com; Skis Dynastar, 800-992-3962, www.dynastar.com; Volant Sports, 303-420-3900, www.volantsports.com; Völkl Sport America, 800-264-4579, www.volkl.com
Pain Killers



DISCOMFORT ALWAYS TRUMPS performance; so when your boots hurt, those $700 mid-fats might as well be hewn from solid hickory—you'll ski like a gimp chimp either way. These custom boots, liners, and footbeds will save the day (or the season).

BOOTS
Kneissl's Rail (left, $390, 877-405-5557, www.kneissl.com) is among the first of a new generation of "soft" boots—for improved fit, the hard shell stops short of wrapping over the instep; instead, insulation and weatherproofing are handled by padding laminated to the shell. It's not a race boot, obviously, but it can handle gentle cruising. *Built for expert freeriders, Tecnica's Icon Carbon (center, $725, 800-258-3897, www.tecnicausa.com) has memory foam at the ankle and instep that molds to your bones, and interchangeable cuff flaps—choose stiff, soft, or a combination—to get you the forward flex you want. *Head's Worldcup Ti M103R (right, $675, 800-874-3235, www.head.com) is a purebred race boot. The cuff has adjustments for cant, forward lean, stiffness, and height, while a thermomolding SuperHeat3 liner hugs your foot.
LINERS
If your old boots no longer fit, or if you simply want a set of incredibly lightweight and warm inner boots for your randonnée or telemark shells, check out Raichle's custom ThermoFlex liners (left, $170, 877-405-5557, www.raichleusa.com). Utilizing EVA (ethyl vinyl acetate) foam that softens when heated, they buckle up warm so the liners mold to your foot, ankle, and lower leg. *Stronger skiers putting in upwards of 25 days a year, though, should opt for harder, higher-performance liners. ZipFit bladders (center, $180, 800-775-8100, www.zipfit.com) are filled with a silicone compound called Thermixx. Toss them in the microwave, shove them into the shell, and they're done. *Ski hard 50 days a year? Foam-injection liners, like the all-leather Ergo Foam Fit by Kneissl (right, $230), are the choice of World Cup racers. The injected foam forms a perfect cast around your ankle and foot for amazing energy transfer.
CUSTOM FOOTBEDS
Footbeds prevent the foot from flattening and rolling around inside the boot, wasting energy and causing cramps. The Conform'able Step-In Plus Snow (left, $50, 800-225-6850, www.salomonsports.com) is a simple and quick preshaped insole—slide 'er into your boot for a huge improvement in comfort and control. *Problem feet?The Kork Skithotic from Superfeet (right, $150, 800-634-6618, www.superfeet.com) is heat-molded to your unweighted foot. It's more expensive, but once the cast has cured, it supports your arch in its natural, nonpronated position. —S.M.


This Winter's Freshest Cuts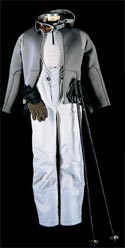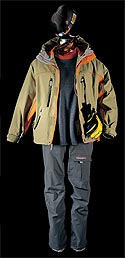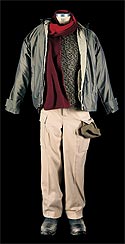 SKIWEAR MANUFACTURERS HAVE spent so much time making outerwear waterproof, they forgot one crucial tenet: Skiers need to move—a lot. Jackets and pants loaded down with laminates, membranes, and chemical coatings might as well be made of cardboard: It's hard to walk, let alone deal with skiing's high-velocity yoga. Featuring new "soft-shell" fabrics and pliable waterproofing treatments, the outfits below will keep you warm, dry, and mobile, whether you're holding your breath and launching into The Cirque at Whistler or, as the case may be, negotiating an après-ski beer tent clutching a pint of stout.


THE FROZEN CHOSEN Hike for your turns: Mountain Hardwear eXtend thermal underwear (top & bottom $105); Salomon's soft-shell VO 580 Sweatshirt ($180); Napapijri USA Cavern pants ($290); Salomon STL-21 gloves ($75); Smith Triad Regulator goggles ($90) and Series 5 composite ski poles ($72).
Ride the lifts: Nordica Cobra Jacket ($298) and Cobra Pant ($198); Nike ACG Crash Boarder Sweater ($75); Salomon SP-22 gloves ($50); UVEX Apache goggles ($80); Shred Alert Fleece Hippie Beanie ($26).


Deer Valley après-ski: BOSS Sport wool sweater ($245); Prada Sport wool cargo pants ($470) and ski hat ($134); Napapijri USA Adrastea jacket ($490); Kamik EZGoing waterproof leather boots ($100); Eddie Bauer Polartec scarf ($20).


WHERE TO FIND IT: BOSS Sport, 800-484-6267; Eddie Bauer, 800-625-7935; Kamik, 800-341-3950; Mountain Hardwear, 800-953-8398; Napapijri USA, 800-817-0618; Nike ACG, 800-344-6453; Nordica, 800-892-2668; Prada Sport, 888-977-1900; Salomon, 877-272-5666; Shred Alert, 800-780-7056; Smith, 208-726-4477; UVEX, 888-616-8839.
Cold Comfort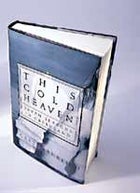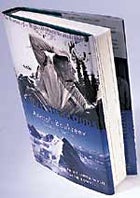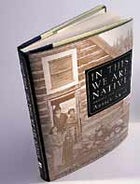 This Cold Heaven: Seven Seasons in Greenland,by Gretel Ehrlich (Pantheon, $28). In annual journeys to Greenland since 1995, Gretel Ehrlich has chewed raw seal liver (and spit it out), robbed terns of their nest eggs (reluct-antly), gotten arrested as a Russian spy at Thule Air Base (twice), gone polar bear hunting (for the fur pants), and learned the socially acceptable way to bugger a sled dog (though not firsthand). Some days were cold, others colder, and yet the place kept pulling her back. "My visits," she writes, "became chronic, as if darkness laid down on ice held secrets I could not yet fathom." Having established a reputation as one of our finest nature writers with The Solace of Open Spacesand A Match to the Heart, Ehrlich pits her literary wits against this "Arctic Alcatraz." What she finds—in both winter, when the sun never rises, and summer, when the sun never sets—is a world where basic rhythms are turned upside down. It's not winter darkness that drives Greenlanders batty, but the blazing, sleep-depriving midsummer light that "spills onto the top of the world and keeps spilling." Ice isn't a burden, it's freeing: It means travel to other villages, visits with friends, and good hunting. Do the Inuit really have 23 words for ice? Yes—see page 142. Now, with Ehrlich's book, they have at least as many poetic ways to describe their extreme land and lives. —Bruce Barcott



Above the Clouds: The Diaries of a High-Altitude Mountaineer, by Anatoli Boukreev, edited by Linda Wylie (St. Martin's Press, $28). When he died in an avalanche on Annapurna on Christmas Day 1997, 39-year-old Anatoli Boukreev exited the world stage both hero and knave. As the climbing leader on Scott Fischer's 1996 Everest expedition, Boukreev was lauded for plunging into the storm to save clients' lives and criticized for guiding without oxygen. Although the Russian told his Everest story in The Climb, these translated journals—edited by his companion, Linda Wylie—uncover a more introspective side to Boukreev, as well as a lost generation of Soviet mountaineers. Set on McKinley, K2, Makalu, Manaslu, and Everest, the entries begin in 1989, as the Soviet Union and its expedition sponsorship collapsed, leaving many climbers penniless. Boukreev, who grew up cragging in the Urals, took the comedown hard. "My friends and teammates would not talk about climbing anymore," he wrote; "they struggled to earn money literally for bread." He hung on (selling his climbing boots to pay bills) until the market for commercial expeditions opened up, and hesitantly accepted the job on Everest. Junkies of 1996 will find a few morsels here—"I can look in anyone's eyes and say I did the best I knew how to do for our team"—but the book's heart is his battle to adapt to the world below the peaks. Boukreev "had more in common with [an] ascetic poet" than with super-athletes, Wylie notes, and indeed, the climber's prose—including one poem—reveals a more vulnerable soul than the world had reason to suspect. —B.B.
In This We Are Native: Memoirs and Journeys, by Annick Smith (The Lyons Press, $25). Essayist Annick Smith has lived one of those quintessentially peripatetic Western lives: homesteading near Missoula, Montana, with occasional flights to Hollywood, Tijuana, Lake Titicaca, Spokane, and Pablo Neruda's house on Chile's Isla Negra. These graceful essays accrete into a rough-hewn memoir of her last years with her husband, who died in 1974 when she was 38, leaving her to raise four sons alone, and of her subsequent careers as writer (Homestead) and film producer (A River Runs Through It and documentaries about American Indian life). Smith has a gift for rich lyric description, as in these impressions of Texas's Palo Duro Canyon: "a black bear…is hidden in junipers along the trail by the creek, a mucky trail the colors of fire, which also holds my footprints." But she is also an old-fashioned firebrand. In "Anticipating Loss" and "Three Ways of Walking the Blackfoot"—pieces protesting the Plum Creek Timber Company's acquisition of vast tracts in her drainage ("like selling a corpse to vultures") and proposed pit mines along the Blackfoot River—Smith achieves an angry apotheosis that would have made Tom Paine proud.—Caroline Fraser


AND ALSO OF NOTE:



John Muir's Last Journey: South to the Amazon and East to Africa, by John Muir, edited by Michael P. Branch (Island Press, $28). With previously unpublished journal entries and letters, this volume captures the original mountain man's final trek: In 1911, 73-year-old Muir embarked alone on what Robert Michael Pyle, in his foreword, calls "one final, phenomenal Field Trip," a 40,000-mile, eight-month journey through South America and Africa. Those who thought Muir's last years were overshadowed by his failure to save Yosemite's Hetch Hetchy Valley from damming should be pleasantly surprised to find their favorite Sierran heading up the Amazon, having "a glorious time in this fine wild America." —C.F.



The Coldest March: Scott's Fatal Antarctic Expedition, by Susan Solomon (Yale University Press, $30). For decades after perishing with his men in 1912, Captain Robert Falcon Scott was the hero of big and little Brits everywhere. But with his ill-advised ponies and stiff upper lip, he became every pole-worshiper's favorite whipping boy. Now the Scott wars are heating up again. Atmospheric scientist Susan Solomon, who spent two seasons at McMurdo Station, conducts a fascinating forensic investigation of Scott as bungler, arguing that the explorer was done in not by ignorance but by (believe it or not) an unseasonable cold snap. —C.F.
Trending on Outside Online