Mountain Fit
How to Go Skiing with Your Dog
Your pup loves powder days, too. Here's how to make sure your backcountry adventure goes smoothly.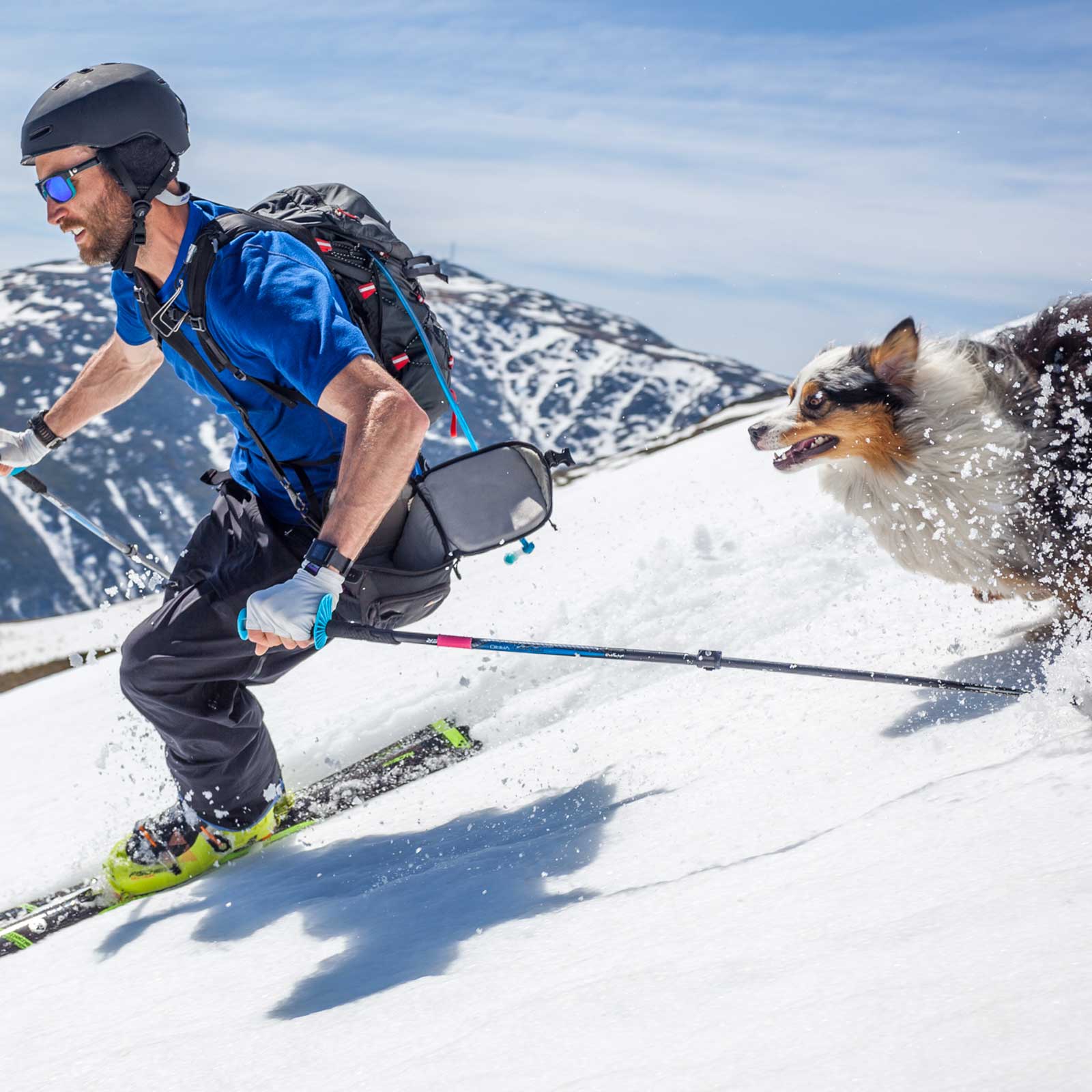 Heading out the door? Read this article on the new Outside+ app available now on iOS devices for members! Download the app.
You can picture it now: You drop into an untracked bowl and carve your first turn. Snow is flying light and fast. Over your left shoulder, your dog is punching in trenches of her own, floating down the powder field after you. Tongue hanging, it looks like she can't shut off her grin. She gets it!
It's almost too Instagram-perfect to be true. Taking a dog into the backcountry comes with a fresh set of risks and responsibilities. Injuries, cold exposure, and miscommunication are just a few of the many unpleasant realities that can derail a ski mission with your pooch. Here are a few tips from trainers and mountain athletes to make sure you and your furry best friend get the most out of this winter.
Determine If You're Up for the Challenge
Skiers must be prepared when venturing into the backcountry, and the same goes for their furry teammates. According to Trevor John, avalanche dog program coordinator at Solitude Mountain, that preparation starts with genetics. If you're shopping around for a backcountry-ready pup, pick a dog that's built for the mountains. Traits to look for include a thick coat, athleticism, and obedience—like in a Labrador, Australian shepherd, or golden retriever.
The hard work of basic training comes next and often starts with an obedience class. This is where you'll start to build invaluable trust in a less intimidating scenario than, say, a massive alpine line. Plus, the socialization will come in handy when you start running into other people, animals, and distractions on the trail.
When it's go time, John says it's important to start the day positive and to stay that way, as dogs understand and respond to their owner's emotional state. If you're feeling impatient, angry, and bossy, that's sure to translate to your pup—check in with yourself before you make the call to bring the dog along.
Start Small
You might be an expert skier, but that skill doesn't automatically translate to your pet. John says starting out on small, manageable slopes is key to building your dog's trust and confidence in the mountains. Hit a groomed track for a few weeks before you gradually move into more advanced terrain.
He adds that overexposure to scary terrain or situations during the period between three and eight months—an age range he calls "the fear period"—could stick with your dog forever. "If things go south and the dog has a negative experience because of you or the environment, it will be more difficult to get them to enjoy it in the future," he says. "It would only take one event for them to associate winter with not being fun."
Get Your Commands Straight
Between wildlife, snowmobiles, and other skiers, there are plenty of backcountry distractions that could send your dog running and shoot your ski mission down the tubes. John recommends establishing a solid recall command to bring a wandering pup back to your side and a heel command before attempting any sort of ski mission—two calls he says are essential for safety.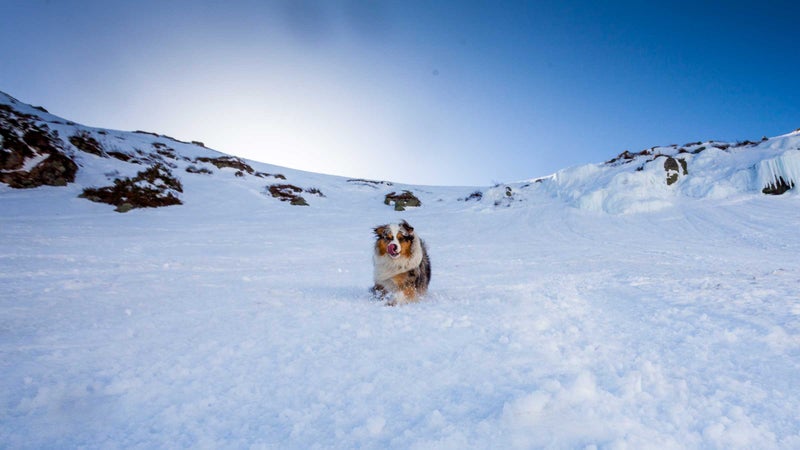 Pack Appropriately
Even though they don't complain as loudly as your other backcountry partners, dogs do get cold. Laura McClain, the team veterinarian for FEMA Urban Search and Rescue in Utah, explains that dogs are prone to hypothermia, especially short-haired and elderly dogs.
McClain recommends gradually acclimating dogs to cold weather and investing in doggie outerwear, like Ruffwear coats and booties. (She adds that it's best to test out booties at home before hitting the trail.) You can also apply Musher's Secret oil to paws to prevent ice buildup and bring along a lightweight, dog-sized sleeping pad to provide some insulation for rests along the trail.
For emergencies, consider adding the Fido Pro Airlift to your kit. It's a lightweight rescue device that creates a hammock-like backpack to carry your dog out of a hairy situation. Owners should also remember to pack enough food and water to last the duration of the trip. Just because your pup isn't asking for extra fuel doesn't mean she doesn't need it.
Prepare for the Worst
New England–based backcountry skier and ski-mountaineering racer Andrew Drummond used to take his Australian shepherd, Squall, on all of his mountain adventures, but he constantly worried about the dog getting hurt. After years of backcountry skiing, he has seen plenty of dogs get sliced by a ski edge or ski pole, accidents that can require a costly round of stitches, anesthesia, and even surgery. To manage risk, Drummond never hits the skin track without a first-aid kit and clotting bandages. He also invested in pet insurance to avoid additional headaches when heading into dangerous terrain.
Adjust Your Expectations
We know you want to ski that gnarly couloir, but—as in any relationship—it's not just about you anymore. Sure, you can make things easier for your dog with the right gear and training, but where you decide to take them is the most critical factor to keeping you both safe and happy.
"Keep your objectives loose, and don't get bummed if you have to abort a line or carry your hound because it's too steep," John says. "There will be times when it is more important to take care of the beast and forget your powder frenzy. There will be more days."
Lead Photo: Courtesy Andrew Drummond