It's Miller Time
Bode Miller (skier) and Morgan Beck (volleyballer) have had a few rough moments as a couple, including a bitter child-custody battle with an ex-girlfriend and the death of his younger brother, Chelone. But as Bode plunges into the most ambitious ski season of his career, he's already met his match—a woman who, like him, seems to thrive on a little craziness.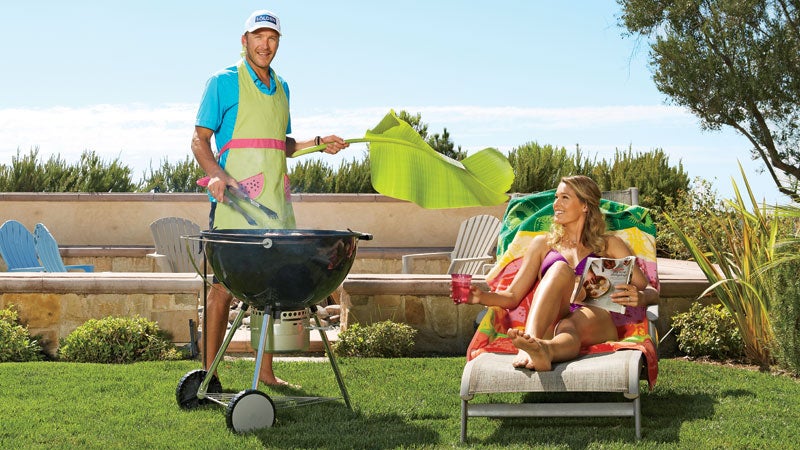 Heading out the door? Read this article on the new Outside+ app available now on iOS devices for members! Download the app.
Bode Miller is at a beach volleyball game, and he's pissed. As in: he has thrown his Sölden cap to the floor, his head is in his hands, and he's visibly shaking. It's August 2013, and Bode is in Salt Lake City's Liberty Park watching his wife, 26-year-old Morgan Beck Miller, lose in a tournament put on by the Association of Volleyball Professionals (AVP). A couple of friends sitting near him in the VIP section look worried. It doesn't help that the families of the winning players—who just beat Morgan and her partner, Kaitlin Nielsen, two games to none—are only a few feet away, whooping and clinking beer cans. Bode probably wants to hit something. Instead, he has to sit there, itchy in this moment of athletic impotence.
The
Morgan Beck Miller mostly kept quiet about the bitter custody battle.
Until she didn't.
At 36, Bode is on the old side for an athlete, but when he's around any kind of competition the adrenaline still flows. It's a blood rush that has allowed him to ski on pure guts, ignoring personal safety and technical grace for balls-to-the-wall plummets down the toughest racecourses in Europe, Japan, and North America. He's the same unleashed wild man who, over a 17-year span, became the most decorated male skier in U.S. history and one of the most electrifying athletes to watch anytime, anywhere. Bode has won five Olympic medals, 33 individual World Cup races, six event titles, and two overall World Cup crowns. (He has so many trophies and cups that he sometimes uses one to marinate chicken wings.) Going into the 2013–14 ski season, he was recovering from microfracture surgery to his left knee that kept him off the slopes last year, but he was thinking big: his goal was to win the overall World Cup title and, in February, collect more gold at the 2014 Sochi Olympics. Even now, Bode brings it to the mountain like a Red Bull–chugging 16-year-old. It's as if nothing's changed.
Except everything has.
In Salt Lake City, Bode quietly picks up his hat. He knows that if Morgan sees his bare head, she'll figure out that he lost his temper and he'll hear about it later. He doesn't mind throttling things down on her behalf, though, since he's quite clearly a man in love, for better and for worse.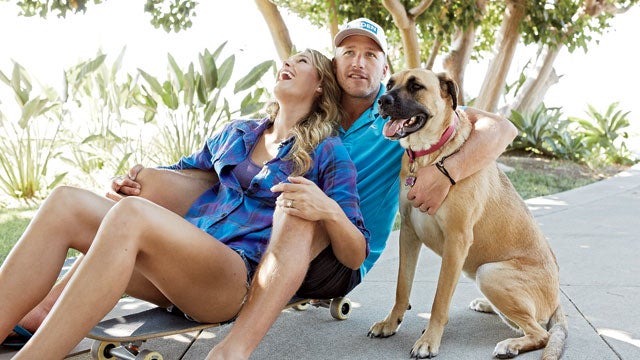 Bode said goodbye to his playboy lifestyle when he married Morgan in October 2012, and his first year with the 26-year-old athlete and model has been a mix of pure joy and terrible pain for both of them. An incident in mid-December was typical: Bode, who has taken up golf, hooked a tee shot directly into Morgan's left eye—an injury that required more than 50 stitches and resulted in what may be permanent vision impairment. That day, Morgan established herself as one of the all-time gamers by tweeting a picture of her swollen, bloodied mug and the message "I'm not feeling so hot. Line drive to the face today with a golf ball from my darling husband. I still love." Bode kept his message short and contrite: "Hit wife w golfball. #worstfeelingever."
Bode's lament came in the wake of a pretty bad November. That month, Bode and Morgan began a bitter custody battle for a baby boy Bode had conceived with an ex-girlfriend before he met Morgan—a now resolved dispute that brought him plenty of negative media attention ("Bode Miller's Baby Mama Sara McKenna Claims: 'He Never Offered to Use a Condom' "). By that time, Bode already had custody of a five-year-old girl he'd conceived with a different ex-girlfriend. Later, in January 2013, Morgan miscarried what would have been their first child. A few months after that, Bode's brother, Chelone "Chilly" Miller, died of a seizure at the age of 29.
It was the kind of year that might incline even Romeo and Juliet to call the whole thing off, but the couple remain undaunted. Ebullient, even. Publicly, you can figure that out from the kissy-face emoticons they post on Twitter. Get a glimpse of their personal life and you see it in their glass-half-full handling of marriage's many challenges. "Ninety-nine-point-nine percent of people would have walked away by now," Morgan says, "but if you look at the bigger picture, our lives are amazing."
BODE WAS KNOCKED sideways the first time he saw a picture of Morgan in the offices of the New York sports agent they share. A snap-shot of a blond, six-foot-two California beauty will do that to a man.
He wrangled her number in May 2012 and swung by a volleyball tournament in Florida where she was playing a couple of weeks later. At the end of her match—which she won, a breakthrough moment for her fledgling AVP career—Bode watched her cry. In that outpouring of raw emotion, he says, he saw every-thing he wanted in a woman.
"She was trying to be macho and hide it, but I saw it," he tells me, his stubble now speckled with gray. "When everything is stripped away—it happens in sports or when someone is stressed—you see who a person really is, even someone like Morgan, who has as thick a wall as anyone I've ever met."
"He said that's when he knew I was his soul mate," Morgan says, feigning gushiness and leaning into him in a booth at Bambara, a Salt Lake City bistro where we're having dinner.
"No, I didn't know that until June," says Bode.
"We met on May 26," Morgan points out.
The lovebirds flew in from very different habitats. Bode, famously, had a Huck Finn upbringing in the New Hampshire woods, with hippie parents who let their four children self-police, get dirty, get lost. At 11, he was five-two and a scrappy 115 pounds; he fought to keep up with older, bigger skiers as they sped down the mountain.
Morgan grew up in Coto de Caza, a 5,000-acre gated community in Southern California, in a family that Bode calls "the white Cosbys." Her father, Ed Beck, was a pioneer in software financing, which made him very, very rich. They were definitely on the grid: Morgan was given a Mercedes as her first car and got grounded if she didn't blow-dry her hair. By age 11, she was already more than six feet tall. She ended up playing volleyball at UC Berkeley and turned pro in beach volleyball in 2011.
Since Bode has achieved so much in sports, he can shrug off a bad race, a bad Olympics, and even a bad breakup with the U.S. Ski Team. (Which he quit between 2007 and 2009, in part for not supporting him during controversies like his flop at the 2006 Olympics.) Morgan is a midlevel pro whose dream is simply to compete in the Olympics someday, and she has trouble shaking off a bad practice. During one early match at the Salt Lake City Open, where she and Nielsen ulti-mately placed ninth, Morgan slammed her fists into the sand after hitting a perfectly set-up ball into the net. It took some tough love from Bode to keep the negative moment from bleeding into the next game.
"Morgan's emotions are her biggest strength," says Bode. "But she's also a dominant and very powerful woman—most guys aren't ready for the brunt of that." Bode revels in it. She expresses the highs and lows for him, the constant, analytical half; he reels her back to rational when she needs it.
People think that Bode lacks perspective, but that's not really true, as he'll show you during the wandering analytical conversations he's known for. At one point, Bode compares the range of emotions he and Morgan experience to liquid moving through a drinking straw. He holds out his hands and mimes a straw with a huge opening, the diameter of a basketball. That's Morgan's "volume." He shrinks it to the size of a marble: that's his. "Our personalities look black-and-white," he says. "But we require each other to get the full spectrum out of life. Neither of us would be the same otherwise."
Morgan shoots me a glance. "Not one conversation remains on the surface," she says. "Every day is a therapy session."
"She knows she can talk about stuff with me and I won't just address it," Bode says. "If there are 30 layers there, we're going to start from the bottom."
LAST APRIL 7 in New Hampshire, Bode's mother, Jo Miller, entered a room making the most pained sounds that Bode had ever heard from a human. He and Morgan were playing with his daughter, Dacey, and at first he almost laughed, because he thought it was a put-on. Then Jo told Bode that Chilly was gone. He'd died in Mammoth Lakes, California, inside his van, of a seizure stemming from a motorcycle crash he'd suffered years earlier. Chilly was a professional snowboarder and was hoping to join Bode at Sochi in February. For the next 90 minutes, Bode couldn't stop sobbing and sweating.
Neither Bode nor Morgan will expand much on that day, but they both say the full impact of the loss didn't hit until Chilly's absence at August's annual, family-heavy BodeBash in his hometown of Franconia, New Hampshire—a fundraiser for Bode's adaptive- and youth-sports nonprofit, the Turtle Ridge Foundation. Bode has since said that he feels he has his brother's energy with him and that Chilly's spirit will be there in Sochi.
Leading up to that possible final Olympic Games, Bode's goal was to win all four alpine races—downhill, slalom, giant slalom, and super-G—at every World Cup event, which meant regularly defeating the reigning giant-slalom world champion, Ted Ligety, and the super-G and downhill world champion, Norwegian Aksel Lund Svindal. Bode is working with Chris Krause, a technician for retired Swiss World Cup star Didier Cuche, and his hope is to win the overall World Cup, set a points-total record, and come home with a few heavy necklaces from Russia.
"It's a lot," Bode admits. "I have way more understanding of what it takes to train and win in four events than anyone else in the world. Whether my body puts up with it…"
"It's ambitious," says Forest Carey, head multicoach for the U.S. Ski Team and the man overseeing both Bode's and Ligety's bids for the overall World Cup. "Is it possible? Yes. Is Bode capable of doing it? Yes, he's done it before. Is it likely this year? Ummm."
At the opening World Cup race in Sölden, Austria, in October, Ligety took the GS title. Bode finished 19th. "Wasn't my best skiing," he tweeted later. "But happy to be back." It's a respectable start, though, and Carey anticipated that Bode would take a few races to really get under way. He thinks there's no reason that Bode can't be competitive all season.
Bode has dropped 20 pounds and says he feels lighter and springier than ever. Technically, this is also the first time he's had a fully functional body since 2001, thanks to the surgery in spring 2012. Last August, at his first training camp in New Zealand, Bode came back skiing fast, but he left early because of swelling in his left knee. If it turns out that his body can't handle the four events, Bode says the first to go will be giant slalom and, after that, slalom. "I'm old enough and mature enough to know that you get old, and if your knee fucking hurts, it's time to let go."
Bode could be hard to beat in the downhill and super-G. Older skiers excel at those two races. The fast-twitch muscles required for the slalom and giant slalom, however, favor youth. "Taking on the slalom and giant slalom is like being a running back," Carey says. "You have to be explosive on your feet. Past 33 years old, not a lot of guys get better. And with Bode coming back from a microfracture surgery—there's a lot of chattering, jarring, and slamming in those courses. I want to say that Ligety can beat him handily in slalom, but…"
He pauses. "I've learned to never bet against what Bode's capable of doing."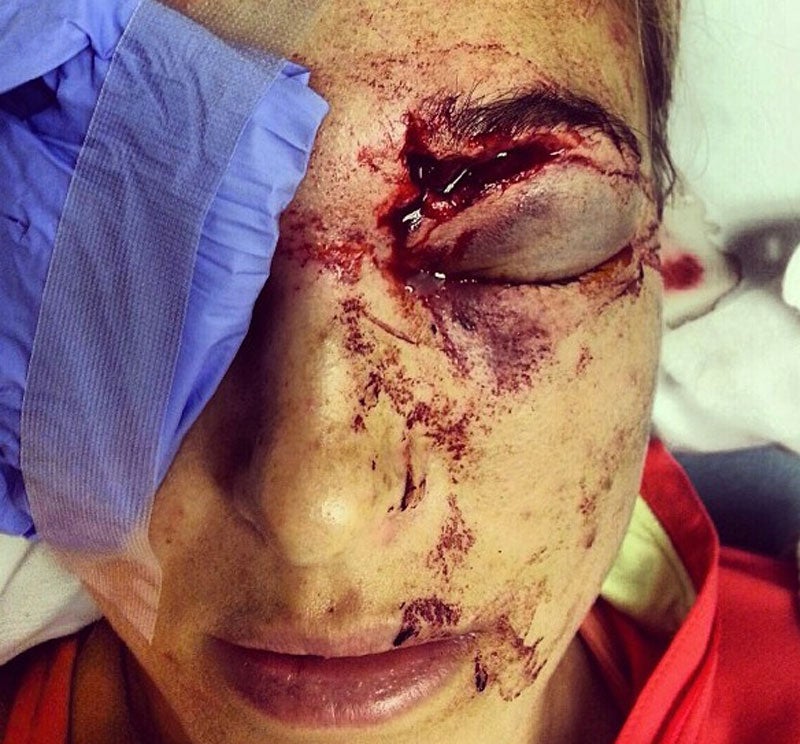 FROM THE STANDS in Salt Lake City, in the stifling, godless heat of a Utah August, Bode watches Morgan's matches like a stage mother: worrying aloud, pointing out mistakes, texting her tactical ideas mid-match, and talking volleyball semantics with other AVP players and their coaches between events.
"Bode comes to every single practice," says Morgan. "I'm not kidding. One day, four of us were working on pulling drills when Bode brought practice to a halt. He wanted to show us—and this includes a fifteen-year volleyball veteran—how to do it better."
Bode has a knack for picking up the invisible pulses of a game, gaining an intuitive playbook of moves and responses through observation. (He's a first-rate amateur tennis player and has become a good golfer.) He also has a knack for being a no-filter know-it-all, which doesn't always fly with others. "Being married to Bode requires a lot of patience," Morgan says. "I swear to God, he has said to me, 'If people listened whenever I told them what to do, they'd be so much happier.'
"There are days I'd like him to play in traffic," she admits. "But the worst part? Ninety percent of the time he's correct. Do you know how that feels? It's obnoxious."
The way she smiles when she talks about Bode isn't the passive acceptance of a newlywed, but genuine amusement about the man she married. So she gives him a pass on the small things. She lets him pick her entrée at dinners and her dress for the ESPYs, and after some argument, she gave him her blessing to build a regulation-size sand volleyball court in their yard in Coto de Caza, where the pair ended up after they got married and Bode sold his yacht for (literally) a more stable home.
Because of the volleyball court, Morgan barely has time to finish her morning coffee with her parents—who are living with the couple for now and watching their pets and plants when Bode and Morgan travel—before Bode turns to her and says, "Let's go, babe." Her daily practices have become decidedly more intense, but as Morgan points out, when Bode is training hard, he often keeps going until he pukes.
"I'm super stubborn and patient," Bode says during dinner in Salt Lake City. "I know sports. I know nothing happens overnight. If I make a suggestion, I trust that if it doesn't happen immediately, it might sink in later. That's how I got Morgan to marry me. I always have two or three strategies going at once.
I have the immediate attack that I focus on, and that has three or four ancillary carryovers that help the other three or four attacks—"
"You're getting some insight here," says Morgan. "Relentless."
Bode bought Morgan an engagement ring in Chicago during the Jose Cuervo Pro Beach Volleyball series in July 2012, part of a "two-prong attack." First, he found a diamond guy and had the ring sized. When he and Morgan walked into the jewelry store, Bode had the seller bring out the cushion-cut diamond ring. She turned white.
"She said, 'If you ask me, I'll say no,' " says Bode. "And I said, 'I know. I haven't asked you yet.' "
"It was a month and a half into our relationship," Morgan says.
"I took the ring home, and we didn't talk about it," says Bode. "We had it for so long that I was carrying it around in my backpack when we were in London for the Olympics. She got so flustered, because she was convinced I was going to lose it, and was like, 'No! You give it to goddamn me.' So here she was, carrying around her own ring.
"I knew"—Bode switches to a more scheming voice here—"that the strategy was working to perfection."
At this point, all of Morgan's friends knew about the ring, and the thought of it drove her crazy. Finally, one night, she lost it.
"I told him, 'If you're not going to ask me to marry you, return the ring and buy it when you have the balls to propose,' " says Morgan, throwing her hands up.
"And I said, 'Will you marry me?' " Bode says, beaming. "She said, 'No… Yes… Ugh.' Check aaaaand mate!"
Morgan interrupts to say it didn't happen in quite this order. But that doesn't matter: Bode has his story, and he'll probably stick to it.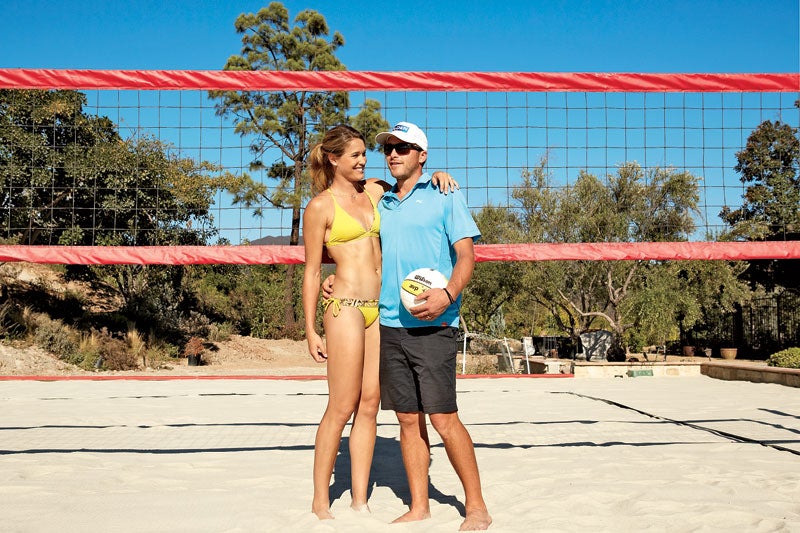 MORGAN WENT IN with her eyes open when she married Bode. There was the good: his daughter, Dacey, would become a part of her life. Bode's been friendly with her mother, Chanel Johnson (who has since married), ever since she was born, and he helped name the little girl. Then there was the bad: the risk of more ex-girlfriends and the negative publicity that seems to follow Bode around like a zombie entourage.
Three weeks into his relationship with Morgan, Bode found out he was going to be a dad for the second time. Morgan says she placed an awkward phone call to the mother, Sara McKenna, a former Marine and firefighter now living in New York City, who Bode had met through a high-end dating service, went out with a couple of times, and last saw a few days before he met his future wife. Morgan told McKenna she knew about the baby and reassured her that Bode would help take care of her. This was three weeks into Bode and Morgan's relationship.
"I could write a book about this year," says Morgan, swiping through her phone's pictures to find a few of Bode and McKenna's cherubic son, Samuel Bode Miller-McKenna, a tiny doppelgänger of the skier, right down to the piercing blue eyes.
When Bode and Morgan got engaged, the tone of McKenna's tweets shifted from "Congrats to @MillerBode and I, 8 more months and we will have a baby him or baby me! 99% sure it's a boy already! :)" (in June 2012) to "Cheers to all the guys that man up and care about their babies. You guys deserve a gold medal, unlike some" (in September).
Later that fall, Bode filed a paternity suit for joint custody. (He did the same with Chanel Johnson for Dacey.) In response, McKenna, who could not be reached for comment, hired a publicist and released everything to the media on January 19, 2013. Three hours later, Morgan had her miscarriage. She was eleven weeks and two days in. She blogged about going through the devastation; among the heartfelt replies were a few comments saying she deserved it.
McKenna provided reporters with text messages allegedly showing that Bode had been willing to walk away from the baby and give her a lump sum of child support. She claims he wanted her to get an abortion, that she almost miscarried from stress, and that Morgan harassed her online, using the Twitter handle @anaappert. McKenna, who filed for a restraining order against Morgan last spring, says she was responsible for threatening tweets like: "There will be a warrant for your arrest for kidnapping the moment you go into labor so throw boulders bitch."
Morgan flatly denies these charges. "What's really hard is that it was all false," she says. "She sold pictures of the baby to the media and was posting all these things on Facebook. We've had to deal with it and not fight back."
That changed on November 15. In May, a judge had ordered McKenna to return to California for the custody proceedings—where she was living when Bode first filed the suit—from New York City, where she was enrolled at Columbia University on the GI Bill. Once the battle was back in California, Bode and Morgan won primary custody of the six-month-old boy and renamed him Nathaniel. He lived with the couple for three months, until November 14, when a New York County judge reversed the ruling to bring the battle back east.
The next day, Morgan posted a diatribe on her blog about McKenna and McKenna's alleged desire for "revenge, attention and money." Two days later, Morgan deleted it. As one commenter pointed out, "Why would you post this in the middle of a custody battle?" Bode's lawyers probably agreed, since there may be a nasty fight ahead. Morgan declined to talk to me about her on-again, off-again post.
FOR NOW, MORGAN and Bode are settling in with their new family, content to wait on a child of their own. At dinner, Bode points out that his mother was a midwife and that he was in attendance for a few births, including his sister's and brother's. He notes that he studied his mother's midwifery books during his years of homeschooling. This leads to the obvious question: Will Bode deliver Morgan's first child?
"No," says Morgan.
"I think so," says Bode.
Morgan looks at him, horrified. "I will be in a hospital. He doesn't want me to be in a hospital."
"I was there when my daughter was born," Bode says. "I'm very comfortable around that stuff. It's so raw. There's no ego. You're right in the moment. Things get so calm. It's awesome." Morgan is clearly appalled. The subject changes to Bode's retirement.
"I would have been happy retiring in 2009, but I realized I had to leave this sport in a better condition than when I came in," Bode says.
He goes on to say that, these days, he wishes he'd been more diplomatic during his career, but he still believes in the importance of a freewheeling style in the sport. When Didier Cuche and Aksel Svindal—with their technical, meticulous form—started winning, Bode took it personally.
"It felt like I had allowed the World Cup to prove my style was a fluke," says Bode, who came back for the 2010 Olympics to give people what he calls a "whoa" feeling again. And he did, winning gold in the super-combined, silver in the super-G, and bronze in the downhill. When he got to the starting gates, people told him they could feel the energy shift.
"My attitude was, 'I'm going to go like you've never fucking seen before, and there will be nothing left,' " he says. "But I'm not alone in that anymore—other skiers have picked up the torch. Ted Ligety, for one." He also praises Austrian slalom specialist Marcel Hirscher, who skis "like a little jackrabbit."
"Unfortunately, your legacy tends to be your whole legacy," Bode concludes. "You don't get to pick the time later in life when you under-stood things better. It includes the times when you were a dick, too."
Should Bode retire, his future will include horse racing—he co-owns two thoroughbreds with trainer Bob Baffert—his foundation, and golf, but all that will take a backseat to parenting. "I'm ready to retire," says Bode. "I'm so much happier watching Morgan play sports than doing them myself. I really want her to do well." He believes Morgan can be one of the top four players in the world, whether that means her first Olympics is in Rio in 2016 or Tokyo in 2020. Either way, she knows her coach will be at her side.
"I can't wait for the day when I win a gold medal at the Olympics and you're like, 'Thank you, thank you,' " Morgan says, imitating his future bow.
"Yep! They'll be putting the medal around your neck, and my head will pop up—" Bode leans closer to Morgan and raises his head up between her collarbones to scoop the medal. They laugh. But don't be too surprised if it happens.
Rachel Sturtz writes for Esquire, Runner's World, and other publications. She lives in Denver.