It's Snowtime!
A year after the debut of his Ski Tour, Kipp Nelson is back with more events, more bands, and more babes. Sleep is totally overrated.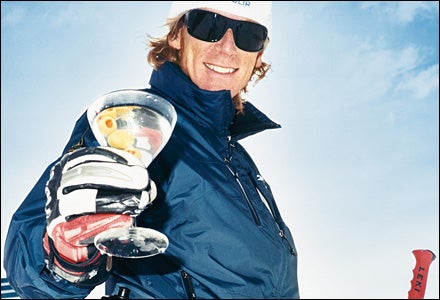 Heading out the door? Read this article on the new Outside+ app available now on iOS devices for members! Download the app.
"Look, skiing used to be old-school. But the new, new thing is skiing again," says Kipp Nelson, 49, on a balmy March morning spent crisscrossing California's Squaw Valley, surveying preparations for the final stop of his inaugural 2007 Honda Ski Tour, a ski-and-party-palooza that's already hopped from Sun Valley to Breckenridge to Aspen and will finish here at Squaw. Nelson, a former partner at Goldman-Sachs and the driving force behind the tour, never loses an edge on the slippery Sierra cement. He displays similar finesse with employees who are setting up for the day's events, cajoling them into doing exactly what he wants. On lift rides, he's the master multitasker, replying to a stream of calls and text messages while shooting the breeze with me.
Kipp Nelson

That night, things get a little fuzzy. I'm ensconced in the VIP area of the Olympic Village Lodge watching Nelson and his posse—decked out in garish fedoras, feather boas, and oversize, sparkly sunglasses—bounce around to the primal rhythms of funk master George Clinton, one of at least 12 live weekend performances.
G. Love, fresh from headlining his own gig in front of 3,000 people, works up a sweat gesticulating to the Ski Tour Girls, half a dozen models hired to enhance the award ceremonies. They're wearing matching white outfits trimmed in faux fur.
Olympic gold medalist Jonny Moseley, in town to record segments for his Sirius satellite-radio show, The Moseley Method, scans the scene. "Kipp knows how to throw down," he says.
The weekend's points leader in halfpipe skiing, Simon Dumont, tries to skip the VIP line by climbing over a bright-red couch, ripping down a partition of hanging beads in the process. When a security guard rushes over and gets in Dumont's face, Nelson breaks it up.
"Sorry about that!" he yells over the din. "Simon's with me!" And that's the end of that. This is Nelson's show.
THIS DECEMBER 15, Nelson will launch season two of his unique brand of mountain hedonism in Colorado. The first, $7 million tour was just a glimmer of things to come. Over the summer, Nelson bought up the competition, the Jeep King of the Mountain tour. The combined result, which will go by that name, will start with four winter weekends full of skiing and snowboarding events—men's and women's cross and halfpipe, each with a $50,000 purse—plus live music in a gigantic, $100,000 tent, fashion shows, film festivals, photo competitions, bonfires, and more. In the spring of '08, when the snow melts, the tour will move on to road- and mountain-bike racing, but the party format will remain the same.
Competition spectating will be free, access to the entire weekend's worth of concerts and events just $99. "We want everyone in town to know that this is their festival—from the ski bum to the super-rich," says Nelson. For VIPs, special-event tix ($1,500 to $10,000 apiece, depending on the attraction) will open doors to everything from celebrity-hosted DJ parties to heli-skiing excursions with former Olympians like Daron Rahlves. The superlatives go on, but Nelson's vision is basic: "When people think of the mountains, I want them to think of us. We want to turbocharge the experience and build a recognizable brand—like Quiksilver is to the beach."
What Kelly Slater is to Quiksilver, marquee names like Shaun White, Seth Wescott, and Lindsey Jacobellis will likely be to the tour, and the big names are attracting more interest in the races. About 70 athletes from ten countries competed in 2007. That number should swell to at least 250 next time.
"He's giving competitors a new outlet, a different option, and I support that," says freeskiing legend Scot Schmidt, one of the first skiers to make a living hucking cliffs instead of bashing gates. "Every generation reinvents the sport for themselves."
And then that generation puts it on television. The tour will get at least 30 hours of airtime over ten months, including network syndication on CBS and four 90-minute "mountain lifestyle" shows on Mojo, an HD cable channel for "men who live accomplished and adventurous lives." The first one-hour segment, from Telluride, will air on CBS December 29, followed by shows in Park City, Squaw Valley, and Sun Valley.
"It's the NASCAR circuit of skiing," Nelson likes to say. "It's a three-ring circus of nonstop action."
AND NELSON IS the perfect ringleader. With his friendly drawl, athletic six-two frame, and a knit hat pulled over his unruly red hair, the native Californian comes off more like a liftie than a former derivatives specialist worth around $100 million.
Originally from the Bay Area, Nelson grew up skiing in Squaw Valley, raced in high school, and competed for the University of Colorado ski team, pitching in to help the Buffaloes win three national championships before he graduated, in 1980. "He did a very good job on the B team," says Bill Marolt, who was Nelson's coach in Boulder before moving on to become the president and CEO of the United States Ski and Snowboard Association.
Good, but not good enough, Nelson was passed over for a spot on the national team, so he went into investment banking, spending two decades logging 80-hour weeks, first in London and, eventually, Hong Kong. To stay sane, he ran ultramarathons and summited Aconcagua and Mount McKinley.
In 2001, Nelson jumped into the soft embrace of his bank account and moved to Sun Valley, where he built a 9,000-square-foot bachelor palace complete with amphitheater, indoor climbing gym, and a 75-foot lap pool. On average, he skied 180 days per year and dabbled in various sports like rock climbing, fly-fishing, and bird hunting.
"People like to call me the 'banker gone wild,' " he says, "but I worked unbelievably hard for 20 years. It was time for something completely different."
When "completely different" started to feel like more of the same, Nelson turned philanthropic. He became a foundation board member for the USSA and, later, the Winter Special Olympics. Awash in the facts and figures of his favorite sport, Nelson saw a "weird lack of opportunities" for professional ski racers in the U.S. In 2005, hoping to create something more frequent than the X Games and less starchy than the World Cup, he gathered his Idaho buddies—former college roommate Steve Brown and former U.S. Ski Team members Reggie and Zach Crist—to brainstorm. Two years later he and Brown launched the tour.
"I don't even expect to break even until year three," Nelson says. "I'm committed that far, at least….[The goal is] to build a company that will make an impact. To do that, we've got to get noticed."
One way to get noticed is by mainstreaming events like skiercross—racing head to head on a jump-and-berm-laden course—which will debut as an Olympic sport in Vancouver in 2010. (Boardercross debuted at the 2006 Turin Olympics.) According to Marolt, tour competitions will "very likely factor into" whatever points system the International Ski Federation comes up with to qualify athletes for Vancouver skiercross teams. Nelson takes this role seriously, spending at least $65,000 per tour stop on the cross and halfpipe courses alone.
Meanwhile, the tour is infusing new life into ski resorts, where visitor numbers nationwide have flatlined at 55.5 million for the past ten years.
"Kipp has shown a lot of foresight in taking his show on the road," says David Perry, senior VP of Aspen Skiing Company. "He's exactly on the right track."
"YA WANNA BEER?" a woman in a bright-yellow bikini asks me cheerily, pointing to a case of Tecate buried in the snow as I ski up to the halfpipe final on a Saturday afternoon. Egged on by great weather, live music, and strutting athletes, the Squaw Valley fans are giddy. "Take two!" says Bikini Girl.
Fifty percent of the spectators are teenagers hanging on the railings in various stages of undress and whooping it up for their favorite riders. I watch the competitors rocket off the 18-foot walls into silent, graceful arcs above me. Each run unfolds in a predictable blur of twisting midair spins and traverses across the gun-barrel pipe.
A few hours later, I'm in the finishing area. A shirtless Peter Olenick, a 23-year-old competitor from Carbondale, Colorado, adjusts his goggles and asks his friend, "Dude, do I look OK?"
"Yah, bro." Knuckle bump.
No competitor dares attempt Olenick's signature move, the whiskey flip (close to a double-backflip 180), which helped him earn third place today, but he's more concerned about the awards ceremony.
"The champagne stings your eyes," he explains.
A few steps away, Dumont, winner of the day's event, plus $25,000 and a Honda Element for taking the points competition, tells a camera crew that Nelson's tour "has progressed the sport three years ahead of its time" by hosting regular, high-quality competitions that push athletes to innovate.
On my last night in Squaw Valley, Nelson throws a party to celebrate the season's end, taking about 200 employees, racers, supporters, and media up in the tram for a private event at 8,200 feet, where guests are led to an open bar and a generous buffet. After dinner, people dance, schmooze, and play broomball on the ice rink.
Call it work or call it play—Nelson enjoys his own party more than anyone, and the pied piper of snow remains in the thick of it throughout the night, his red mane bobbing in a sea of revelers.