Sponsor Content: Visit Jackson Hole
Where the Wild Things Live
Eight pioneering adventurers on why they call Jackson Hole home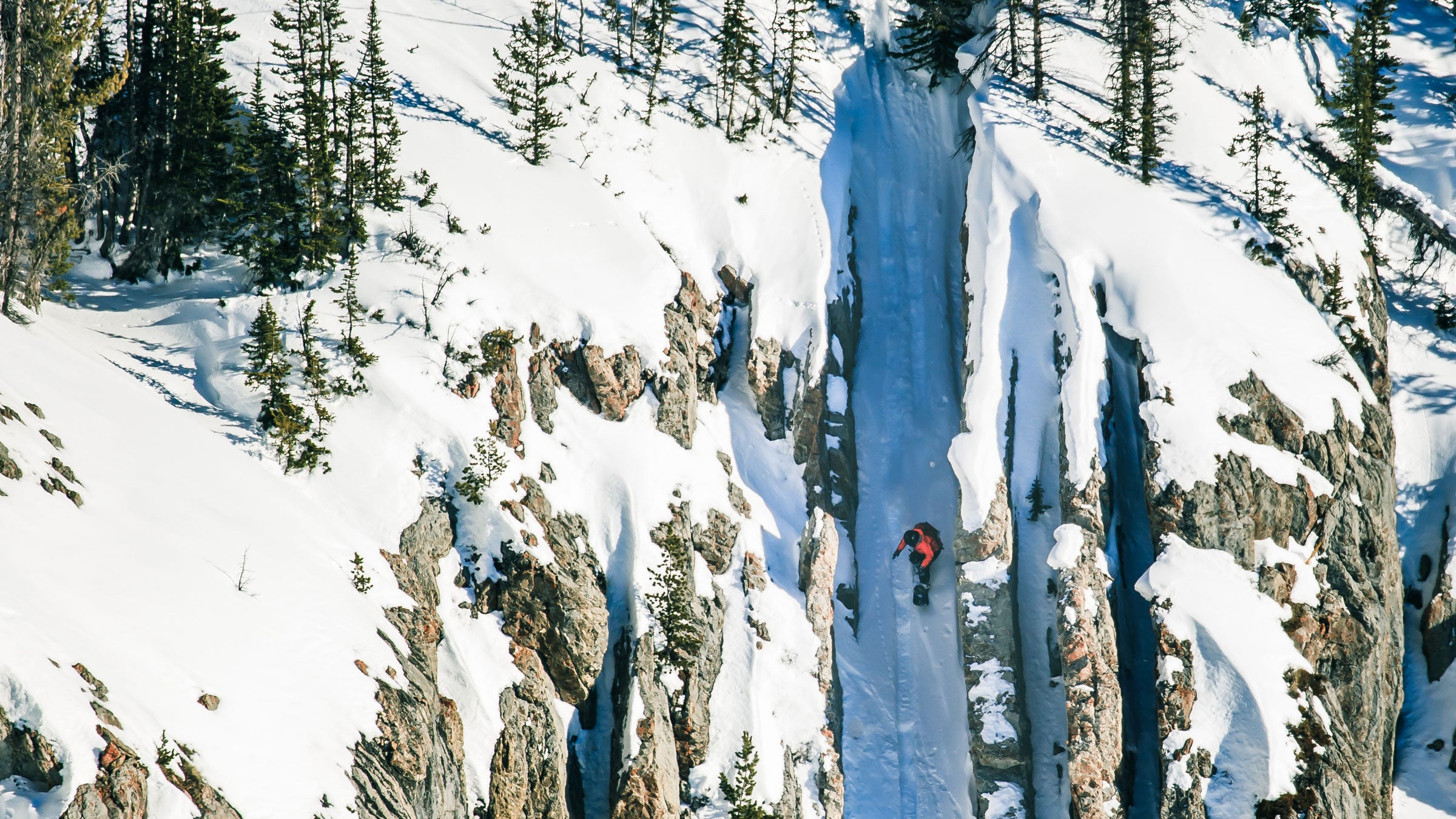 For as long as Jackson, Wyoming, has been around, it's attracted red-blooded types. In 1920, there was Pearl Williams Hupp, the town's first female marshal. Today, Jackson Hole's envelope-pushing crowd is decidedly more focused on exploring the town's rugged natural bounty than locking up unruly cowboys—but the adventurous spirit remains. Below, a handful of Jackson Hole's most badass residents share why they put down roots in the West's favorite mountain town.
The Filmmaker: Jimmy Chin
If you didn't already know Jimmy Chin, you probably do after the release last year of Free Solo, Chin's Academy Award–winning documentary that thrust adventure films into the mainstream. Chin's photography and previous films have won numerous awards and have taken the elite mountain athlete and filmmaker around the world, on exploratory trips everywhere from Pakistan to Chad. But he always comes back to Jackson. "I fell in love with the landscape the first time I visited when I was 19," he says. "I pretty much love everything about it."
Favorite Jackson Hole Spot: "The Grand Teton, especially in winter. Skiing the peak is an annual outing for me. It was such a big breakthrough for me the first time I skied it almost 20 years ago. It is still exciting and fun after 20 descents."
The Conservationist: Kit DesLauriers
Most people know Kit DesLauriers as the first woman to ski the highest peak on each of the seven continents—including Mount Everest. But lately, the Jackson resident is more concerned with protecting mountains than conquering them, whether by lobbying on Capitol Hill against drilling in Alaska's Arctic National Wildlife Refuge or working to protect access to public lands, including in Teton County, 97 percent of which is federally managed wildlands. "We know what we've got here is special, and people are strong defenders of the place and the sense of community."
Favorite Jackson Hole Spot: "Every trailhead, each one of which leads deep into the wild if you take the time to travel there."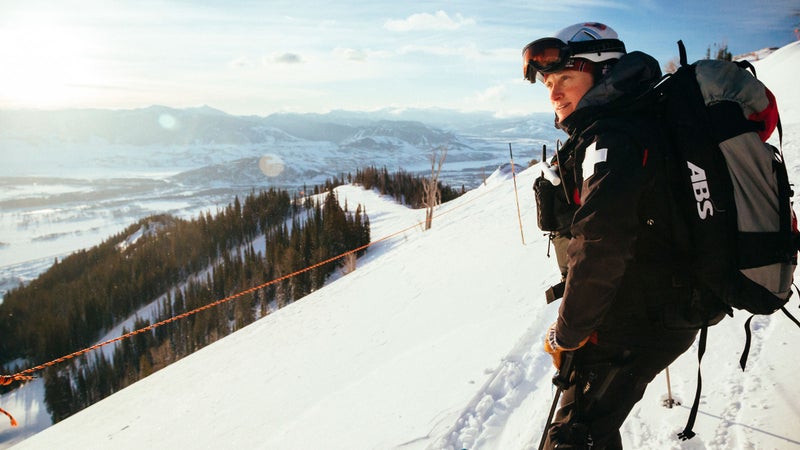 The Patroller: Jen Calder
There are easier ways to make a living than patrolling, especially on the rugged terrain for which Jackson Hole Mountain Resort is revered. But Jen Calder, the resort's first female assistant director of ski patrol, isn't one for coasting through life. "Awful weather, dark mornings, enforcing rules, and traumatic accidents are all part of the daily routine," she says. After 23 years on the job, it's still the resort's stunning natural beauty—the sunrises, the sunsets, and watching the way snow accumulates across the mountain day in and day out—that make it all worthwhile. That, she says, and the camaraderie of toughing it out with your team for a job well done.
Favorite Jackson Hole Spot: "I love the south end of Grand Teton National Park, especially in the fall, with the aspens changing and elk bugling."
The Snowboarding Evangelist: Rob Kingwill
While many resorts banned snowboarding at the sport's outset, Jackson Hole encouraged it. From that embrace rose prodigy Rob Kingwill, one of snowboarding's first stars and the winner of 30 World Cup halfpipe titles. With his competitive days in the rearview, Kingwill spends much more time in Jackson, where he runs his own mountain apparel company, Avalon7, and hosts the world's largest snowboard test, the Shaper Summit. Each year, he invites designers from dozens of companies to share feedback on one another's boards and, says Kingwill, "ensure snowboarding continues to improve and evolve."
Favorite Jackson Hole Spot: "Corbet's Cabin, at the top of the tram on a powder day, eating waffles and waiting for avalanche control to finish."
The All-Arounder: Hadley Hammer
Professional skier Hadley Hammer has starred in four Teton Gravity Research films, but, growing up, the Jackson Hole native was mostly interested in figure skating. In college, Hammer pursued nordic ski racing and rock climbing before returning home to Wyoming, focusing on skiing, and eventually qualifying for and competing on skiing's prestigious Freeride World Tour. But her talents don't stop with innate athleticism. Hammer is also a writer, sommelier, and chef; her well-roundedness is a reflection of her upbringing, she says: "My parents encouraged me to take advantage of everything Jackson offered."
Favorite Jackson Hole Spot: "Avalanche Canyon, in Grand Teton National Park, because the trail is rugged and uncrowded."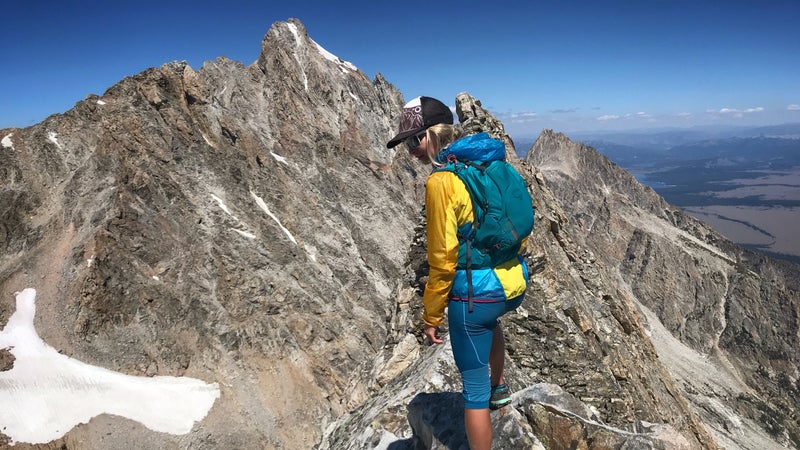 The Artist: Kelly Halpin
Kelly Halpin's artwork is inextricably linked with her Teton adventures. The magazine and children's book illustrator is also a sponsored mountain runner who has lately been blazing new fast-and-light routes across her home mountain range. Compared with ultramarathons, with their route markers and aid stations, she says, "pushing my limits alone in the mountains yields a truer, more satisfying connection to my elemental self." Sometimes the experiences are overwhelming, and her recent artwork reflects the struggle, featuring human forms intertwined with natural elements like vines, roots, and birds in a stunning, surreal way.
Favorite Jackson Hole Spot: "The 22-mile Paintbrush Canyon–to–Cascade Canyon loop, in Grand Teton National Park, is the most stunning mountain run I can think of."
The Backcountry Badass: Griffin Post
The hallmark of Jackson-based Teton Gravity Research films is helicopter skiing. Yet Griffin Post, who has appeared in nine of the studio's annually released films, has come to prefer the sequences where he reaches the top of peaks under his own power. "It allows a more careful assessment of the conditions and the terrain," he says of the typically daredevil descents. Post, who thrives on methodical, hard work, has also dedicated the last decade of summers to hunting—another of Jackson Hole's world-class endeavors—and, while a freezer full of sustainably sourced meat is the goal, a chief benefit is the fitness. "Hiking solo over rugged terrain for weeks, I'm often in better shape than I am during ski season," says Post.
Favorite Jackson Hole Spot: "The Meadows of Garnet Canyon, at the base of the Grand, Middle, and South Tetons. If you're there, you're invariably on your way to do something amazing, or returning from it."
The Rancher: Mark Carter
Mark Carter is likely the only pro snowboarder with a toothpick sponsor (seriously, he partners with toothpick brand Daneson). He's also likely the only one running a grass-fed cattle ranching business. In 2012, Carter and his brother R.C. launched Carter Country Meats, which markets and sells their family ranch's beef far and wide, including to several Jackson restaurants. Come winter, he hangs up his rope and returns to Jackson Hole, honing his aggressive riding style in the backcountry and starring in films from Teton Gravity Research and others. "Jackson has the most consistent snowfall in the country," he says. "Plus, I never wanted to leave Wyoming."
Favorite Jackson Hole Spot: " The community butcher Sweet Cheeks Meats is a real melting pot, serving up breakfast sandwiches and cuts of meat to day laborers and private chefs alike."
---
In addition to being a mecca for outdoor recreation, Jackson Hole is the gateway to two of the world's most spectacular national parks and a bastion of conservation, all of which lie at the heart of the community's environment, economy, and character. Learn more at visitjacksonhole.com.