Lindsey Vonn and the Doping Connection
A recent story linking U.S. skier Lindsey Vonn to a German doctor convicted of helping athletes dope is light on facts, but raises legitimate questions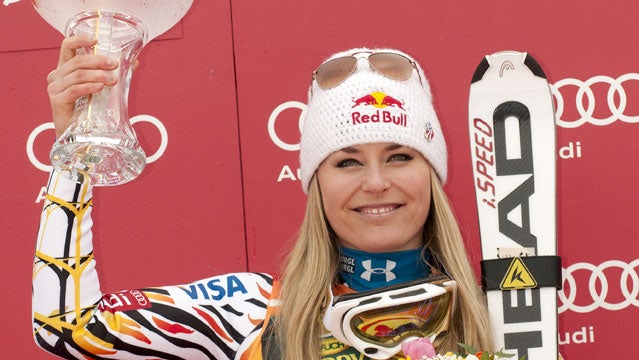 Heading out the door? Read this article on the new Outside+ app available now on iOS devices for members! Download the app.
On Tuesday in the New York Daily News, Nathaniel Vinton linked Lindsey Vonn to a doctor with clear, unambiguous ties to East Germany's infamous doping program of the 1970s and 1980s. The doctor, Bern Pansold, now works at a Red Bull-owned facility in Thalgau, Austria, where he is in charge of a "state-of-the-art sports laboratory," available to Red Bull athletes like Vonn. Vonn has made use of the facility, Vinton reports, "for physiological tests, including blood-lactate analysis." Vinton quotes several sources who say that Vonn usually visits twice per year.
"What remains unclear is how much Vonn and her advisers have known about Pansold's past," Vinton writes. "While always quick to credit Red Bull's role in her record-smashing success, Vonn hasn't publicized her visits to Thalgau, and does the majority of her workouts elsewhere, often at five-star hotels like the Hotel Schwartz near Innsbruck."
Vinton also reported that while "Vonn's publicist initially denied the 28-year-old downhiller worked with Pansold," he later clarified that "Vonn has made occasional visits to Thalgau and exchanged 'nothing more than a courtesy hello' with Pansold."
Before we jump to any conclusions, a little back-story is probably in order. In the late 1990s, Pansold worked with Austrian ski legend Herman Maier, but in 1998, he was convicted of feeding steroids to young women who were part of the East German sports machine. (Maier and the Austrian ski team later cut ties with him.) Pansold told Vinton that he no longer helps athletes dope, and that his work with Lindsey is superficial. That's pretty much it, as far as the article goes, although there's a lot of vaguely related material about East German doping and a copy (in German) of a German Supreme Court ruling upholding Pansold's conviction.
The point of the article, obviously, is to raise questions about whether or not Lindsey Vonn uses or used performance enhancing drugs. (And judging by the comments, at least a few readers seem to think the story is actually meant to raise questions about whether Tiger Woods uses drugs; Tiger has had a similar relationship with a shady doctor.) And that's perfectly appropriate: no athlete of Vonn's caliber should escape this kind of scrutiny, and it's even a little surprising that Pansold's name hasn't surfaced already. So, kudos to Vinton for asking these questions, especially before the Olympics. Skiing is Vinton's beat and he may lose access to Vonn before and during a hugely important event.
And what should we make of this relationship Vonn has with a dyed-in-the-wool doping doctor? At the very least it's troubling. A number of successful, sophisticated dopers—Lance Armstrong, Alex Rodriguez—were caught through associations with shady MDs. Likewise, it was through Dr. Eufemiano Fuentes that Spanish police nabbed cyclists Ivan Basso and Jan Ulrich in the Operation Puerto scandal. So when this story appeared in my Twitter feed Tuesday morning, my first reaction was to take it very seriously. I was also reminded that two times last year, while I was working on a story about Vonn for this magazine, she made sure to ask for a chance to respond if I ever spoke to her ex-husband Thomas. I never did (Thomas declined multiple interview requests), and of course Vonn never told me what she expected him to say, but it did occur to me that she was worried about PED accusations.
So I asked around, as sports writers do in the post-Lance, post-Marion Jones era. I didn't hear anything. That doesn't mean there wasn't anything to hear—maybe I didn't ask the right questions or talk to the right people—and certainly I would've been interested to learn about Pansold. But his name didn't come up, and since I didn't have much reason to dig deeper about doping, and plenty of reason to dig deeper about other aspects of Vonn's life, I let the doping questions rest.
In hindsight, having read Vinton's story, was that the right decision? I'm not sure. Vonn's association with Pansold is unseemly, but Vinton's story, for all its bluster, is pretty light on damming details. He's got Vonn going to this facility twice per year, and he's got her publicist denying it. As far as circumstantial evidence goes, that's not much.
On the other hand, it's not great for Red Bull, because if not for Pansold's pharmaceutical expertise I can't really imagine why they'd need him around—blood-lactate analysis just isn't that complicated. But then Red Bull doesn't only work with athletes like Vonn, who compete in WADA-signatory sports. They might even legitimately want a PED specialist on staff: what if Felix Baumgartner wanted to dope for his Red Bull Stratos jump, for example? Would you care? I'm not sure I would.
But maybe Pansold is a changed man, and he's Dietrich Mateschitz's drinking buddy or something and that's how he got the job. It's still poor judgement for Vonn to work with him. That's hard to avoid and I think Vonn should address it, assuming she isn't actually doping. Not surprisingly, Vonn's PR team wouldn't let Vinton talk to her. But I do think they should have addressed the issue publicly by now. How hard would it have been for Lindsey to have issued a statement saying she was unaware of Pansold's past, that she barely knows him, and that she's now seriously reevaluating whether she'll work with him in the future? Not very hard, even if it's not true.
And what if Pansold is an unrepentant steroid pusher and Lindsey is cheating? Well, these things have a way of coming to light, by hook or by crook. It'll be interesting to see what, if anything, comes next.
For more on Lindsey Vonn, read Peter Vigneron's February 2013 profile.
Lead Photo: B.Stefanov via Shutterstock