The Navy SEAL Who Snagged One of Skiing's Most Legendary Records
Josh Jespersen took down Colorado's 14ers in record time—on a splitboard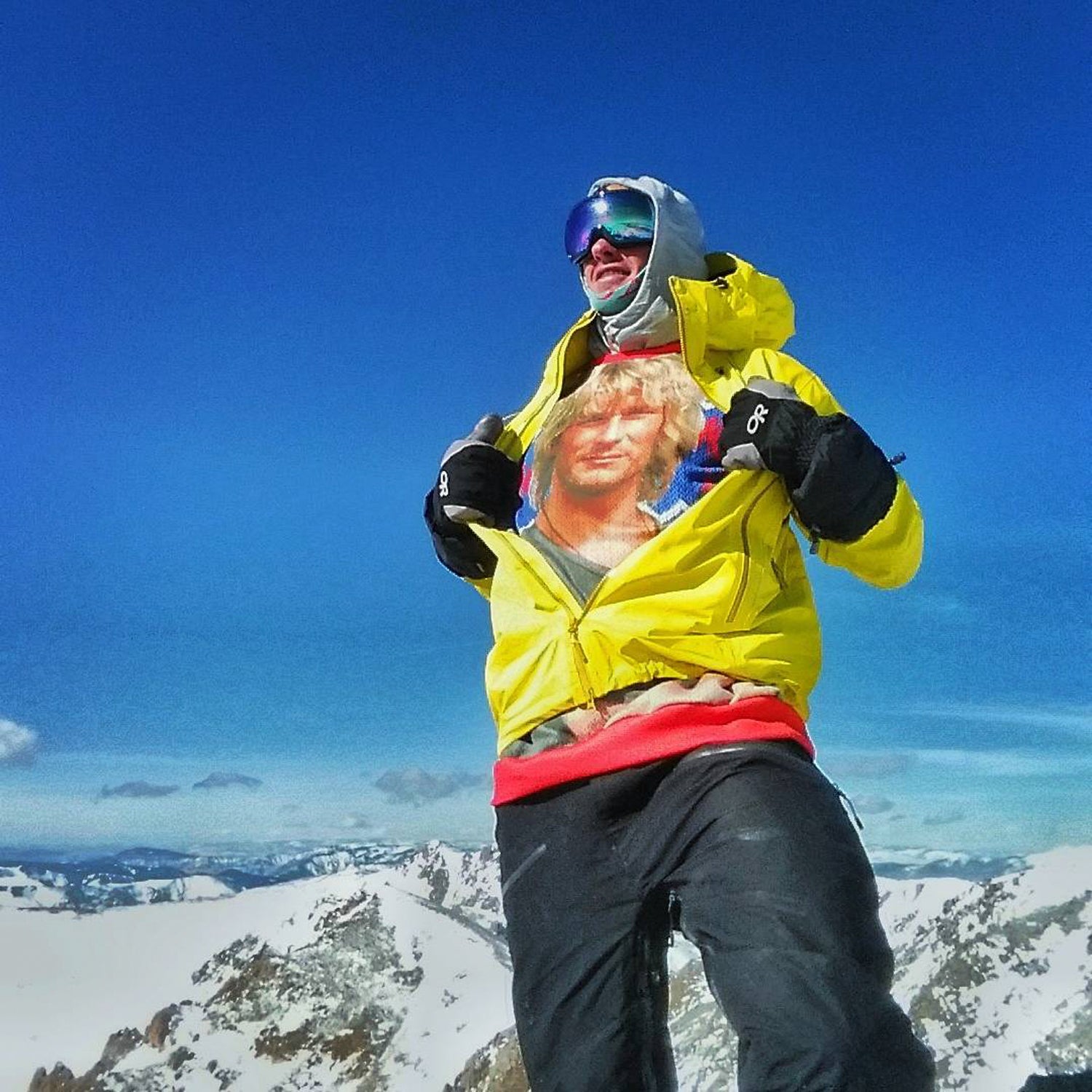 Heading out the door? Read this article on the new Outside+ app available now on iOS devices for members! Download the app.
The morning of May 21 was cold and clear in central Colorado's Maroon Bells–Snowmass Wilderness, just east of Aspen. Around 9 a.m., ex-Navy SEAL Josh Jespersen summited the jagged, exposed 14,130-foot Capitol Peak. Having set out on a splitboard six hours earlier, Jespersen was tired, hungry, and ready to ride down. But he paused for a moment and smiled. "I was exhausted. But I was so pumped," he says.
 
While summiting any one of Colorado's peaks that top out at over 14,000 feet in winter is an accomplishment in and of itself, Jespersen's tag of Capitol was more momentous: it was the culmination of an 138-day effort to skin up and snowboard down all 54 in the state.* And to do it faster than anyone in history. In doing so, the unimposing 30-year-old contract security worker snagged the fastest known time record from big-mountain skier Chris Davenport. When Davenport completed the same journey in 2007, in 362 days, he commemorated the accomplishment with a documentary and coffee-table book. Jespersen took a photo, shared it with his 500 Instagram followers, boarded down, drove to Denver, and hopped on a plane to the Philippines for work less than 12 hours later. 
 
"[The route down Capitol] was so, so steep, but it was awesome," he says. "Once we got back to the car, I just ate whatever candy I had, and headed back to Denver. I wish I had some whiskey."
 
Jespersen—who after high school joined the Navy, eventually becoming a Navy SEAL—moved to Colorado in 2011 to make snow at Eldora mountain, 20 miles west of Boulder. It was during that winter that he discovered splitboarding. "I went full into it—I just loved it," he says. Six years later, he prepared for the record attempt with the singular focus that one could expect from a former SEAL (his six years with the Navy included tours in Afghanistan and Iraq). Here he tells us how he pulled the feat off, his scariest moments, and the conversation he had with Dav after breaking the record.
Doing Something Notable
Jespersen does contract security work overseas during the summer, which pays him enough to support his habit of skiing full time in the winter, something he has done for the past three years. "Rather than just skiing for fun this year," he says, "I thought I should give myself a goal to achieve. I wanted to do something noteable."
Jespersen had only skied three 14ers before this year. "When I told all my friends out here in Colorado, they just laughed at me," he says. "And most of my family lives on the east coast, so when I told them about my project over the holidays, they were like, 'Oh, cool…' They had no idea what it really meant."
Becoming a Lonely Storm Chaser 
While Jespersen's main goal was, of course, to skin and ski all the 14ers in one season, he had an another mission: to hit each peak in prime conditions. "It isn't possible to hit powder or corn on all of them, but I tried my best," Jespersen says. "If I wasn't skiing, I was scouring the weather, looking at reports."
When he first moved to Colorado, Jespersen made snow at Eldora for two years and became a self-proclaimed "snow geek." He checks Colorado's avalanche website—which he calls "amazing"—several times a day, and is AIARE 1 certified.
"I would check the weather and see, 'OK, it's snowing on this mountain today,' I'm going to go ski it tomorrow or the next day. There was a lot of driving all over the state." His sporadic schedule meant that most of his summits were done solo. "I have tons of good ski buddies, but not everyone was interested in dropping everything to go out for super long days," says Jespersen. "I skied 27 of the peaks solo, and there were eight to 10 times that people came with me but didn't summit. So I summited and skied about 35 of them by myself."
No Average Day
While Jespersen says that most summits took about six to eight hours car-to-car, there really was no typical day. Some summits, like El Diente, required knife-edge ridge scrambling, others necessitated a full day, like Crestone and Crestone Needle, which Jespersen linked together over 17 hours.
"No matter the conditions, I always made sure that I felt like I had a good grasp on things," he says. "I didn't push my luck that much, and if there was any doubt or worry in the back of my head, I turned around."
Training on the Indian Ocean
How does one train to skin up and ski down 54 of the country's largest mountains when you spend the whole summer working on a merchant vessel off the horn of Africa? For Jespersen, training consisted of lunges, squats, and step ups for hours at a time in, as he say, "a boiling metal box."
"Rob Shaul at Mountain Tactical Institute came up with a blaster of a training program for me," says Jespersen. "All said it was about three months, and my knees felt like they were breaking halfway though. But it was exactly what I needed to get into shape for this."
During one training run on the ship's treadmill, he was sweating so much that his shoes started foaming. "It was miserable," he says, "but all winter long there was never any point where my legs got tired. A lot of people who skied with me would be fine on the way up, but not the down. My legs were solid the whole time."
Ice Cream, Candy, and Tang
Jespersen, who's six feet tall and typically weighs 180, says he ate anything and everything he could. "I would get off the mountain, go to Whole Foods or McDonalds, and do a calorie-to-penny comparison. I was looking for the highest ratio," he says.
But one month into his attempt, after bagging nine 14ers, he had lost 15 pounds. "I was eating 3,000 calories per day at that point, and bumped it up to 4,000, but was still losing weight." Jespersen emailed Shaul, who recommended that he up his dairy intake. Jespersen's interpretation: ice cream. "I ate so much," he says with a laugh. "I would normally get vanilla and put chocolate, honey, and peanut butter on it."
On the mountain, Jespersen says he avoided "that fancy endurance fuel stuff." Instead, he relied on the fruity drink mix Tang, blocks of cheese, and Mounds bars. "They're the best to take out in the mountains—they don't freeze," says Jespersen of the coconut-chocolate candy. "My aunt works for Hershey's and sent me 100 of them."
Calm, Cool, Collected
Did Jespersen have any doubt that he could pull this off? "No, not really," he says. "I wasn't really broadcasting my attempt—I just made a point to get out every day. There wasn't any point when I thought I wasn't going to make it."
Despite witnessing a slide at 13,500 feet on the side of South Maroon and getting caught in such a bad storm on Tabeguache Peak that he has to re-break trail on the way out, when I ask him about what element of his journey has stuck with him the most, his answer is simple: the awe of Colorado. "I've been skiing here for a while, but I've never been able to see how beautiful the state truly is until this winter," he says. "I could ski every day all winter and not come close to hitting all the lines I wanted."
Chris Davenport, a New Friend
Jespersen says that a few days after he submitted Capitol, he emailed Chris Davenport to let him know. "He's been super cool," Jespersen says. "I sent him a long thank you email for paving the way and providing trip reports that people like me can look at." 
"I honestly thought it would be some random dudes on skinny gear and tights who would beat the record, not a split-boarder," says Davenport. "He played it very low-key, which I respect in this day and age. Good on him."
Bridging the Gap Between Military and Mountains
Jespersen's main objective of his record attempt was to raise awareness for his non-profit, Mission Memorial Day, which he says tries to "take back the true meaning of Memorial Day" by taking veterans on an expedition that honors fallen soldiers every year.
Military members and mountaineers might appear to have a lot in common—stubborn determination, a knack for ignoring pain, the ability to thrive in extreme conditions, a passion for exercise—however, Jespersen says that mountaineering, in general, is not a part of the military culture. "There are only a few of us who enjoy climbing and that type of stuff. Most veterans do not recognize outdoor recreation as something that they can dive into," he says. "The mountains are such a great place for vets to go when they come back from overseas. I want more guys to know that mountaineering is a wonderful outlet." 
---
*Note: the exact number of 14ers in the state of Colorado is contentious. Most recognize between 52 and 57 peaks. The number changes based on topographic prominence, or the difference in height between a peak and its closest saddle. In terms of setting speed records on Colorado's 14ers, the number depends on the time of year and activity. For example, summer hikers often recognize 57 peaks, while winter hikers attempt to tackle 59. Winter skiers, however, consider the total to be 54, a precedent set by Chris Davenport and, before him, Lou Dawson, who was the first person to ski the state's 14ers.