The Commentary on Mikaela Shiffrin's Performance Has Turned Toxic
The pressures she is facing right now, from an ignorant nation and a callous media team, would destroy any of us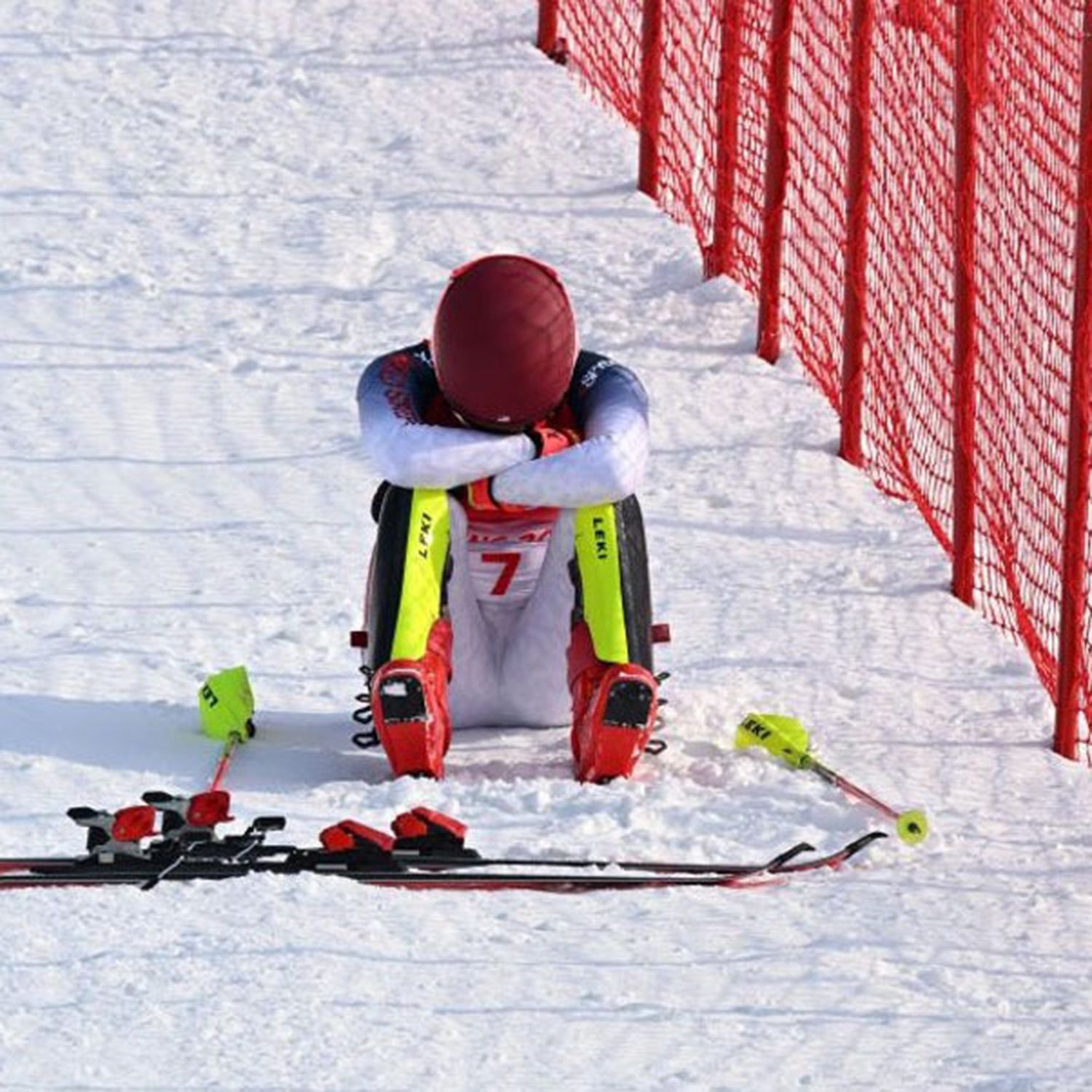 Heading out the door? Read this article on the new Outside+ app available now on iOS devices for members! Download the app.
America, we have a problem.
Our rabid, nationalistic fan base that demands gold with no understanding of the sport, and a corps of money-grubbing media outlets that design their coverage off the backs of a few favored competitors, are destroying the Olympic experience and crushing our best athletes in the process. I watched it this summer, as the media pressure crushed Simone Biles, and we are watching it again, with Mikaela Shiffrin. Shiffrin has DNF'd for the second time in these Olympic Games. It happens. This is ski racing, and it is part of what makes our sport amazing. On any given day, anyone in the field can land on the podium, simply by finishing.
What makes this unfortunate result different is that this was only the second time since 2018 that Shiffrin did not finish a slalom, but it's the second slalom she DNF'd this season. This is uncharacteristic for Shiffrin; the only other time she DNF'd back-to-back races or three times in one season was in January 2018, just before the Pyeongchang Olympics. Typically she is the master of precision, but it's clear the pressure to perform is crushing her—because, despite her elite athleticism, she is human. She is human!
She is also just one member of a team, an amazing team of fierce competitors who are throwing themselves down a mountain equivalent to an inclined hockey rink.
Show the team.
Focus on the whole event; not the singular competitor.
Show the whole story; don't isolate the individual.
Show us the racers at the back of the pack who have made their dreams a reality for the first time and give Shiffrin a break.
The pressures she is facing right now, including pressures from an ignorant nation and an indifferent media team, would destroy any of us. If we had gone through what this young woman has endured over the past 24 months, we would be in a corner crying, begging the universe to make it stop. And yet she still competes, carrying the weight of an unknowing nation upon her shoulders.
Her father, her rock, died tragically of a head injury in February 2020, exactly two years before these Games, and that loss nearly made her quit the sport. He was the caring, loving, patient force in her life, ripped away from her. And yet she still competes.
She had battled back after the loss of her father, winning races and charging toward Ingemar Stenmark's record number of wins, until she was sidelined with COVID-19 in late December. And yet she battled back again, and found the podium, again, in her first race back after having COVID.
In the midst of all of this chaos and upheaval in her life, "Team Shiffrin" also changed her coaching staff (again), a mere two weeks before these Games. (This isn't unheard of: "Team Shiffrin" did this for the 2018 Games as well, but they did it a full year in advance of the Games.)
She is being dogged by the media and an American population that didn't care when she won a record 17 World Cup races in a single season back in 2019. Now that she is known to them and is the NBC poster girl, the critics have come from every direction. It seems the critics who have never put on a pair of skis, much less kicked out of a start gate, are the loudest.
It is heartbreaking and infuriating and part of the reason I have stopped watching Olympic coverage. American media, both mainstream and social, have ruined the experience. Shiffrin's mere presence at these Games is a victory. Her ability to compete after the last two years is an amazing story of resiliency and perseverance. Her career to date is legendary. She doesn't need more Olympic hardware to be one of the Greatest of All Time, because she already is. That's what we should be focusing on, even when the athletes fall short of expectations.
Show us what the Olympics are supposed to be about!
Show us the Games!
Because in the end, that's all the Olympics really are—games.
---
Ray Gilmore is the ski-school director at Black Mountain in New Hampshire.