Mikaela Shiffrin Can Crush the Downhill, Too
Before this weekend, everyone wondered: Is Shiffrin on track to become the best skier in history, or just the best in slalom and GS? Now we know.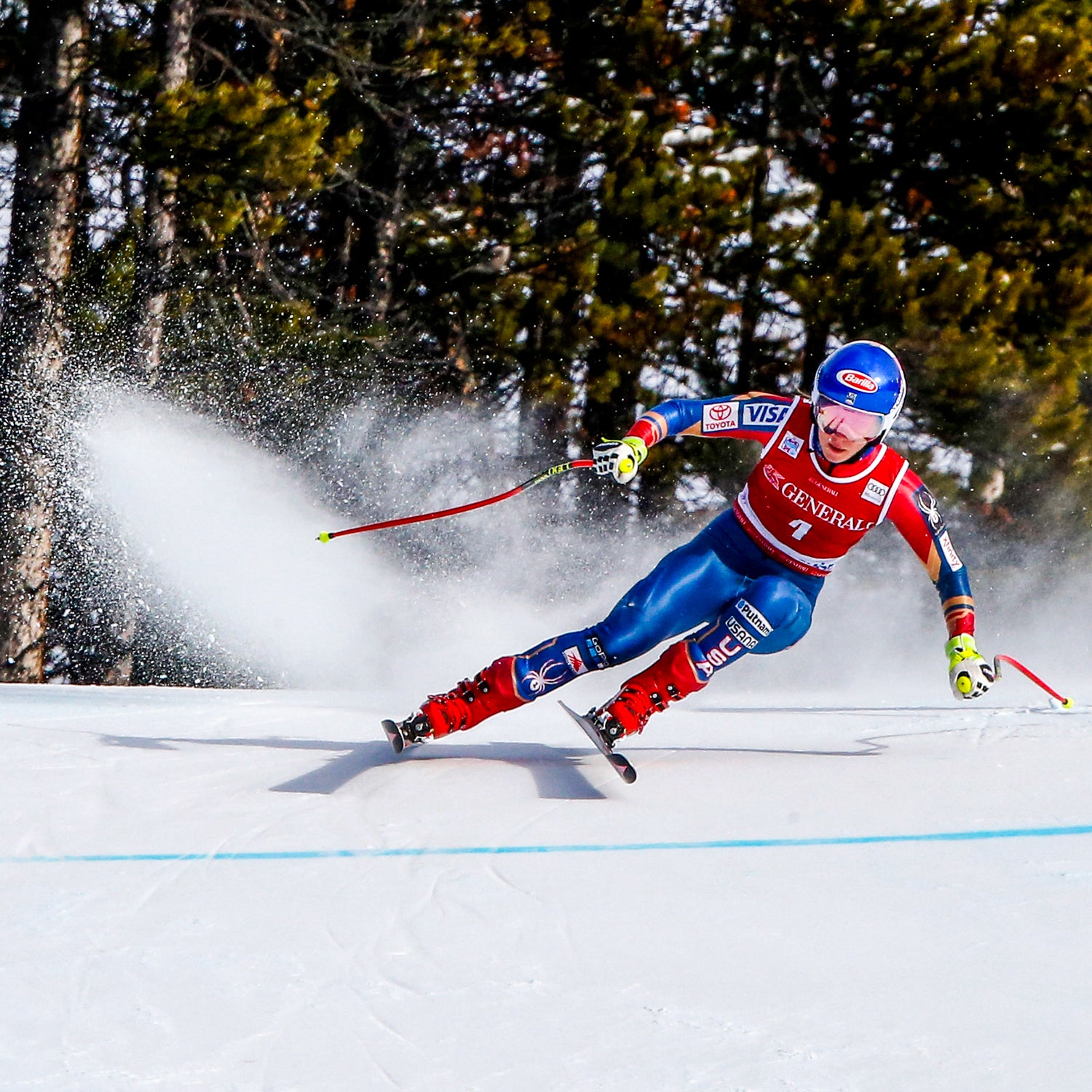 Christophe Pallot/Agence Zoom/Ge(Photo)
Heading out the door? Read this article on the new Outside+ app available now on iOS devices for members! Download the app.
Over the weekend, World Cup skiing phenom Mikaela Shiffrin won a downhill event at Lake Louise, in Canada, the first speed-event victory of her career. Shiffrin, who is 22, is already a skiing star, but 26 of her 33 World Cup wins have come in slalom, which is as different from downhill as the mile is from the marathon. The win clarifies what was an open question until just a couple days ago: Is Shiffrin on track to become the best skier in history, or just the best in slalom?
Lake Louise is sometimes called Lake Lindsey, after Lindsey Vonn and her 18 victories there. On Friday, in the first of two downhills, Shiffrin finished third, behind Cornelia Hutter, while Vonn, who led through the early splits, violently crashed out. On Saturday, a storm that was forecast to hit Lake Louise in the afternoon arrived early, killing power to the resort's chairlifts and clouding visibility. Shiffrin and the rest of the racers had to be towed to the start gate behind a snowcat, and the race was shortened and delayed by 90 minutes. Shiffrin took first by just a few tenths of a second over Viktoria Rebensburg, a giant slalom specialist. Vonn, skiing on a wobbly knee, finished 12th. Then, on Sunday, Shiffrin finished fifth in super-G. (Vonn crashed again.) Three days, three speed races, three top-five finishes for Shiffrin, and one big shock for the ski-racing community.
Shiffrin has already won a lot of races. Besides her 33 World Cup victories, she owns three world championship titles and an Olympic gold. (FIS, the sport's governing body, awards a confusing number of honors within World Cup racing: Shiffrin also has four individual discipline titles in slalom and one overall World Cup title.) Because Shiffrin is so young and so successful, she is often compared to the best skiers in history, Ingemar Stenmark and Vonn, who are first and second, respectively, on the overall World Cup win list. Vonn's total is 77, nine behind Stenmark, a slalom and GS technician who was active in the 1970s and '80s. Vonn, notably, has won races in all five of skiing's events and is widely considered the best racer ever. But by age 22, Vonn had only seven World Cup wins.
The Lake Louise results answered other questions about Shiffrin, though none will give comfort to her competitors. Lake Louise is the flattest and least technical downhill on the women's tour, and the shortened course cut out a long flat section at the top. "[F]rom where we started, most of the way down, it's fairly technical, and I felt really good about that yesterday, so I took even a little bit more risk today," Shiffrin told reporters after the race. The change, in other words, made the course more typical of what she'll find in future World Cup downhills.
Second, the win wasn't simply a physical accomplishment. It came in bad conditions amid a bizarre power outage. "Most people with Mikaela's talent just rely on their talent," Shiffrin's friend Bug Pech told writer Elizabeth Weil for the December issue of Outside. "That's why, when the competition gets really serious, they fall apart." Shiffrin famously thrives on an inflexible schedule, with little socializing and even daily afternoon naps. Saturday's race went well off script, but it didn't seem to bother her at all.
Shiffrin and Vonn will be stars at the Pyeongchang Olympics in February, and comparing the two, though probably irritating to Vonn, is useful for understanding both women. Shiffrin told Weil that her goal is become so strong that she can race at 90 percent effort and still win. At her peak, Vonn could do this, too, though at 33 she now finds herself playing catch-up, pushing too hard, and crashing. Crashing is one thing in slalom, but potentially fatal in downhill, where racers occasionally top 70 miles per hour and is what killed French racer David Poisson earlier this year. Shiffrin has been wary of the physical danger of the event. "I'm still sort of a risky investment there," she told the New Yorker recently.
Well, maybe not such a risky investment after all.
Shiffrin, of course, also won a slalom event in Vermont two weeks ago, and she has two other top-five finishes in GS and super-G already this season. The progression in skiing is from technical events to speed events, and racers rarely move back to slalom once they've started winning in downhill. Shiffrin won't race a World Cup speed event again this year, but for the rest of the women's field, the worry will be that she can. Competitive skiing is a mess of training, racing, travel, and rest, and there aren't enough hours in the day to prepare for all the disciplines at once. If Shiffrin ends up winning in downhill like she wins in slalom—without skiing on the edge of catastrophe, unlike Bode Miller or late-career Vonn—she'll have the World Cup wins record within a couple years.
Lead Photo: Christophe Pallot/Agence Zoom/Ge