Powder Chase
Find the snowy side of summer at these four Southern Hemisphere ski camps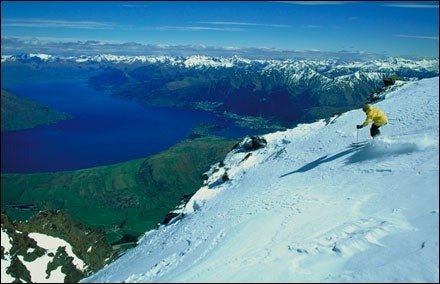 Heading out the door? Read this article on the new Outside+ app available now on iOS devices for members! Download the app.
IF YOU HAPPEN TO BE SKIING IN ARGENTINA and pass a metal cross sticking out of the snow, ignore it and keep skiing. Stop to ask why it's there—like I did—and you're likely to find out that it's a memorial for a ski instructor who died on the 40-degree, 4,000-foot run that you're about to drop into. Luckily, there's a happier ending for me. What started out as a potential suicide mission turned into one of the best runs of my life.
Pushing my comfort zone was what I signed on for when I came to Las Leñas, 40 miles of runs in the west-central Mendoza province of Argentina. Like a growing number of aspiring expert skiers, I've discovered a well-kept secret: If you want to push it to the next level, ski in the summer. So I'm here on the other side of the equator in September, taking a weeklong steep-skiing clinic with Extremely Canadian, a Whistler-based outfitter that specializes in guided trips for advanced skiers. During the past five days, I've been coaxed into tackling a couloir no wider than the length of my skis, numerous pitches steep enough to scrape my elbows on, and too many fresh powder lines to count. Plus, summer camps attract the best instructors—pros who migrate south for the summers after a busy winter of shooting movies and competing. If you go, be sure to pack a large bottle of Advil and some courage—and turn a blind eye to those crosses.
Extremely Canadian
Las Lenas, Argentina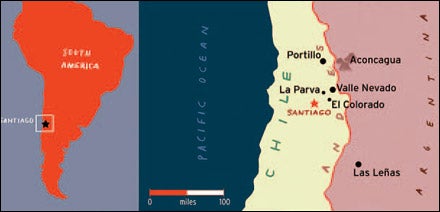 Extremely Canadian //


Las Leñas, Argentina
Endowed with some of the best lift-accessible off-piste on the planet, Las Leñas has quietly become an off-season haven for North American and European freeskiers. Few know the nooks and crannies of this remote Argentinian resort better than Extremely Canadian guide Joe Lammers, who has been coming back most seasons since his first visit in 1994 for the South American Extreme Skiing Championships. Timed to coincide with the Santa Rosa, a surprisingly consistent storm pattern that can blanket Las Leñas with more than four feet of snow each year in early September, Extremely Canadian's one-week camps are equal parts guided ski trip, instruction, and international party. Formal drills and lessons are eschewed in favor of a follow-watch-and-learn style. Trips are limited to 20 people and are open to any advanced skier with off-piste aspirations. The group is further divided each day based on ambition and ability—a key attraction for couples or friends of varying skill who want to travel together. In spite of the ski-camp atmosphere, this trip bears no relation to camping: Evenings are spent lingering in the slopeside Escorpio Hotel over steak and local red wine.

Dates: August 26–September 2, September 2–9

Price: $3,014

Contact: 800-938-9656, www.extremelycanadian.com
X-Team Advanced Ski Clinic
Valle Nevado, Chile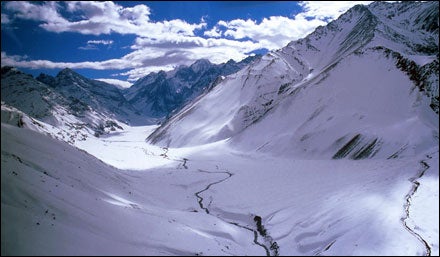 X-Team Advanced Ski Clinic //


Valle Nevado, Chile
The X-Team members are wily veterans of the U.S. steep-skiing world. The five-man crew—brothers Dan and John Egan, Eric and Rob Deslauriers, and Dean Decas—has been offering top-quality steep-skiing clinics in North America, South America, and Europe for the past 16 years. But their cred goes beyond the classroom: These pioneers of the extreme-ski movement have notched countless magazine covers, ski-porn appearances, and first descents. For one week in mid-August each year, they bring their skills and knowledge to Valle Nevado, Chile, a resort known for supreme off-piste terrain and an annual average of more than 24 feet of light, dry snow. According to Dan Egan, "extreme" describes your enjoyment level, not your anxiety level at the clinic. Still, those with big-mountain ambitions stand to gain the most from the collective experience of these guides. With more than 22,000 acres of skiable terrain and a 12,045-foot summit, Chile's largest resort has an abundance of steeps, rocky couloirs, alpine bowls, and powder fields that make it an ideal classroom. For the price of the weeklong clinic you'll also get access to El Colorado and La Parva, two smaller, less crowded resorts nearby, plus nightly meals at local four- and five-star restaurants and optional heli-skiing.

Dates: August 11–19

Price: $3,199 (heli-skiing costs up to an additional $550 per day)

Contact: 800-983-2670, www.skiclinics.com
Ski with the Superstars
Portillo, Chile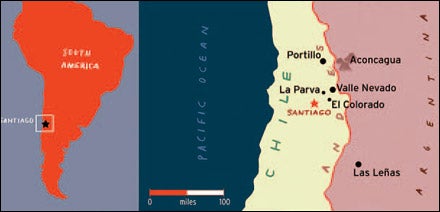 Ski with the Superstars //


Portillo, Chile
Sign up for the third annual Ski with the Superstars week in Portillo, Chile, and you'll be making tracks with some of the best skiers in the biz. Coaches this year include two-time world freeskiing champion Chris Davenport; veteran Warren Miller star Chris Anthony; three-time world extreme-skiing champion Wendy Fisher; and ski-BASE-jumping pioneer Shane McConkey. As venues go, Portillo is hard to beat. Tucked into a deep alpine valley at 9,450 feet, the resort is surrounded by some of the highest peaks in the Andes, including 22,834-foot Aconcagua, the Western Hemisphere's tallest mountain. With 1,235 acres of in-bounds terrain and only three options for accommodation in the valley, Portillo is no mega-resort, so the skier population is limited to around 450 at any given time. Much of the camp is spent in the surrounding backcountry, but you'll also tackle Portillo's famous steeps, where U.S. speed skier Steve McKinney was the first person to break the 200-kilometer-per-hour mark in 1978. In the evenings, you'll listen to talks and watch slide shows and video presentations from the pros. Best of all, a photographer documents the whole affair, so your braggadocio back at the office can be backed up with visuals.

Dates: August 19–26

Price: From $2,800

Contact: 800-829-5325, www.skiportillo.com
New Zealand Freestyle Session
Snow Park NZ, New Zealand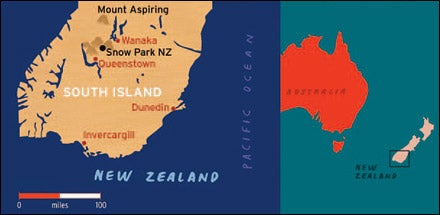 New Zealand Freestyle Session //


Snow Park Nz, New Zealand
If you're under 30 and you still can't huck a corked 360 or slide a rail, you're nobody these days. Rather than suffer through the anonymity, sign up for Access Trips' New Zealand Freestyle Session and hone your jibbing. The one-week session takes place at Snow Park NZ, one of the only freestyle-exclusive resorts in the world, with possibly the most impressive terrain park you'll ever lay edges on. Open to skiers and snowboarders of all abilities, sessions are led by top Euro and Kiwi pros, and group size is limited to five clients per coach. Depending on your goals, you can spend the week perfecting a specific trick or simply absorbing the gamut of park and pipe basics. Either way, expect to go big: Snow Park NZ's 150-acre terrain park includes two superpipes, a beginner pipe, a variety of huge kicker lines (including a 115-footer), a quarterpipe, and a 15-foot wall ride. Off-park fun includes freeriding at two local resorts, trampoline coaching, bungee jumping, and an optional heli-trip. In place of a sterile hotel, you'll sleep, eat, and party at a funky house—complete with kitchen, lounge, TVDVD, and fireplace—in the lakeside town of Wanaka.

Dates: July 16–22, July 23–29, July 30–August 5

Price: $1,434 (heli-skiing costs about $600 per day)

Contact: 877-844-8597, www.accesstrips.com