Rise to the Top
Avalanche air bags are gaining in popularity. And for good ­reason—they can increase survival rates by 98 percent.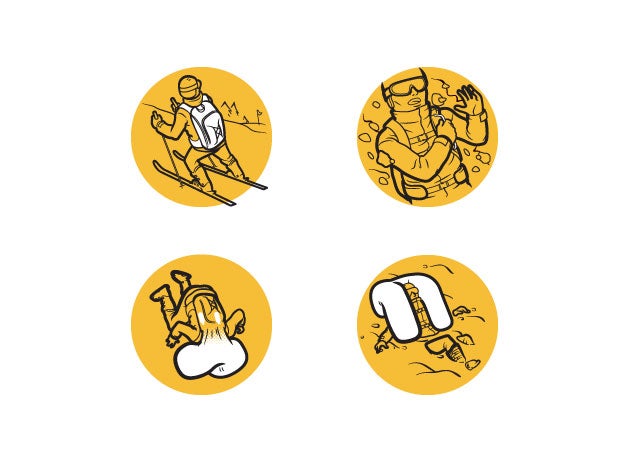 Heading out the door? Read this article on the new Outside+ app available now on iOS devices for members! Download the app.
The Theory: When deployed, air bags increase buoyancy, making it more likely that a rider will remain at the surface of a slide. Inflated, they also help protect the wearer's head, neck, and back from col­li­s­ions with trees and rocks.
How it Works: Pull the trigger handle and a 4,500-to-9,000-cubic-inch air bag made from heavyweight nylon bursts from the pack, inflating in two to three seconds with compressed air—the same stuff used in scuba tanks and paintball guns.
Pack Construction: Standard ski packs have been known to be ripped off riders; avy packs are made to stay put. The material is more heavy-duty and reinforced in key areas with ultratough fabric like Cordura. Shoulder and hip straps are tested to anywhere from 650 to 1,000 pounds of force; buckles are often metal. Crotch straps keep the pack from riding up.
Trigger: The air bag is deployed by a trigger handle protruding from one of the shoulder straps, similar to a hydration hose. (It can also be stored when you're not in avalanche-prone terrain.) When the device is armed, a firm pull on the trigger releases a pin or small explosive round, unleashing the contents of a 3,000-psi air or gas canister.

Canister Replacements can be purchased in most ski towns. Those used by Mammut, Snowpulse, and Backcountry Access can be refilled at paintball or dive shops; those made by ABS—which contain nitrogen—need to be sent to the company for refilling. To cut weight, not all canisters are large enough to fill the bags on their own; some use an auxiliary device to suck in air from outside.

Air-bag configuration: The main difference between packs is in the shape, location, and number of air bags. Mammut and Snowpulse bags deploy like life preservers and help protect the head and neck. ABS's inflate from the sides, out of the way of a skier flailing to escape a slide. Bags from Backcountry Access combine both designs.
GET ONE: ABS Avalanche Twinbag Vario, from $1,000; abs-airbag.com Backcountry Access Float 18, from $685; backcountryaccess.com Mammut Ride RAS, from $854; mammut.com Mystery Ranch Blackjack, $975; mysteryranch.com Snowpulse RAS, from $875; snowpulse.com