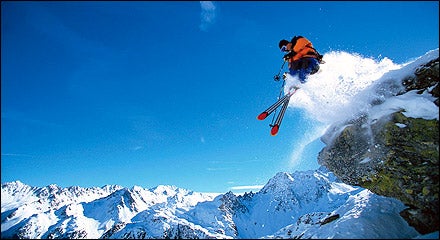 Heading out the door? Read this article on the new Outside+ app available now on iOS devices for members! Download the app.
This April, Borea Adventures will offer yacht-supported ski trips to the Hornstrandir Nature Reserve, along Iceland's remote northwest coast. Guests board a 60-foot, 10-bunk sloop in Ísafjördhur and spend six days sailing to the bases of 2,900-foot peaks, hiking up, and skiing down with Rúnar Óli Karlsson, who's been climbing in Iceland for 21 years. $2,330; boreaadventures.com
Big Tent Party
Taking Stock
Montana's Sun Ranch

Cattle Guard
Montana's Sun Ranch is taking a new, bulletless approach to keeping wolves away from livestock. By placing safari-style guest tents among the herd, the Sleeping with the Cattle program provides both an upscale lodging experience and a strong canine deterrent. The stay includes two nights at the luxe Papoose Creek Lodge. Note: The lodge—though green—offers hunting. Three nights, $1,450 per person; papoosecreek.com
Capital Improvement
The Lookout
In 2008, Starwood Capital Group will take green lodging to an industrial scale with the high-rise "1" Hotel and Residences. The company has enlisted the NRDC as an adviser and plans to use recycled materials, incorporate water- and energy-saving fixtures, and devote 1 percent of revenue to conservation. The first location is set to open in Seattle.
Closer to nature, and also for 2008, the Ritz-Carlton Molasses Reef comes to West Caicos Island, in the Turks and Caicos, with the maxim: "Develop without overdeveloping." A stewardship program will preserve archaeological relics and reintroduce the endemic rock iguana. molassesreef.com
True Colors
Sound Advice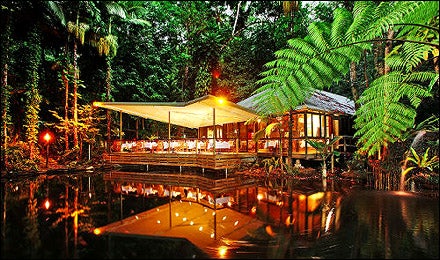 Natural Selection
No matter where you plan to stay, make your ownenvironmental assessment. Should your queries elicit confusion or condescension, book elsewhere.
1. Ask about trash disposal and recycling, waterconservation, sewage treatment, and energy use.
2. Ask about their building methods. Are they using sustainable materials and native landscaping?
3. How are they helping local communities?

Lodges everywhere are flying green flags. So how doyou know who's for real? Boulder, Colorado–based Sustainable Travel International (STI) just launched a first-of-its-kind certification program in February. By year's end, the group hopes to post more than 100 ratings at sustainabletravelinternational.org. Until then, STI's Brian Mullis gives us five lodges that do it right.

Hotel Punta Islita, Costa Rica: Set in the forest of Guanacaste province, this base for hiking and kayaking has helped finance a school and a composting station. Doubles, $180; hotelpuntaislita.com

Yachana Lodge, Ecuador: Learn about the medicinal powers of local plants at this boat-accessed Amazon lodge, which funds environmental programs in the Napo River region. Three days, $405 per person; yachana.com

Damaraland Camp, Namibia: Desert elephants and oryx roam the Torra Conservancy, which is supported by a cluster of luxury safari tents near the Huab River Valley. $179 per person; wilderness-safaris.com

Daintree Eco Lodge & Spa, Australia: Aboriginal-inspired treatments like the Corroboree dance massage dominate the spa menu at this rainforest retreat. Doubles from $550; daintree-ecolodge.com.au

El Nido Resorts, Philippines: Jackfish mill about the coves of Bacuit Bay, where resort staff teach guests about conservation and patrol the waters for illegal fishing. From $200 per person; elnidoresorts.com
Rapid Rescue
Activist Travel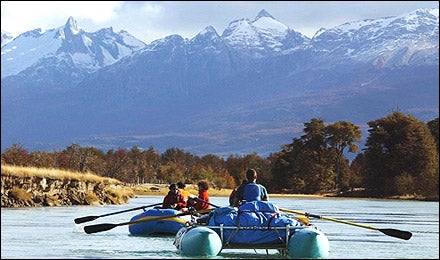 Southern Chile's Class II Río Baker may appear condemned by a government plan to build four major dams, but there's hope yet—and you can play a role. Start by joining Patagonia Adventure Expeditions' meandering eight-day, 100-mile Río Baker float through Patagonia's remote Aysén region ($1,350; adventurepatagonia.com). Then donate to the NRDC (savebiogems.org), the American voice in the fight.
Africa Unplugged
Space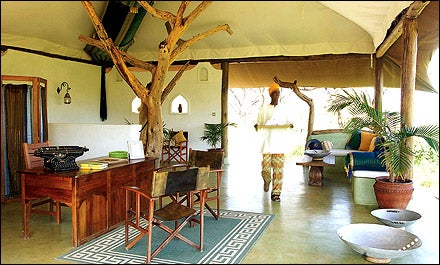 Named for big-cat naturalist and Born Free author Joy Adamson, Joy's Camp, in Kenya's Shaba National Reserve, blends into a stand of acacia trees on the game-rich savanna where Adamson made her home. Opened last July, the ten sumptuous tent suites overlook a natural spring that's frequented by lions, zebras, elephants, and a dozen other star quadrupeds. The camp, a member of Ecotourism Kenya, is entirely off the grid. Doubles, $790; chelipeacock.com
Off the Back
Nice Get
Nau SS1 Riding Jacket

Whether you're at the prow of the longboat or dining at the captain's table, Nau's three-button soft-shell blazer has you covered. The SS1 Riding Jacket is warm, wind-resistant, and constructed entirely from post-consumer recycled soda bottles. Available this spring, $185; nau.com
Trending on Outside Online