Utah Lawyer Embezzled Millions from Family of Late Shane McConkey
Glenn McConkey raised one of freeskiing's greatest icons. Now a Utah estate lawyer has pleaded guilty to taking millions of her dollars.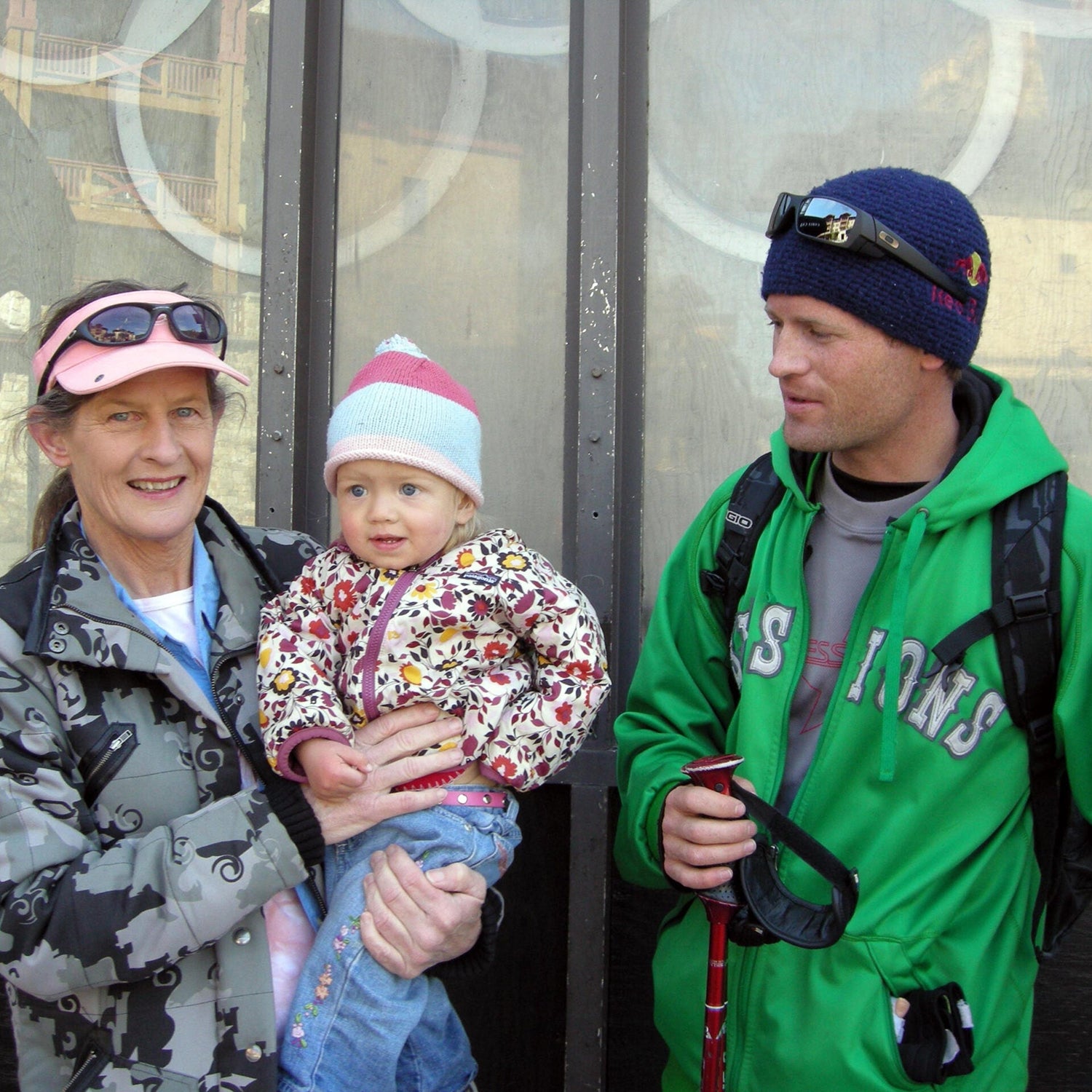 Heading out the door? Read this article on the new Outside+ app available now on iOS devices for members! Download the app.
Utah-based lawyer Calvin Curtis pleaded guilty in a federal court on November 17 to embezzling millions of dollars from his clients, including Glenn McConkey, the mother of late freeskiing pioneer Shane McConkey. Glenn McConkey, who's 79 and suffers from dementia and lives in a full-time care facility in Utah, initially hired Curtis, an estate attorney in Salt Lake City who specializes in elder law, special-needs trusts, and estate planning for those with disabilities, in 2014.
According to a Department of Justice statement from the U.S. Attorney's Office in Utah, Curtis admitted that in his role as trustee for Glenn McConkey's account, he transferred at least $9.5 million from her estate into his own personal accounts and also created fraudulent financial statements, which he sent to the court-appointed conservator of McConkey's accounts, a company called Stagg Fiduciary Services, to hide the money laundering. Curtis allegedly used the funds to remodel his own home, pay for personal travel, and support his law firm's operations.
"Calvin Curtis's greed had devastating consequences for his clients, who placed their trust and money in his hands," said Special Agent in Charge Dennis Rice of the Salt Lake City FBI. In a recent civil lawsuit, Curtis was ordered to pay more than $12 million in damages to Glenn McConkey, while prosecutors are recommending a prison sentence of six years.
McConkey, who spent her career in real estate and owned dozens of properties, was always generous with her time and money. "Here was this woman who was a remarkable athlete who had an absolute passion for the outdoors and skiing, and she was also a charitable woman, kind and thoughtful," says Bob Greer, who dated her from 2002 until 2010. "She often did kind things anonymously and I believe that says a lot about a person's character."
McConkey volunteered during the 2002 Winter Olympics in Salt Lake City, and she donated money to many charities. Giving was a trait that got passed down to Shane, too: the McConkey Foundation, which his wife Sherry set up in Shane's name after his death, has donated hundreds of thousands of dollars to educational and environmental programs since its inception in 2011.
Shane was born in 1969 in Vancouver, British Columbia, the son of Jim McConkey, a pioneering Canadian skier, and Glenn, a Californian who met Jim on the slopes of Tahoe's Sugar Bowl ski area. They separated when Shane was three years old.
Glenn McConkey always said that her son, Shane, grew up to be one of freeskiing's most influential and memorable athletes because his other plans didn't pan out.
"Shane became what he was in part because he got dumped from his dream, and he had to create another dream for himself," Glenn said at Shane's memorial service. Shane died in 2009, at the age of 39, in a ski BASE-jumping accident in the Italian Dolomites, leaving behind Sherry and their then three-year-old daughter, Ayla.
Shane grew up skiing in Tahoe and attended a ski-racing academy on the East Coast for high school, but when he was cut from the U.S. Ski Team's development program, he tried mogul skiing instead. But then he was disqualified for throwing a backflip in a mogul contest at Vail, in Colorado, and ended up running the course naked in protest, capping off the gesture with an famously captured nude spread eagle.
Shane moved to Tahoe in the mid-nineties and started skiing steep lines and launching cliffs, ushering in the new sport of freeskiing. He's credited with forming the International Freeskiers Association, coining the term freeskiing, and inventing the reverse-camber powder ski.
Glenn was a superior athlete too. A ski racer in her youth, she went on to become an eight-time National Masters Champion in ski racing in her fifties and sixties. She moved from California to Park City in part to focus on her masters ski-racing career.
"She was always skiing like she was going through the gates, always at full speed," says Ted Keane, a longtime friend of Glenn's.
Before Shane died, friends and family began to notice changes in Glenn. She would forget things and get easily confused. After Shane died, matters got much worse and she became estranged from Sherry and Ayla. In 2014, weeks before Glenn was institutionalized for her deteriorating mental health, she hired Curtis as her estate attorney, and Ayla, her only remaining relative, was removed as a beneficiary in her will.
Ayla was initially intended to inherit 25 percent of Glenn's estate, estimated to be around $15 million, while the remaining 75 percent would go to a collection of charities. But once Ayla was removed from the will, all of Glenn's estate was slated to be donated to charity.
After 2014, Curtis, then the trustee of Glenn's accounts, began to sell many of Glenn's properties, and he put that money into a charitable remainder trust, a vehicle that eventually donates to charitable causes but gives the donor an income stream—only the income wasn't going to Glenn's account; it was going to Curtis's.
It took years for anyone to notice, but in 2018, Sherry reached out to Curtis regarding a property in Mexico that Shane had owned but ended up in Glenn's name. "For four years, he was ignoring me or saying he was busy," Sherry says. "It didn't feel right." Sherry hired an attorney named Laura Milliken Gray, an estate attorney in Salt Lake City, to look into Glenn's situation and help her get the property in Mexico back.
"It is not typical to select your attorney as your trustee. It's rife with conflict," says Gray. "When you sign documents—a will, a trust—you have to make sure that person has the right capacity, that they're in their right mind. I started looking into it and I saw that Glenn changed her will and within six weeks, she had so many incidents with law enforcement that she was removed from her home and taken to a psych ward. I realized very quickly that something was not right."
Curtis was eventually removed as trustee of Glenn McConkey's account, and in 2021 he turned himself in.
Sherry is now in the midst of a civil lawsuit to attempt to get Ayla reinstated in Glenn's will, but at this point, Sherry says what she cares about most is that Glenn has enough funds to cover the care she needs for the remainder of her life.
"Glenn was an amazing mother to Shane. She was a smart businesswoman, a loving grandmother," Sherry says. "We're her only family left. To me, money is such a weird thing. It's been a long, frustrating process and so many people have been victimized. But we need to get justice for Glenn and the others. We need to make sure they are taken care of."