Ski Naked
What do you get when you bus two dozen high school seniors from the Nebraska flatlands to the peaks of Colorado for their first winter trip to the Rockies? You get an all-American rite of passage, gangsta rap, and terror on the bunny slope. You get kissy-face, rough surf in the hot tub, flaming stogies, brazen thongs, and a blizzard of memories that will last f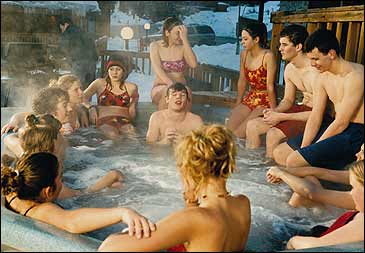 Heading out the door? Read this article on the new Outside+ app available now on iOS devices for members! Download the app.
I should definitely rent Jackass: The Movie, says Chuck, a cheerful 18-year-old with thick, shaggy hair. As he looks out a bus window at the prairie and cows whizzing by, he tells me about the Party Boy scene, which he calls "outstanding." One of the Jackass dudes, wearing only a thong, goes inside a Japanese electronics store and starts dancing wildly to the techno music playing on the sound system. This makes management and customers uncomfortable, so they try to shove him out the door. Pretty much all the kids from Chuck's hometown of Hastings, Nebraska, think it's hilarious.

THE GOOD LIFE: Some of the Hastings kids—like Julie, center—opted not to ski, but alpine magic still got into their souls.

GREEN RUN: Krista (left) and Chuck on the slopes at Breckenridge.

CIGAR AFICIONADOS: Saturday night before the off-piste action got intense.

PARTY BOYS: Grant (left) and Drew, doing the
Jackass
shuffle.

Before we hit the road, we got a few final instructions in the parking lot of St. Cecilia, a blocky brick structure that's home to 205 students in grades 9 through 12. As the bus idled and a choking cloud of exhaust wafted through its open door, Father Scott Courtney, a soft-spoken 30-year-old school priest with a shaved head, recited a prayer, calling on God to watch out for the students and for the kids to "make good choices" during the long weekend ahead. He put extra emphasis on good.


Then, with the sun just above the horizon, we shoved off from the crowd of waving parents, past the school sign with its inspirational message (TURN AWAY FROM SIN AND BE FAITHFUL TO THE GOSPEL), and lit out for the westbound on-ramp to Interstate 80.


The plan is to pack a lot of living into four short days. Today, a Friday in late March, we'll make the nine-hour drive to the Breckenridge Ski Resort, a large family-fun zone superimposed on a quaint, Victorian-era mining town, 80 miles west of Denver. Tonight we'll do some sledding. On Saturday and Sunday we'll get up early to ski. On Monday the bus will take everyone home.


It will be a quick trip, the chaperones have said, but a rich experience. Head chaperone Susan Sondag—a chirpy 52-year-old mother of two whose devout 18-year-old daughter, Liz, is on the trip—has told me her goals are "to expose these kids, most of whom have never skied, to an exciting new sport, let them stay in nice condos right on the mountain, and let them get to know each other better. And hopefully to do it in a hassle-free way."


Sounds good. But I can't help wondering about—how to put this?—the exuberance that high school ski trips are famous for unleashing, particularly off the slopes. From my own youth, I know a little about such outings. If the chemistry is right, they can be fun, rowdy, and filled with a bit of harmless debauchery. If it's too right, you can get Fellini Satyricon. It's as if the thin air and the endorphins released during a hard day's skiing combine to make idle synapses pop like Independence Day fireworks.


Teens, who are locked in mortal combat to prove they can fly all by themselves, are plenty susceptible to these chemical forces. From the moment I hear the Party Boy dance being evoked, I know this group will be no exception. The chaperones must know it, too, and while it's possible to put a maximum-security lockdown on ski-trip antics, they don't seem inclined to go that route. Instead they've decided to give the kids some room, some trust, and the benefit of the doubt—just the sort of treatment they would have wanted when they were young.


And if the kids violate all that and go nuts anyway? Well, it will be like skiing itself. As least they'll learn how to fall properly.



AT FIRST, LIFE aboard the SS Good Life is placid—everybody goes to sleep, sprawled on top of each other. Around nine, the pale winter sun streams through the gray-tinted windows and the bus heats up like a sauna. The kids, looking like adolescent vampires who've been caught off guard by daybreak, begin to stir. They crack open cans of Mountain Dew, the antifreeze-colored elixir that fills in for coffee among teenagers, and the world suddenly becomes less fuzzy.


"I've never been more than an hour west of Hastings!" somebody shouts from the back of the bus.


"Dude," replies somebody else, "we're gettin' outta Dodge!"


Hastings, population 24,064, is less than an hour's drive north of the geographical center of the United States. Today's Hastings residents, many of them descended from German-Catholic immigrants who settled in the 1870s, have digital cable and high-speed Internet access, but the town remains old-fashioned: Farmers still drive their tractors slowly along the shoulders of the road, and the best place to hear news of the day is downtown at Bert's Rexall Drug. Hastings is solid Bush country, but it's even more solid Nebraska Cornhuskers country. There's a highway named the Tom Osborne Expressway, after the fabled Huskers football coach who won three national championships and is now a Republican congressman from Nebraska's Third District, which includes Hastings.


A little more than half of the St. Cecilia senior class is on board the Good Life, and everybody is from either Hastings or a farm nearby. All in all, it's a typical group of heartland kids. Among them is Katie, an alpha girl with an X-rated vocabulary who is constantly in the doghouse for acting up. Julie is a smart tomboy who rarely takes off her black Vans stocking cap. Tyler is a stylin' football star with spiked, gel-slicked hair. Drew is a class clown wearing a let's hump T-shirt. And then there's Nathan, a quiet and well-groomed seminary-student-to-be. He and Liz Sondag head up the class's openly pious wing, a group that other students sarcastically call the Holy Rollers. Since we left Hastings, Nathan's been sitting all alone, silently speed-reading the New Testament.


Meanwhile, Tim Russell, the Good Life's onboard chaperone, is at the front of the bus, still snoozing. The rest of the adult-supervision posse—Mark and Blair Driscoll, Ann Russell, Dave Bialas, Colleen Vacek, and Susan Sondag—are in the SUV. Judging by their happy smiles when we see them on the highway, they're glad not to be amid the Good Life's din of complaints, dumb jokes, funk, and noise, which gets louder as we roll into midmorning.


"Are we going to make a rest stop soon?" somebody whines.


"You better not fart on me again," one kid warns another.


"What time are we going to get to the condominium?"


"Did somebody just say condom?"


Everybody laughs.


"Watch your language back there," barks Russell, who by now is wide awake.


"Sorry, Mr. Russell!"


"Hey, Mr. Russell, will you play a CD for us?"


A rock-and-rap mix CD is passed forward, and Russell slides it into the player. The bus sound system starts rattling from the metal-rap racket of Linkin Park. The kids shout out the surly, angst-ridden lyrics.


"Mr. Russell, now play song number ten!"


Linkin Park's crunchy guitars are replaced by mariachi-style horns. It's Johnny Cash singing "Ring of Fire." The kids seem to like him just as much as they do the rappers.


In a fit of inspiration, a sweaty guy named Jeff starts playing air guitar. Chuck does an oddly contrapuntal kung fu chop in the aisle. And a redheaded goofball named Grant sticks his fist in his mouth. Then he grabs a giggling girl next to him and sticks her fist in his mouth. Those sitting nearby chant, "Farther, farther!"


All this and it's not quite 11 a.m. The students rev faster as we thump across the unevenly jointed highway. A few miles west of the town of Ogallala, we roar past a sign that reads leaving nebraska—eliciting cheers. Fifteen seconds later, another sign zooms into view, welcoming us to COLORFUL COLORADO.


By 10:04—Rocky Mountain time!—we hit a service stop, the Colorado Welcome Center at Julesburg. The kids file out of the bus, and several immediately light up cigarettes. (On this trip, smoking is allowed for anyone who's 18; drinking is not.) The others head for the restrooms or skulk to the vending machines for a resupply of chips and Dew.


We're still 250 miles from Breckenridge, but already the prairie seems different. The amber fields look wrinkled, and little hills and valleys—the first signs of the earth starting to heave up into the Rockies—extend into the distance as far as you can see. Three boys climb the staircase to a second-floor observation deck to soak in the view.


"Where are the mountains?" one says.


"Yeah, I was expecting the Rocky Mountains to be a little rockier than this."


"I was thinking the same thing. That John Denver was full of shit, man."
IF YOU'RE A FLATLANDER, you probably recall the transformative moment when you first set eyes on the high country. I grew up in eastern Kansas, and I certainly remember my initiation. It was a 1976 ski trip to Breckenridge, with my family and 50 residents of my hometown, Prairie Village. We packed into a bus and rode west all night on I-70. I was ten, and I vividly recall curling up in the overhead luggage rack, listening to the boozy babble of hard-partying adults in the back. Early the next morning, after passing through Denver, the bus seemed to take off like a jet as it ascended the Front Range. At first, the altitude made my head pound. But it abated once we reached the condo. I can still summon up the wax-scented rental office, the hair-raising first lift ride, the chili at the summit restaurant. My notion of mountains would never be the same.


So it goes for the kids of St. Cecilia, who wake up on Saturday morning to find Breckenridge's four molarlike mountains—Peaks 7, 8, 9, and 10—shrouded in thick, chunky clouds and the air outside a stinging 15 degrees. Inside the chaperones' condo, it smells like breakfast as the bleary-eyed students huddle around the table and sit on the couch and floor, staring blankly at their food.


"Eat up!" says Susan Sondag, who's already dressed in a tricolored turtleneck and black ski pants. "You'll need the energy on the mountain, guys."


The trip is still young, but it's been pretty righteous so far. We arrived at 3 p.m. yesterday, and the kids eagerly invaded the piney, three-level Tyra condominium complex. The girls were assigned to one four-bedroom condo upstairs, while the guys shared a couple of three-bedroom condos downstairs. The chaperones settled in next door to the boys.


After outfitting their respective lairs with stuffed animals, boom boxes, and bags of Doritos, the students piled into the bus and went night-tubing on the slopes at Keystone, a resort 25 miles from Breckenridge. Later, back at the ranch, the Swiss Miss flowed freely, and as I shoved off for bed I could see that the kids, looking buzzed from all the high-altitude activity, weren't about to pull the plug on the fun.


I was right about that. At breakfast, I hear all about the low-key revelry of the night before. The big news is that two kids swapped spit for a half-hour, setting off serious rumors.


"Who hooked up with who?" asks Katie as she slurps Cheerios. A girl named Melissa provides two names. "Gross," Katie says. Then she thinks about it and corrects herself. "That's not gross. That's totally nasty."


The other news is that half the kids, for various reasons, have decided not to ski. Some can't afford it, some don't want to get hurt, and some just feel like sleeping in, watching movies, and going shopping on Main Street. Sondag seems really disappointed but explains to me that if the kids want to deprive themselves of an opportunity to have fun and become more worldly, "it's their decision, not mine."


"OK," she calls out, "who wants to go skiing?"


Chuck, the Jackass fan, is first on his feet. A big, sturdy guy who played football for the St. Cecilia Blue Hawks, he's wearing camouflage hunting pants and bulbous amber goggles—making him look like the Jolly Green Giant under chemical attack. He waddles toward the door with his skis and poles banging the walls and ceiling, causing tiny plaster chips to fall like snow.


"Dude, what are you hiding from?" asks Juan, a dapper exchange student from Mexico.


"Huh?"


"Those pants—they aren't going to work in the snow, bro."
AT THIS POINT, the group of 25 divides into its natural cliques. The jocks, many of whom stayed up all night eating Cheetos and drinking pop, are surfing the TV and chewing tobacco. A few of the girls are still asleep. The parents who aren't going skiing clean up the kitchen. Chuck and four others—Katie, Melissa, Liz, and a quiet girl named Krista—head to the Snowflake Lift and catch a ride up to Peak 8 to start carving turns. Another gaggle of skiers take their time finishing breakfast, then head toward Peak 7. Susan Sondag, Ann Russell, and I follow Nathan and two bundled-up girls, Andrea and Robyn—nervous neophytes all—to the base of Peak 9, where they'll get a ski lesson.


The morning is foggy and cold; the sky looks like soapy dishwater. None of the 12,000-foot peaks are visible yet. All you can see are tree-covered mountain shoulders gently sloping up from the valley—and condos, most of them concrete monsters built in the seventies and eighties.


"How deep is the snow here?" asks Nathan, tapping it with a pole. "I bet it's three feet deep." He contemplates the sheer volume of the stuff, shaking his head in disbelief.


Before long, a tanned, sixty-something instructor wearing a crimson parka and reflective shades clomps up and introduces himself. His name is Geno Morse, and he gives off a warm Dr. Phil-as-surfer-dude vibe. He pauses to memorize the kids' names, then tries to allay fears by explaining that he's "the most experienced instructor on the mountain."


Geno starts lecturing on ski boots—why they're so stiff and how they fit into the bindings. He has each student practice stepping in until they hear a click. "Now we're humming," he says.


Next he dives into an explanation of wedging, offering a physics lesson on why skis are so darn slippery.


The students aren't giving Geno 100 percent attention; they're distracted by the parade of skiers sliding around, trudging up stairs, and relaxing on the observation deck. On display are casual, tattooed twenty-somethings in their New School-style baggies, along with over-forties who dress like it's Aspen circa 1980, their buns shrink-wrapped in tight pants. A group of middle-aged Oklahomans are lolling around, sipping Bloody Marys. Near them a screaming kid has spilled hot chocolate all over himself.


Geno moves to the next topic: riding a Poma lift. The group ski-shuffles to the boarding area, where they get a first leery look at this contraption, which consists of platelike seats attached to an overhead cable that drags you up the mountain.


"OK, put the platter up close and personal with your privates," Geno instructs, "then lean back."


Robyn, a sturdy, athletic blonde, looks doubtful and approaches the Poma unsteadily as the seats keep moving by. Geno has seen this before, and he sweeps in for the save. As Robyn's eyes well up, she gets some tough love.


"You're thinking too much," Geno shouts over the grumble of the bull wheel. "This thing is harmless. C'mon, step up here and let the platter take you for a ride."


They get the hang of it, and soon they're hobbling around on top of the bunny hill. They hunker into their wedges and start creeping down the mountain.


These guys are on their way, I think, so I say au revoir and catch the closest lift to find the more experienced skiers. It's snowing hard, but I spot them from the lift and ski to where they're gathered, on a flat spot in the middle of the Four O'Clock run. They aren't doing much skiing. Mostly, they're standing around Chuck, who is sprawled on the snow, waiting for him to get up after the latest of his gonzo wipeouts. He's hyperventilating.


"Chuck's getting quite a workout," says Sondag, who caught up with this group earlier.


"I don't know what's wrong with me," says Chuck, a twisted heap of limbs and poles. "I was better last year."


It turns out that Chuck is not quite the intermediate skier he said he was. After getting on his feet again, he heads down a run, does a pirouette on his third turn, yells "Shit!" and, presto, the big man is back on his ass. His ski mates swarm around him.


"This is so lame," Katie mumbles.


"I swear I was better than this last time I went skiing," Chuck says. "Serious."
"HOT TUB!" SOMEBODY YELLS from inside one of the boys' condos. As the afternoon light casts long shadows, a parade of nearly naked bodies advances from the condo to the outdoor tub like deer to a watering hole. Girls in bikinis and tank suits, guys in baggy swim shorts. They tease and poke one another.


"We're, like, the naked class," shrieks a tall girl named Amanda. "Everybody has seen everybody naked, so nudity is no big deal to us. In fact, we're so close as a group that it doesn't matter if we see each other naked."


I remain at a safe distance from the tub. Thankfully, everybody keeps their swimsuits on, but it's not always so. A kid named Josh leans over and whispers, "You should have seen last night what they were doing! They were totally flashing each other."


As I'm exiting the hot tub area, Sondag appears tubside, clapping her hands and urging the kids to get ready for six o'clock Mass. A half-hour later we're sitting near the back of St. Mary's Roman Catholic Church on French Street, downtown. The priest's sermon, recalling his youthful days as a missionary, doesn't garner much attention as the kids use stubby pencils to play hangman on the backs of their programs. Afterward, on the bus ride home, Tyler asks Tim Russell a question.


"Mr. Russell, if you drank a buttload of wine from Mass and then you went driving in your car, could you get stopped for a DUI?"


"What?" Russell asks, perplexed.


"You know, the wine is Jesus' blood, right? So if you drank a whole buttload, could they nail you for a DUI?"


"That's a stupid question," somebody says from the back.


"No, it's not," Tyler counters. "It would be a concern if you were a priest and you had to drive somewhere after Mass."


A second boy named Drew—the son of two chaperones, the Driscolls—changes the subject. "Hey, can we get in the hot tub naked tonight?"


"No," Mrs. Driscoll says from the front of the bus. "You can't go in the hot tub naked, because Dad and I will already be in there naked."


The group likes this answer: "Yeah, baby!"


Saturday-night dinner—cheesy lasagna brought across the prairie in the SUV—is soon served in the adults' condo. Once the food is gulped down, the room empties and the kids collect in the girls' condo. A couple of guys have brought cheap cigars, which get passed around on the back deck. Inside, the boom box blasts Missy "Misdemeanor" Elliott, and the conservatively appointed living room becomes a hip-hop dance floor.


"Is it worth it, let me work it / I put my thang down, flip it and reverse it / If you got a big [grunt], let me search ya / To find out how hard I gotta work ya."


"Missy Elliot rocks!"


"St. Cecilia's class of 2003 rocks!"


Around this time a couple of kids notice that Brett—a muscular athlete with dyed-blond hair and a botched tattoo depicting the Chevrolet logo with flames—is holding a tall, clear drink in his hand. Several kids scurry over to take a whiff.


"It's real," confirms Melissa.


"There's more where that came from," Brett says.


"Whoa, you're going to get busted," says Juan, who asks Brett where he scored.


"Can't say, but put it this way: He's a very cool dude." Some of the kids grab a glass of orange juice, and Brett spikes their cups.


Word travels fast that bad behavior is about to go down in the girls' condo. A stream of curious kids—the naive and the not-so-naive—file into the room to gawk, as if they're about to witness a train wreck.


After a few minutes, the cocktails take effect. "Let's play Fuck the Dealer," Katie blurts. "You know, the drinking game. It gets you totally fucked up!"


A handful of kids grab seats around the dining room table as Katie deals the cards.


"This is the best ski trip ever!" she says.
MORNING HAS BROKEN, and the faint smell of barf lingers in the hallway as I make my way to the chaperones' condo. Inside, the situation seems dire. A lot of long faces. Some kids are having a hard time getting the ol' eggs to go down the gullet. But there are perky souls in the group—those who abstained from drinking, including the Holy Rollers.


Apparently, the alcohol flowed freely after I left last night. At one point, things turned nasty when Katie, claiming to have overheard Julie talking trash about her earlier, called for a cageless death match right in the middle of the condo living room. Violence was averted when Brett muzzled Katie, though she managed to bite him on the arm several times. Tyler, Grant, and Drew-the-class-clown paraded into the living room wearing women's thong underwear—stolen from the girls' luggage. They started doing the Party Boy dance and singing AC/DC's "You Shook Me All Night Long." A return trip to the hot tub followed, during which Tyler slipped on the deck and developed a bleeding welt on his back. All the while, the Holy Rollers were watching TV in the condo next door, occasionally peeking inside the party room and shaking their heads. Finally, around midnight, Nathan couldn't take it anymore. He knocked on the chaperones' door and showed them an empty vodka bottle.


Busted!


Sondag and the other parents rushed in and found several kids passed out or throwing up. They ordered everyone to bed, promising to deal with this debacle in the morning.


But after breakfast, the outrage seems to have faded. Sondag limits her remarks to one gloomy observation.


"There were a lot of bad decisions made last night," she says.
FORTUNATELY, ALL IS NOT LOST. By noon, the sun has peeked out for the first time all weekend, and though the atmosphere of looming repercussions persists, everybody starts having fun again. The parents seem to have welcomed their prodigal sons and daughters back into the fold. The skiers—even the hungover ones—don their sticks for some bright, spring-style downhilling. Chuck, always a gamer, hits the slopes again and gets another drubbing.


In the evening, the parents agree to drive the kids partway up the mountain, then pick them up at the bottom, so they can sled for a full mile on the Four O'Clock run. Using cheap plastic sleds from the condos, they slide downhill in darkness, traveling way too fast, barely missing trees and occasionally crashing into one another. One by one, they glide to a stop at a street corner in town, then they climb in the SUV for another trip up.


The car, its windows clouded with condensation from heavy, excited breath, is filled with giddiness and braggadocio as the kids take turns describing how "sick" their last run was, how they got going faster than anybody in the history of sledding. In less than 24 hours they'll be back in Hastings, doing homework, going to school, and surfing the Internet. But at the moment, all that matters is gaining a little more speed on the next run and feeling the cold, pinpricking wind against numb cheeks. That, and being together in the Rocky Mountains, laughing their heads off one more time before they have to go.


Julie, usually Miss Sarcasm, can't stop smiling. After her last run, she comes to a stop in front of the van, stands, and proclaims the good news. "This," she says, holding her arms as if to embrace the whole snowy valley, "was definitely better than an orgasm!"