Skiing Makalu: Rest, Ski, Work, Play
The team attempting the first ski descent of Makalu finally gets a chance to play in the snow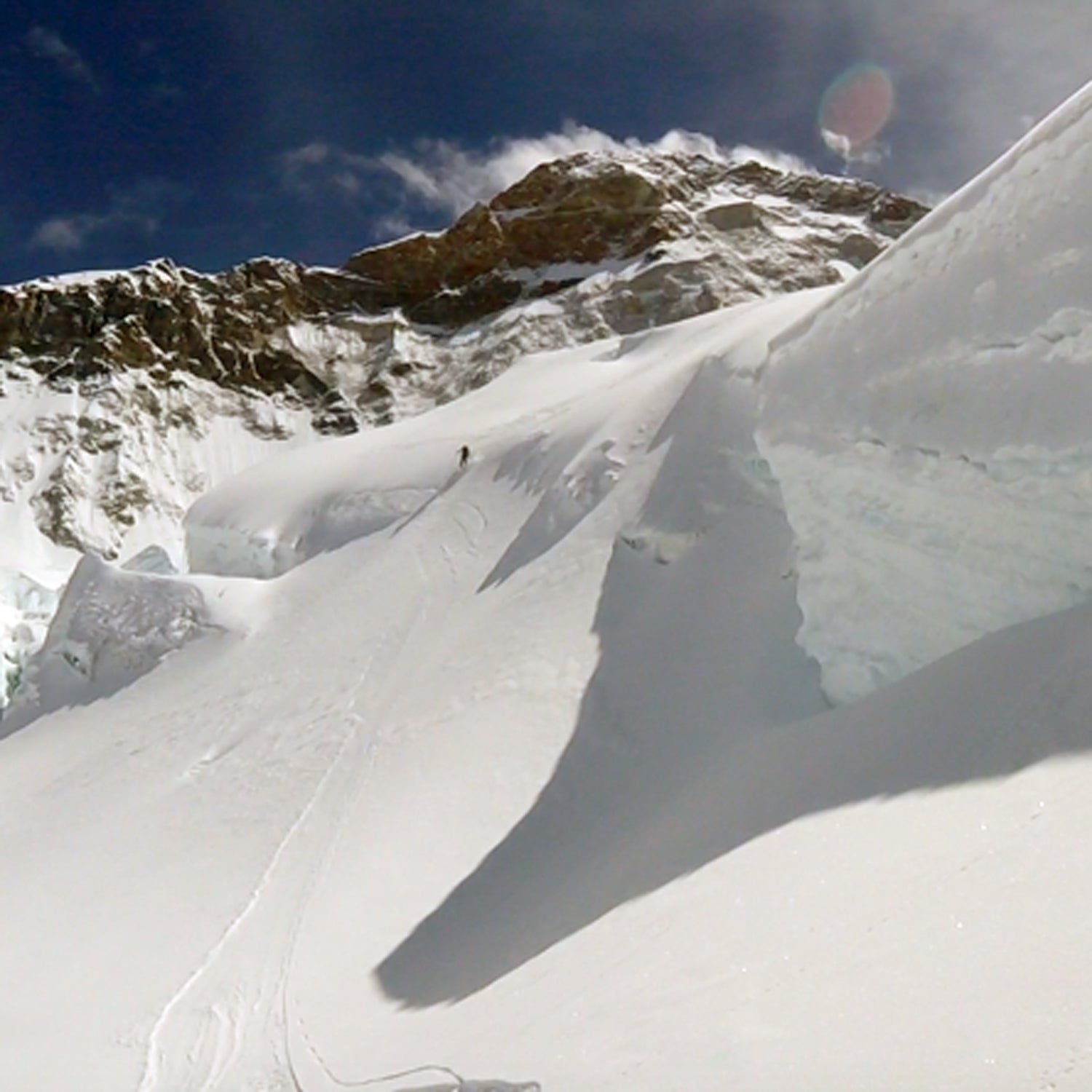 Heading out the door? Read this article on the new Outside+ app available now on iOS devices for members! Download the app.
I fell asleep last Friday at advanced base camp (18,700 feet) to the sound of snowflakes on my tent. It was only 9 p.m.; my body and brain were worked. I had just had half a glass of boxed wine and a dinner of fresh chicken and buffalo and a Nepalese attempt at angel food cake. We all had huge grins on our faces. Why? Check out the #SkiMakalu2015 feed on the social media channel of your choice. Our team of four* skiers and four Sherpa just completed a hugely successful rotation on the mountain. 
The route is in to over 23,000 feet, we slept and survived a night at 21,750 feet (Camp 2), and for the first time this season our team skied from our high point all the way down to the end of the glacier. And, unlike most skiing on 8,000-meter peaks, every turn was sweet. Conditions were perfect—stable, edge-able, and even with a few centimeters of fresh to play in. We found steeps, spines, and big open faces. It was like a day at home in the Sierra. Except each time we stopped making turns and remembered to breathe, we could barely stand from hypoxia. It was perfect!
A day like that, and a trip like this one, holds a special place for me. I have attempted to ski Makalu before, in 2012, while working for my guide company Alpenglow Expeditions. That 8,000-meter peak expedition was one of 16 I have guided over the past eight years. And I've been incredibly lucky in that guiding role—I have summited 8,000-meter peaks twelve times, skied two of them, rope-fixed with Sherpa to make the first summits of the season on Everest, Cho Oyu, and Manaslu, and shared all of these climbs with talented and dedicated clients and Sherpa. 
But I have never attempted an 8,000-meter peak for myself. I have never climbed at my pace. I have never skied at my limit. My rule has always been to reserve at least 50 percent of my energy for when the shit hits the fan. Others' safety and success has always been my job. 
And that's why this expedition means so much to me. Today, I am typing in our hangout tent surrounded by badasses that push me. As climbers and skiers, they are my equals or beyond. Due to my five months a year in the Himalaya, I am the expedition leader. But Hilaree, Emily, and Jim, and equally Panuru, Tenzing, Mingma and Palden, all play as hard as I dream of. I finally have the opportunity to see how fast I can move at altitude. And, if weather and conditions allow, how cleanly I can summit and ski an unskied Himalayan peak. 
*Editor's note: A fifth climber, Kit Deslauriers, began suffering symptoms of acute mountain sickness last week and, later, high altitude cerebral edema. She left the mountain for Kathmandu in order to receive care. Deslauriers recovered, but has decided to end her expedition.
Lead Photo: Hilaree O'Neill