Skiing Needs LGBTQ+ Allies. Here's How To Be One.
Allies have the power and the opportunity to stand up for the equal and fair treatment of people different than themselves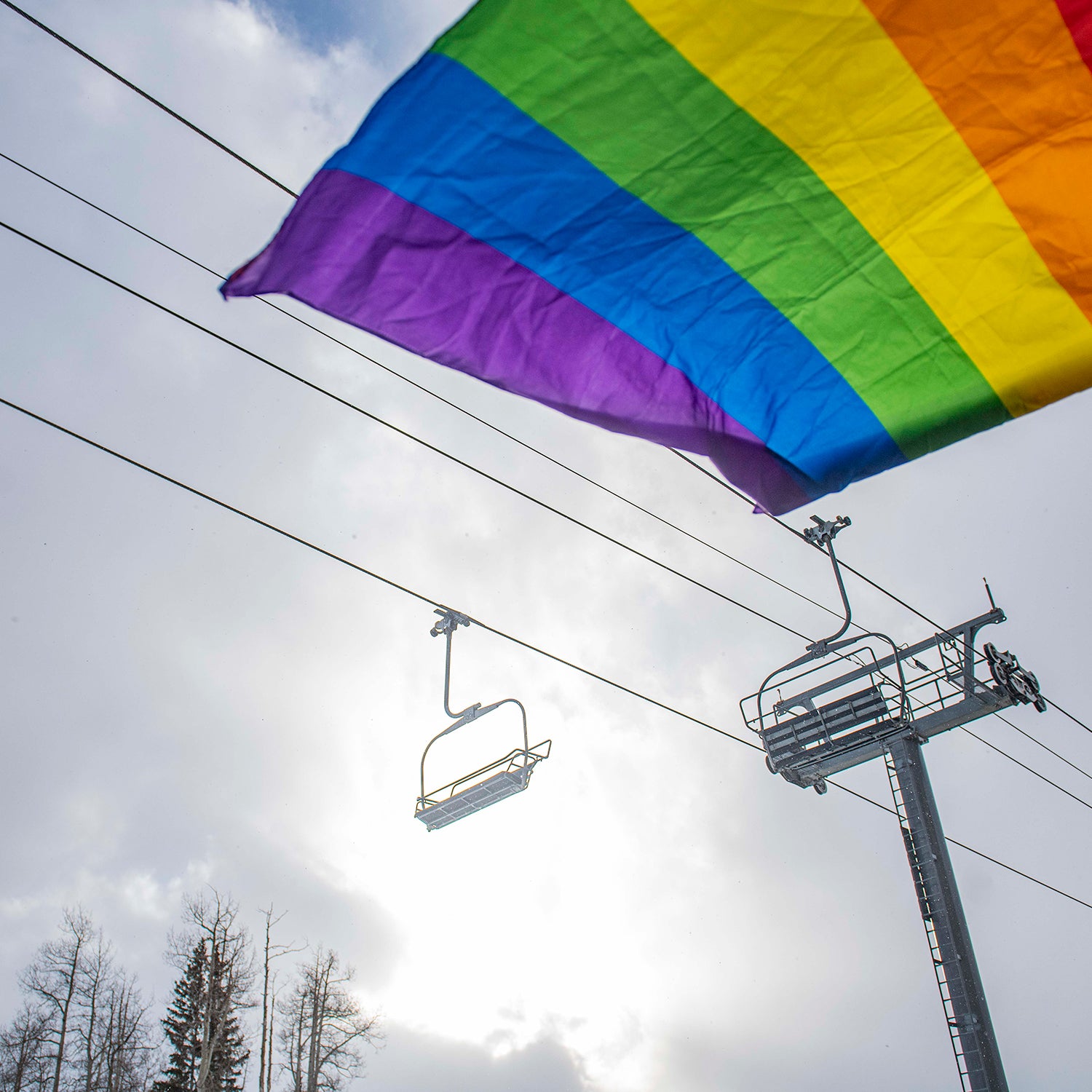 Kelsey Brunner/The Washington Post/Getty
Heading out the door? Read this article on the new Outside+ app available now on iOS devices for members! Download the app.
In an Instagram post on June 24, SKI posted a link to an article, "How to Be a Queer-Friendly Ski Town All Year Long." The piece is part of our company-wide effort at Outside to celebrate Pride Month, which honors the 1969 Stonewall Uprising in Manhattan, a tipping point for the Gay Liberation Movement in the US, and to support this community in our work the remaining 11 months of the year as well.
Unfortunately, the overwhelming response to this post was a comment feed full of mean-spirited, hateful, and bigoted rhetoric. We had to delete many comments that included slurs or threats. And while I believe these comments represent just a tiny but very vocal minority in the ski space, it was painful to read.
As disheartening and infuriating as those comments were, the reality for LGBTQ+-identifying people is worse. In 2023, lawmakers in 46 states have introduced more than 650 anti-LGBTQ+ bills. Forty-five percent of LGBTQ+ youth seriously considered attempting suicide in the past year, according to a 2022 survey by the Trevor Project. LGBTQ youth who live in a community accepting of LGBTQ+ people reported significantly lower rates of attempting suicide than those who do not.
The most recent Human Rights Campaign Foundation survey from 2018 found that 46 percent of LGBTQ+ workers reported being closeted at work because they feared not being accepted.
In April, the LGBTQ+ Institute at the National Center for Civil and Human Rights released a study that said 100 percent of those surveyed reported stigmatization in their lives: slurs and jokes, poor service in restaurants and hotels, or feeling unwelcome at a place of worship or religious organization because of their identity.
We must recognize that LGBTQ+ people face stressors like these simply for being who they are—stressors I, a straight, cisgender person, don't have to deal with, not at work, not at the grocery store, or when I'm out to eat, and not when I'm skiing.
The article SKI published, written by Miles Griffis, includes suggestions for ways mountain communities can help combat some of the above stressors, like building year-round programming (not just parties) for lesbian, gay, bisexual, transgender, or queer locals; giving back to the LGBTQ+ community financially; and more ways beyond Pride Month parades and Gay Ski Week festivities. Ultimately, Griffis is calling for allyship.
Allies have the power and the opportunity to stand up for the equal and fair treatment of people different than themselves. Given that LGBTQ+ people make up 11 percent of the ski community, according to Snowsports Industries of America's (SIA) annual report, allies are critical in creating a welcoming and inclusive space vital to the longevity of our sport. Gen Z adults, the oldest now turning 25, are set to be part of the most diverse generation, with one in five identifying as LGBTQ+. If we cannot create a safe, welcoming space for this generation, we will soon lose a large portion of our skier population.
And after wading through the swamp of nearly 1,500 comments on SKI's Instagram post, it's clear that the ski community needs that allyship to come on strong, deliberate, and fast.
So what does that look like for allies as individuals? Beyond Gay Ski Week and Pride Month, how do I show up as an ally to the LGBTG+ ski community all year?
Recently, the Havard Business Journal asked a similar question, and to answer it, they completed a four-year project to investigate how LGBTQ+ individuals determine whether someone is an ally. They found that, according to LGBTQ+-identified people, good allies have three characteristics: being accepting, taking action, and having humility (e.g., "They are a good listener; they are open to correction; they are willing to learn").
To translate this to our ski community, I reached out to some of our LBGTQ+ contributors, athletes, gear testers, and photographers to hear firsthand how exactly allies can show up for them on the slopes, in the parking lot, at apres, on the chairlift, in the backcountry (OK, you get it, this is an all-the-time thing).
Here is what they have to say:
SKI: What does being accepting of LGBTQ+ people look like in the ski community? How, specifically, can we make people feel they belong?
Miles Griffis, he/him/his, SKI contributor: We need communities to provide queer events and meet-ups year-round and allies to make this happen. Most importantly, we need businesses, town councils, and communities to stand by and support LGBTQ+ people when they host these events, especially when they receive hate and threats from homophobic groups.
Jordan Berde, she/her/hers, ski buyer at evo: ​​As a queer person and Ski Buyer at evo, the LGBTQIA+ community is always on my mind when making my buys. Are we offering men's and women's skis in extended sizes suitable for trans/queer skiers and skiers of various shapes and sizes? Does that unisex ski come in a gender-neutral graphic that appeals to everyone? Being inclusive of one group may benefit other marginalized groups as well. By curating assortments for all humans, rather than breaking our categories into men's and women's, we can make customers feel more welcome online and in stores when shopping on our ski walls. At evo, we've done away with gendered ski walls. Skis are merchandised together based on length, width, and discipline. Skis know no gender—skis are for humans, period.
Stephen Shelesky, he/him/his, outdoor photographer: In small, generally rural ski communities, visibility is still super important to creating a more inclusive atmosphere. Aspen, for example, has several businesses that display Pride flags on their windows year-round. This says our community is accepted and safe in the given business. From my experience, in Wyoming, I often have to "read the room" and constantly adjust myself in a way that will make me feel most safe in that environment. A simple display of pride can help to eliminate this.
Alex Showerman, she/her/hers, professional athlete: It starts with policy. Does your state or local community have anti-discrimination protections in place? Does it have policies that make going to the bathroom inaccessible for gender non-conforming folks? The reality is I won't go to a place if I don't think I will feel safe. So learn about your state and local policies and become an advocate for policies that protect LGBTQ + and other marginalized groups. Write letters to the editor, to your town council, to your governor. Show up for any local hearings about policies that will affect marginalized groups. Get uncomfortable and use your voice to create change.
Hank Stowers, he/she/they, professional skier and co-founder of Open Slopes: The first real step toward acceptance for queer and trans people in the ski community is to understand that the "community" isn't a place or a lifestyle but the people who are there with you, sharing the experience. Those people's lives don't stop happening when we aren't skiing, and we live in a world where systemic, interpersonal, and intersectional oppression of LGBTQ+ people is measurably present. A vibrant and healthy community only exists when all its members are safe, so accepting someone as a member of your community requires that you share responsibility in ensuring their safety, on and off-hill.
When sympathetic people talk about supporting any underrepresented community, they often aim to make them feel like they belong. That requires kindness—the kindness of trusting us when we say that language is potent and we know ourselves well enough to define ourselves. The kindness of critically examining what you have learned about us, where you learned it from, and the motives of your informants. The kindness of advocating for our inclusion where we are not present. That's what we need from allies to feel like we belong.
SKI: What actions can allies take to support our LGBTQ+ fellow skiers?
MG: Allies can help on the slopes and in town in a few ways; first, by educating themselves about the history of the discrimination against LGBTQ+ people. They'll understand the importance of representation and see that many groups looking to silence queer and trans people are spreading harmful misinformation about them. Many guides provide allies with the correct information to combat ignorance and misinformation. We can fight ignorance and misinformation with education. Secondly, allies can help stand up for queer and trans people if they hear others using anti-LGBTQ+ slurs or discriminating against our community.
JB: As a queer person, I always notice when a store/establishment has a pride flag hung year-round or an "all are welcome here" sticker. You feel welcome and invited in, and that's a feeling all queer folks should have year-round, not just in June. Advocate for single-person/all-gender bathrooms at resorts, bars, and stores. Advocate for hiring more queer/non-binary employees at the establishments you frequent. Representation matters! Plan/host pride-themed events where the proceeds give back to local/national LGBTQIA+ nonprofits. These events don't have to take place in June, either! Host a queer ski day once a month during the ski season. Call in instead of calling out your friends and strangers when they make inappropriate jokes or comments. Learn more about what that means here.
SS: Many ski towns now have LGBTQ+ organizations and groups working to foster community in these places further. Allies can help by using their resources, whether financial or social reach, to help amplify these groups. I have seen JH Pride in Jackson Hole grow over the past few years, and I know the impact has run deep in creating a more inclusive community.
AS: Support and organize pride events. Encourage businesses to display Pride flags and signs that signal they are a safe space. Ask them to mark on Google maps they are LGBTQ friendly, and ask that they have gender neutral bathrooms. These are all things I look for to feel safe in a community. On a personal level, speak up when you see homophobia both in person and online. This can be as simple as correcting somebody when they misgender a community member or chiming in when you see trolls on internet comment sections.
HS: Rainbow flags and stickered skis look nice, but the main prerequisite for allyship is that you are committed to learning about whatever oppressed group you aim to support. Start by researching us. Look up the history of Pride. Read peer-reviewed studies about dysmorphia in transgender youth. Google precolonial gender expressions. Find out if any queer community groups operate in your area and what challenges they have faced. If you take that seriously, you will find that the issues which require your action are in plain sight. Are resort owners donating profits from your season pass purchase to transphobic political candidates? Is the hospital that fixed your torn ACL failing to provide gender-affirming patient care? Or is your backcountry partner regurgitating propaganda that dehumanizes and vilifies LGBTQ+ people? If straight and cis allies were a little less eager to chime in on the theatrics of visibility and a little more focused on disrupting the systems of power poised against us, we'd be on the right track.
SKI: What examples can you give of an ally showing humility? How can allies demonstrate we are always willing to listen and learn?
MG: Many of the comments on my article boiled down to "Nobody cares that you're gay" and minimized the discrimination and hate many queer and trans people face daily without being aware of how often society centers heterosexuality in advertising, films, and other media. Allies can show humility by educating themselves on queer issues so we can combat misinformation together.
JB: Ask for pronouns and use inclusive, non-gendered language. White cis men dominate the outdoor community, and gendered greetings ("Hey, guys!") can be female-minimizing and resurface harmful memories in some. It's a simple action, but the positive effect of these one-liner greetings can be immensely powerful. Try these: Hey folks! Hey crew! Hey team! Hey pals! Sharing your own pronouns and creating space for others to share theirs shows an immediate and concerted effort to learn and listen. Educate yourself and others on policies in your home state/city that could negatively impact the LGBTQIA+ community.
SS: Speak up when you hear or see something. Toxic language is still heard around the ski resort and failing to call it out enables the behavior.
AS: One of the biggest misconceptions I hear is how the outdoor community is so welcoming. This is often from straight cis white folks. Just because a space feels inclusive to you, doesn't mean it feels inclusive to everybody. One way to check how inclusive a community is is to stop and look around you. Really pay attention to what you see. Does everybody look like you? Everybody dress like you? Does everybody talk like you? Then ask yourself why that is and what you can do to change that for the better.
HS: Humility is scary because it's often conflated with shame and smallness. Queer people are not asking you to feel ashamed or insignificant. We are asking you to humble yourself in the face of what you have not experienced and to defer to the voice of the oppressed as the expert of our own oppression. This goes for all allies, to all oppressed people. It's counterproductive for you to dwell on shame or guilt, and it's hubris to believe that you know anyone's experiences better than they do. Humility is hearing hurt people and accepting that, however uncomfortable it makes you, their pain is as real. Humility is acting with humanity and a willingness to share in fixing the problem.
Sierra Shafer is the Editor-in-Chief of SKI.
The Washington Post/Getty
Lead Photo: Kelsey Brunner/