Southern Flakes
If you build a ski mountain, they will come? That's what one Texas resort believes.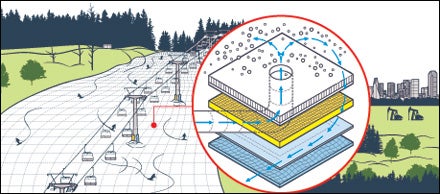 Heading out the door? Read this article on the new Outside+ app available now on iOS devices for members! Download the app.
WHAT'S INSIDE

Snowflex is a polymer composite that mimics the reaction of real snow. An integrated mist system keeps the surface of each moldable tile slippery. Below the first layer is a shock-absorbing foam pad that cushions falls.
Texas skiers will soon have another option besides racking up air miles to Salt Lake and Denver each winter. Bearfire Ski Resort, outside Fort Worth, is opening a "mountain" using Snowflex—a skiable artificial surface currently used in Europe and now coming to the U.S. Essentially a plastic, Snowflex doesn't require cold temperatures, making it perfect for Sunbelt states that don't have the freezing weather required for traditional snowmaking machines. Bearfire (bearfireresorts.com) is building Glacier Peak—a 250-foot-tall, 35-acre "mountain"—with plans to open in 2009.
Step Right In
Lose the clunky leash with this revolutionary (and releasable) tele binding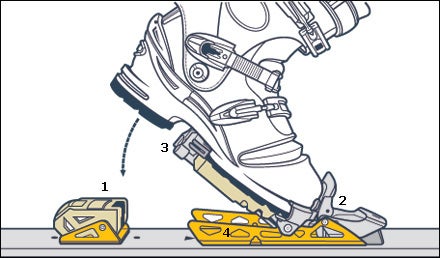 Tele skiers, take note:

Rottefella's New Telemark Norm, or NTN ($350; bcaccess.com), eliminates bending to click into your binding and makes leashes obsolete. The step-in NTN is available in limited sizes for compatible boots (Scarpa's Terminator X and Crispi's Evo) this fall. Here's why all freeheelers are excited.
1) CLIMB

You can release the stainless-steel toepiece with your pole to convert the binding into its superefficient free-pivot touring mode. Plus the heelpiece flips up to serve as the climbing bar.
2) RELEASE

Officially, Rottefella won't call the NTNs "releasable," but, don't worry, they are. Even better, the release mechanism is adjustable. And thanks to alpine-style brakes, you (finally) don't have to worry about losing your skis in a fall.
3) CUSTOMIZE

With four swappable spring-power cartridges, you can choose from soft (like old three-pin bindings) to extra-rigid (nearly as firm as an alpine binding).
4) SWITCH

Want one binding for your whole quiver? With NTN's quick-changing mounting plates ($55 each for extras), you can swap the setup to your other premounted skis in a minute.
Smart Probe
Make avalanche rescues faster—and increase survival odds—with this high-tech tool
Smart Probe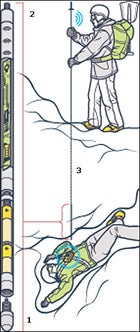 Picture this: Your buddy was buried by an avalanche, your beacon has helped you zero in on his general location in minutes, your probe hits something solid, and you frantically dig up … a tree stump. This winter, Ortovox unveils a smarter-than-average avalanche probe tip that takes some of the guesswork out of digging for avy victims. The Intelligent Probe includes a transceiver that audibly alerts you when it's close to a beacon—and your buddy.
1) HOW IT WORKS

Twist the lower portion of the probe tip to turn the system on. An internal receiver picks up the victim's transceiver signal when the probe tip is within 20 inches of his beacon. That short distance will help you dig out the right end of the buried victim first (i.e., the breathing end).
2) WHAT YOU HEAR

The Intelligent Probe is compatible with all standard-frequency receivers. The beacon's signal is processed and sent to a speaker, which emits a series of beeps. The beeping is constant once the probe is within range of a beacon. (It doesn't get stronger or weaker like a beacon signal.)
3) WHAT YOU CARRY

The 18.5-inch tip adds just four ounces thanks to a carbon-fiber shaft, and it packs into the same small bundle as the rest of the probe. Two AAA batteries—which you insert into the probe tip's shaft by unscrewing the aluminum point—are insulated so you don't lose power in freezing temps.
PROBE PICK

The Intelligent Probe tip ($85) screws onto compatible Ortovox probes. You can choose from three models, but our favorite is the
Carbon Pro 240+, which is both strong and light (weighs only 9.1 ounces; $89) and assembles in a flash. ortovox.com