Steve Romeo: In His Own Words
This past Wednesday, an avalanche in the Wyoming backcountry killed the creator of the popular backcountry skiing blog, TetonAT.com. A few days before he died, we spoke with Romeo about the growing popularity of backcountry and sidecountry skiing.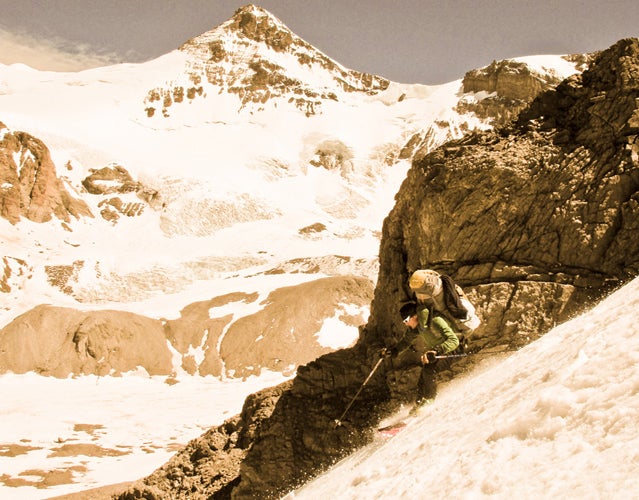 Heading out the door? Read this article on the new Outside+ app available now on iOS devices for members! Download the app.
When Steve Romeo, creator of the popular backcountry skiing blog TetonAT.com, and Chris Onufer, an employee of at Jackson Hole Mountain Resort, died in an avalanche on Wednesday while climbing Ranger Peak, in Teton National Park, it was more bad news in a rough year for off-piste riders. Romeo's death in particular has prompted an outpouring of remembrances and grief online, perhaps because he reached so many people through his blog. Since 2006, he had written detailed trip reports, gear reviews, and irreverent op-eds. Earlier this year, we recognized it as one of the best winter sports blogs out there.
Steve Romeo in 2008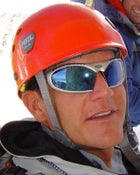 Steve Romeo in 2008
A few days before his death, while I was working on a story about the growing popularity of side- and backcountry skiing, and the risks involved, Steve spoke to me at length about his involvement in the sport. Though I was intimately familiar with TetonAT.com, I had never spoken with Steve before. I was struck immediately by his passion and enthusiasm. The longer we talked, the more I recognized something that most backcountry skiers will relate to: the intense pull of skiing pure powder. Few experiences can match the feeling of arcing down a mountain at speed, the deep sense of personal empowerment that comes from mastery and control in the face of so much peril. But of course, the danger never recedes, nor do any of us transcend the risks, facts we have been all too grimly reminded of in recent weeks.
Steve's motto, as many Internet tributes have been quick to point out, was "Live to Ski." Here, in what is likely his last recorded interview, he explains why.
We're looking into the growing phenomenon of sidecountry skiing. Do you see it becoming more popular?
Well, that's a good question Nick. Obviously, backcountry skiing is becoming more popular, and not just hardcore skiers, with the everyday skier. In that sense, more and more people are getting out into the backcountry. Some of those people don't have quite the respect for the mountain and the conditions that maybe folks who spend all their time in the backcountry might have. A lot of the time the proximity of the ski area gives people a false sense of security. The fact that a particular line has been skied multiple times before, and recently, can affect peoples' judgment.
But you know, Nick, I think there are two big sides to this phenomenon. One being the gear—the skis and the gear are just so awesome now, I mean, some people think they can just straightline everything, and just haul ass. You get this feeling, man I'm just gonna send this, there's no way and avalanche can catch me, even if it does rip, cause I'm just gonna' shred it top to bottom, and be way out in front of it, because the skis are so awesome, the gear is so awesome that you can just do anything.
And then, the other thing, as much as it hurts to say, is that people just want the fame, the glory, the notoriety, of always sending it, always pushing it, always being able to stick the particular line that they're going for. We're all guilty of it. It's just a lot of the times we miss injuries by a hair.
I live in Jackson Hole, and we have an open boundary policy and the terrain here is just insane. People do insane things, but very rarely are people getting injured or killed. They're dropping 100-foot cliffs, sending steep exposed runs, straightlining 1,000–foot couloirs. You'd think people would be getting injured every day, dying every day.
But it's just a matter of time before the law of statistics catches up with people, and I think you're seeing that now. It's just a matter of time before the snowpack is just sketchy enough, just a little bit out of the norm that people are used to seeing, and it just doesn't connect.
Tell me a little about your own ski habits. How much are you in the sidecountry? How do you think about it as someone who's out there a lot?
The way I look at it is, sidecountry is accessed by riding up a lift and going out a gate at a ski area. Skiing the terrain that is next to the ski area but not in the ski area. Slackcountry is terrain that you don't hike. You go out a gate and you ski down and you come back in. Sidecountry can be a blend of any of that.
And how much time to you spend in terrain like this compared to true backcountry touring?
Rarely.
So you're really more of a backcountry skier in the traditional sense?
I would say so, yes. I moved to Jackson and skied the ski area for six years, and that was before the resort had an open boundary policy. They'd only open the gates when there was really low avalanche danger. But since I don't really ski in area anymore, the sidecountry doesn't really appeal to me anymore.
Do you have a sense of the numbers here, how much of a spike there's been in the amount of people going into this terrain? I hear Teton Pass is packed now.
Oh yeah, yeah, the park [Grand Teton National Park, which is near the resort], Teton Pass, it's just inevitable that it's going to grow more with the boom in backcountry skiing. The resorts are helping spur the backcountry movement, with open gates, being a little more flexible, with a European-like policy.
And of course the gear is so awesome now, you're not sacrificing a whole lot on the descent when you're using all this awesome backcountry gear. There's just way more focus on it, between blogs, forums, magazines. I definitely see it here in the Tetons, I've been blamed for it. But you see the same kind of growth and gear throughout the whole country.
Do you feel like there's anything in particular driving it? Is it the market that's asking for new and better gear, or is the industry looking at this hot market segment and they're pushing the gear?
It's a combination of those things. I've been skiing Dynafit stuff for the last 10 or 15 years now. You just see the evolution of that gear. Then, I mean, who wouldn't want to shred an untracked powder line top to bottom with no one around. I think for people who really love to ski, and aren't so caught up in the hype and the crowds, we'll always be drawn to the backcountry. As long as you're interested in fitness and getting a workout, why wouldn't you want to climb up this untracked peak, on your own, and have this moment in the backcountry where you're not being rushed to ski down the line? You can take whatever track you want, and always get fresh tracks, and have this orgasmic moment at the end, like, oh my god. And then to realize that this is possible every day, day in and day out. I think it is just inevitable that you gravitate to that as a skier.
It sounds like people are just beginning to discover that part of the experience. Maybe they've gotten a taste of it at the ski resort itself—I mean I've been to Jackson, and Snowbird, and Telluride on a powder day. I know what it's like. It's rabid. And if you're not in that first group, forget it.
You know, when you go to the ski area here, and when the danger is low, you don't see that many locals in bounds. They're all headed out the gates, skiing Granite, skiing Cody, Four Pines, Green River. Because that's where it's at. Sooner or later, a lot of these people gravitate over to becoming true 100 percent backcountry skiers. They go through this moment where they're like, man, I don't want to have to wait until 9:30 to ski, I don't want to have to wait to 9:30 to make a frickin' turn. You wake up at 6:30, you want to frickin' go! We talk about that a lot, Man I could have done three laps on Glory Bowl [a popular backcountry area outside Jackson] before the lifts even open.
What's your feeling about how well avalanche awareness, education, and gear is keeping pace with this trend?
I play a part with Facebook and all, but it can get tiresome, the preaching and the second-guessing. If you're aware of what's going on, it's easy to find avalanche information. The people that miss out are the people that have absolutely no idea. They don't even know what an avalanche is, they've never seen an avalanche transceiver. The education is out there. Here in Jackson, especially, we have a number of avalanche educators.
What about the avy protective gear, like air bags?
I don't use one. I could probably get one given to me if I tried hard enough. I'm afraid of the courage it might give me to ski what I wouldn't normally. I don't want a false sense of security that the airbag might give me. Granted, they've proven to be successful, as well as the Avalung.
I do use an Avalung, and there are times when you ski with it in your mouth and you're like, man, should I even be doing this? If I feel like I need to be skiing with this in my mouth? But you get this confidence, and adrenaline, and the sheer stoke just takes over, and it's really hard to look the other way a lot of times. You just kinda have to go with your gut. You keep your fingers crossed even though you're on the edge.
One thing that's fascinating to me is that a lot of people who get killed are experienced skiers. They know what they're doing and they're well aware of the risks that they are facing. And yet they're choosing to push the limits in the back- and sidecountry. They're literally betting their life that it's going to be okay. I'm amazed that the power of that ski run can override the sense of self-preservation.
Totally! That's something my partners and I try to remember. When you're planning to ski some exposed run, you're like, man, do I really feel that confident? Am I ready to die for this? Because that could happen.
It's an awfully high price. You're all-in.
Exactly. You know, you're up there, and the sun is out and there's this perfect powder slope and its' kind of a grey area, 50-50, and you're like man I got this, I'm just gonna go for it. I don't know what drives it. It's just the passion and the love for skiing, and that adrenaline rush. And maybe there's a feeling that you skirted death, that you were good enough to ski it and not have it rip. You had the skills to ski it correctly. Who knows. It's definitely a challenging aspect to the whole thing, the mindset and the personal dynamic of making those decisions. I think the more you're out the and the more close calls you've had, the more you've avoided or skied from, you get this sense of security, a sense of confidence that you're making the right calls.
It almost feeds your decision-making.
Exactly. Statistically the odds are in your favor. But it just takes a little bit of tweak in the snowpack that you're not used to, or you make a turn in the exact wrong spot and you get the whole thing to go.