Three Major Ski Resort CEOs Talk Climate Change
Facing a future in which big, cold winters are becoming as rare as monoskis, some titans of the snowsports industry compared notes.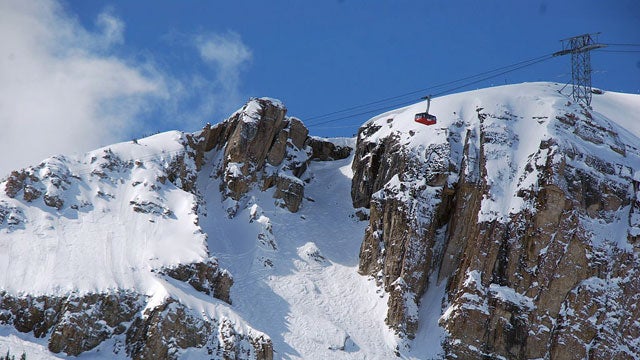 Heading out the door? Read this article on the new Outside+ app available now on iOS devices for members! Download the app.
The roughly 300 small mom and pop ski resorts in the United States are emerging as the first victims of climate change. As snowpacks shrink, glaciers recede, and temperatures inch upward, these operations are merely trying to make payroll, which makes paying for more snowmaking, investing in renewable energy, or other strategies for addressing these problems, untenable. That's according to three CEOs from the other end of the resort spectrum—Aspen/Snowmass, Jackson Hole and Whistler Blackcomb—and it's one of a litany of reality checks that punctuated two panel discussions at San Francisco's Commonwealth Club Tuesday evening.
"Jackson Hole was always known as being too far [away], too cold and too steep. Some of that is being mitigated, but not in the proper way," said Jerry Blann, the Wyoming resort's CEO. "We have some routes on the mountain that are only manufactured snow."
The event, called Mountain Meltdown, was part of the Climate One program, which focuses on energy, the environment and the economy. The evening was divided into two panels, one with Anne Nolin, professor of geosciences and hydroclimatology, Oregon State University; professional snowboarder and founder of Protect Our Winters, Jeremy Jones; and Porter Fox, Powder magazine features editor and author of DEEP, an upcoming book on the effects climate change is having on snow and skiing. The second panel convened Jerry Blann, president of Jackson Hole Mountain Resort; Dave Brownlie, president and CEO of Whistler Blackcomb; and Mike Kaplan, president and CEO of Aspen/Snowmass.
Nolin said research over several decades has shown 1.5- to 2-percent declines in snow in spring in North America, per decade. That might not sound like a precipitous change, but Nolin said this will translate into real losses for ski resorts at lower elevation and those in the warm ranges of the Pacific Northwest. "No one wants to come to the ski lodge when it's drizzling out. Today, in the Pacific Northwest, where we have a lot of warm winters, maybe 30 to 50 percent of these ski areas have warm winters now," she said, noting that a warm winter is one in which the average of one of the core winter months is 0 degrees Celsius or higher. "That will be pushed up to 70, 80 or even 100 percent of these areas having warm winters in 20 years." 
It was not all gloomy news for the room packed with ski industry titans and athletes (Johnny Mosley, Chris Klug, Kimmy Fasani among them). Through POW, Jeremy Jones has been quite successful in inciting a groundswell of activism among skiers and snowboarders, some of whom recently lobbied members of Congress to support the Environmental Protection Agency's efforts to reduce coal-fired power plant emissions.
On the resort front Aspen/Snowmass has been a U.S. leader—it even reformed the parameters around "clean energy" with the methane-to-energy system it financed last year at a coal mine in Somerset, Colorado. Dave Brownlie said in Whistler Blackcomb, where a retreating glacier boundary is a stark summertime reminder of what the industry is losing, a run-of-the-river hydroelectric plant produces as much electricity as the resort consumes annually.
In response to the inevitable "are we really screwed" question, the answer was, yes and no. "This is about managing the decline," Nolin said, but noted that it's not too late for the ski and snowboard industry to make real gains in reducing that rate of decline. 
Porter Fox noted that the industry has the opportunity to flex some influential muscles. Even though most Western resorts are located in states that are heavily invested in the fossil fuels industry, the 1% like to ski and these rich and powerful devotees are important allies in the fight for policy changes that might help keep winter white.
After discussing all these woes, Climate One host Greg Dalton asked the CEOs if they had any good news, so the audience would leave with a bit of hope.
"NOAA says it's gonna be average winter!" Blann enthused.
That is what passes for goods news in the ski industry these days. Cheers to that, I guess.
Lead Photo: Enricokamasa/Wikimedia