Top Snow Sports Blogs
The smartest, most useful, and most inspiring blogs to keep your winter stoke high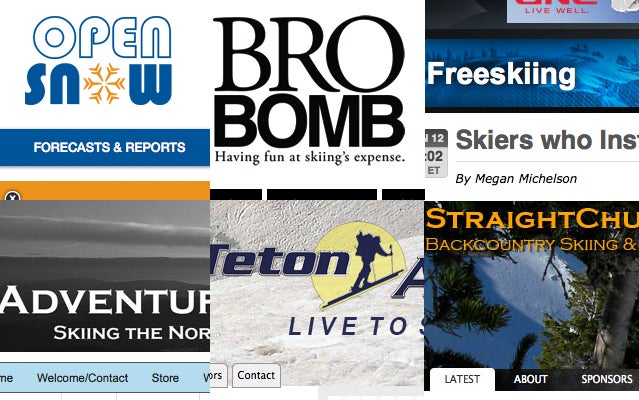 Heading out the door? Read this article on the new Outside+ app available now on iOS devices for members! Download the app.
The Top 10 Snow Sports Blogs
For most of the country, it's been a dry, barren winter. So while you're waiting for the next mega-storm, check in with our list of the top winter sports blogs. These enthusiasts are filling the blogosphere with smart gear reviews, weather analysis, trip reports, and a veritable avalanche of inspiration—which means, when the white stuff actually starts falling again, you might be able to enjoy it more than ever.
10. Opensnow
The go-to source for what's in the forecast

Good For: Powder freaks; commuters; holiday travelers
Written By: Joel Gratz and Andrew Murray
Like many of us, the founders of opensnow.com spend a lot of time trying to figure out when and where the powder will fly. That's because they're skiers as well as meteorologists, and they know what's important in a forecast. Mainly: when the storm will hit and just how off the hook the riding will be. Readers can custom tailor the site to get info on their destination, or just follow the blog for lively detailed analysis of winter weather patterns.
Sample Post: Gratz gives this winter's snow drought a little historical perspective.

Backcountry.com posted a comparison of early January snowpack from last season (2011) versus this season (2012). That was a cool graphic, but it was also a little misleading because last season was soooooooo (so!) good with tons of snow.
Instead, let's compare early January against the last three seasons…

Read more at Open Snow
9. Universal Klister
A look at the winter life in the north woods

Good for: Homies in the flyover states; aspiring photogs
Written by: Hansi Johnson, AKA "Loki"
Some sites are all about service; this one's all about mood, tone, and image. Leaning on reams of top-shelf photography, this Duluth, Minnesota-based blog brings winter sports in the upper Midwest to vivid life. Entries cover environmental issues, nordic skiing, fishing, hunting, and some of the most amazing fat-tire winter biking photos we've ever seen.
Sample Post: Loki posts pictures from a weekend ride in winter.
There is no doubt that fat tires and fat bikes are giving me access to shots and adventures I never would have thought possible. This weekend, Rudy, Dave, Eric and I set off to check out the Dalles of the St.Louis River just out my front door. In the past I have actually skate skied this section of river but with the weird winter, the bike riding is nearly perfect.
Read more at Universal Klister
8. Earn Your Turns
Backcountry appreciation, and the gear you'll need to get there
Good For: Lift shunners; knee droppers; wilderness lovers
Written By: Craig Dostie (and friends)
Some of the sharpest backcountry gear reviews in the business, from the folks who brought you Couloir magazine (R.I.P.). Preaching a philosophy of self-reliance, adventure, and the deep beauty that can only be found way off piste, EYT is both informative and inspirational.
Sample Post: Dostie digs deep on Rotefella's NTN Freeride telemark bindings, five years after they first hit the market.
Many have called this binding the Duke of telemark, not necessarily implying a royal heritage or qualities, but because like it's alpine counterpart it is a beefy, downhill oriented binding with acceptable uphill performance. For those driving anything wider than 100mm at the waist, which is the only size ski that seems to sell anymore, the NTN Freeride is an excellent answer to the horsepower question such girth demands. For smaller skis it seems overkill, but aficionados swear by it regardless of what planks they mount 'em to.

Read more at Earn Your Turns
7. ESPN Freeskiing Blog
Professional reporting on the world of kickers and cliffs

Good for: Riders with college degrees; cable junkies; newshounds
Written by: Megan Michelson, various
ESPN covers its turf well, and freeskiing is no exception. Headed by former world telemark freeskiing champion Megan Michelson, the blog features breaking news, athlete profiles, behind-the-scenes reportage from events like Winter X, and a long catalogue of photos and videos of top pros in the biz. Many of the contribs are seasoned journalist who know how to put together a story, too; "Dude" and "Bro" are kept to a welcome minimum.
Sample Post: Michelson wonders about the business side of major freeskiing events.
When the Freeskiing World Tour and Freeride World Tour descend on Revelstoke, BC, this weekend for their first North American stop of the season, all eyes will be on the athletes. But there's another thing that will be on display: the ski resort…
This begs the question: Are big-mountain contests good for ski resort business? Sure, they bring in media attention and mainstream exposure, but is it the right kind of exposure for a resort hoping to appeal to the masses, not just expert skiers?
Read more at ESPN Freeskiing
6. Brobomb
Dude! This blog is sick!

Good for: Bros; brahs
Written by: Jon Hartley (and friends)
Dude: Brobomb's tag line puts it nicely into perspective: "Having fun at skiing's expense." With its vast video gallery, irreverent entries, and often self-effacing sense of humor, Brobomb showcases all that's cool and high-energy in the slopeside scene without its all-too-common (and oft-annoying) brain-deadness. To wit: "Free Movie Friday," a recent smart review of Trash Party, and their take on then enduring controversy of whether skiers "really" need poles or not.
Sample Post: Ryan Dunfee doles out some very practical advice on how to extend the life of your gear.

Shit! Skiing is expensive! It seemed like not long ago (okay, ten years ago) that the best twin tips on the market were only $400. New boots? Sell your cat and the copper out of your duplex. Fortunately, there's a handful of less obvious and cheaper upgrades to your gear you could be making this season for under two hundo. They won't be badass hunter orange 18-DIN bindings or new skis, but they will help extend the life of your existing gear or replace more expensive purchases you might have had to make otherwise. Yes, unfortunately this is serious advice.

Read more at Brobomb
5. Teton AT
All things ski mountaineering

Good For: You-fall-you-die shralpers
Written By: Steve Romeo
A serious-minded and expertly informed site, focusing mainly (though not exclusively) on ski-mountaineering in Wyoming's ragged, beautiful Teton range. Romeo delivers avy reports, POV videos, gear reviews and analysis, and plenty of first-person storytelling, all of which is seasoned with an easy going sense of humor that's often emulated in ski blogs elsewhere online. Teton AT is an essential resource for ski mountaineers, both in Wyoming and beyond.
Sample Post:Romeo takes his chances in the backcountry on a day with high avalanche risk.
We kept our skin-track in the safe zones and in the trees as much as possible as we tried to make our way up the final bowl. As we approached one of the few final hazard-zones, a whump came from deep in the snowpack…and we heard it rumble away from us under our skis. It stopped us in our tracks, and made us think once again if we should turn around or not. After talking and looking around for a bit, we finally saw the slide, and it dawned on us that we had just remotely trigged quite a large slide in the gut of Wimpys from 150-200' away.
Read more at Teton AT 
4. Straight Chuter
Notes from a life on snow

Good For: Anyone who's ever said the words "steep" and "deep" in the same sentence
Written by: Andrew McLean
Straightchuter.com's Andrew McLean is one of the most prolific (and interesting) ski bloggers writing today. McLean posts comprehensive reports from his adventures in Utah's Wasatch range, where he lives, and also recounts inspiring tales from his decades of globetrotting on skis.
Sample Post:
It seemed hard to believe that anything could ever top the 2009 Ice Axe Antarctica Ski Cruise, but I think this year actually did.

… You go for the skiing, but in the end it's the entire package that you remember. We had six days of skiing in Antarctica with 2-3 in Ushuaia, Argentina beforehand.  I kept a photo, gps and written log of where we went…
Read more at Straight Chuter
3. Outdoor Junkie
A fun, image-choked blog from a real-life, working journalist

Good For: Anyone looking for a Rocky Mountain high
Written By: Ann Driggers
Driggers, a reporter for the Grand Junction (Colorado) Sentinel, blogs about everything from how to find hidden powder stashes in low-snow conditions ("facet farms"), to notes on trips from far afield (Monte Rosa, on the Swiss-Italian border, anyone?) and reports on full-moon ski trips in the Colorado backcountry.
Sample Post: Driggers lets herself get excited in the midst of a low-snow winter.
Today things were absolutely crazy!! Totally wild. Nutso even. I nearly lost it.
It SNOWED!!!!!!
I can't even remember when the last time it did this and it makes me sick to think about it so I wont. I'll just focus on the good.
Read more at Outdoor Junkie
2. Adventure Skier
The view from the east

Good For: New Englandahs; Western riders who've only heard of the "East"
Written By: Brian Mohr and Emily Johnson
A veritable clearing house for all things snow-related, from eastern Quebec's Gaspe to the mid-Atlantic mountains. Adventure Skier provides an impressive array of snow reports, travel logs, photos, videos, news, op-ed, and links. We like both the comprehensive nature of this site, and its dedication to the East's most excellent snowy amenities.
Sample Post: Mohr and Johnson walk the line between forcasting snow and hoping for it.
While forecasters are busy trying to predict the course and final outcome of the approaching weather system, one thing is clear: It is going to snow. We can smell it. And, for the first time ever, a wild snowshoe hare ran across our path at AdventureSkier headquarters this morning. We're treating that as VERY good sign.
Read more at Adventure Skier
1. Wild Snow
The web's best resource for skiing out of bounds

Good For: Hardcores, softcores, and anyone curious about life beyond the lifts.
Written By: Lou Dawson (and friends)
Expert gear reviews from some of the most trusted and experienced users in the field; stop here before buying your next AT setup or avy equipment. The comments section also serves as one of the best forums for discussions about backcountry travel and safety we've seen anywhere online. Wild Snow also provides inspired and inspiring trip reports from the States and abroad. One of the great, truly independent media sites for anyone interested in spending a least a few days of winter in the mountains.
Sample Post: Dawson takes an early and detailed look at Dynafit's 2012-2013 line of boots.
More, as hyped by Dynafit, their king of the new boot lines, Vulcan, has design influence from pro Eric 'Hoji' Hjorleifson (regarded as one of the best skiers in the world).
To be clear, this is not a cloning of the low volume TLT-5 type of boot, but rather something in volume between Dynafit's TLT-5, and the Zzero line (all but one of the 3 buckle Zzeros will go away, while the 4 buckle versions will remain.
Read more at Wild Snow