What Does It Take to Be a Great Shovel Racer?
I noticed that the World Championship Shovel Races are coming up this weekend and thought, "Hey, now there's a sport I might be able to compete in." What steps should I take to prepare for next year?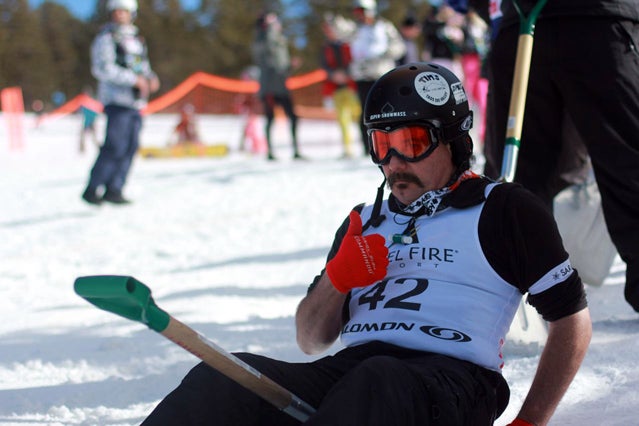 Heading out the door? Read this article on the new Outside+ app available now on iOS devices for members! Download the app.
As it turns out, there's a bit more to shovel racing than plopping your hindquarters on a garden tool and sliding down a mountain at 60mph.

Shovel racing.

Shovel racing.

Shovel racing.
First, you need a shovel. Any 10- to 14-inch grain scoop from your local hardware store will work. "A $30 shovel from Home Depot, and you're in the race," explains former world record holder John Strader, a.k.a. The Shovelmeister. "The bigger your derriere is, the bigger size you're gonna want."
Waxing and buffing the bottom of the shovel are allowed, but don't even think about modifying the seat. Strader, 45, recalls past competitors who tried to Velcro themselves to the blade—a definite no no. "You can't add anything to help you stay in the shovel," he says.
Next, wear a helmet, preferably one that covers your ears, such as a ski or motorcycle helmet. Snow goggles or sunglasses are also recommended to protect your eyes from the sun and, just as importantly, to protect them from the snow that sprays up when you plant your feet to stop (more on that later).
When it comes to attire, "you basically want to dress like a snowboarder or a skier but with good, mountaineering-type boots," says Strader, noting that beginners shouldn't worry too much about the lack of aerodynamics caused by bulky boots. "Your feet are your breaks," he says. "With a nice boot, you can dig into the ice, dig into the snow."
Strader also recommends thick gloves with leather palms and wrist guards. "When I'm putting my hands down on the snow at 70mph, I like having those wrist guards because there's a buffer between my hands and the ground; I wear them under my gloves, and my wrists and my hands are secured."
Okay, time for action. Sit down in the scoop with the handle tight between your knees and your legs out in front of you. Lean back into a luge position, pull your hands in (do not hold the handle), and head on down the mountain. "The first thing people need to understand is that they can't steer a shovel," says Strader, although he notes that "punching" the snow with your hands can help keep you on course. "Keep yourself straight, that's what you're trying to do, keep yourself from spinning." If your legs start going to the right, for example, touch your left hand to the snow, which will help get you back on track.
If you feel like you're going out of control, go into a corpse position. "Lay all the way back, just lay down," Strader says. "It's counterintuitive, but that's the safety position." Another option is to just slip off the shovel. You're already on the ground, so you don't have anywhere to fall.
Although Strader has been shovel racing since 1988 and held the world record—72mph—from 2001 to 2011, he says the sport is not something he seriously trains for. "If we were in the Olympics, maybe," says the self-described couch potato. "You don't need to be a hardcore athlete to do it; you have to have some athletic prowess to stop, but it's really a finesse sport—it's about the right shovel, aerodynamics, touching as little as possible, having just the right line. There are a lot of things that have to line up perfectly for you to win." That being said, Strader suggests getting in as many practice runs the day before a race as possible. Don't let your first run be a race run.
The right attitude also helps, according to Curt Hanlen, the former director of operations at New Mexico's Angel Fire Resort, which hosts the World Championship Shovel Races February 9. "What it takes to be a successful racer is embodied in the credo of shovel racers: Faster, faster, until the thrill of speed overcomes the fear of death!"
Strader agrees. "It's such a great adrenaline rush," he says. "When you're sitting and your butt is less than a centimeter off the ground, and you're doing 70mph, it feels like 170!"